Abstract
Background and Objectives
Obesity has been associated with increased risk of cognitive impairment or dementia, but recent findings are contradictory, possibly due to methodological differences. The present study tries to clarify these inconsistencies by following the cognitive trajectories of individuals with obesity over 12 years and studying the effect of obesity status (obesity at baseline versus incident obesity at follow-up), chronicity, definition, potential confounding (e.g. age, cardiovascular factors), and non-linear associations.
Design
Longitudinal study with 12 years follow-up.
Setting
Community based.
Participants
1,807 cognitively healthy individuals (aged 24-83) from the Maastricht Aging Study (1992-2004).
Measurements
Memory, executive function and processing speed were assessed at baseline and at 6- and 12-year follow-up. Obesity was defined as having a body mass index (BMI) of ≥ 30.0 kg/m2 or waist circumference (WC) of > 102 cm for men and > 88 cm for women.
Results
At baseline, 545 persons were obese (BMI: 329 (18%); WC: 494 (27%); both: 278 (15%). They showed faster decline in memory, executive function, and processing speed. Chronic obese showed less widespread impairment than those who regained normal weight. Associations across cognitive domains were weaker for obesity defined by BMI than for WC. At follow-up, 190 developed obesity, and they performed worse on executive function at baseline, but showed less decline compared with participants with normal weight. Yet, age-stratification and post-hoc analyses showed that most of these associations were confounded by age.
Conclusions
This study shows that the association between obesity and cognitive decline was confounded by the effect of age on rate of decline. Future studies should take this into account.
This is a preview of subscription content,
to check access.
Access this article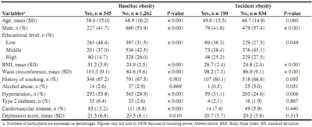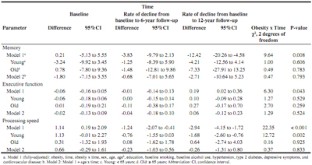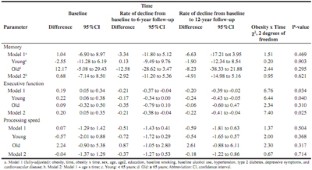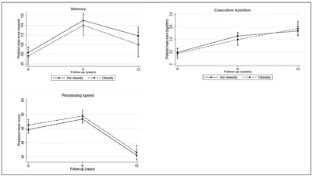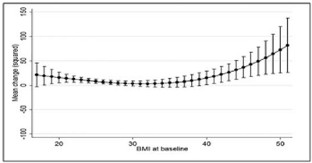 Similar content being viewed by others
References
Ferri CP, Prince M, Brayne C, Brodaty H, Fratiglioni L, Ganguli M, et al. Global prevalence of dementia: a Delphi consensus study. Lancet 2005;366:2112–7. doi: 10.1016/s0140-6736(05)67889-0.

Alzheimer's Disease International. Dementia and risk reduction: an analysis of protective and modifiable factors. London: Alzheimer's Disease International, 2014.

Barnes DE, Yaffe K. The projected effect of risk factor reduction on Alzheimer's disease prevalence. Lancet Neurol 2011;10:819–28. doi: 10.1016/s1474-4422(11)70072-2.

Finucane MM, Stevens GA, Cowan MJ, Danaei G, Lin JK, Paciorek CJ, et al. National, regional, and global trends in body-mass index since 1980: systematic analysis of health examination surveys and epidemiological studies with 960 countryyears and 9.1 million participants. Lancet 2011;377:557–67. doi: 10.1016/s0140-6736(10)62037-5.

Norton S, Matthews FE, Barnes DE, Yaffe K, Brayne C. Potential for primary prevention of Alzheimer's disease: an analysis of population-based data. Lancet Neurol 2014;13:788–94. doi: 10.1016/s1474-4422(14)70136-x.

Stevens G, Singh G, Lu Y, Danaei G, Lin J, Finucane M, et al. National, regional, and global trends in adult overweight and obesity prevalences. Population Health Metrics 2012;10:22. doi: 10.1186/1478-7954-10-22.

Deckers K, van Boxtel MP, Schiepers OJ, de Vugt M, Munoz Sanchez JL, Anstey KJ, et al. Target risk factors for dementia prevention: a systematic review and Delphi consensus study on the evidence from observational studies. Int J Geriatr Psychiatry 2015;30:234–46. doi: 10.1002/gps.4245.

Albanese E, Davis B, Jonsson PV, Chang M, Aspelund T, Garcia M, et al. Overweight and Obesity in Midlife and Brain Structure and Dementia 26 Years Later: The AGES-Reykjavik Study. American Journal of Epidemiology 2015;181:672–9. doi: 10.1093/aje/kwu331.

Aslan AK, Starr JM, Pattie A, Deary I. Cognitive consequences of overweight and obesity in the ninth decade of life? Age Ageing 2015;44:59–65. doi: 10.1093/ageing/afu108.

de Bruijn RF, Bos MJ, Portegies ML, Hofman A, Franco OH, Koudstaal PJ, et al. The potential for prevention of dementia across two decades: the prospective, populationbased Rotterdam Study. BMC Med 2015;13:132. doi: 10.1186/s12916-015-0377-5.

Qizilbash N, Gregson J, Johnson ME, Pearce N, Douglas I, Wing K, et al. BMI and risk of dementia in two million people over two decades: a retrospective cohort study. Lancet Diabetes Endocrinol 2015;3:431–6. doi: 10.1016/s2213-8587(15)00033-9.

Profenno LA, Porsteinsson AP, Faraone SV. Meta-analysis of Alzheimer's disease risk with obesity, diabetes, and related disorders. Biol Psychiatry 2010;67:505–12. doi: 10.1016/j.biopsych.2009.02.013.

Whitmer RA, Gunderson EP, Quesenberry CP, Jr., Zhou J, Yaffe K. Body mass index in midlife and risk of Alzheimer disease and vascular dementia. Curr Alzheimer Res 2007;4:103–9.

Jolles J, Houx PJ, van Boxtel MPJ, Ponds RWHM. Maastricht Aging Study. Maastricht: Neuropsych Publishers; 1995.

Metsemakers JF, Hoppener P, Knottnerus JA, Kocken RJ, Limonard CB. Computerized health information in The Netherlands: a registration network of family practices. Br J Gen Pract 1992;42:102–6.

World Health Organization. Waist circumference and waist–hip ratio: Report of a WHO expert consultation. Geneva, Switzerland 2008.

Van der Elst W, van Boxtel MP, van Breukelen GJ, Jolles J. Rey's verbal learning test: normative data for 1855 healthy participants aged 24-81 years and the influence of age, sex, education, and mode of presentation. J Int Neuropsychol Soc 2005;11:290–302. doi: 10.1017/s1355617705050344.

Van der Elst W, Van Boxtel MP, Van Breukelen GJ, Jolles J. The Concept Shifting Test: adult normative data. Psychol Assess 2006;18:424–32. doi: 10.1037/1040-3590.18.4.424.

van der Elst W, van Boxtel MP, van Breukelen GJ, Jolles J. The Letter Digit Substitution Test: normative data for 1,858 healthy participants aged 24-81 from the Maastricht Aging Study (MAAS): influence of age, education, and sex. J Clin Exp Neuropsychol 2006;28:998–1009. doi: 10.1080/13803390591004428.

Guidelines Subcommittee. 1999 World Health Organization-International Society of Hypertension Guidelines for the Management of Hypertension.. J Hypertens 1999;17:151–83.

Arrindell WA, Ettema JHM. Handleiding Bij Een Multidimensionele Psychopathologie-Indicator [SCL-90. Manual of a Multidimensional Psychopathology Indicator] Lisse, The Netherlands: Swets Test Publishers; 2003.

World Health Organization. Problems Related to Alcohol Consumption: Report of WHO Expert Committee. Geneva, Switzerland 1980.

Dahl AK, Hassing LB. Obesity and Cognitive Aging. Epidemiologic Reviews 2013;35:22–32. doi: 10.1093/epirev/mxs002.

Dahl A, Hassing LB, Fransson E, Berg S, Gatz M, Reynolds CA, et al. Being overweight in midlife is associated with lower cognitive ability and steeper cognitive decline in late life. J Gerontol A Biol Sci Med Sci 2010;65:57–62. doi: 10.1093/gerona/glp035.

Debette S, Seshadri S, Beiser A, Au R, Himali JJ, Palumbo C, et al. Midlife vascular risk factor exposure accelerates structural brain aging and cognitive decline. Neurology 2011;77:461–8. doi: 10.1212/WNL.0b013e318227b227.

Hassing LB, Dahl AK, Pedersen NL, Johansson B. Overweight in midlife is related to lower cognitive function 30 years later: a prospective study with longitudinal assessments. Dement Geriatr Cogn Disord 2010;29:543–52. doi: 10.1159/000314874.

Hughes TF, Ganguli M. Modifiable Midlife Risk Factors for Late-Life Cognitive Impairment and Dementia. Curr Psychiatry Rev 2009;5:73–92.

Kiliaan AJ, Arnoldussen IAC, Gustafson DR. Adipokines: a link between obesity and dementia? The Lancet Neurology 2014;13:913–23. doi: http://dx.doi.org/10.1016/S1474-4422(14)70085-7.

Debette S, Wolf C, Lambert JC, Crivello F, Soumare A, Zhu YC, et al. Abdominal obesity and lower gray matter volume: a Mendelian randomization study. Neurobiol Aging 2014;35:378–86. doi: 10.1016/j.neurobiolaging.2013.07.022.

Gustafson D. Adiposity indices and dementia. Lancet Neurol 2006;5:713–20. doi: 10.1016/s1474-4422(06)70526-9.

Whitmer RA. The epidemiology of adiposity and dementia. Curr Alzheimer Res 2007;4:117–22.

Plassman BL, Williams JW, Jr., Burke JR, Holsinger T, Benjamin S. Systematic review: factors associated with risk for and possible prevention of cognitive decline in later life. Ann Intern Med 2010;153:182–93. doi: 10.7326/0003-4819-153-3-201008030-00258.

Singh-Manoux A, Czernichow S, Elbaz A, Dugravot A, Sabia S, Hagger-Johnson G, et al. Obesity phenotypes in midlife and cognition in early old age: the Whitehall II cohort study. Neurology 2012;79:755–62. doi: 10.1212/WNL.0b013e3182661f63.

Smith E, Hay P, Campbell L, Trollor JN. A review of the association between obesity and cognitive function across the lifespan: implications for novel approaches to prevention and treatment. Obes Rev 2011;12:740–55. doi: 10.1111/j.1467-789X.2011.00920.x.

Handing EP, Small BJ, Reynolds SL, Kumar NB. Impact of dietary factors and inflammation on cognition among older adults. J Prev Alz Dis 2015;2:220–6. doi: http://dx.doi.org/10.14283/jpad.2015.50.

Kesse-Guyot E, Andreeva VA, Touvier M, Jeandel C, Ferry M, Hercberg S, et al. Overall and abdominal adiposity in midlife and subsequent cognitive function. J Nutr Health Aging 2015;19:183–9. doi: 10.1007/s12603-014-0508-2.

do Nascimento Jacinto de Souza BF, Marín-León L. Living and health conditions associated with overweight and obesity among elderly. J Frailty Aging 2015;4:198–206. doi: http://dx.doi.org/10.14283/jfa.2015.55.
About this article
Cite this article
Deckers, K., van Boxtel, M.P.J., Verhey, F.R.J. et al. Obesity and cognitive decline in adults: Effect of methodological choices and confounding by age in a longitudinal study. J Nutr Health Aging 21, 546–553 (2017). https://doi.org/10.1007/s12603-016-0757-3
Received:

Accepted:

Published:

Issue Date:

DOI: https://doi.org/10.1007/s12603-016-0757-3
Key words