Abstract
Objective
To increase the protein intake of older adults, protein enrichment of familiar foods and drinks might be an effective and attractive alternative for oral nutritional supplements (ONS). We performed a pilot study to test whether these products could help institutionalized elderly to reach a protein intake of 1.2 gram per kg body weight per day (g/kg/d).
Design
Intervention study with one treatment group (no control group). Dietary assessment was done before and at the end of a 10-day intervention.
Setting
Two care facilities in Gelderland, the Netherlands: a residential care home and a rehabilitation center.
Participants
22 elderly subjects (13 women, 9 men; mean age 83.0±9.4 years).
Intervention
We used a variety of newly developed protein enriched regular foods and drinks, including bread, soups, fruit juices, and instant mashed potatoes.
Measurements
Dietary intake was assessed on two consecutive days before and at the end of the intervention, using food records filled out by research assistants. Energy and macronutrient intake was calculated using the 2013 Dutch food composition database. Changes in protein intake were evaluated using paired t-tests.
Results
Protein intake increased by 11.8 g/d (P=0.003); from 0.96 to 1.14 g/kg/d (P=0.002). This increase is comparable to protein provided by one standard portion of ONS. The intake of energy and other macronutrients did not change significantly. At the end of the intervention more elderly reached a protein intake level of 1.2 g/kg/d than before (9 vs 4). Protein intake significantly increased during breakfast (+3.7 g) and during the evening (+2.2 g).
Conclusion
Including familiar protein enriched foods and drinks in the menu helped to meet protein recommendations in institutionalized elderly.
Access options
Buy single article
Instant access to the full article PDF.
US$ 39.95
Tax calculation will be finalised during checkout.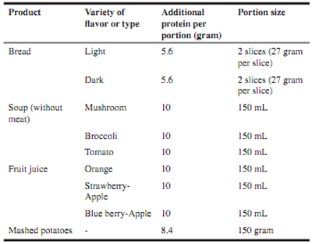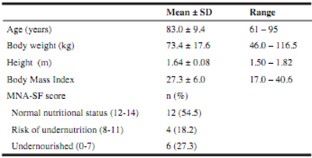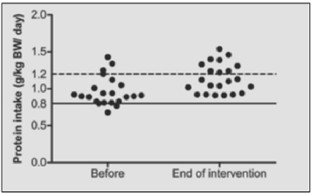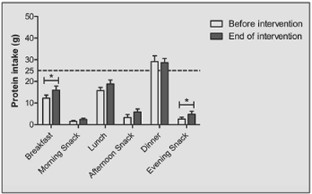 References
1.

Health Council of the Netherlands. Undernutrition in the elderly. The Hague 2011; publication 2011/32. ISBN 978-90-5549-868-0

2.

White JV, Guenter P, Jensen G, Malone A, Schofield M, Group AMW, Force ASPENMT, Directors atASPENBo. Consensus statement: Academy of nutrition and dietetics and american society for parenteral and enteral nutrition: Characteristics recommended for the identification and documentation of adult malnutrition (undernutrition). Journal of Parenteral and Enteral Nutrition 2012;36(3):275–283.

3.

Morley JE. Undernutrition in older adults. Fam Pract 2012;29i89–i93.

4.

Soenen S, Chapman IM. Body weight, anorexia, and undernutrition in older people. J Am Med Dir Assoc 2013;14(9):642–648.

5.

Volpi E, Campbell WW, Dwyer JT, Johnson MA, Jensen GL, Morley JE, Wolfe RR. Is the optimal level of protein intake for older adults greater than the recommended dietary allowance? The Journals of Gerontology Series A: Biological Sciences and Medical Sciences 2013;68(6):677–681.

6.

Mudge AM, Ross LJ, Young AM, Isenring EA, Banks MD. Helping understand nutritional gaps in the elderly (hunger): A prospective study of patient factors associated with inadequate nutritional intake in older medical inpatients. Clin Nutr 2011;30(3):320–325.

7.

Mahler M, Sarvimäki A. Appetite and falls: Old age and lived experiences. International Journal of Qualitative Studies on Health and Well-being 2012;710.3402/qhw.v3407i3400.11540.

8.

Bauer J, Biolo G, Cederholm T, Cesari M, Cruz-Jentoft AJ, Morley JE, Phillips S, Sieber C, Stehle P, Teta D, Visvanathan R, Volpi E, Boirie Y. Evidence-based recommendations for optimal dietary protein intake in older people: A position paper from the prot-age study group. J Am Med Dir Assoc 2013;14(8):542–559.

9.

Gaffney-Stomberg E, Insogna KL, Rodriguez NR, Kerstetter JE. Increasing dietary protein requirements in elderly people for optimal muscle and bone health. J Am Geriatr Soc 2009;57(6):1073–1079.

10.

Houston DK, Nicklas BJ, Ding J, Harris TB, Tylavsky FA, Newman AB, Lee JS, Sahyoun NR, Visser M, Kritchevsky SB. Dietary protein intake is associated with lean mass change in older, community-dwelling adults: The health, aging, and body composition (health abc) study. Am J Clin Nutr 2008;87(1):150–155.

11.

Paddon-Jones D, Rasmussen BB. Dietary protein recommendations and the prevention of sarcopenia: Protein, amino acid metabolism and therapy. Curr Opin Clin Nutr Metab Care 2009;12(1):86–90.

12.

Wolfe RR, Miller SL, Miller KB. Optimal protein intake in the elderly. Clin Nutr 2008;27(5):675–684.

13.

Morais J, Chevalier S, Gougeon R. Protein turnover and requirements in the healthy and frail elderly. J Nutr Health Aging 2006;10(4):272.

14.

Tieland M, Borgonjen-Van den Berg KJ, van Loon LJC, de Groot LC. Dietary protein intake in community-dwelling, frail, and institutionalized elderly people: Scope for improvement. Eur J Nutr 2012;51(2):173–179.

15.

Neelemaat F, Lips P, Bosmans JE, Thijs A, Seidell JC, van Bokhorst-de van der Schueren MAE. Short-term oral nutritional intervention with protein and & vitamin d decreases falls in malnourished older adults. J Am Geriatr Soc 2012;60(4):691–699.

16.

Vikstedt T, Suominen MH, Joki A, Muurinen S, Soini H, Pitkälä KH. Nutritional status, energy, protein, and micronutrient intake of older service house residents. J Am Med Dir Assoc 2011;12(4):302–307.

17.

Milne AC PJ, Vivanti A, Avenell A.. Protein and energy supplementation in elderly people at risk from malnutrition. Cochrane Database of Systematic Reviews 2009(2).

18.

Bruce D, Laurance I, McGuiness M, Ridley M, Goldswain P. Nutritional supplements after hip fracture: Poor compliance limits effectiveness. Clin Nutr 2003;22(5):497–500.

19.

Lad H, Gott M, Gariballa S. Elderly patients compliance and elderly patients and health professional's, views, and attitudes towards prescribed sip-feed supplements. J Nutr Health Aging 2005;9(5):310–315.

20.

Methven L, Rahelu K, Economou N, Kinneavy L, Ladbrooke-Davis L, Kennedy O, Mottram DS, Gosney M. The effect of consumption volume on profile and liking of oral nutritional supplements of varied sweetness: Sequential profiling and boredom tests. Food Qual Prefer 2010;21(8):948–955.

21.

Bertenshaw EJ, Lluch A, Yeomans MR. Satiating effects of protein but not carbohydrate consumed in a between-meal beverage context. Physiol Behav 2008;93(3):427–436.

22.

Sienkiewicz-Sizer F, Noss-Whitney, E., Nutrition concepts and controvercies. seventh edition ed: Belmont; 1997.

23.

RIVM. Dutch food composition table (nevo-tabel 2013). Bilthoven 2013.

24.

Weijs PJM, Sauerwein HP, Kondrup J. Protein recommendations in the icu: G protein/kg body weight–which body weight for underweight and obese patients? Clin Nutr 2012;31(5):774–775.

25.

Stelten S, Dekker I, Ronday E, Thijs A, Boelsma E, Peppelenbos H, de van der Schueren M. Protein-enriched 'regular products' and their effect on protein intake in acute hospitalized older adults; a randomized controlled trial. Clin Nutr 2014.

26.

van Til A, Naumann E, Cox-Claessens I, Kremer S, Boelsma E, de van der Schueren MA. Effects of the daily consumption of protein enriched bread and protein enriched drinking yoghurt on the total protein intake in older adults in a rehabilitation centre: A single blind randomised controlled trial. J Nutr Health Aging 2014;19(5):525–530.

27.

Iuliano S, Woods J, Robbins J. Consuming two additional serves of dairy food a day significantly improves energy and nutrient intakes in ambulatory aged care residents: A feasibility study. J Nutr Health Aging 2013;17(6):509–513.

28.

Manders M, de Groot C, Blauw Y, Dhonukshe-Rutten R, van Hoeckel-Prüst L, Bindels J, Siebelink E, van Staveren W. Effect of a nutrient-enriched drink on dietary intake and nutritional status in institutionalised elderly. Eur J Clin Nutr 2009;63(10):1241–1250.

29.

van der Zanden LDT, van Kleef E, de Wijk RA, van Trijp HCM. Examining heterogeneity in elderly consumers' acceptance of carriers for protein-enriched food: A segmentation study. Food Qual Prefer 2015;42(0):130–138.
About this article
Cite this article
Beelen, J., de Roos, N.M. & de Groot, L.C.P.G.M. Protein enrichment of familiar foods as an innovative strategy to increase protein intake in institutionalized elderly. J Nutr Health Aging 21, 173–179 (2017). https://doi.org/10.1007/s12603-016-0733-y
Received:

Accepted:

Published:

Issue Date:
Key words
Protein enriched products

protein intake

the elderly

rehabilitation