Abstract
Objective
To determine the effects of feeding traditional and renal protective foods (RPF) supplemented with functional food bioactives on glomerular filtration rate (GFR), lean body percent (LB%), and selected circulating biomarker and metabolite concentrations in a geriatric dog model.
Design
Randomized block design and cross-sectional study. Setting: Hill's Pet Nutrition, Inc. dog colony.
Participants
Eighty-one geriatric dogs (mean age, 10.4; range, 7.9-14.2 years) and 30 mature-adult dogs (mean age, 5.0; range, 3.3-6.9 years).
Intervention
Geriatric dogs were fed one of three foods (n = 27 per group) for 6 months: a traditional RPF (control) that was energy dense and mildly protein-restricted, or control food supplemented with increasing amounts of functional food bioactives: fish oil, lipoic acid, fruits and vegetables, and higher quality protein sources [functional foods one (FF1) and two (FF2)]. Geriatric dogs were compared before and after the feeding trial with mature adult dogs.
Measurements
Renal function was assessed by GFR, LB% was determined by dual energy x-ray absorptiometry, and circulating biomarkers and metabolites were measured in blood.
Results
Before the feeding trial, GFR (+28.2%), LB% (+18.6%), and serum total protein (+10.0%) were higher in mature versus healthy geriatric dogs (all P<0.001). Geriatric dogs consuming all three foods increased (P<0.001) GFR over time; group averages ranged from 13.0–16.9%. Dogs fed the highest supplemented level of bioactives (FF2) had lower (P<0.001) symmetric dimethylarginine (SDMA) concentrations (-14.3%). Feeding functional foods did not alter body weight, but increased (P<0.001) serum protein concentration (+6.7%).
Conclusion
Supplementation with functional food bioactives can temporarily reverse the age-associated decline in renal function and serum total protein.
This is a preview of subscription content, log in to check access.
Access options
Buy single article
Instant access to the full article PDF.
US$ 39.95
Price includes VAT for USA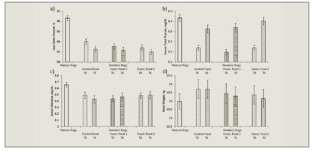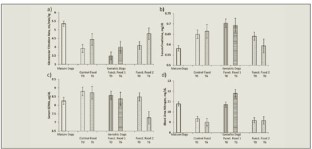 Abbreviations
AA:

amino acid

aLA:

alpha-linolenic acid

ADMA:

asymmetric dimethylarginine

AOAC:

Association of Analytical Communities

ARA:

arachidonic acid

BUN:

blood urea nitrogen

BW:

body weight

CKD:

chronic kidney disease

Cr:

creatinine

DHA:

docosahexaenoic acid

DPA:

docospentaenoic acid

EPA:

eicosapentaenoic acid

FF1:

functional food one

FF2:

functional food two

FA:

fatty acid

GFR:

glomerular filtration rate

LA:

linoleic acid

LB%:

lean body percent

LSM:

least squares mean

MMA:

monomethylarginine

PUFA:

polyunsaturated fatty acids

RPF:

renal-protective foods

SDMA:

symmetric dimethylarginine
References
1.

Brown SA. Renal pathophysiology: Lessons learned from the canine remnant kidney model. J Vet Emerg Crit Care (San Antonio) 2013;23:115–21.

2.

Benali SL, Lees GE, Castagnaro M, Aresu L. Epithelial mesenchymal transition in the progression of renal disease in dogs. Histol Histopathol 2014;29:1409–14.

3.

Grossman RC. Experimental models of renal disease and the cardiovascular system. Open Cardiovasc Med 2010;4:257–64.

4.

Becker GJ, Hewitson TD. Animal models of chronic kidney disease: Useful but not perfect. Nephrol Dial Transplant 2013;28:2432–8.

5.

Bauer J, Biolo G, Cederholm T, Cesari M, Cruz-Jentoft AJ, Morley JE, Phillips S, Sieber C, Stehle P, Teta D, Visvanathan R, Volpi E, Boirie Y. Evidence-based recommendations for optimal dietary protein intake in older people: A position paper from the PROT-AGE Study Group. J Am Med Dir Assoc 2013;14:542–59.

6.

Forrester S, Adams L, Allen T. Chronic kidney disease. In: Hand M, Thatcher C, Remillard R, Roudebush P, Novotny B, editors. Small Animal Clinical Nutrtion. 5th ed. Topeka, KS: Mark Morris Institute; 2010. p. 765–810.

7.

Polzin DJ. Evidence-based step-wise approach to managing chronic kidney disease in dogs and cats. J Vet Emerg Crit Care (San Antonio) 2013;23:205–15.

8.

Bartges JW. Chronic kidney disease in dogs and cats. Vet Clin North Am Small Anim Pract 2012;42:669–92.

9.

Brown SA. Oxidative stress and chronic kidney disease. Vet Clin North Am Small Anim Pract 2008;38:157–66.

10.

Jacob F, Polzin DJ, Osborne CA, Allen TA, Kirk CA, Neaton JD, Lekcharoensuk C, Swanson LL. Clinical evaluation of dietary modification for treatment of spontaneous chronic renal failure in dogs. J Am Vet Med Assoc 2002;220:1163–70.

11.

Hall JA, Yerramilli M, Obare E, Yerramilli M, Melendez LD, Jewell DE. Relationship between lean body mass and serum renal biomarkers in healthy dogs. J Vet Intern Med 2015;29:808–14.

12.

Hall JA, Jewell DE. Feeding healthy beagles medium-chain triglycerides, fish oil, and carnitine offsets age-related changes in serum fatty acids and carnitine metabolites. PLoS One 2012;7:e49510.

13.

Rentko V, Nabity M, Yerramilli M, Obare E, Yerramilli M, Aguiar J, Relford R. Determination of serum symmetric dimethylarginine reference limit in clinically healthy dogs. J Vet Intern Med 2013;27:750.

14.

Roush JK, Dodd CE, Fritsch DA, Allen TA, Jewell DE, Schoenherr WD, Richardson DC, Leventhal PS, Hahn KA. Multicenter veterinary practice assessment of the effects of omega-3 fatty acids on osteoarthritis in dogs. J Am Vet Med Assoc 2010;236:59–66.

15.

Folch J, Lees M, Sloane Stanley GH. A simple method for the isolation and purification of total lipides from animal tissues. J Biol Chem 1957;226:497–509.

16.

Wang XL, Vrtiska TJ, Avula RT, Walters LR, Chakkera HA, Kremers WK, Lerman LO, Rule AD. Age, kidney function, and risk factors associate differently with cortical and medullary volumes of the kidney. Kidney Int 2014;85:677–85.

17.

Hall JA, Yerramilli M, Obare E, Yu S, Jewell DE. Comparison of serum concentrations of symmetric dimethylarginine and creatinine as kidney function biomarkers in healthy geriatric cats fed reduced protein foods enriched with fish oil, L-carnitine, and medium-chain triglycerides. Vet J 2014;202:588–96.

18.

Bedford MT, Richard S. Arginine methylation an emerging regulator of protein function. Mol Cell 2005;18:263–72.

19.

Schwedhelm E, Boger RH. The role of asymmetric and symmetric dimethylarginines in renal disease. Nat Rev Nephrol 2011;7:275–85.

20.

Kielstein JT, Boger RH, Bode-Boger SM, Frolich JC, Haller H, Ritz E, Fliser D. Marked increase of asymmetric dimethylarginine in patients with incipient primary chronic renal disease. J Am Soc Nephrol 2002;13:170–6.

21.

Von Hendy-Willson VE, Pressler BM. An overview of glomerular filtration rate testing in dogs and cats. Vet J 2011;188:156–65.

22.

Nguyen TV, Goldfarb DS. The older adult patient and kidney function. Consult Pharm 2012;27:431–44.

23.

Kielstein JT, Salpeter SR, Bode-Boeger SM, Cooke JP, Fliser D. Symmetric dimethylarginine (SDMA) as endogenous marker of renal function—a meta-analysis. Nephrol Dial Transplant 2006;21:2446–51.

24.

Hall JA, Yerramilli M, Obare E, Jewell DE. Comparison of serum concentrations of symmetric dimethylarginine and creatinine as kidney function biomarkers in cats with chronic kidney disease. J Vet Intern Med 2014;28:1676–83.

25.

Payto D, El-Khoury JM, Bunch D, Wang S. SDMA outperforms serum creatininebased equations in estimating kidney function compared with measured GFR. Clin Chem 2014;60:S26.

26.

Lin JL, Fung TT, Hu FB, Curhan GC. Association of dietary patterns with albuminuria and kidney function decline in older white women: A subgroup analysis from the Nurses' Health Study. Am J Kidney Dis 2011;57:245–54.

27.

Vlassara H, Torreggiani M, Post JB, Zheng F, Uribarri J, Striker GE. Role of oxidants/inflammation in declining renal function in chronic kidney disease and normal aging. Kidney Int Suppl 2009:S3–11.

28.

Jain N, Reilly RF. Effects of dietary interventions on incidence and progression of CKD. Nat Rev Nephrol 2014;10:712–24.

29.

Xu H, Sjogren P, Arnlov J, Banerjee T, Cederholm T, Riserus U, Lindholm B, Lind L, Carrero JJ. A proinflammatory diet is associated with systemic inflammation and reduced kidney function in elderly adults. J Nutr 2015;145:729–35.

30.

Calder PC, Yaqoob P. Understanding omega-3 polyunsaturated fatty acids. Postgrad Med 2009;121:148–57.

31.

Hall JA, Brockman JA, Jewell DE. Dietary fish oil alters the lysophospholipid metabolomic profile and decreases urinary 11-dehydro thromboxane B(2) concentration in healthy Beagles. Vet Immunol Immunopathol 2011;144:355–65.

32.

Brown SA, Brown CA, Crowell WA, Barsanti JA, Allen T, Cowell C, Finco DR. Beneficial effects of chronic administration of dietary omega-3 polyunsaturated fatty acids in dogs with renal insufficiency. J Lab Clin Med 1998;131:447–55.

33.

Brown SA, Brown CA, Crowell WA, Barsanti JA, Kang CW, Allen T, Cowell C, Finco DR. Effects of dietary polyunsaturated fatty acid supplementation in early renal insufficiency in dogs. J Lab Clin Med 2000;135:275–86.

34.

Miller ER, Juraschek SP, Appel LJ, Madala M, Anderson CAM, Bleys J, Guallar E. The effect of n-3 long-chain polyunsaturated fatty acid supplementation on urine protein excretion and kidney function: Meta-analysis of clinical trials. Am J Clin Nutr 2009;89:1937–45.

35.

Takahashi N, Morimoto S, Okigaki M, Seo M, Someya K, Morita T, Matsubara H, Sugiura T, Iwasaka T. Decreased plasma level of vitamin C in chronic kidney disease: Comparison between diabetic and non-diabetic patients. Nephrol Dial Transpl 2011;26:1252–57.

36.

Fletcher AE, Breeze E, Shetty PS. Antioxidant vitamins and mortality in older persons: Findings from the nutrition add-on study to the Medical Research Council Trial of Assessment and Management of Older People in the Community. Am J Clin Nutr 2003;78:999–1010.

37.

Karamouzis I, Sarafidis PA, Karamouzis M, Iliadis S, Haidich AB, Sioulis A, Triantos A, Vavatsi-Christaki N, Grekas DM. Increase in oxidative stress but not in antioxidant capacity with advancing stages of chronic kidney disease. Am J Nephrol 2008;28:397–404.

38.

Boudouris G, Verginadis, II, Simos YV, Zouridakis A, Ragos V, Karkabounas S, Evangelou AM. Oxidative stress in patients treated with continuous ambulatory peritoneal dialysis (CAPD) and the significant role of vitamin C and E supplementation. Int Urol Nephrol 2013;45:1137–44.

39.

Moffitt TA, Garrett PJ, Hannon-Fletcher MP. Micronutrient supplementation in maintenance haemodialysis patients enhances activity of antioxidant enzymes. J Nephrol 2013;26:403–11.

40.

Reckelhoff JF, Kanji V, Racusen LC, Schmidt AM, Yan SD, Marrow J, Roberts LJ, Salahudeen AK. Vitamin E ameliorates enhanced renal lipid peroxidation and accumulation of F2-isoprostanes in aging kidneys. Am J Physiol 1998;274:R767–74.

41.

Kadkhodaee M, Khastar H, Faghihi M, Ghaznavi R, Zahmatkesh M. Effects of co-supplementation of vitamins E and C on gentamicin-induced nephrotoxicity in rat. Exp Physiol 2005;90:571–6.

42.

Chade AR, Rodriguez-Porcel M, Herrmann J, Zhu X, Grande JP, Napoli C, Lerman A, Lerman LO. Antioxidant intervention blunts renal injury in experimental renovascular disease. J Am Soc Nephrol 2004;15:958–66.

43.

Small DM, Coombes JS, Bennett N, Johnson DW, Gobe GC. Oxidative stress, antioxidant therapies and chronic kidney disease. Nephrology (Carlton) 2012;17:311–21.

44.

Sung CC, Hsu YC, Chen CC, Lin YF, Wu CC. Oxidative stress and nucleic acid oxidation in patients with chronic kidney disease. Oxid Med Cell Longev 2013;2013:301982.

45.

Ringseis R, Keller J, Eder K. Mechanisms underlying the anti-wasting effect of l-carnitine supplementation under pathologic conditions: Evidence from experimental and clinical studies. Eur J Nutr 2013;52:1421–42.

46.

Juliet PA, Balasubramaniam D, Balasubramaniam N, Panneerselvam C. Carnitine: A neuromodulator in aged rats. J Gerontol A Biol Sci Med Sci 2003;58:970–4.

47.

Thangasamy T, Subathra M, Sittadjody S, Jeyakumar P, Joyee AG, Mendoza E, Chinnakkanu P. Role of L-carnitine in the modulation of immune response in aged rats. Clin Chim Acta 2008;389:19–24.

48.

Owen L, Sunram-Lea SI. Metabolic agents that enhance ATP can improve cognitive functioning: A review of the evidence for glucose, oxygen, pyruvate, creatine, and L-carnitine. Nutrients 2011;3:735–55.

49.

Sahebkar A. Effect of L-carnitine supplementation on circulating c-reactive protein levels: A systematic review and meta-analysis. J Med Biochem 2015;34:151–59.

50.

Stadler DD, Chenard CA, Rebouche CJ. Effect of dietary macronutrient content on carnitine excretion and efficiency of carnitine reabsorption. Am J Clin Nutr 1993;58:868–72.

51.

Boonsanit D, Kanchanapangka S, Buranakarl C. L-carnitine ameliorates doxorubicininduced nephrotic syndrome in rats. Nephrology (Carlton) 2006;11:313–20.

52.

Wang XH, Mitch WE. Mechanisms of muscle wasting in chronic kidney disease. Nat Rev Nephrol 2014;10:504–16.

53.

Visser M, Kritchevsky SB, Newman AB, Goodpaster BH, Tylavsky FA, Nevitt MC, Harris TB, Composition HAB. Lower serum albumin concentration and change in muscle mass: The Health, Aging and Body Composition Study. Am J Clin Nutr 2005;82:531–37.

54.

Orwoll ES, Weigel RM, Oviatt SK, Meier DE, Mcclung MR. Serum-protein concentrations and bone-mineral content in aging normal men. Am J Clin Nutr 1987;46:614–21.

55.

Nagabhushan VS, Narasinga Rao BS. Studies on 3-methylhistidine metabolism in children with protein-energy malnutrition. Am J Clin Nutr 1978;31:1322–7.

56.

Myint T, Fraser GE, Lindsted KD, Knutsen SF, Hubbard RW, Bennett HW. Urinary 1-methylhistidine is a marker of meat consumption in Black and in White California Seventh-day Adventists. Am J Epidemiol 2000;152:752–5.

57.

Tojo Y, Hamase K, Nakata M, Morikawa A, Mita M, Ashida Y, Lindner W, Zaitsu K. Automated and simultaneous two-dimensional micro-high-performance liquid chromatographic determination of proline and hydroxyproline enantiomers in mammals. J Chromatogr Analyt Technol Biomed Life Sci 2008;875:174–9.

58.

Koike K, Li Y, Seo M, Sakurada I, Tezuka K, Uchikura K. Free 4-hydroxyproline content in serum of bedridden aged people is elevated due to fracture. Biol Pharm Bull 2000;23:101–3.

59.

Shay KP, Moreau RF, Smith EJ, Smith AR, Hagen TM. Alpha-lipoic acid as a dietary supplement: Molecular mechanisms and therapeutic potential. Biochim Biophys Acta 2009;1790:1149–60.
About this article
Cite this article
Hall, J.A., Yerramilli, M., Obare, E. et al. Nutritional interventions that slow the age-associated decline in renal function in a canine geriatric model for elderly humans. J Nutr Health Aging 20, 1010–1023 (2016). https://doi.org/10.1007/s12603-015-0636-3
Received:

Accepted:

Published:

Issue Date:
Key words
Dog

glomerular filtration rate

lean body percent

renal biomarkers

symmetric dimethylarginine