Abstract
Objective
To examine the relationship between the living location and outcomes of physical activity level and physical and psychological functioning in older women. The specific aim was to understand the association between living in a sloped versus non-sloped environment and these outcomes.
Design
Cross-sectional study.
Setting and Participants
108 older women aged 65 years or older who resided in Nagasaki prefecture participated.
Measurements
Physical activity, lung function, muscle strength (hand grip and quadriceps force) and depressive symptoms were assessed objectively.
Results
In logistic regression, activity counts per day (OR 0.779, 95%CI 0.715-0.841, p<0.01), activity times per day (OR 0.821, 95%CI 0.801-0.913, p<0.01), hand grip force (OR 0.666, 95%CI 0.558-0.796, p<0.001), and depressed (Center for Epidemiological Studies Depression Scale score ≥16) (OR 1.093, 95%CI 1.019-1.427, p<0.05) showed statistically significant inverse associations with living in a sloped ground.
Conclusions
Since dwelling on sloped ground was associated with negative (lower physical activity levels, lower grip strength, and more depression) outcomes, a comprehensive geriatric assessment, related to all aspects of older women, is recommended. Planning of home exercise programs for the elderly should take such environmental factors into consideration.
Access options
Buy single article
Instant access to the full article PDF.
USD 39.95
Price excludes VAT (USA)
Tax calculation will be finalised during checkout.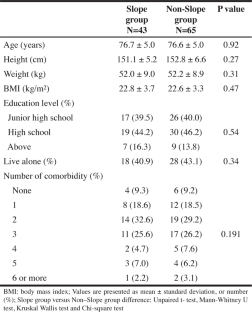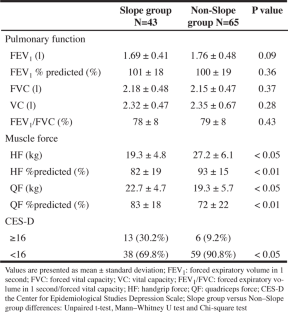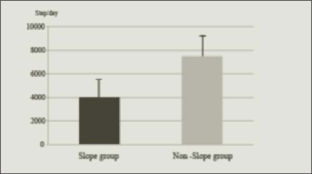 References
Hallal PC, Andersen LB, Bull FC, Guthold R, Haskell W, et al. Global physical activity levels: surveillance progress, pitfalls, and prospects. Lancet 2012; 380: 247–57. doi: 10.1016/S0140-6736(12)60646-1.

Haskell WL, Lee IM, Pate RR, Powell KE, Blair SN, et al. Physical activity and public health: updated recommendation for adults from the American College of Sports Medicine and the American Heart Association. Med Sci Sports Exerc 2007, 39: 1423–1434.

Stuck AE, Walthert JM, Nikolaus T, Büla CJ, Hohmann C, et al. Risk factors for functional status decline in community-living elderly people: a systematic literature review. Soc Sci Med 1999, 48:445–469.

Talbot LA, Morrell CH, Metter EJ, Fleg JL. Comparison of cardiorespiratory fitness versus leisure time physical activity as predictors of coronary events in men aged < or = 65 years and > 65 years. Am J Cardiol 2002, 89:1187–1192.

Lee IM, Paffenbarger RS Jr. Physical activity and stroke incidence: the Harvard Alumni Health Study. Stroke 1998, 29: 2049–2054.

Suzuki T, Kim H, Yoshida H, Ishizaki T. Randomized controlled trial of exercise intervention for the prevention of falls in community-dwelling elderly Japanese women. J Bone Miner Metab 2004, 22:602–611.

Tremblay MS, Shephard RJ, Brawley LR, Cameron C, Craig CL, et al. Physical activity guidelines and guides for Canadians: facts and future. Can J Public Health 2007, 98 Suppl 2:S218–224.

Paterson DH1, Jones GR, Rice CL. Ageing and physical activity: evidence to develop exercise recommendations for older adults. Can J Public Health 2007, 98 Suppl 2:S69–108.

Kolbe-Alexander TL1, Lambert EV, Charlton KE. Effectiveness of a community based low intensity exercise program for older adults. J Nutr Health Aging 2006, 10:21–29.

Fitzpatrick SE, Reddy S, Lommel TS, Fischer JG, Speer EM, et al. Physical activity and physical function improved following a community-based intervention in older adults in Georgia senior centers. J Nutr Elder 2008, 27:135–154.

Grazia OC, Yvonne LM. Concepts Guiding the Study of the Impact of the Built Environment on Physical Activity for Older Adults: A Review of the Literature. Am J Health Promot 2004, 18: 435–443.

Sallis JF, Hovell MF, Hofstetter CR, Barrington E. Explanation of vigorous physical activity during two years using social learning variables. Soc Sci Med 1992, 34: 25–32.

Chapman NJ, Beaudet M. Environmental predictors of well-being for at-risk older adults in a mid-sized city. J Gerontol 1983, 38: 237–44.

Wilcox S, Castro C, King AC, Housemann R, Brownson R. Determinants of leisure time physical activity in rural compaired with urban older and ethnically diverse women in the United States. J Epidemiol Community Health 2000, 54: 667–672.

Ball K, Bauman A, Leslie E, Owen N. Perceived environmental aesthetics and convenience and company are associated with walking for exercise among Australian adults. Prev Med. 2001, 33: 434–40.

Brownson RC, Baker EA, Housemann RA, Brennan LK, Bacak SJ. Environmental and policy determinants of physical activity in the United States. Am J Public Health 2001, 91: 1995–2003.

Troped PJ1, Saunders RP, Pate RR, Reininger B, Ureda JR, et al. Associations between self-reported and objective physical environmental factors and use of a community rail-trail. Prev Med 2001, 32: 191–200.

King AC1, Castro C, Wilcox S, Eyler AA, Sallis JF, et al. Personal and environmental factors associated with physical inactivity among different racialethnic groups of U.S. middle-aged and older-aged women. Health Psychol 2000, 19: 354–64.

Golubic R, Martin KR, Ekelund U, Hardy R, Kuh D et al. Levels of physical activity among a nationally representative sample of people in early old age: results of objective and self-reported assessments. Int J Behav Nutr Phys Act 2014, 3: 58. doi: 10.1186/1479-5868-11-58.

Lim K, Taylor L. Factors associated with physical activity among older people—a population-based study. Prev Med 2005, 40: 33–40.

Stathi A, Gilbert H, Fox KR, Coulson J, Davis M, et al. Determinants of neighborhood activity of adults age 70 and over: a mixed-methods study. J Aging Phys Act 2012, 20: 148–70.

McKee G, Kearney PM, Kenny RA. The factors associated with self-reported physical activity in older adults living in the community. Age Ageing. 2015, 11. pii: afv042.

Nagasaki Web City. The regulations, rule of city. http://www1.g-reiki.net/nagasaki/reiki_honbun/q302RG00000474.html. Accessed 7 May 2015 (in Japanese).

Togo F, Watanabe E, Park H, Yasunaga A, Park S, et al. How many days of pedometer use predict the annual activity of the elderly reliably? Med Sci Sports Exerc 2008, 40: 1058–1064.

Miller MR, Hankinson J, Brusasco V, Burgos F, Casaburi R, et al. Standardisation of spirometry. Eur Respir J 2005, 26:319–338.

Kato M, Yamasaki H, Hiiragi Y, Nakashima K. Measurements of isometric knee extension force with a hand-held dynamometer: effect of interrater reliability using a fixing-belt. Sogo Rehabilitation 2001, 29: 1047–1050.

Radloff LS. The CES-D Scale: a self-report depression scale for research in the general population. Appl. Psychol. Meas. 1977, 1: 385–401.

Van Cauwenberg J, De Bourdeaudhuij I, De Meester F, Van Dyck D, Salmon J, et al. Relationship between the physical environment and physical activity in older adults: a systematic review. Health Place 2011, 17:458–469.

Li F, Harmer PA, Cardinal BJ, Bosworth M, Acock A, et al. Built environment, adiposity, and physical activity in adults aged 50-75. Am J Prev Med 2008, 35:38–46.

King WC, Belle SH, Brach JS, Simkin-Silverman LR, Soska T, et al. Objective measures of neighborhood environment and physical activity in older women. Am J Prev Med 2005, 28:461–469.

Brownson RC, Eyler AA, King AC, Shyu YL, Brown DR et al. Reliability of information on physical activity and other chronic disease risk factors among US women aged 40 years or older. Am J Epidemiol 1999, 149: 379–391.

Kuh D, Bassey EJ, Butterworth S, Hardy R, Wadsworth ME, et al. Grip strength, postural control, and functional leg power in a representative cohort of British men and women: associations with physical activity, health status, and socioeconomic conditions. J Gerontol A Biol Sci Med Sci 2005, 60:224–231.

Martin HJ, Syddall HE, Dennison EM, Cooper C, Sayer AA. Relationship between customary physical activity, muscle strength and physical performance in older men and women: findings from the Hertfordshire Cohort Study. Age Ageing 2008, 37:589–593.

Vance DE, Ross LA, Ball KK, Wadley VG, Rizzo M. Correlates of individual physical activities in older adults. Act Adapt Aging 2007; 31: 1–21.

Hunter GR, McCarthy JP, Bamman MM. Effects of resistance training on older adults. Sports Med 2004, 34:329–348.

Baert V, Gorus E, Mets T, Geerts C, Bautmans I. Motivators and barriers for physical activity in the oldest old: a systematic review. Ageing Res Rev 2011, 10: 464–74.

Hamidizadeh S, Ahmadi F, Aslani Y, Ete-madifar S, Salehi K, et al. Study effect of a group-based exercise program on the quality of life in older men and women in 2006-2007. Journal of Shahid Sadoughi University of Medical Sciences 2008, 16:81–86.

El-Khoury F, Cassou B, Charles MA, Dar-gent-Molina P. The effect of fall prevention exercise programmes on fall induced injuries in community dwelling older adults: systematic review and meta-analysis of randomised controlled trials. BMJ 2013,347: f6234.

Drewe SB. Competing conception of com-petition: Implications for physical education. European Physical Education Review 1998, 4:5–20.

Ashford B, Biddle S, Goudas M. Participation in community sports centers: motives and predictors of enjoyment. J Sports Sci 1993, 11: 249–256.

Qhasemi S, Mousavi N. Health guideline for older people. Tehran: University of Social Welfare and Rehabilitation Sciences press. 2000.
About this article
Cite this article
Tanaka, T., Tanaka, K., Suyama, K. et al. A comparison of objective physical activity, muscle strength, and depression among community-dwelling older women living in sloped versus non-sloped environments. J Nutr Health Aging 20, 520–524 (2016). https://doi.org/10.1007/s12603-015-0602-0
Received:

Accepted:

Published:

Issue Date:

DOI: https://doi.org/10.1007/s12603-015-0602-0
Key words
Environmental

slope

older women

physical activity

physical function

depression