Abstract
Streptococcus salivarius K12 is an oral probiotic known to contribute to protection against oral pathogenic bacteria in humans. Studies of immune responses to S. salivarius K12 have focused on the oral cavity, and systemic immune responses have not yet been reported. The aim of this study was to identify acute systemic immune responses to the commercial product, S. salivarius BLIS K12, in a double-blinded, placebo-controlled human clinical trial. It was hypothesised that consumption of S. salivarius BLIS K12 would induce an anti-inflammatory response and a decrease in pro-inflammatory cytokines. Blood samples were obtained from participants prior to a single dose of S. salivarius BLIS K12 or a placebo and then secondary blood samples were obtained 24 h and 7 days post-consumption. Samples were analysed using multi-parametric flow cytometry, to quantify immune cell frequency changes, and by a LEGENDplex assay of human inflammatory cytokines. Consumption of S. salivarius BLIS K12 was associated with increased levels of IL-8 at 24 h. The frequency of Tregs increased in samples taken 7 days after probiotic consumption, and IL-10 concentrations were higher at 7 days than 24 h after consumption. There was no difference in the frequency and/or activation of CD4+ T cells, CD8+ T cells, B cells and NK cells. Interestingly, there was an increase in IL-12, 7 days after the consumption of S. salivarius BLIS K12. Collectively, this research demonstrates that ingestion of the probiotic S. salivarius K12 can induce changes in the systemic immune response. The implications of the generation and type of immune response warrant further study to determine potential health benefits.
Access options
Buy single article
Instant access to the full article PDF.
USD 39.95
Price excludes VAT (USA)
Tax calculation will be finalised during checkout.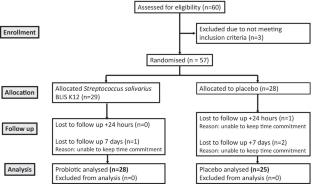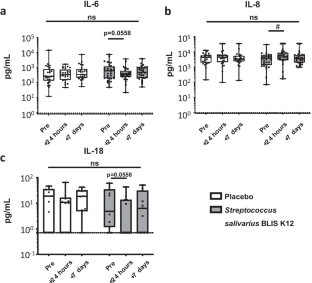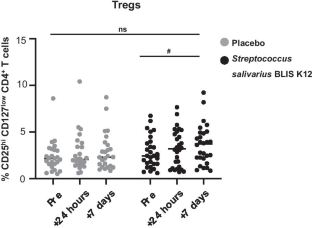 Data Availability Statement
The datasets generated during and/or analysed during the current study are not publicly available due to limitations in the ethical consent process but are available from the corresponding author on reasonable request.
References
Ozen M, Dinleyici EC (2015) The history of probiotics: the untold story. Benef Microbes 6:159–165. https://doi.org/10.3920/bm2014.0103

Todoriki K, Mukai T, Sato S, Toba T (2001) Inhibition of adhesion of food-borne pathogens to Caco-2 cells by Lactobacillus strains. J Appl Microbiol 91:154–159. https://doi.org/10.1046/j.1365-2672.2001.01371.x

Hegarty JW, Guinane CM, Ross RP, Hill C, Cotter PD (2016) Bacteriocin production: a relatively unharnessed probiotic trait? F1000Research. 5:2587. https://doi.org/10.12688/f1000research.9615.1.

Anderson RC, Cookson AL, McNabb WC, Park Z, McCann MJ, Kelly WJ et al (2010) Lactobacillus plantarum MB452 enhances the function of the intestinal barrier by increasing the expression levels of genes involved in tight junction formation. BMC Microbiol 10:316. https://doi.org/10.1186/1471-2180-10-316

Kechagia M, Basoulis D, Konstantopoulou S, Dimitriadi D, Gyftopoulou K, Skarmoutsou N et al (2013) Health benefits of probiotics: a review. ISRN Nutr 2013:481651. https://doi.org/10.5402/2013/481651

Ljungh A, Wadstrom T (2006) Lactic acid bacteria as probiotics. Curr Issues Intest Microbiol 7:73–89

Cosseau C, Devine DA, Dullaghan E, Gardy JL, Chikatamarla A, Gellatly S et al (2008) The commensal Streptococcus salivarius K12 downregulates the innate immune responses of human epithelial cells and promotes host-microbe homeostasis. Infect Immun 76:4163–4175. https://doi.org/10.1128/IAI.00188-08

Ashraf R, Shah NP (2014) Immune system stimulation by probiotic microorganisms. Crit Rev Food Sci Nutr 54:938–956. https://doi.org/10.1080/10408398.2011.619671

Barry M, Bleackley RC (2002) Cytotoxic T lymphocytes: all roads lead to death. Nat Rev Immunol 2:401–409. https://doi.org/10.1038/nri819

Leyer GJ, Li S, Mubasher ME, Reifer C, Ouwehand AC (2009) Probiotic effects on cold and influenza-like symptom incidence and duration in children. Pediatrics 124:e172–e179. https://doi.org/10.1542/peds.2008-2666

de Vrese M, Winkler P, Rautenberg P, Harder T, Noah C, Laue C et al (2006) Probiotic bacteria reduced duration and severity but not the incidence of common cold episodes in a double blind, randomized, controlled trial. Vaccine 24:6670–6674. https://doi.org/10.1016/j.vaccine.2006.05.048

Hao Q, Dong BR, Wu T (2015) Probiotics for preventing acute upper respiratory tract infections. Cochrane Database Syst Rev. https://doi.org/10.1002/14651858.CD006895.pub3

Takeda K, Suzuki T, Shimada S-I, Shida K, Nanno M, Okumura K (2006) Interleukin-12 is involved in the enhancement of human natural killer cell activity by Lactobacillus casei Shirota. Clin Exp Immunol 146:109–115. https://doi.org/10.1111/j.1365-2249.2006.03165.x

Wang M, Ahrné S, Jeppsson B, Molin G (2005) Comparison of bacterial diversity along the human intestinal tract by direct cloning and sequencing of 16S rRNA genes. FEMS Microbiol Ecol 54:219–231. https://doi.org/10.1016/j.femsec.2005.03.012

Hakalehto E, Vilpponen-Salmela T, Kinnunen K, von Wright A (2011) Lactic acid bacteria enriched from human gastric biopsies. ISRN Gastroenterol 2011:4. https://doi.org/10.5402/2011/109183

Park HK, Shim SS, Kim SY, Park JH, Park SE, Kim HJ et al (2005) Molecular analysis of colonized bacteria in a human newborn infant gut. J Microbiol 43:345–353

Jack RW, Tagg JR, Ray B (1995) Bacteriocins of gram-positive bacteria. Microbiol Rev 59:171–200. https://doi.org/10.1128/mr.59.2.171-200.1995

Geng M, Austin F, Shin R, Smith L (2017) Characterization of the covalent structure and bioactivity of the type AII lantibiotic salivaricin A2. Appl Environ Microbiol 85:e02528-e12517. https://doi.org/10.1128/AEM.02528-17

Sharma S, Verma KK (2001) Skin and soft tissue infection. Indian J Pediatr 68(Suppl 3):S46-50

Burton JP, Chilcott CN, Moore CJ, Speiser G, Tagg JR (2006) A preliminary study of the effect of probiotic Streptococcus salivarius K12 on oral malodour parameters. J Appl Microbiol 100:754–764. https://doi.org/10.1111/j.1365-2672.2006.02837.x

Power DA, Burton JP, Chilcott CN, Dawes PJ, Tagg JR (2008) Preliminary investigations of the colonisation of upper respiratory tract tissues of infants using a paediatric formulation of the oral probiotic Streptococcus salivarius K12. Eur J Clin Microbiol Infect Dis 27:1261–1263. https://doi.org/10.1007/s10096-008-0569-4

Horz HP, Meinelt A, Houben B, Conrads G (2007) Distribution and persistence of probiotic Streptococcus salivarius K12 in the human oral cavity as determined by real-time quantitative polymerase chain reaction. Oral Microbiol Immunol 22:126–130. https://doi.org/10.1111/j.1399-302X.2007.00334.x

Kaci G, Goudercourt D, Dennin V, Pot B, Doré J, Ehrlich SD et al (2014) Anti-inflammatory properties of Streptococcus salivarius, a commensal bacterium of the oral cavity and digestive tract. Appl Environ Microbiol 80:928–934. https://doi.org/10.1128/AEM.03133-13

Scheiermann C, Kunisaki Y, Frenette PS (2013) Circadian control of the immune system. Nat Rev Immunol 13:190–198. https://doi.org/10.1038/nri3386

Spitzer MH, Gherardini PF, Fragiadakis GK, Bhattacharya N, Yuan RT, Hotson AN et al (2015). An interactive reference framework for modeling a dynamic immune system. Science (New York, N.Y.). 349:1259425–1259425. https://doi.org/10.1126/science.1259425.

Bjorksten B, Sepp E, Julge K, Voor T, Mikelsaar M (2001) Allergy development and the intestinal microflora during the first year of life. J Allergy Clin Immunol 108:516–520. https://doi.org/10.1067/mai.2001.118130

Dwivedi M, Kumar P, Laddha NC, Kemp EH (2016) Induction of regulatory T cells: a role for probiotics and prebiotics to suppress autoimmunity. Autoimmun Rev 15:379–392. https://doi.org/10.1016/j.autrev.2016.01.002

Hacini-Rachinel F, Gheit H, Le Luduec J-B, Dif F, Nancey S, Kaiserlian D (2009) Oral probiotic control skin inflammation by acting on both effector and regulatory T Cells. PLoS One 4:e4903. https://doi.org/10.1371/journal.pone.0004903

de Moreno de Leblanc A, Del Carmen S, Zurita-Turk M, Santos Rocha C, van de Guchte M, Azevedo V et al (2011) Importance of IL-10 modulation by probiotic microorganisms in gastrointestinal inflammatory diseases. ISRN Gastroenterol 2011:892971. https://doi.org/10.5402/2011/892971

Van Epps HL (2006) IL-6 drives T cell proliferation. J Exp Med 203:1387–1387. https://doi.org/10.1084/jem.2036iti3

Lin G, Wang J, Lao X, Wang J, Li L, Li S et al (2012) Interleukin-6 inhibits regulatory T cells and improves the proliferation and cytotoxic activity of cytokine-induced killer cells. J Immunother 35:337–343. https://doi.org/10.1097/CJI.0b013e318255ada3

Mak TW, Saunders ME (2006) T cell differentiation and effector function. In: Mak TW, Saunders ME (eds) The immune response. Academic Press, Burlington, pp 403–432

Gill HS, Rutherfurd KJ, Cross ML (2001) Dietary probiotic supplementation enhances natural killer cell activity in the elderly: an investigation of age-related immunological changes. J Clin Immunol 21:264–271. https://doi.org/10.1023/a:1010979225018

Takeda K, Okumura K (2007) Effects of a fermented milk drink containing Lactobacillus casei strain Shirota on the human NK-cell activity. J Nutr 137:791s–793s. https://doi.org/10.1093/jn/137.3.791S

Eckburg PB, Bik EM, Bernstein CN, Purdom E, Dethlefsen L, Sargent M et al (2005) Diversity of the human intestinal microbial flora. Science 308:1635–1638. https://doi.org/10.1126/science.1110591

Burton JP, Cowley S, Simon RR, McKinney J, Wescombe PA, Tagg JR (2011) Evaluation of safety and human tolerance of the oral probiotic Streptococcus salivarius K12: a randomized, placebo-controlled, double-blind study. Food Chem Toxicol 49:2356–2364. https://doi.org/10.1016/j.fct.2011.06.038

Shane AL, Cabana MD, Vidry S, Merenstein D, Hummelen R, Ellis CL et al (2010) Guide to designing, conducting, publishing and communicating results of clinical studies involving probiotic applications in human participants. Gut Microbes 1:243–253. https://doi.org/10.4161/gmic.1.4.12707

Bermudez-Brito M, Muñoz-Quezada S, Gomez-Llorente C, Matencio E, Bernal MJ, Romero F et al (2013) Cell-free culture supernatant of Bifidobacterium breve CNCM I-4035 decreases pro-inflammatory cytokines in human dendritic cells challenged with Salmonella typhi through TLR activation. PLoS One 8:e59370. https://doi.org/10.1371/journal.pone.0059370

Clevers H (2016) Modeling development and disease with organoids. Cell 165:1586–1597. https://doi.org/10.1016/j.cell.2016.05.082
Acknowledgements
The authors thank Janet Rhodes and Jackson Treece for phlebotomy services and Nic West for advice on data analysis.
Funding
This work was made possible by a Research and Development Student grant from Callaghan Innovation, New Zealand.
Ethics declarations
Ethics Approval
This study was performed in line with the principles of the Declaration of Helsinki. Approval was granted by the Human Ethics Committee of the University of Otago (Ref#H18/054).
Consent to Participate
Informed consent was obtained from all individual participants included in the study.
Consent for Publication
Informed consent to publish was obtained from all individual participants in the study.
Conflict of Interest
JDFH is an employee of Blis Technologies, the manufacturer of Streptococcus salivarius BLIS K12 probiotics.
GLL was an employee of Blis Technologies prior to commencing this work. Blis Technologies supported student fees for GL.
Additional information
Publisher's Note
Springer Nature remains neutral with regard to jurisdictional claims in published maps and institutional affiliations.
Supplementary Information
Below is the link to the electronic supplementary material.
About this article
Cite this article
Laws, G.L., Hale, J.D.F. & Kemp, R.A. Human Systemic Immune Response to Ingestion of the Oral Probiotic Streptococcus salivarius BLIS K12. Probiotics & Antimicro. Prot. 13, 1521–1529 (2021). https://doi.org/10.1007/s12602-021-09822-3
Accepted:

Published:

Issue Date:

DOI: https://doi.org/10.1007/s12602-021-09822-3
Keywords
Probiotic

Immune

Oral tolerance

Cytokines

S. salivarius

Regulatory T cells