Abstract
Otitis media is a common childhood infection, frequently requiring antibiotics. With high rates of antibiotic prescribing and increasing antibiotic resistance, new strategies in otitis media prevention and treatment are needed. The aim of this study was to assess the in vitro inhibitory activity Streptococcus salivarius BLIS K12 against otitis media pathogens. Efficacy of the bacteriocin activity of S. salivarius BLIS K12 against the otitis media isolates was assessed using the deferred antagonism test. Overall, 48% of pathogenic isolates exhibited some growth inhibition by S. salivarius BLIS K12. S. salivarius BLIS K12 can inhibit the in vitro growth of the most common pathogens.
This is a preview of subscription content,
to check access.
Access this article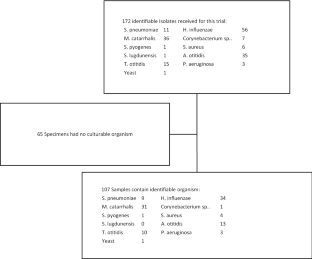 Similar content being viewed by others
References
Klein JO (2000) The burden of otitis media. Vaccine 19:S2–S8

Teele DW, Klein JO, Rosner BA (1980) Epidemiology of otitis media in children. Ann Otol Rhinol Laryngol 89:5–6. https://doi.org/10.1177/00034894800890S304

Williams CJ, Jacobs AM (2009) The impact of otitis media on cognitive and educational outcomes. Med J Aust 191:S69–S72

Holl K, Rosenlund M, Silfverdal CGS et al (2015) The impact of childhood acute otitis media on parental quality of life in a prospective observational cohort study. Clin Drug Investig 35:613–624. https://doi.org/10.1007/s40261-015-0319-1

Mills N, Best EJ, Murdoch D et al (2015) What is behind the ear drum? The microbiology of otitis media and the nasopharyngeal flora in children in the era of pneumococcal vaccination. J Paediatr Child Health 51:300–306. https://doi.org/10.1111/jpc.12710

Ngo CC, Massa HM, Thornton RB, Cripps AW (2016) Predominant bacteria detected from the middle ear fluid of children experiencing otitis media: a systematic review. PLoS ONE 11:1–26. https://doi.org/10.1371/journal.pone.0150949

Coco AS, Horst MA, Gambler AS (2009) Trends in broad-spectrum antibiotic prescribing for children with acute otitis media in the United States, 1998–2004. BMC Pediatr 9:41

Hobbs MR, Grant CC, Ritchie SR et al (2017) Antibiotic consumption by New Zealand children: exposure is near universal by the age of 5 years. J Antimicrob Chemother 72:1832–1840

Niittynen L, Pitkäranta A, Korpela R (2012) Probiotics and otitis media in children. Int J Pediatr Otorhinolaryngol 76:465–470. https://doi.org/10.1016/j.ijporl.2012.01.011

Coleman A, Cervin A (2019) Probiotics in the treatment of otitis media. The past, the present and the future. Int J Pediatr Otorhinolaryngol 116:135–140

Tapiovaara L, Pitkaranta A, Korpela R (2016) Probiotics and the upper respiratory tract-a review. Pediatr Infect Dis 1:282–2573

Boirivant M, Strober W (2007) The mechanism of action of probiotics. Curr Opin Gastroenterol 23:679–692. https://doi.org/10.1097/MOG.0b013e3282f0cffc

Tagg JR (2009) Streptococcal bacteriocin-like inhibitory substances: some personal insights into the bacteriocin-like activities produced by streptococci good and bad. Probiotics Antimicrob Proteins 1:60–66

Walls T, Power D, Tagg J (2003) Bacteriocin-like inhibitory substance (BLIS) production by the normal flora of the nasopharynx: potential to protect against otitis media? J Med Microbiol 52:829–833. https://doi.org/10.1099/jmm.0.05259-0

Best EJ, Walls T, Souter M et al (2016) Pneumococcal vaccine impact on otitis media microbiology: a New Zealand cohort study before and after the introduction of PHiD-CV10 vaccine. Vaccine 34:3840–3847

Tagg JR, Bannister LV (1979) "Fingerprinting" B-haemolytic streptococci by their production of and sensitivity to bacteriocine-like inhibitors. J Med Microbiol 12:397–411

Santagati M, Scillato M, Patane F et al (2012) Bacteriocin-producing oral streptococci and inhibition of respiratory pathogens. FEMS Immunol Med Microbiol 65:23–31. https://doi.org/10.1111/j.1574-695X.2012.00928.x

Eskola J, Kilpi T, Palmu A et al (2001) Efficacy of a pneumococcal conjugate vaccine against acute otitis media. N Engl J Med 344:403–409

Ac F, Rp V, Cwb B et al (2019) Pneumococcal conjugate vaccines for preventing acute otitis media in children (review) Summary of findings for the main comparison. Cochrane Database Syst Rev. https://doi.org/10.1002/14651858.CD001480.pub5

Dagan R, Klugman KP (2008) Impact of conjugate pneumococcal vaccines on antibiotic resistance. Lancet Infect Dis 8:785–795

Lo SW, Gladstone RA, Van Tonder AJ et al (2019) Pneumococcal lineages associated with serotype replacement and antibiotic resistance in childhood invasive pneumococcal disease in the post-PCV13 era: an international whole-genome sequencing study. Lancet Infect Dis 19:759–769

Danino D, Givon-Lavi N, Ben-Shimol S et al (2019) Understanding the evolution of antibiotic-nonsusceptible pneumococcal nasopharyngeal colonization following pneumococcal conjugate vaccine implementation in young children. Clin Infect Dis 69:648–656

Mackenzie GA, Leach AJ, Carapetis JR et al (2010) Epidemiology of nasopharyngeal carriage of respiratory bacterial pathogens in children and adults: cross-sectional surveys in a population with high rates of pneumococcal disease. BMC Infect Dis 10:304

Fraise AP, Pahor AL, Beswick AJ (2001) Otitis media with effusion: the role of Alloiococcus otitidis. Ann Med 33:1–3. https://doi.org/10.3109/07853890109002053

Gomez-Garces JL, Alhambra A, Alos JI et al (2004) Acute and chronic otitis media and Turicella otitidis: a controversial association. Clin Microbiol Infect 10:854–857

Tagg JR (1992) Bacteriocins of Gram-positive bacteria: an opinion regarding their nature, nomenclature and numbers. In: James R, Lazdunski C, Pattus F (eds) Bacteriocins, microcins and lantibiotics. Springer, Berlin, Heidelberg, pp 33–35

Vera Pingitore E, Hebert EM, Sesma F, Nader-Macías ME (2009) Influence of vitamins and osmolites on growth and bacteriocin production by Lactobacillus salivarius CRL 1328 in a chemically defined medium. Can J Microbiol 55:304–310

Hynes WL, Tagg JR (1986) Proteinase-related broad-spectrum inhibitory activity among group-A streptococci. J Med Microbiol 22:257–264. https://doi.org/10.1099/00222615-22-3-257
Acknowledgements
Blis Technology provided BLIS K12 and the use of lab facilities without cost to the research team.
Funding
The study was investigator led and funded through the Paediatric Department, University of Otago, Christchurch.
Ethics declarations
Ethical Approval
The study was approved by the Health and Disability Ethics Committee, New Zealand. Ethics approval number—NTX/11/04/029/AM02.
Informed Consent
Participants in the original OMIVI studies provided written consent for storage of their sample for later research.
Conflict of Interest
Dr. J Hale, Professor J Tagg, Dr. R Jain and A. Voss are paid employees of Blis Technologies. None of the other authors has any conflict of interest to declare.
Additional information
Publisher's Note
Springer Nature remains neutral with regard to jurisdictional claims in published maps and institutional affiliations.
Electronic supplementary material
Below is the link to the electronic supplementary material.
About this article
Cite this article
Chen, T.Y., Hale, J.D.F., Tagg, J.R. et al. In vitro Inhibition of Clinical Isolates of Otitis Media Pathogens by the Probiotic Streptococcus salivarius BLIS K12. Probiotics & Antimicro. Prot. 13, 734–738 (2021). https://doi.org/10.1007/s12602-020-09719-7
Accepted:

Published:

Issue Date:

DOI: https://doi.org/10.1007/s12602-020-09719-7
Keywords