Abstract
The dairy products remain as the largest reservoir for isolation of probiotic microorganisms. While probiotics have been immensely reported to exert various health benefits, it is also a common notion that these health potentials are strain and host dependent, leading to the need of more human evidence based on specific strains, health targets, and populations. This randomized, single-blind, and placebo-controlled human study aimed to evaluate the potential benefits of putative probiotic strains isolated from kefir on gastrointestinal parameters in fifty-six healthy adults. The consumption of AB-kefir (Bifidobacterium longum, Lactobacillus acidophilus, L. fermentum, L. helveticus, L. paracasei, L. rhamnosus, and Streptococcus thermophiles; total 10 log CFU/sachet) daily for 3 week reduced symptoms of abdominal pain, bloating (P = 0.014), and appetite (P = 0.041) in male subjects as compared to the control. Gut microbiota distribution profiles were shifted upon consumption of AB-kefir compared to baseline, where the abundance of bifidobacteria was increased in male subjects and maintained upon cessation of AB-kefir consumption. The consumption of AB-kefir also increased gastrointestinal abundance of total anaerobes (P = 0.038) and total bacterial (P = 0.049) in female subjects compared to the control after 3 weeks. Our results indicated that AB-kefir could potentially be developed as a natural strategy to improve gastrointestinal functions in adults.
Access options
Buy single article
Instant access to the full article PDF.
US$ 39.95
Tax calculation will be finalised during checkout.
Subscribe to journal
Immediate online access to all issues from 2019. Subscription will auto renew annually.
US$ 79
Tax calculation will be finalised during checkout.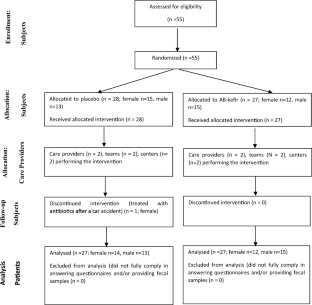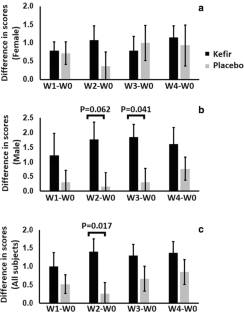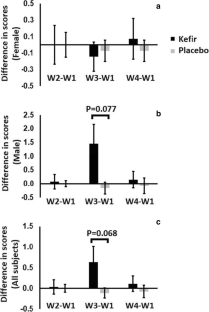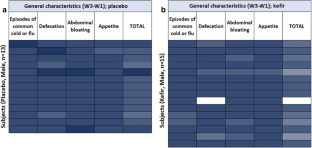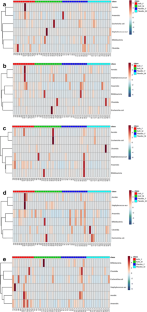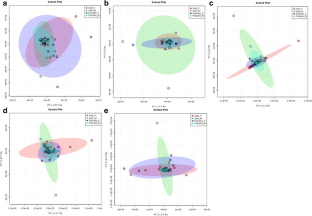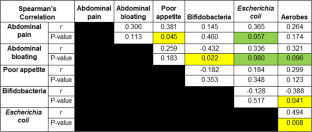 References
1.

McCrea GL, Miaskowski C, Stotts NA, Macera L, Paul SM, Varma MG (2009) Gender differences in self-reported constipation characteristics, symptoms, and bowel and dietary habits among patients attending a specialty clinic for constipation. Gend Med 6(1):259–271

2.

Leite AMDO, Miguel MAL, Peixoto RS, Rosado AS, Silva JT, Paschoalin VMF (2013) Microbiological, technological and therapeutic properties of kefir: a natural probiotic beverage. Braz J Microbiol 44(2):341–349

3.

Hsu YJ, HuangWC LJS, Chen YM, Ho ST, Huang CC, Tung YT (2018) Kefir supplementation modifies gut microbiota composition, reduces physical fatigue, and improves exercise performance in mice. Nutrients 10(7):862

4.

Morelli L, Capurso L (2012) FAO/WHO guidelines on probiotics: 10 years later. J Clin Gastroenterol 46:S1–S2

5.

Hor YY, Lew LC, Lau ASY, Ong JS, Chuah LO, Lee YY, Choi SB, Rashid F, Wahid N, Sun Z, Kwok LY, Zhang H, Liong MT (2018) Probiotic Lactobacillus casei Zhang (LCZ) alleviates respiratory, gastrointestinal & RBC abnormality via immuno-modulatory, anti-inflammatory & anti-oxidative actions. J Funct Foods 44:235–245

6.

Lew LC, Hor YY, Khoo BY, Sasidharan S, Liong MT (2018) Lactobacillus plantarum DR7 reduces cholesterol via phosphorylation of AMPK that down-regulated the mRNA expression of HMGCR. Korean J Food Sci Animal Res 38:350–361

7.

Verna EC, Lucak S (2010) Use of probiotics in gastrointestinal disorders: what to recommend? Ther Adv Gastroenter 3(5):307–319

8.

El-Soud NHA, Said RN, Mosallam DS, Barakat NAM, Sabry MA (2015) Bifidobacterium lactis in treatment of children with acute diarrhea. A randomized double blind controlled trial. Open Access Maced J Med Sci 3(3):403

9.

Conway S, Hart A, Clark A, Harvey I (2007) Does eating yogurt prevent antibiotic-associated diarrhoea?: a placebo-controlled randomised controlled trial in general practice. Br J Gen Pract 57(545):953–959

10.

Pérez C (2015) Probiotics for the treating acute diarrhea and preventing antibiotic-associated diarrhea in children. Nutr Hosp 31:64–67

11.

Grossi E, Buresta R, Abbiati R, Cerutti R, Pro-DIA study group (2010) Clinical trial on the efficacy of a new symbiotic formulation, Flortec, in patients with acute diarrhea: a multicenter, randomized study in primary care. J Clin Gastroenterol 44:S35–S41

12.

Yang YX, He M, Hu G, Wei J, Pages P, Yang XH, Bourdu-Naturel S (2008) Effect of a fermented milk containing Bifidobacterium lactis DN-173010 on Chinese constipated women. World J Gastroenterol 14(40):6237

13.

Feng P, Weagant SD, Grant MA, Burkhardt W, Shellfish M, Water B (2002) BAM: enumeration of Escherichia coli and the Coliform Bacteria. Bacteriological Analytical Manual 13

14.

Tanaka R, Mutai M (1980) Improved medium for selective isolation and enumeration of Bifidobacterium. Appl Environ Microbiol 40:866–869

15.

Cessna J (2017) Situation and outlook for the US dairy industry. Agricultural Outlook Forum2017.www.usda.gov/oce/forum/past_speeches/2017/2017_Speeches/Jerry_Cessna.pdf (accessed February 2019)

16.

Chatellier V (2017) International European and French trade in dairy products: trends and competitive dynamics. https://hal.archives-ouvertes.fr/hal-01581619/document (accessed March 2019)

17.

Di Cerbo A, Palmieri B (2015) The market of probiotics. Pak J Pharm Sci 28(6)

18.

Waitzberg DL, Logullo LC, Bittencourt AF, Torrinhas RS, Shiroma GM, Paulino NP, Teixeira-da-Silva ML (2013) Effect of synbiotic in constipated adult women–a randomized, double-blind, placebo-controlled study of clinical response. Clin Nutr 32(1):27–33

19.

Ringel Y, Ringel-Kulka T, Maier D, Carroll I, Galanko JA, Leyer G, Palsson, O.S (2011) Clinical trial: probiotic bacteria Lactobacillus acidophilus NCFM and Bifidobacterium lactis Bi-07 versus placebo for the symptoms of bloating in patients with functional bowel disorders-a double-blind study. J Clin Gastroenterol 45(6):518.

20.

Kitajima H, Hirano S (2017) Safety of Bifidobacterium breve (BBG-01) in preterm infants. Pediatr Int 59(3):328–333

21.

DuPont AW, DuPont HL (2011) The intestinal microbiota and chronic disorders of the gut. Nat Rev Gastroenterol Hepatol 8(9):523

22.

Barbara G, Feinle-Bisset C, Ghoshal UC, Santos J, Vanner SJ, Vergnolle N, Zoetendal EG, Quigley EM (2016) The intestinal microenvironment and functional gastrointestinal disorders. Gastroenterology 150(6):1305–1318

23.

Shimizu K, Ogura H, Asahara T, Nomoto K, Morotomi M, Tasaki O, Matsushima A, Kuwagata Y, Shimazu T, Sugimoto H (2013) Probiotic/synbiotic therapy for treating critically ill patients from a gut microbiota perspective. Dig Dis Sci 58(1):23–32

24.

Schmulson M, Adeyemo M, Gutiérrez-Reyes G, Charúa-Guindic L, Farfán-Labonne B, Ostrosky-Solis F, Díaz-Anzaldúa A, Medina L, Chang L (2010) Differences in gastrointestinal symptoms according to gender in Rome II positive IBS and dyspepsia in a Latin American population. Am J Physiol Gastrointest 105(4):925
Acknowledgments
The authors thank the funder for providing ideas in the stages of designing the experiments and reading the manuscript for intellectual content prior to submission as per decisions of authors.
Funding
This study was supported by the grant from The Southern Taiwan Science Park, Ministry of Science and Technology, Taiwan (Grant Number: 100CB03).
Ethics declarations
Conflict of Interest
The authors declare that they have no conflict of interest
Additional information
Publisher's Note
Springer Nature remains neutral with regard to jurisdictional claims in published maps and institutional affiliations.
About this article
Cite this article
Wang, MC., Zaydi, A.I., Lin, WH. et al. Putative Probiotic Strains Isolated from Kefir Improve Gastrointestinal Health Parameters in Adults: a Randomized, Single-Blind, Placebo-Controlled Study. Probiotics & Antimicro. Prot. 12, 840–850 (2020). https://doi.org/10.1007/s12602-019-09615-9
Keywords
AB-kefir

Abdominal bloating

Abdominal pain

Appetite

Gut microbiota