Abstract
Salmonella is an important zoonotic pathogen and is a major cause of gastrointestinal diseases worldwide. The current serious problem of antibiotic abuse has prompted the search for new substitutes for antibiotics. JH-3 is a small antimicrobial peptide with broad-spectrum bactericidal activity. In this study, we showed that JH-3 has good bactericidal activity towards the clinical isolate Salmonella enterica serovar Typhimurium strain CVCC541. The minimum inhibitory concentration (MIC) of JH-3 against this bacterium was determined to be 100 μg/mL, which could decrease the number of CVCC541 cells by 1000-fold in vitro within 5 h. The transmission electron microscopy (TEM) results showed that JH-3 can damage the cell wall and membrane of CVCC541, leading to the leakage of cell contents and subsequent cell death. To measure the bactericidal activity of CVCC541-infected mice were treated intraperitoneally 40 or 10 mg/kg JH-3 at 2 h or 3 days postinfection. Our results showed that treatment with 40 mg/kg JH-3 at 2 h postinfection had the best therapeutic effect and could significantly protect mice from a lethal dose of CVCC541. Furthermore, the clinical symptoms, bacterial burden in blood and organs, and intestinal pathological changes were all decreased and were close to normal. This study examined the therapeutic effect of the antimicrobial peptide JH-3 against S. enterica CVCC541 infection for the first time and determined the therapeutic effect of different JH-3 doses and treatment times, laying the foundation for studies of new antimicrobial agents.
Access options
Buy single article
Instant access to the full article PDF.
US$ 39.95
Tax calculation will be finalised during checkout.
Subscribe to journal
Immediate online access to all issues from 2019. Subscription will auto renew annually.
US$ 79
Tax calculation will be finalised during checkout.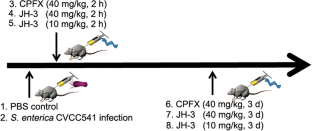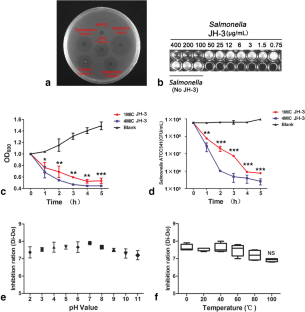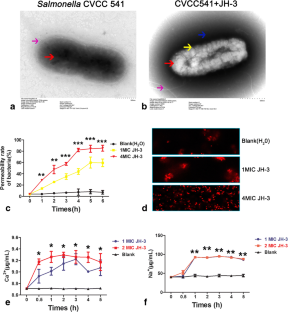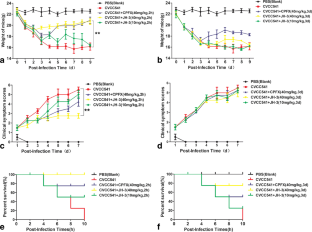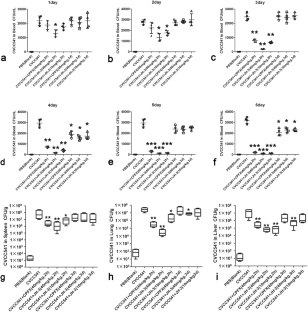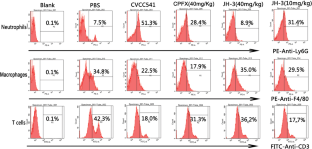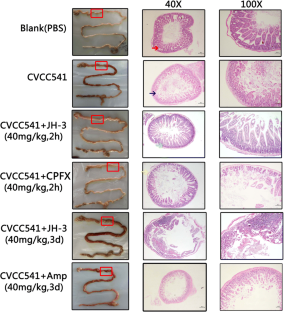 Acknowledgments
Lei Wang and Xueqin Zhao contributed equally to this work. We thank Xiaojing Xia, Chunling Zhu, Wanhai Qin and Hanna Fotina for providing language assistance. We thank Yanzhao Xu, Bolin Hang, Yawei Sun, Shijun Chen, Huihui Zhang and Jinqing Jiang for writing and editing assistance. We also thank Jianhe Hu and Gaiping Zhang for guidance and for help designing the article.
Funding
This work was supported by grants from the National Natural Science Foundation of China (Nos. 31672559, 31702259 and 31372447), the National Key Research and Development Program of China (2016YFD0500708-04), the Program for Science Technology Innovation Talents in Universities of Henan Province (14HASTIT026), and the Excellent Youth Foundation of Henan Scientific Committee (174100510005).
Ethics declarations
Female BALB/c mice (6 to 8 weeks old, body weight of 18 to 22 g) were purchased from the Animal Center of Zhengzhou University (No. 41003100003648). All animal studies were conducted according to the experimental practices and standards of the Animal Welfare and Research Ethics Committee at Zhengzhou University. The study was approved by the Animal Centre of Zhengzhou University.
Conflict of Interest
The authors declare that they have no conflicts of interest.
Additional information
Publisher's Note
Springer Nature remains neutral with regard to jurisdictional claims in published maps and institutional affiliations.
About this article
Cite this article
Wang, L., Zhao, X., Xia, X. et al. Antimicrobial Peptide JH-3 Effectively Kills Salmonella enterica Serovar Typhimurium Strain CVCC541 and Reduces Its Pathogenicity in Mice. Probiotics & Antimicro. Prot. 11, 1379–1390 (2019). https://doi.org/10.1007/s12602-019-09533-w
Keywords
Antimicrobial peptide

Salmonella

Sterilisation

Enteritis

Pathogenicity