Abstract
Lactose intolerance is a common condition caused by lactase deficiency and may result in symptoms of lactose malabsorption (bloating, flatulence, abdominal discomfort, and change in bowel habits). As current data is limited, the aim of our study was to assess the efficacy of probiotics with a β-galactosidase activity on symptoms of lactose malabsorption and on the lactose hydrogen breath test (LHBT). The study group comprised eight symptomatic female patients with a positive LHBT. Patients were treated for 6 months with a probiotic formula with β-galactosidase activity (Bio-25, Ambrosia-SupHerb, Israel). All patients completed a demographic questionnaire as well as a diary for the assessment of symptom severity and frequency at entry, every 8 weeks, and at the end of the treatment period. Measurements of hydrogen (H2) levels (parts per million, ppm) at each of these time points were also performed. End points were a decrease of 50% in symptom severity or frequency, and the normalization (decrease below cutoff point of 20 ppm) of the breath test. Mean age and mean body mass index (BMI) were 36.4 ± 18.6 years and 23.2 kg/m2, respectively. Compared to baseline scores, the frequency of most symptoms, and the severity of bloating and flatulence, improved after treatment. Normalization of LHBT was obtained in only two patients (25%). In this pilot study, Bio-25, a unique formulation of probiotics with β-galactosidase activity, demonstrated symptom resolution in most patients with lactose malabsorption. A larger randomized trial is warranted to confirm these preliminary findings.
This is a preview of subscription content, log in to check access.
Access options
Buy single article
Instant access to the full article PDF.
US$ 39.95
Price includes VAT for USA
Subscribe to journal
Immediate online access to all issues from 2019. Subscription will auto renew annually.
US$ 99
This is the net price. Taxes to be calculated in checkout.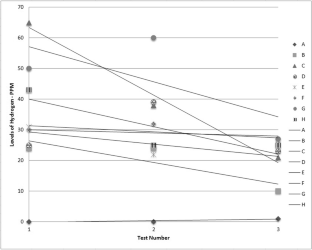 References
1.

Montes RG, Perman JA (1991) Lactose intolerance. Pinpointing the source of nonspecific gastrointestinal symptoms. Postgrad Med 89:175–178

2.

Carroccio A, Montalto G, Cavera G, Notarbatolo A (1998) Lactose intolerance and self-reported milk intolerance: relationship with lactose maldigestion and nutrient intake. Lactase Deficiency Study Group. J Am Coll Nutr 17:631–636

3.

Montalto M, Curigliano V, Santoro L, Vastola M, Cammarota G, Manna R, Gasbarrini A, Gassbarini G (2006) Management and treatment of lactose malabsorption. World J Gastroenterol 12:187–191

4.

Farup PG, Monsbakken KW, Vandvik PO (2004) Lactose malabsorption in a population with irritable bowel syndrome: prevalence and symptoms. A case-control study. Scand J Gastroenterol 39:645–649

5.

Lomer MC, Parkes GC, Sanderson JD (2008) Review article: lactose intolerance in clinical practice--myths and realities. Aliment Pharmacol Ther 27:93–103

6.

Di Stefano M, Veneto G, Malservisi S, Cecchetti L, Minguzzi L, Strocchi A, Corraza GR (2002) Lactose malabsorption and intolerance and peak bone mass. Gastroenterology 122:1793–1799

7.

Ramirez FC, Lee K, Graham DY (1994) All lactase preparations are not the same: results of a prospective, randomized, placebo-controlled trial. Am J Gastroenterol 89:566–570

8.

Misselwitz B, Pohl D, Fruhauf H, Fried M, Vavricka SR, Fox M (2013) Lactose malabsorption and intolerance: pathogenesis, diagnosis and treatment. United European Gastroenterol J 1:151–159

9.

Wilt TJ, Shaukat A, Shamliyan T, Taylor BC, MacDonald R, Tacklind J, Rutks I, Schwarzenberg SJ, Kane RL, Levitt M (2010) Lactose intolerance and health. Evid Rep Technol Assess (Full Rep) 192:1–410

10.

Fuller R (1991) Probiotics in human medicine. Gut 32:439–442

11.

Mustapha A, Jiang T, Savaiano DA (1997) Improvement of lactose digestion by humans following ingestion of unfermented acidophilus milk: influence of bile sensitivity, lactose transport, and acid tolerance of lactobacillus acidophilus. J Dairy Sci 80:1537–1545

12.

de Vrese M, Stegelmann A, Richter B, Fenselau S, Laue C, Schrezenmeir J (2001) Probiotics--compensation for lactase insufficiency. Am J Clin Nutr 73(2 Suppl):421S–429S

13.

Sperber AD, Shvartzman P, Friger M, Fich A (2007) A comparative reappraisal of the Rome II and Rome III diagnostic criteria: are we getting closer to the 'true' prevalence of irritable bowel syndrome? Eur J Gastroenterol Hepatol 19:441–447

14.

Eisenmann A, Amann A, Said M, Datta B, Ledochowski M (2008) Implementation and interpretation of hydrogen breath tests. J Breath Res 2:046002

15.

Argnani F, Di Camillo M, Marinaro V, Foglietta T, Avallone V, Cannella C, Vernia P (2008) Hydrogen breath test for the diagnosis of lactose intolerance, is the routine sugar load the best one? World J Gastroenterol 14:6204–6207

16.

Hovde O, Farup PG (2009) A comparison of diagnostic tests for lactose malabsorption--which one is the best? BMC Gastroenterol 9:82

17.

Alhava EM, Jussila J, Karjalainen P, Vuojolahti P (1977) Lactose malabsorption and bone mineral content. Acta Med Scand 201:281–283

18.

Buchowski MS, Semenya J, Johnson AO (2002) Dietary calcium intake in lactose maldigesting intolerant and tolerant African-American women. J Am Coll Nutr 21:47–54

19.

Ojetti V, Gigante G, Gabrielli M, Ainora ME, Mannocci A, Lauritano EC, Gasbarrini G, Gasbarrini A (2010) The effect of oral supplementation with Lactobacillus reuteri or tilactase in lactose intolerant patients: randomized trial. Eur Rev Med Pharmacol Sci 14:163–170

20.

Jiang T, Mustapha A, Savaiano DA (1996) Improvement of lactose digestion in humans by ingestion of unfermented milk containing Bifidobacterium longum. J Dairy Sci 79:750–757

21.

Almeida CC, Lorena SL, Pavan CR, Akasaka HM, Mesquita MA (2012) Beneficial effects of long-term consumption of a probiotic combination of Lactobacillus casei Shirota and Bifidobacterium breve Yakult may persist after suspension of therapy in lactose-intolerant patients. Nutr Clin Pract 27:247–251

22.

Levri KM, Ketvertis K, Deramo M, Merenstein JH, D'Amico F (2005) Do probiotics reduce adult lactose intolerance? A systematic review. J Fam Pract 54:613–620

23.

Hove H, Nordgaard-Andersen I, Mortensen PB (1994) Effect of lactic acid bacteria on the intestinal production of lactate and short-chain fatty acids, and the absorption of lactose. Am J Clin Nutr 59:74–79

24.

Perets TT, Hamouda D, Layfer O, Ashorov O, Boltin D, Levy S, Niv Y, Dickman R (2017) Small intestinal bacterial overgrowth may increase the likelihood of lactose and sorbitol but not fructose intolerance false positive diagnosis. Ann Clin Lab Sci 47:447–451
Ethics declarations
This study was performed in accordance with the principles of the Declaration of Helsinki and Good Clinical Practice (GCP) and was approved by the institutional review board of Rabin Medical Center-Beilinson Hospital (no. 0328-11-RMC). All participants provided written informed consent before enrollment.
Conflict of Interest
The authors declare that they have no conflict of interest.
Additional information
Publisher's Note
Springer Nature remains neutral with regard to jurisdictional claims in published maps and institutional affiliations.
About this article
Cite this article
Gingold-Belfer, R., Levy, S., Layfer, O. et al. Use of a Novel Probiotic Formulation to Alleviate Lactose Intolerance Symptoms—a Pilot Study. Probiotics & Antimicro. Prot. 12, 112–118 (2020). https://doi.org/10.1007/s12602-018-9507-7
Keywords
Probiotic

Lactose intolerance

Lactose hydrogen breath test

Lactase deficiency

Lactose malabsorption