Abstract
With the increase of antimicrobial resistances due to the widespread use of antibiotics, the search of new probiotics to control aquaculture diseases has a growing public interest. The aim of this study was to isolate bacteria with antimicrobial effect from the gut of marine healthy fishes and select lactic acid bacteria (LAB) as potential probiotics, being strains considered as generally regarded as safe (GRAS) by the European Food Safety Agency (EFSA). Of a total of 45 Gram-positive strains with antimicrobial activity found in a screening of the gut microbiota of 13 marine fishes, nine were identified as LAB by 16S rRNA gene sequencing. LAB strains (five Lactococcus lactis subsp. lactis, two Enterococcus spp., one Lactobacillus plantarum, and one Leuconostoc mesenteroides subsp. mesenteroides) also showed a broad-spectrum antibacterial activity against aquaculture pathogens such as Vibrio harveyi, V. splendidus, and Photobacterium damselae and survived in experimental gastrointestinal conditions when grown in culture media modified with different values of pH and bile salts. These results showed the potential of LAB obtained from the indigenous microbiota of wild marine fishes for use as probiotics in aquaculture.
Access options
Buy single article
Instant access to the full article PDF.
US$ 39.95
Tax calculation will be finalised during checkout.
Subscribe to journal
Immediate online access to all issues from 2019. Subscription will auto renew annually.
US$ 79
Tax calculation will be finalised during checkout.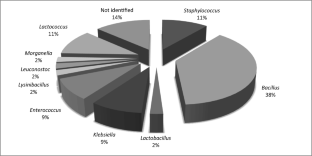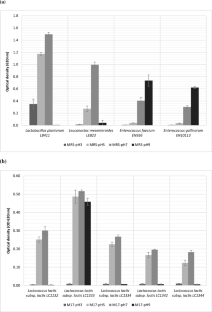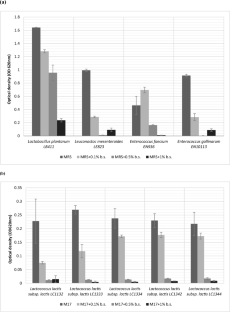 References
1.

Goldburg R, Naylor R (2005) Future seascapes, fishing and fish farming. Front Ecol Environ 3:21–28. https://doi.org/10.1890/1540-9295(2005)003[0021:FSFAFF]2.0.CO;2

2.

Food and Agricultural Organization of the United Nations (2014) Fishery and aquaculture statistics

3.

Food and Agricultural Organization of the United Nations (2014) The state of world fisheries and aquaculture

4.

Cabello F (2006) Heavy use of prophylactic antibiotics in aquaculture: a growing problem for human and animal health and for the environment. Environ Microbiol 8(7):1137–1144. https://doi.org/10.1111/j.1462-2920.2006.01054.x

5.

Ashley PJ (2007) Fish welfare: current issues in aquaculture. Appl Anim Behav Sci 104(3–4):199–235. https://doi.org/10.1016/j.applanim.2006.09.001

6.

Walker PJ, Winton JR (2010) Emerging viral diseases of fish and shrimp. Vet Res 41(6):51. https://doi.org/10.1051/vetres/2010022

7.

Cooke MD (1976) Antibiotic resistance among coliform and fecal coliform bacteria isolated from sewage, seawater, and marine shellfish. Antimicrob Agents Chemother 9(6):879–884

8.

McPhearson RM, DePaola A, Zywno SR, Motes ML Jr, Guarino AM (1991) Antibiotic resistance in Gram-negative bacteria from cultured catfish and aquaculture ponds. Aquaculture 99(3–4):203–211. https://doi.org/10.1016/0044-8486(91)90241-X

9.

Balcázar JL, Blas ID, Ruiz-Zarzuela I, Cunningham D, Vendrell D, Múzquiz JL (2006) The role of probiotics in aquaculture. Vet Microbiol 114(3–4):173–186. https://doi.org/10.1016/j.vetmic.2006.01.009

10.

Penders J, Stobbering EE (2008) Antibiotic resistance of motile aeromonads in indoor catfish and eel farms in the southern part of The Netherlands. Int J Antimicrob Agents 31(3):261–265

11.

Berglund B (2015) Environmental dissemination of antibiotic resistance genes and correlation to anthropogenic contamination with antibiotics. Infect Ecol Epidemiol 5. https://doi.org/10.3402/iee.v5.28564

12.

Lee CR, Cho IH, Jeong BC, Lee SH (2013) Strategies to minimize antibiotic resistance. Int J Environ Res Public Health 10(9):4274–4305. https://doi.org/10.3390/ijerph10094274

13.

Nomoto K (2005) Prevention of infections by probiotics. J Biosci Bioeng 100(6):583–592. https://doi.org/10.1263/jbb.100.583

14.

Regulation (EC) No 1831/2003 of the European Parliament and of the Council of 22 September 2003 on additives for use in animal nutrition (2003) OJ L268/29

15.

Federation of European Aquaculture Producers (2011). FEAP Annual Report.

16.

Hardy H, Harris J, Lyon E, Beal J, Foey AD (2013) Probiotics, prebiotics and immunomodulation of gut mucosal defences: homeostasis and immunopathology. Nutrients 5(6):1869–1912. https://doi.org/10.3390/nu5061869

17.

Reid G, Sanders ME, Gaskins HR, Gibson GR, Mercenier A, Rastall R, Roberfroid M, Rowland I, Cherbut C, Klaenhammer TR (2003) New scientific paradigms for probiotics and prebiotics. J Clin Gastroenterol 37(2):105–118. https://doi.org/10.1097/00004836-200308000-00004

18.

Verschuere L, Rombaut G, Sorgeloos P, Verstraete W (2000) Probiotic bacteria as biological control agents in aquaculture. Microbiol Mol Biol Rev 64(4):655–671

19.

Ringø E, Gatesoupe FJ (1998) Lactic acid Bacteria in fish: a review. Aquaculture 160:177–203

20.

Mohapatra S, Chakraborty T, Prusty AK, Das P, Paniprasad K, Mohanta KN (2011) Use of different microbial probiotics in the diet of rohu, Labeo rohita fingerlings: effects on growth, nutrient digestibility and retention, digestive enzyme activities and intestinal microflora. Aquac Nutr 18:1–11. https://doi.org/10.1111/j.1365-2095.2011.00866.x

21.

Gómez GD, Balcázar JL (2008) A review on the interactions between gut microbiota and innate immunity of fish. FEMS Immunol Med Microbiol 52(2):145–154. https://doi.org/10.1111/j.1574-695X.2007.00343.x

22.

Gildberg A, Johansen A, Bøgwald J (1995) Growth and survival of Atlantic salmon (Salmo salar) fry given diets supplemented with fish protein hydrolysate and lactic acid bacteria during a challenge trial with Aeromonas salmonicida. Aquaculture 138:23–34. https://doi.org/10.1016/0044-8486(95)01144-7

23.

Nikoskelainen S, Ouwehand A, Salminen S, Bylund G (2001) Protection of rainbow trout (Oncorhynchus mykiss) from furunculosis by Lactobacillus rhamnosus. Aquaculture 198(3–4):229–236. https://doi.org/10.1016/S0044-8486(01)00593-2

24.

Gatesoupe FJ (1994) Lactic acid bacteria increase the resistance of turbot larvae, Scophthalmus maximus, against pathogenic vibrio. Aquat Living Resour 7(4):277–282. https://doi.org/10.1051/alr:1994030

25.

European Food Safety Authority (2007) Introduction of a Qualified Presumption of Safety (QPS) approach for assessment of selected microorganisms referred to EFSA—opinion of the Scientific Committee. https://doi.org/10.2903/j.efsa.2007.587

26.

Pitt TL, Gaston MA (1995) Bacteriophage typing. In: Howard J, Whitcombe DM (eds) Diagnostic bacteriology protocols. Methods in molecular biology, vol 46. Humana Press, New York

27.

Weisburg W, Barns SM, Pelletier DA, Lane D (1991) 16S ribosomal DNA amplification forphylogenetic study. J Bacteriol 173:697–703. https://doi.org/10.1128/jb.173.2.697-703.1991

28.

Zhang Z, Schwartz S, Wagner L, Miller W (2000) A greedy algorithm for aligning DNA sequences. J Comput Biol 7(1–2):203–214. https://doi.org/10.1089/10665270050081478

29.

Yoon SH, Ha SM, Kwon S, Lim J, Kim Y, Seo H, Chun J (2017) Introducing EzBioCloud: a taxonomically united database of 16S rRNA and whole genome assemblies. Int J Syst Evol Microbiol 67:1613–1617

30.

Naser SM, Thompson FL, Hoste B, Gevers B, Dawyndt P, Vancanneyt M, Swings J (2005) Application of multilocus sequence analysis (MLSA) for rapid identification of Enterococcus species based on rpoA and pheS genes. Microbiology 151:2141–2150. https://doi.org/10.1099/mic.0.27840-0

31.

Naser SM, Dawyndt P, Hoste B, Gevers D, Vandemeulebroecke K, Cleenwerc I, Vancanneyt M, Swings J (2007) Identification of lactobacilli by pheS and rpoA gene sequence analyses. Int J Syst Evol Microbiol 57:2777–2789. https://doi.org/10.1099/ijs.0.64711-0

32.

Rademaker JLW, Herbert H, Starrenburg MJC, Naser SM, Gevers D, Kelly WJ, Hugenholtz J, Swings J, Van Hylckama Vlieg JET (2007) Diversity analysis of dairy and nondairy Lactococcus lactis isolates, using a novel multilocus sequence analysis scheme and (GTG)5-PCR fingerprinting. Appl Environ Microbiol 73(22):7128–7137. https://doi.org/10.1128/AEM.01017-07

33.

Nayak SK (2010) Role of gastrointestinal microbiota in fish. Aquac Res 41(11):1553–1573. https://doi.org/10.1111/j.1365-2109.2010.02546.x

34.

Ringø E, Strøm E, Tabachek JA (1995) Intestinal microflora of salmonids: a review. Aquac Res 26:773–789

35.

Jankauskienė R (2000) The dependence of the species composition of Lactoflora in the intestinal tract of carps upon their age. Acta Zool Lit 10(3):78–83

36.

Vazquez J, Gonzalez M, Murado M (2005) Effects of lactic acid bacteria cultures on pathogenic microbiota from fish. Aquaculture 245(1–4):149–161

37.

Navarrete P, Magne F, Mardones P, Riveros M, Opazo R, Suau A, Pochart P (2010) Molecular analysis of intestinal microbiota of rainbow trout (Oncorhynchus mykiss). FEMS Microbiol Ecol 71(1):148–156

38.

Lauzon HL, Ringø E (2012) Prevalence and application of lactic acid bacteria in aquatic environments. In: Lactic acid bacteria: microbiological and functional aspects, 4th edn. CRC Press, Boca Raton, pp 593–631

39.

Cai Y, Suyanandana P, Saman P, Benno Y (1999) Classification and characterization of lactic acid bacteria isolated from the intestines of common carp and freshwater prawns. J Gen Appl Microbiol 45:177–184

40.

Hagi T, Tanka D, Iwamura Y, Hoshino T (2004) Diversity and seasonal changes in lactic acid bacteria in the intestinal tract of cultured freshwater fish. Aquaculture 234:335–346. https://doi.org/10.1016/j.aquaculture.2004.01.018

41.

Bucio A, Harteminka R, Schramab JW, Verrethb J, Rombouts FM (2006) Presence of lactobacillii the intestinal content of freshwater fish from a river and from a farm with a recirculation system. Food Microbiol 23:476–482

42.

Wine E, Gareau MG, Johnson-Henry K, Sherman PM (2009) Strain-specific probiotic (Lactobacillus helveticus) inhibition of Campylobacter jejuni invasion of human intestinal epithelial cells. FEMS Microbiol Lett 300:146–152. https://doi.org/10.1111/j.1574-6968.2009.01781.x

43.

Elayaraja S, Annamalai N, Mayavu P, Balasubramanian T (2014) Production, purification and characterization of bacteriocin from Lactobacillus murinus AU06 and its broad antibacterial spectrum. Asian Pac J Trop Biomed 4:S305–S311. https://doi.org/10.12980/APJTB.4.2014C537

44.

Izvekova GI, Izvekov EI, Plotnikov AO (2007) Symbiotic microflora in fishes of different ecological groups. Biol Bull 34(6):610–618. https://doi.org/10.1134/S106235900706012X
Acknowledgements
Authors will like to thank Dras Consuelo Esteve and Elena Alcaide (Microbiology Department of the University of Valencia) who kindly supplied all the pathogen strains. Special thanks also go to Constancio Herrera and all the participants of the "XVIII Maratón Apnea Gijón" who kindly donated the fish specimens.
Funding
This study was funded by the Spanish Institute of Oceanography, internal financing project BARMARACU.
Ethics declarations
Conflict of Interest
The authors declare that they have no conflict of interest.
About this article
Cite this article
Alonso, S., Carmen Castro, M., Berdasco, M. et al. Isolation and Partial Characterization of Lactic Acid Bacteria from the Gut Microbiota of Marine Fishes for Potential Application as Probiotics in Aquaculture. Probiotics & Antimicro. Prot. 11, 569–579 (2019). https://doi.org/10.1007/s12602-018-9439-2
Keywords
Lactic acid bacteria

Probiotics

Aquaculture

Intestinal microbiology

16S rRNA gene