Abstract
Important aspects of the selection of probiotics to be used for mixing in animal feed include host species specificity and probiotic cell survival during production and storage of their products. The research was to screen and investigate some probiotic properties of lactic acid bacteria (LAB) isolated from pig fecal samples. One hundred and thirty-eight representative LAB isolates, which were isolated from 51 pig fecal samples, were tested for acid and bile tolerance, antimicrobial susceptibility, antibacterial activity, potential adhesion to the cell surface, and survival rates when stored in varied microencapsulation forms: freeze-dried, spray-dried, and micro-beads. The antibacterial activity results of the ten LAB isolates, which were acid- (pH 2, 3 h) and bile- (50% (v/v) fresh pig bile, 8 h) tolerant and suitable for resisting the five antibiotics commonly used for treating pig infections with pathogenic indicator strains, showed that three isolates (L21, L80, L103) had strong inhibition to Escherichia coli, Salmonella group B, and Salmonella group D using co-culturing and agar spot assays. The three isolates had high hydrophobicity (65–73%) and did not show antagonistic growth against each other. All three selected isolates had greater than 80% survival in freeze-dried and micro-bead forms at 25–30 °C after 2 days of storage (80.4–86.75%, 7.31–7.89 log CFU/ml). Sequence analysis of the 16S rRNA genes demonstrated that the three isolates belong to Lactobacillus plantarum (strain L21 and strain L80) and L. paraplantarum (strain L103). The single and multiple strains of these bacteria may have potential use as probiotics in pig diets.
Access options
Buy single article
Instant access to the full article PDF.
US$ 39.95
Tax calculation will be finalised during checkout.
Subscribe to journal
Immediate online access to all issues from 2019. Subscription will auto renew annually.
US$ 79
Tax calculation will be finalised during checkout.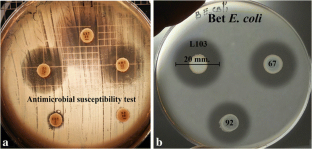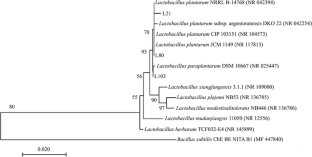 References
1.

Hill C, Guarner F, Reid G, Gibson GR, Merenstein DJ, Pot B, Morelli L, Canani RB, Flint HJ, Salminen S, Calder PC, Sanders ME (2014) The International Scientific Association for Probiotics and Prebiotics consensus statement on the scope and appropriate use of the term probiotic. Nat Ver Gastroenterol Hepatol 11:506–514

2.

Campbell JM, Crenshaw JD, Polo J (2013) The biological stress of early weaned piglets. J Anim Sci Biotechnol 4:19. https://doi.org/10.1186/2049-1891-4-19

3.

Dowarah R, Verma AK, Agarwal N, Patel BHM, Singh P (2017) Effect of swine based probiotic on performance, diarrhea scores, intestinal microbiota and gut health of grower-finisher crossbred pigs. Livest Sci 195:74–79. https://doi.org/10.1016/j.livsci.2016.11.006

4.

Imperial ICVJ, Ibana JA (2016) Addressing the antibiotic resistance problem with probiotics: reducing the risk of its double-edged sword effect. Front Microbiol 7:1–10. https://doi.org/10.3389/fmicb.2016.01983

5.

Collins JK, Thornton G, Sullivan GO (1998) Selection of probiotic strains for human applications. Int Dairy J 8:487–490

6.

Chapman CMC, Gibson GR, Rowland I (2012) In vitro evaluation of single- and multi-strain probiotics: inter-species inhibition between probiotic strains, and inhibition of pathogens. Anaerobe 18:405–413. https://doi.org/10.1016/j.anaerobe.2012.05.004

7.

Shori AB (2017) Microencapsulation improved probiotics survival during gastric transit. HAYATI. J Biosci 24:1–5. https://doi.org/10.1016/j.hjb.2016.12.008

8.

Pringsulaka O, Rueangyotchanthana K, Suwannasai N, Watanapokasin R, Amnueysit P, Sunthornthummas S, Sukkhum S, Sarawaneeyaruk S, Rangsiruji A (2015) In vitro screening of lactic acid bacteria for multi-strain probiotics. Livest Sci 174:66–73. https://doi.org/10.1016/j.livsci.2015.01.016

9.

De Man JC, Rogosa M, Sharpe EM (1960) A medium for the cultivation of lactobacilli. J Appl Microbiol 23:30–35

10.

Park SC, Hwang MH, Kim YH, Kim JC, Song JC, Lee KW, Jeong KS, Rhee MH, Kim KS, Kim TW (2006) Comparison of pH and bile resistance of Lactobacillus acidophilus strains isolated from rat, pig, chicken, and human sources. World J Microbiol Biotechnol 22:35–37. https://doi.org/10.1007/s11274-005-4856-2

11.

Bauer A, Kirby WM, Sherris JC, Turck M (1966) Antibotic susceptibility testing by a standardized single disk method. Am J Clin Pathol 45:493–496

12.

Klare I, Konstabel C, Muller-Bertling S, Reissbrodt R, Huys G, Vancanneyt M, Swings J, Goossens H, Witte W (2005) Evaluation of new broth media for microdilution antibiotic susceptibility testing of Lactobacilli, Pediococci, Lactococci, and Bifidobacteria. Appl Environ Microbiol 71:8982–8986. https://doi.org/10.1128/AEM.71.12.8982-8986.2005

13.

Charteris WP, Kelly PM, Morelli L, Collins JK (1998) Antibiotic susceptibility of potentially probiotic Lactobacillus species. J Food Prot 6:636–643

14.

Tejero-Sariñena S, Barlow J, Costabile A, Gibson GR, Rowland I (2013) Antipathogenic activity of probiotics against Salmonella typhimurium and Clostridium difficile in anaerobic batch culture systems: is it due to synergies in probiotic mixtures or the specificity of single strains? Anaerobe 24:60–65. https://doi.org/10.1016/j.anaerobe.2013.09.011

15.

Lee J-S, Chung M-J, Seo J-G (2013) In vitro evaluation of antimicrobial activity of lactic acid bacteria against Clostridium difficile. Toxicol Res 29:99–106. https://doi.org/10.5487/TR.2013.29.2.099

16.

García-Hernández Y, Pérez-Sánchez T, Boucourt R, Balcázar JL, Nicoli JR, Moreira-Silva J, Rodríguez Z, Fuertes H, Nuñez O, Albelo N, Halaihel N (2016) Isolation, characterization and evaluation of probiotic lactic acid bacteria for potential use in animal production. Res Vet Sci 108:125–132. https://doi.org/10.1016/j.rvsc.2016.08.009

17.

Tan Z, Pang H, Duan Y, Qin G, Cai Y (2010) 16S ribosomal DNA analysis and characterization of lactic acid bacteria associated with traditional Tibetan Qula cheese made from yak milk. Anim Sci J 81:706–713. https://doi.org/10.1111/j.1740-0929.2010.00785.x

18.

Kumar S, Stecher G, Tamura K (2016) MEGA7: molecular evolutionary genetics analysis version 7.0 for bigger datasets. Mol Biol Evol 33:1870–1874. https://doi.org/10.1093/molbev/msw054

19.

Sánchez MT, Ruiz MA, Lasserrot A, Hormigo M, Morales ME (2017) An improved ionic gelation method to encapsulate Lactobacillus spp. bacteria: protection, survival and stability study. Food Hydrocoll 69:67–75. https://doi.org/10.1021/acs.jafc.7b04754

20.

Liliana SC, Vladimir VC (2013) Probiotic encapsulation. Afr J Microbiol Res 7:4743–4753. https://doi.org/10.5897/AJMR2013.5718

21.

Ross GR, Gusils C, Gonzalez SN (2008) Microencapsulation of probiotic strains for swine feeding. Biol Pharm Bull 31:2121–2125. https://doi.org/10.1248/bpb.31.2121

22.

Patel AR, Shah NP, Prajapati JB (2012) Antibiotic resistance profile of lactic acid bacteria and their implications in food chain. World J Dairy Food Sci 7:202–211. https://doi.org/10.5829/idosi.wjdfs.2012.7.2.1113

23.

Sharma P, Tomar SK, Goswami P, Sangwan V, Singh R (2014) Antibiotic resistance among commercially available probiotics. Food Res Int 57:176–195. https://doi.org/10.1016/j.foodres.2014.01.025

24.

Tulumoglu S, Yuksekdag ZN, Beyatli Y, Simsek O, Cinar B, Yaşar E (2013) Probiotic properties of lactobacilli species isolated from children's feces. Anaerobe 24:36–42. https://doi.org/10.1016/j.anaerobe.2013.09.006

25.

Abriouel H, Casado MDCC, Lerma LL, Montoro BP, Bockelmann W, Pichner R, Kabisch J, Cho G-S, Franz CMAP, Gálvez A, Benomar N (2015) New insights in antibiotic resistance of Lactobacillus species from fermented foods. Food Res Int 78:465–481. https://doi.org/10.1016/j.foodres.2015.09.016

26.

Sornplang P, Sakulsawasdiphan K, Piyadeatsoontorn S, Surasorn B (2016) Antimicrobial susceptibility of lactic acid bacteria isolated from human and food-producing animal feces in Khon Kaen Province, Thailand. Trop Anim Health Prod 48:1739–1745. https://doi.org/10.1007/s11250-016-1116-4

27.

Aguilar C, Vanegas C, Klotz B (2010) Antagonistic effect of Lactobacillus strains against Escherichia coli and Listeria monocytogenes in milk. J Dairy Res 78:136–143. https://doi.org/10.1017/S0022029910000877

28.

Sornplang P, Leelavatcharamas V, Soikum C (2015) Heterophil phagocytic activity stimulated by Lactobacillus salivarius L61 and L55 supplementation in broilers with Salmonella infection. Asian Australas J Anim Sci 28:1657–1661. https://doi.org/10.5713/ajas.15.0359

29.

Han Q, Kong B, Chen Q, Sun F, Zhang H (2017) In vitro comparison of probiotic properties of lactic acid bacteria isolated from Harbin dry sausages and selected probiotics. J Funct Foods 32:391–400. https://doi.org/10.1016/j.jff.2017.03.020

30.

Behboudi-Jobbehdar S, Soukoulis C, Yonekura L, Fisk I (2013) Optimization of spray-drying process conditions for the production of maximally viable microencapsulated L. acidophilus NCIMB 701748. Dry Technol 31:1274–1283. https://doi.org/10.1080/07373937.2013.788509

31.

Gisela G, Leonardo AE, Lucia P, Rodrigo V, Eduard G, Angeles CM (2014) Enhacement of the viability of Lactobacillus plantarum during the preservation and storage process based on the response surface methodology. Food Nutr Sci 5:1746–1755. https://doi.org/10.4236/fns.2014.518188

32.

Özer B, Kirmaci HA, Şenel E, Atamer M, Hayaloǧlu A (2009) Improving the viability of Bifidobacterium bifidum BB-12 and Lactobacillus acidophilus LA-5 in white-brined cheese by microencapsulation. Int Dairy J 19:22–29. https://doi.org/10.1016/j.idairyj.2008.07.001

33.

Shi LE, Zheng W, Zhang Y, Liu XY, Tang ZX (2015) Soy milk-based microspheres as potential carriers for the protection of Enterococcus faecalis HZNU P2. J Funct Foods 18:487–491. https://doi.org/10.1016/j.jff.2015.08.007

34.

Šipailienė A, Petraitytė S (2018) Encapsulation of probiotics: proper selection of the probiotic strain and the influence of encapsulation technology and materials on the viability of encapsulated microorganisms. Probiotics Antimicrob Proteins 10:1–10. https://doi.org/10.1007/s12602-017-9347-x
Funding
The authors would like to acknowledge the Thailand Research Fund organization (Research and Researcher for Industry 2014) (PHD57I0071) for the financial support in this study.
Ethics declarations
Conflict of Interest
The authors declare that they have no conflict of interest.
About this article
Cite this article
Piyadeatsoontorn, S., Taharnklaew, R., Upathanpreecha, T. et al. Encapsulating Viability of Multi-strain Lactobacilli as Potential Probiotic in Pigs. Probiotics & Antimicro. Prot. 11, 438–446 (2019). https://doi.org/10.1007/s12602-018-9418-7
Keywords
Encapsulation

Multi-strain

Probiotic

Pigs