Abstract
Although several studies have evaluated the inhibitory effect of probiotics on halitosis, findings are inconsistent. This systematic review and meta-analysis of randomized clinical trials (RCT) was conducted to summarize the evidence on the effect of probiotics on halitosis. RCT on any type of probiotic treatment with at least 2-week duration were identified through electronic databases (PubMed, EMBASE, Web of Science, and the Cochrane Central Register of Controlled Trials) and hand searched between 1946 and January 17, 2017. Primary outcomes were organoleptic (OLT) scores and volatile sulfur compounds (VSC). Standardized mean difference (SMD) and 95% confidence interval (CI) were calculated. Meta-analysis was conducted to synthesize the evidence. Of the 153 articles identified, three met the inclusion criteria. Meta-analysis revealed that OLT scores (SMD = − 1.93, 95% CI − 2.85 to − 1.02, P < 0.0001) were significantly lower in subjects who received probiotics than in placebo groups, but no significant difference was observed at the VSC concentration (SMD = − 0.02, 95% CI − 2.12 to 2.07, P = 0.98). Current evidence is supportive of recommending probiotics for the management of halitosis. Based on this review, transient (average of 2 weeks) dosing with probiotics (mainly Lactobacillus strains) has a moderate effect on halitosis regarding OLT scores, but we could not confirm the effects of probiotics on the VSC reduction. The available evidence is quantitatively and qualitatively insufficient for further recommendations, especially with regard to administration strategies and pretreatment. Future studies should aim for longer follow-up and standardized administration methods to prove or refute the effect of probiotics on halitosis.
This is a preview of subscription content,
to check access.
Access this article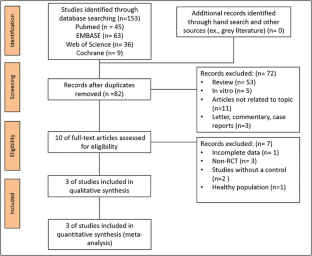 Similar content being viewed by others
Abbreviations
VSC:

Volatile sulfur compounds

OLT:

Organoleptic

SMD:

Standardized mean difference

SD:

Standard deviation

CI:

Confidence interval

RCT:

Randomized controlled trials
References
Akaji EA, Folaranmi N, Ashiwaju O (2014) Halitosis: a review of the literature on its prevalence, impact and control. Oral Health Prev Dent 12(4):297–304. https://doi.org/10.3290/j.ohpd.a33135

Fedorowicz Z, Aljufairi H, Nasser M, Outhouse TL, Pedrazzi V (2008) Mouthrinses for the treatment of halitosis. Cochrane Database Syst Rev:Cd006701. doi:https://doi.org/10.1002/14651858.CD006701.pub2

Scully C, Greenman J (2012) Halitology (breath odour: aetiopathogenesis and management). Oral Dis 18(4):333–345. https://doi.org/10.1111/j.1601-0825.2011.01890.x

van Steenberghe D, Avontroodt P, Peeters W, Pauwels M, Coucke W, Lijnen A, Quirynen M (2001) Effect of different mouthrinses on morning breath. J Periodontol 72(9):1183–1191. https://doi.org/10.1902/jop.2000.72.9.1183

Zupancic K, Kriksic V, Kovacevic I, Kovacevic D (2017) Influence of oral probiotic Streptococcus salivarius K12 on ear and oral cavity health in humans: systematic review. Probiotics Antimicrob Proteins 9(2):102–110. https://doi.org/10.1007/s12602-017-9261-2

Chaves BD, Brashears MM, Nightingale KK (2017) Applications and safety considerations of Lactobacillus salivarius as a probiotic in animal and human health. J Appl Microbiol 123(1):18–28. https://doi.org/10.1111/jam.13438

Muniz FW, Friedrich SA, Silveira CF, Rosing CK (2017) The impact of chewing gum on halitosis parameters: a systematic review. J Breath Res 11(1):0142001. https://doi.org/10.1088/1752-7163/aa5cc2

Kang MS, Kim BG, Chung J, Lee HC, JS O (2006) Inhibitory effect of Weissella cibaria isolates on the production of volatile sulphur compounds. J Clin Periodontol 33(3):226–232. https://doi.org/10.1111/j.1600-051X.2006.00893.x

Burton JP, Chilcott CN, Moore CJ, Speiser G, Tagg JR (2006) A preliminary study of the effect of probiotic Streptococcus salivarius K12 on oral malodour parameters. J Appl Microbiol 100(4):754–764. https://doi.org/10.1111/j.1365-2672.2006.02837.x

Penala S, Kalakonda B, Pathakota KR, Jayakumar A, Koppolu P, Lakshmi BV, Pandey R, Mishra A (2016) Efficacy of local use of probiotics as an adjunct to scaling and root planing in chronic periodontitis and halitosis: a randomized controlled trial. J Res Pharm Pract 5(2):86–93. https://doi.org/10.4103/2279-042x.179568

Jamali Z, Aminabadi NA, Samiei M, Sighari Deljavan A, Shokravi M, Shirazi S (2016) Impact of chlorhexidine pretreatment followed by probiotic Streptococcus salivarius strain K12 on halitosis in children: a randomised controlled clinical trial. Oral Health Prev Dent 14(4):305–313. https://doi.org/10.3290/j.ohpd.a36521

Suzuki N, Yoneda M, Tanabe K, Fujimoto A, Iha K, Seno K, Yamada K, Iwamoto T, Masuo Y, Hirofuji T (2014) Lactobacillus salivarius WB21—containing tablets for the treatment of oral malodor: a double-blind, randomized, placebo-controlled crossover trial. Oral Surg Oral Med Oral Pathol Oral Radiol 117(4):462–470. https://doi.org/10.1016/j.oooo.2013.12.400

Keller MK, Bardow A, Jensdottir T, Lykkeaa J, Twetman S (2012) Effect of chewing gums containing the probiotic bacterium Lactobacillus reuteri on oral malodour. Acta Odontol Scand 70(3):246–250. https://doi.org/10.3109/00016357.2011.640281

Marchetti E, Tecco S, Santonico M, Vernile C, Ciciarelli D, Tarantino E, Marzo G, Pennazza G (2015) Multi-sensor approach for the monitoring of halitosis treatment via Lactobacillus brevis (CD2)-containing lozenges—a randomized, double-blind placebo-controlled clinical trial. Sensors (Basel) 15(8):19583–19596. https://doi.org/10.3390/s150819583

Liberati A, Altman DG, Tetzlaff J, Mulrow C, Gotzsche PC, Ioannidis JP, Clarke M, Devereaux PJ, Kleijnen J, Moher D (2009) The PRISMA statement for reporting systematic reviews and meta-analyses of studies that evaluate health care interventions: explanation and elaboration. J Clin Epidemiol 62(10):e1–34. https://doi.org/10.1016/j.jclinepi.2009.06.006

Higgins J, Green S (2011) Cochrane handbook for systematic reviews of interventions. Version 5.1.0 edn., Copenhagen, Denmark, The Cochrane Collaboration

Higgins JP, Altman DG, Gotzsche PC, Juni P, Moher D, Oxman AD, Savovic J, Schulz KF, Weeks L, Sterne JA (2011) The Cochrane Collaboration's tool for assessing risk of bias in randomised trials. BMJ 343(oct18 2):d5928. https://doi.org/10.1136/bmj.d5928

Wan X, Wang W, Liu J, Tong T (2014) Estimating the sample mean and standard deviation from the sample size, median, range and/or interquartile range. BMC Med Res Methodol 14(1):135. https://doi.org/10.1186/1471-2288-14-135

Cooper HM (1998) Synthesizing research: a guide for literature reviews, vol 2. Sage

Hedges LV, Olkin I (1985) Statistical methods for metaanalysis. Academic Press, Orlando, FL

Higgins JP, Thompson SG, Deeks JJ, Altman DG (2003) Measuring inconsistency in meta-analyses. BMJ: British Med J 327(7414):557–560. https://doi.org/10.1136/bmj.327.7414.557

Iwamoto T, Suzuki N, Tanabe K, Takeshita T, Hirofuji T (2010) Effects of probiotic Lactobacillus salivarius WB21 on halitosis and oral health: an open-label pilot trial. Oral Surg Oral Med Oral Pathol Oral Radiol Endod 110(2):201–208. https://doi.org/10.1016/j.tripleo.2010.03.032

Sutula J, Coulthwaite LA, Thomas LV, Verran J (2013) The effect of a commercial probiotic drink containing Lactobacillus casei strain Shirota on oral health in healthy dentate people. Microb Ecol Health Dis 24(0). https://doi.org/10.3402/mehd.v24i0.21003

Iwanicka-Grzegorek K, Lipkowska E, Kepa J, Michalik J, Wierzbicka M (2005) Comparison of ninhydrin method of detecting amine compounds with other methods of halitosis detection. Oral Dis 11(Suppl 1):37–39. https://doi.org/10.1111/j.1601-0825.2005.01087.x

Martinez RC, Bedani R, Saad SM (2015) Scientific evidence for health effects attributed to the consumption of probiotics and prebiotics: an update for current perspectives and future challenges 114:1993–2015. doi:https://doi.org/10.1017/s0007114515003864, 12

Di Pierro F, Colombo M, Giuliani MG, Danza ML, Basile I, Bollani T, Conti AM, Zanvit A, Rottoli AS (2016) Effect of administration of Streptococcus salivarius K12 on the occurrence of streptococcal pharyngo-tonsillitis, scarlet fever and acute otitis media in 3 years old children. Eur Rev Med Pharmacol Sci 20(21):4601–4606

Masdea L, Kulik EM, Hauser-Gerspach I, Ramseier AM, Filippi A, Waltimo T (2012) Antimicrobial activity of Streptococcus salivarius K12 on bacteria involved in oral malodour. Arch Oral Biol 57(8):1041–1047. https://doi.org/10.1016/j.archoralbio.2012.02.011

Horz HP, Meinelt A, Houben B, Conrads G (2007) Distribution and persistence of probiotic Streptococcus salivarius K12 in the human oral cavity as determined by real-time quantitative polymerase chain reaction. Oral Microbiol Immunol 22(2):126–130. https://doi.org/10.1111/j.1399-302X.2007.00334.x
Funding
The work was supported by the Fund of Biomedical Research Institute, Chonbuk National University Hospital, grant number.
Ethics declarations
Conflict of Interest
The authors declare that they have no conflict of interest.
Appendix
Appendix
About this article
Cite this article
Yoo, JI., Shin, IS., Jeon, JG. et al. The Effect of Probiotics on Halitosis: a Systematic Review and Meta-analysis. Probiotics & Antimicro. Prot. 11, 150–157 (2019). https://doi.org/10.1007/s12602-017-9351-1
Published:

Issue Date:

DOI: https://doi.org/10.1007/s12602-017-9351-1
Keywords