Abstract
Axone (Akhuni) is a homemade synbiotic (Nagamese fermented soybean product) served as side dish in North Eastern India. In this study, effects of Axone feeding on growth, weight gain, sexual maturity and egg production on Vanaraja birds (a strain of poultry bird developed at PDP Hyderabad for villages and backyard poultry) were evaluated. Axone incorporation in commercial poultry feed at the rate of 5 % (W/W) significantly improved growth rate (weight gain) both in male (p 0.001) and female (p 0.05) chicks, reduced age by 13 days at first egg laying (p 0.01), increased egg production (p ≤ 0.001) and improved egg weight (p ≤ 0.01). Microbiological analysis of Axone sample revealed that the major bacteria in Axone samples were Bacillus coagulans, well known for their probiotic value.
Access options
Buy single article
Instant access to the full article PDF.
US$ 39.95
Tax calculation will be finalised during checkout.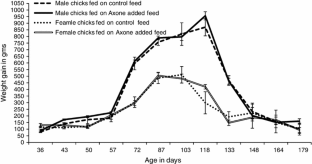 References
1.

Columbian encyclopedia (2001) Soybean. Columbia Encyclopedia, 6th edition, http://www.encyclopedia.com/topic/soybean.aspx. Accessed 23 August 2012

2.

Singh BR, Ngullie E, Bhatt BP (2009) Effect of axone (fermented soybean) feeding on growth performance, intestinal physiology and humoral response of suckling and grower pigs in Nagaland state of North Eastern Hill Region. Proceedings of 13th biennial animal nutrition conference December 17–19th 2009: Diversification of animal nutrition research in changing scenario, 2nd Vol., eds, M Chandrashekharaiah, A Thulasi, R Umaya, Suganthi and DT pal (Published by KT Sampath, Chairman Organizing Committee and President ANSI, Bangalore) NFRS-13, 2009, 122

3.

Tamang JP, Chettri R, Sharma RM (2009) Indigenous knowledge of Northeast women on production of ethnic fermented soybean foods. Indian J Trad Knowl 8:122–126

4.

Dolgin E (2012) Real males eat yogurt. Sci Am 26:17

5.

Kim JY, Choi YO, Ji GE (2008) Effect of oral probiotics (Bifidobacterium lactis AD011 and Lactobacillus acidophilus AD031) administration on ovalbumin-induced food allergy in mouse model. J Microbiol Biotechnol 18:1393–1400

6.

Resta SC (2009) Effects of probiotics and commensals on intestinal epithelial physiology: implications for nutrient handling. J Physiol 587(4169–4174):4169

7.

Singh BR (2013) Axone, a probiotic for pigs promotes growth rate in grower and suckling piglets of large black breed. Noto-are-Medicine. Noto-11591615 published on 2013-04-22. https://www.notoare.com/index.php/index/explorer/getPDF/11591615. Assessed on 5 April 2013

8.

Niranjan M, Sharma RP, Rajkumar U, Reddy BLN, Chatterjee RN, Bhattacharya TK (2008) Comparative evaluation of production performance in improved chicken varieties for backyard farming. Int J Poul Sci 7:1128–1131

9.

Holt JG, Sneath PHA, Mair MS, Sharpee ME (1986) Bergey,s manual of systematic bacteriology, vol. 2. Williams & Wilkins, 428 east Preston Street, Baltimore, MD 211202, USA

10.

Singh BR (2009) Labtop for microbiology laboratory, ISBN 978-3-8383-1574-40. Lambert Academic Publishing, Germany

11.

Baba IK, Singh Y, Thirumurugan P (2014) Performance of vanaraja birds under different climatic parameters. J World's Poult Res 4:01–04

12.

Hung ATY, Su TM, Liao CW, Lu JJ (2008) Effect of probiotic combination fermented soybean meal on growth performance, lipid metabolism and immunological response of growing-finishing pigs. Asian J Anim Vet Adv 3:431–436

13.

Singh BR, Singh RK, Singh V (2014) Microbial quality and safety of axone-akhuni, a fermented soybean food of Nagaland. Noto-are 15185525: Medicine. 2014-03-14. http://www.notoare.com/15185525

14.

Matsumoto M, Kurihar S, Kibe R, Ashida H, Benno Y (2011) Longevity in mice is promoted by probiotic-induced suppression of colonic senescence dependent on up-regulation of gut bacterial polyamine production. PLoS ONE 6:e23652
Acknowledgments
The authors are thankful to Joint Director, ICAR RC for NEHR, Jharnapani, Nagaland, Director ICAR RC for NEHR, Umiam, Barapani, Meghalaya, and Director NRC on Mithun Jharnapani, Nagland for permitting to study, financial support and laboratory facilities. Dr. KC Das, In-charge Mithun Nutrition, NRC on Mithun, Jharnapani, Nagaland helped for proximate analysis of Axone samples. Authors are thankful to MS. Sumedha Gandharava, Boise State University, Boise, Idaho, USA, for reviewing the English of the manuscript.
Conflict of interests
The authors, Dr. BR Singh and Dr. RK Singh have no conflict of Interests. The research work was carried out with Institutional funding.
About this article
Cite this article
Singh, B.R., Singh, R.K. Axone, an Ethnic Probiotic Containing Food, Reduces Age of Sexual Maturity and Increases Poultry Production. Probiotics & Antimicro. Prot. 6, 88–94 (2014). https://doi.org/10.1007/s12602-014-9160-8
Keywords
Axone

Synbiotic

Vanaraja

ASM

Growth rate

Egg weight

Bacillus coagulans
Bacillus subtilis