Abstract
Ethiopia introduced Eucalyptus spp. in 1895. The most widely planted Eucalyptus species in Ethiopia include E. camaldulensis, E. globulus, E. grandis and E. saligna. Eucalyptus camaldulensis is widely planted between 1250 and 2800 m above sea level, where warm conditions prevail. In recent years, insect infestation has occurred in this species. The aim of this study was to identify the causative agent of this infestation in central Ethiopia. It was found that Glycaspis brimblecombei infested leaves of E. camaldulensis for the first time in our study areas. So far, no infestation of G. brimblecombei has occurred in other Eucalyptus species. In addition to the regular reconnaissance survey on existence and dissemination of G. brimblecombei infestation to other host Eucalyptus spp., the situation strongly urges the country to introduce and employ biological control agents against this threat to the plantations of E. camaldulensis in Ethiopia in order to avoid substantial economic losses to Eucalyptus growers in the country.
This is a preview of subscription content,
to check access.
Access this article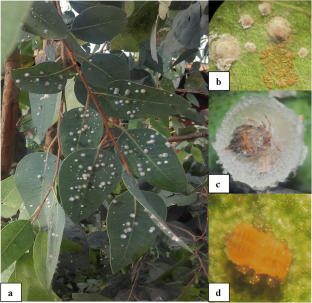 References
Abebe, M., & Tadesse, W. (2014). Eucalyptus in Ethiopia: Risk or opportunity? Ethiopian Institutes of Agricultural Research. Addis Ababa. pp., 65.

Bekele, M. (2011). Forest plantations and woodlots in Ethiopia. African Forest Forum Working Paper series., 1(12).

EPPO Global Database (2018) Glycaspis brimblecombei (Glysbr). https://gd.eppo.int/taxon/GLYSBR/hosts Accessed 18 November 2018.

FAO (2012). Glycaspis brimblecombei: Red gum lerp psyllid (Hemiptera: Psyllidae). Forest Pest Species profiles. www.fao.org/forestry/37414-078b9936edf4b343e8a7afade1e0c6bf4.pdf

Friis, I. (1995). Myrtaceae. In S. Edwards, M. Tadesse, & I. Hedberg (Eds.), Flora of Ethiopia and Eritrea (pp. 71–107) Addis Ababa and Uppsala.

Gezahgne, A., Roux, J., & Wingfield, M. J. (2003). First report of pink disease on Eucalyptus camaldulensis in Ethiopia. Plant Pathology, 52(3), 402–402.

Gil, L., Tadesse, W., Tolosana, E. & López, R. (2010). Proceeding of the conference on Eucalyptus species Management, History, Status, and Trends in Ethiopia 15–17 September 2010, Ethiopian Institute of Agricultural Research, Addis Ababa, Ethiopia. ISBN: 978–84–693-8769-6

Jaleta, D., Mbiliny, B., Mahoo, H., & Lemenih, M. (2016). Eucalyptus expansion as relieving and provactive tree in Ethiopia. Journal of Agriculture and Ecology Research International, 6(3), 1–12.

Laudonia, S., & Garonna, A. P. (2010). The red gum lerp psyllid, Glycaspis brimblecombei, a new exotic pest of Eucalyptus camaldulensis in Italy. Bulletin of Insectology, 63(2), 233–236.

Messoudi, L., Maatouf, N., & Rohi, L. (2017). Biology and development cycle of Glycaspis brimblecombei Moore, 1964 (Hemiptera: Psyllidae) on 2 species of Eucalyptus: Eucalyptus camaldulensis and Eucalyptus grandis. Inter. J. Acad. Stud., 3(7), 129–141.

Moore, K. M. (1964). Observations on some Australian forest insects. 18. Four new species of Glycaspis (Homoptera: Psyllidae) from Queensland. Proceedings of the Linnaean Society of New South Wales, 89, 163–166.

Reguia, K., & Peris-Felipo, F. J. (2013). Glycaspis brimblecombei Moore, 1964 (Hemiptera Psyllidae) invasion and new records in the Mediterranean area. Biodiversity Journal, 4(4), 501–506.

Spodek, M., Burckhardt, D., Protasov, A., & Mendel, Z. (2015). First record of two invasive eucalypt psyllids (Hemiptera: Psylloidea) in Israel. Phytoparasitica, 43(3), 401–406.

Tesfaye, A., Gezahgne, A. & Yirgu, A. (2018). New Records of Red Gum Lerp Psyllid, Glycaspis brimblecombei Moore (Hemiptera: Psyllidae) Invasion on Eucalyptus sap Sucking Insect Pest in Southern Ethiopia. In: Technologies and Information. Ethiopian Environment and Forest Research Institute. Proceedings of the 2nd Annual Research Outputs Dissemination Workshop Bin International Hotel, Bishoftu, Ethiopia. 26–27 January, 2018. (eds: Yigardu Mulatu, Yalemsew Adela, Agena Anjulo). Bishoftu, Ethiopia. pp 336–355. (In press)
Acknowledgments
The authors acknowledge the Ethiopian Environment and Forest Research Institute for its financial support during field work. We also appreciate the contribution of Mr. Eticha Kebeta from Dendi District Environmental protection and climate change Office and Wubishet Moges in providing information about E. camaldulensis infestation in Kechema District, East Shoa, which we identified as Glycaspis brimblecombei later. Finally, we thank the two anonymous reviewers for their careful reading of the manuscript and sharing us their constructive comments to improve the manuscript.
Ethics declarations
Ethics approval and consent to participate
Not applicable.
Consent for publication
Not applicable.
Competing interests
The authors declare that they have no competing interest.
Additional information
Publisher's Note
Springer Nature remains neutral with regard to jurisdictional claims in published maps and institutional affiliations.
About this article
Cite this article
Yirgu, A., Anjulo, A. First record of Glycaspis brimblecombei Moore (hem.: Psyllidae) on Eucalyptus camaldulensis in Ethiopia. Phytoparasitica 47, 67–70 (2019). https://doi.org/10.1007/s12600-018-00711-0
Received:

Accepted:

Published:

Issue Date:

DOI: https://doi.org/10.1007/s12600-018-00711-0
Keywords