Abstract
Streptomyces griseorubens E44G is a chitinolytic bacterium isolated from cultivated soil in Saudi Arabia (a hot, arid climatic region). In vitro, antifungal potential of S. griseorubens E44G was assessed against the phytopathogenic fungus, Fusarium oxysporum f. sp. lycopersici (the causative agent of the Fusarium wilt disease of tomato). An inhibition zone of 24 mm was recorded. The chitinolytic activity of S. griseorubens E44G was proved when the colloidal chitin agar plate method was used. A thermostable chitinase enzyme of 45 kDa molecular weight was purified using gel filtration chromatography. The optimum activity was obtained at 60 °C and pH 5.5. The purified enzyme has shown a very pronounced activity against the phytopathogenic fungus, F. oxysporum. The molecular characterization of the chitinase gene indicated that it consists of 1218 bp encoding 407 amino acids. The phylogentic analysis based on the nucleotide DNA sequence and the deduced amino acids sequence showed high similarity percentages with other chitinases isolated from different Streptomyces species. In the field evaluation, application of both S. griseorubens E44G treatments significantly increased all tested growth and yield parameters and decreased the disease severity compared with the infected-untreated tomato plants suggesting potential as a biocontrol agent.
Access options
Buy single article
Instant access to the full article PDF.
USD 39.95
Price includes VAT (USA)
Tax calculation will be finalised during checkout.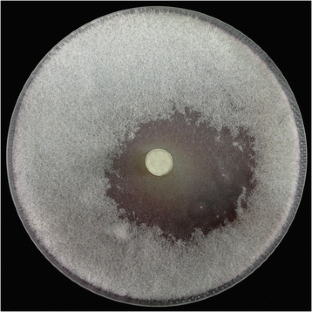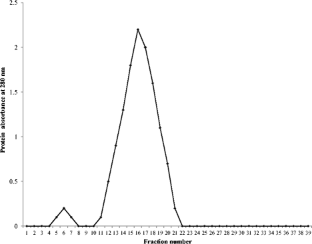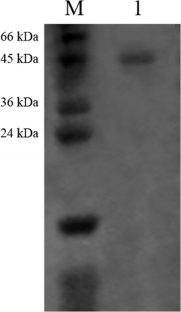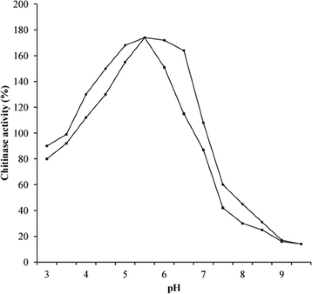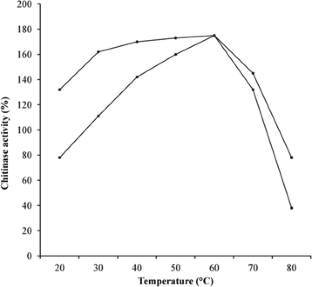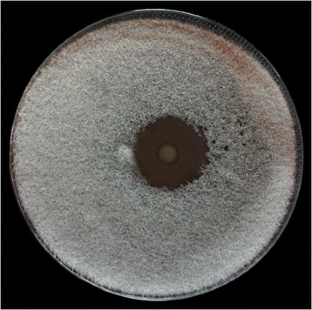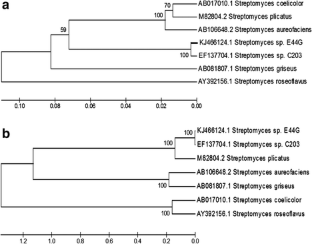 References
Al-Askar, A. A., Abdul Khair, W. M., & Rashad, Y. M. (2011). In vitro antifungal activity of Streptomyces spororaveus RDS28 against some phytopathogenic fungi. African Journal of Agricultural Research, 6(12), 2835–2842.

Al-Askar, A. A., Abdulkhair, W. M., Rashad, Y. M., Hafez, E. E., Ghoneem, K. M., & Baka, Z. A. (2014). Streptomyces griseorubens E44G: A potent antagonist isolated from soil in Saudi Arabia. Journal of Pure and Applied Microbiology, 8(Spl. Edn. 2), 221–230.

Al-Askar, A. A., Rashad, Y. M., Hafez, E. E., Abdulkhair, W. M., Baka, Z. A., & Ghoneem, K. M. (2015a). Characterization of alkaline protease produced by Streptomyces griseorubens E44G and its possibility for controlling Rhizoctonia root rot disease of corn. Biotechnology & Biotechnological Equipment, 29(3), 457–462.

Al-Askar, A. A., Baka, Z. A., Rashad, Y. M., Ghoneem, K. M., Abdulkhair, W. M., Hafez, E. E., et al. (2015b). Evaluation of Streptomyces griseorubens E44G for the biocontrol of Fusarium oxysporum f. Sp. lycopersici: Ultrastructural and Cytochemical investigations. Annals of Microbiology, 65, 1815–1824.

Alekhya, G., & Gopalakrishnan, S. (2014). Characterization of antagonistic Streptomyces as potential biocontrol agent against fungal pathogens of chickpea and sorghum. Philippine Agricultural Scientist, 97(2), 191–198.

Arcury, T. A., & Quandt, S. A. (2003). Pesticides at work and at home: Exposure of migrant farm workers. The Lancet, 362, 2021.

Bhattacharya, D., Nagpure, A., & Gupta, R. K. (2007). Bacterial chitinases: Properties and potential. Critical Reviews in Biotechnology, 27, 21–28.

Bradford, M. M. (1976). A rapid and sensitive method for the quantitation of microgram quantities of protein utilizing the principle of protein-dye binding. Analytical Biochemistry, 72, 248–254.

Brzezinska, M. S., Jankiewicz, U., & Walczak, M. (2013). Biodegradation of chitinous substances and chitinase production by the soil actinomycete Streptomyces rimosus. International Biodeterioration and Biodegradation, 84, 104–110.

Buchanan, R. E., & Gibbons, N. E. (1974). Bergey's manual of determinative bacteriology. Baltimore: Williams and Wilkins.

Domsch, K. W., Gams, W., & Anderson, T. H. (1980). Compendium of soil fungi. London: Academic Press.

Epp, D. (1987). Somaclonal variation in banana: A case study with Fusarium wilt. In G. J. Persley & E. A. De Langhe (Eds.), Banana and plantain breeding strategies (pp. 140–150). Canberra: ACIAR Publication.

Gangwar, M., Singh, V., Pandey, A. K., Tripathi, C. K. M., & Mishra, B. N. (2016). Purification and characterization of chitinase from Streptomyces violascens NRRL B2700. Indian Journal of Experimental Biology, 54(1), 64–71.

Ghasemi, S., Ahmadian, G., Jelodar, N. B., Rahimian, H., Ghandili, S., Dehestani, A., et al. (2010). Antifungal chitinases from Bacillus pumilus SG2: Preliminary report. World Journal of Microbiology and Biotechnology, 26(8), 1437–1443.

Gherbawy, Y., Elhariry, H., Altalhi, A., El-Deeb, B., & Khiralla, G. (2012). Molecular screening of Streptomyces isolates for antifungal activity and family 19 chitinase enzymes. The Journal of Microbiology, 50, 459–468.

Gnanamanickam, S. S. (2002). Biological control of crop diseases. New York: Marcel Dekker Inc.

Hall, T. A. (1999). BioEdit: A user-friendly biological sequence alignment editor and analysis program for windows 95/98/NT. Nucleic Acids Symposium Series, 41, 95–98.

Hoang, K. C., Lai, T. H., Lin, C. S., Chen, Y. T., & Liau, C. Y. (2011). The chitinolytic activities of Streptomyces sp. TH-11. International Journal of Molecular Sciences, 12, 56–65.

Hoster, F., Schmitz, J. E., & Daniel, R. (2005). Enrichment of chitinolytic microorganisms: Isolation and characterization of a chitinase exhibiting antifungal activity against phytopathogenic fungi from a novel Streptomyces strain. Applied Microbiology and Biotechnology, 66, 434–442.

Karthik, N., Akanksha, K., & Pandey, A. (2014). Production, purification and properties of fungal chitinases a review. Indian Journal of Experimental Biology, 52(11), 1025–1035.

Kavitha, A., & Vijaylakshmi, M. (2011). Partial purification and antifungal profile of chitinase produced by Streptomyces tendae TK-VL_333. Annals of Microbiology, 61, 597–603.

Khan, M. A., Hamid, R., Ahmad, M., Abdin, M. Z., & Javed, S. (2010). Optimization of culture media for enhanced chitinase production from a novel strain of Stenotrophomonas maltophilia using response surface methodology. Journal of Microbiology and Biotechnology, 20, 1597–1602.

Laemmli, U. K. (1970). Cleavage of structural proteins during the assembly of the head of bacteriophage T4. Nature, 227, 680–685.

Maniatis, T., Goodbourn, S., & Fischer, J. A. (1987). Regulation of inducible and tissue-specific gene expression. Science, 236, 1237–1245.

Mitsutomi, M., Hata, T., & Kuwabara, T. (1995). Purification and characterization of novel chitinases from Streptomyces griseus HUT 6037. Journal of Fermentation and Bioengineering, 80, 153–158.

Monreal, J., & Reese, E. T. (1969). The chitinase of Serratia marcescens. Canadian Journal of Microbiology, 15, 689–696.

Mukherjee, G., & Sen, S. K. (2006). Purification, characterization, and antifungal activity of chitinase from Streptomyces Venezuelae P10. Current Microbiology, 53, 265–269.

Nagpure, A., Choudhary, B., & Gupta, R. K. (2013). Mycolytic enzymes produced by Streptomyces violaceusniger and their role in antagonism towards wood-rotting fungi. Journal of Basic Microbiology, 54(5), 397–407.

Narayana, K. J. P., & Vijayalakshmi, M. (2009). Chitinase production by Streptomyces sp. ANU 6277. Brazilian Journal of Microbiology, 40(4), 725–733.

Rabeeth, M., Anitha, A., & Srikanth, G. (2011). Purification of an antifungal Endochitinase from a potential Biocontrol agent Streptomyces griseus. Pakistan Journal of Biological Sciences, 14, 788–797.

Saber, W. I. A., Ghoneem, K. M., Al-Askar, A. A., Rashad, Y. M., Ali, A. A., & Rashad, E. M. (2015). Chitinase production by Bacillus subtilis ATCC 11774 and its effect on biocontrol of Rhizoctonia disease of potato. Acta Biologica Hungarica, 66(4), 436–448.

Siroski, P. A., Poletta, G. L., Parachú Marcó, M. V., Ortega, H. H., & Merchant, M. E. (2014). Presence of chitinase enzymes in crocodilians. Acta Herpetologica, 9(2), 139–146.

Solanki, M. K., Singh, N., Singh, R. K., Singh, P., Srivastava, A. K., Kumar, S., et al. (2011). Plant defense activation and management of tomato root rot by a chitin-fortified Trichoderma/Hypocrea formulation. Phytoparasitica, 39, 471–481.

Suárez-Estrella, F., Vargas-Garcia, C., Lopez, M. J., Capel, C., & Moreno, J. (2007). Antagonistic activity of bacteria and fungi from horticultural compost against Fusarium oxysporum f. Sp. melonis. Crop Protection, 26, 46–53.

Taechowisan, T., Peberdy, J. F., & Lumyong, S. (2003). Chitinase production by endophytic Streptomyces aureofaciens CMUAc 130 and its antagonism against phytopathogenic fungi. Annals of Microbiology, 53, 447–461.

Taechowisan, T., Peberdy, J. F., & Lumyong, S. (2004). PCR cloning and heterologous expression of chitinase gene of endophytic Streptomyces aureofaciens CMUAc130. The Journal of General and Applied Microbiology, 50(3), 177–182.

Tamura, K., Peterson, D., Peterson, N., Stecher, G., Nei, M., & Kumar, S. (2011). MEGA5: Molecular evolutionary genetics analysis using maximum likelihood, evolutionary distance, and maximum parsimony methods. Molecular Biology and Evolution, 28, 2731–2739.

Thiagarajan, V., Revathi, R., Aparanjini, K., & Sivam, P. (2011). Extra cellular chitinase production by Streptomyces sp. PTK19 in submerged fermentation and its lytic activity on Fusarium oxysporum PTK2 cell wall. International Journal of Current Science, 1, 30–44.

Thompson, J. D., Gibson, T. J., Plewniak, F., Jeanmougin, F., & Higgins, D. G. (1997). The CLUSTAL_X windows interface: Flexible strategies for multiple sequence alignment aided by quality analysis tools. Nucleic Acids Research, 25, 4876–4882.

Viterbo, A., Inbar, J., Hadar, Y., & Chet, I. (2007). Plant disease biocontrol and induced resistance via fungal mycoparasites. In C. P. Kubicek & I. S. Druzhinina (Eds.), Environmental and microbial relationships (pp. 325–340). Berlin: Springer Verlag.

Yandigeri, M. S., Malviya, N., Solanki, M. K., Shrivastava, P., & Sivakumar, G. (2015). Chitinolytic Streptomyces vinaceusdrappus S5MW2 isolated from Chilika lake, India enhances plant growth and biocontrol efficacy through chitin supplementation against Rhizoctonia solani. World Journal of Microbiology & Biotechnology, 31(8), 1217–1225.
Acknowledgments
The authors would like to extend their sincere appreciation to the Deanship of Scientific Research at King Saud University for its funding of this research through the Research Group Project No. RGP-VPP-327.
About this article
Cite this article
Rashad, Y.M., Al-Askar, A.A., Ghoneem, K.M. et al. Chitinolytic Streptomyces griseorubens E44G enhances the biocontrol efficacy against Fusarium wilt disease of tomato. Phytoparasitica 45, 227–237 (2017). https://doi.org/10.1007/s12600-017-0580-3
Received:

Accepted:

Published:

Issue Date:
Keywords
Actinomycetes

Bio-control

Chitin

N-acetylglucosamine

Optimization

Tomato