Abstract
A one-step RT-PCR was used to identify Tomato chlorosis virus (ToCV) (Crinivirus members) infections on some Tunisian cultures. Results provided evidence that the ToCV is the most prevalent virus on Tunisian tomato crops. Findings were validated with specific primers. Genetic analysis of ToCV isolates was explored based on sequence data of viral segments within the coat protein (CP), the heat shock protein (HSP70h) and the polymerase protein (RdRp). Synonymous (dS) and non-synonymous (dN) substitution rates and their ratio were analyzed. The patterns of mutations were shaped depending on the considered fragment from the three viral regions. Selective neutrality test was significantly negative, suggesting a recent expansion of ToCV isolates. Pairwise mismatch distribution gave a bimodal pattern and pointed to the clustering of ToCV isolates into two distinct geographical clades. Genetic haplotype network provided evidence of the existence of two distinct clusters. The star-like shaped pattern confirmed recent expansion of ToCV isolates.
Access options
Buy single article
Instant access to the full article PDF.
USD 39.95
Price excludes VAT (USA)
Tax calculation will be finalised during checkout.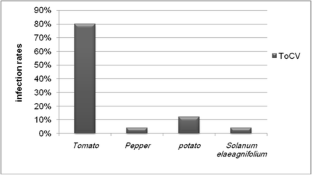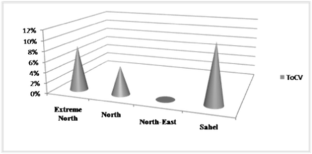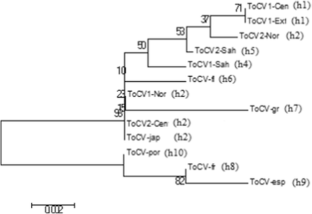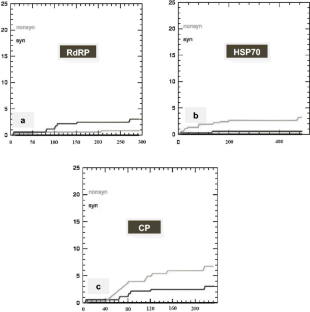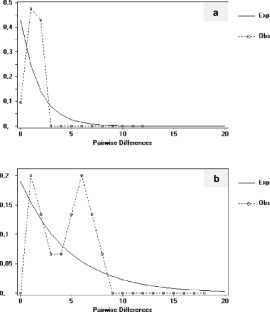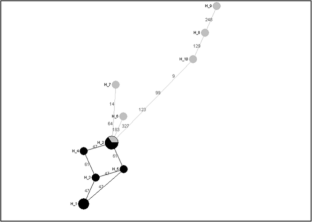 References
Accotto, G. P., Vaira, A. M., Vecchiati, M., Sialer, M. M. F., Gallitelli, D., & Davino, M. (2001). First report of Tomato chlorosis virus in Italy. Plant Disease, 85, 1208.

Arias, A., Lazaro, E., Escarmis, C., & Domingo, E. (2001). Molecular intermediates of fitness gain of an RNA virus: characterization of a mutant spectrum by biological and molecular cloning. Journal of General Virology, 82, 1049–1060.

Atreya, P. L., Lopez-Moya, J. J., Chu, M., Atreya, C. D., & Pirone, T. P. (1995). Mutational analysis of the coat protein N-terminal amino acids involved in Potyvirus transmission by aphids. Journal of General Virology, 76, 265–270.

Bandelet, H. J., Forster, P., & Rohi, A. (1999). Median joining network for inferring intraspecific phylogenies. Molecular Biology and Evolution, 16, 37–48.

Dake, Z., Chen, J., Deng, L., Mao, Q., Zheng, J., Wu, J., et al. (2010). Evolutionary selection associated with the multi-function of overlapping genes in the hepatitis B virus. Infection, Genetics and Evolution, 10, 84–88.

Dolja, V. V., Kreuze, J. F., & Valkonen, J. P. T. (2006). Comparative and functional genomics of closterovirus. Virus Research, 117, 38–51.

Domingo, E., Brun, A., Núñez, J. I., Cristina, J., Briones, C., & Escarmís, C. (2006). Genomics of viruses. In J. Hacker & U. Dobrindt (Eds.), Pathogenomics: Genome analysis of pathogenic microbes (pp. 369–388). Weinheim, Germany: Wiley VCH.

Dovas, C. I., Katis, N. I., & Avgelis, A. D. (2002). Multiplex detection of criniviruses associated with epidemics of a yellowing disease of tomato in Greece. Plant Disease, 86, 1345–1349.

Goymer, P. (2007). Synonymous mutations break their silence. Nature Reviews Genetics, 8, 92–92.

Jacquemond, M., Verdin, E., Dalmon, A., Guilbaud, L., & Gognalons, P. (2009). Serological and molecular detection of Tomato chlorosis virus and Tomato infectious chlorosis virus in tomato. Plant Pathology, 58, 210–220.

Jukes, T. H., & Cantor, C. R. (1996). Evolution of protein molecules. In H. N. Munro (Ed.), Mammalian protein metabolism (pp. 21–123). New York, NY: Academic Press.

Karasev, A. V. (2000). Genetic diversity and evolution of Closteroviruses. Annual Review of Phytopathology, 38, 293–324.

Kimchi-Sarfaty, C., Oh, J. M., Kim, I. W., & Sauna, Z. E. (2007). A "silent" polymorphism in the MDR1 gene changes substrate specificity. Science, 315, 525–528.

Kumar, S., Tamura, K., & Nei, M. (2004). Mega 3: integrated software for molecular evolutionary genetics analysis and sequence alignment. Briefings in Bioinformatics, 5, 150–163.

Lambros, C., Papayiannis, I. S. H., Yiannis, M. M., Christos, N. D., & Nikolaos, I. K. (2011). Rapid discrimination of Tomato chlorosis virus, Tomato infectious chlorosis virus and co-amplification of plant internal control using real-time RT-PCR. Journal of Virological Methods, 176, 53–59.

Lévy-Hartmann, L., Roussel, V., Le Tourneur, Y., & Sellos, Y. D. (2012). Global and New Caledonian patterns of population genetic variation in the deep-sea splendid alfonsino, Beryx splendens, inferred from mtDNA. Genetica, 139, 1349–1365.

Livieratos, I. C., Eliasco, E., Muller, G., Olsthoorn, R. C. L., Salazar, L. F., Pleij, C. W. A., et al. (2004). Analysis of the RNA of Potato yellow vein virus: evidence for a tripartite genome and conserved 3′-terminal structures among members of the genus Crinivirus. Journal of General Virology, 85, 2065–2075.

Lopez, P., Casane, D., & Philippe, H. (2002). Phylogénie et évolution moléculaires. Journal of the Medical Sciences, 18, 1146–1154.

Martelli, G. P., & Candresse, T. (2010). The family Closteroviridae revised. « Closteroviridae ». Encyclopedia of Life Sciences. Chichester, UK: John Wiley & Sons. http://www.els.net webcite [doi: Publisher full text].

Miller, M. P., Bellinger, R. M., Forsman, E. D., & Haig, S. M. (2006). Effects of historical climate change, habitat connectivity, and vicariance on genetic structure and diversity across the range of the red tree vole (Phenacomys longicaudus) in the Pacific Northwest United States. Molecular Ecology, 15, 145–159.

Mora, M. S., Lessa, E. P., Cutrera, A. P., Kittlein, M. J., & Vasallo, A. I. (2007). Phylogeographic structure in the subterranean tuco-tuco Ctenomys talarum (Rodentia: Ctenomyidae): contrasting the demographic consequences of regional and habitat-specific histories. Molecular Ecology, 16, 3453–3465.

Moury, B., Morel, C., Johansen, E., & Jacquemond, M. (2002). Evidence for diversifying selection in potato virus Y and in the coat protein of other potyviruses. Journal of General Virology, 83, 2563–2573.

Navas-Castillo, J., Camero, R., Bueno, M., & Moriones, E. (2000). Severe yellowing outbreaks in tomato in Spain associated with infections of Tomato chlorosis virus. Plant Disease, 84, 835–837.

Nei, M., & Tajima, F. (1983). Maximum likelihood estimation of the number of nucleotide substitutions from restriction sites data. Genetics, 105, 207–217.

Rozas, J., Sanchez-Delbarrio, J. C., Messeguer, X., & Rozas, R. (2003). DnaSP, DNA polymorphism analyses by the coalescent and other methods. Bioinformatics, 19, 2496–2497.

Tajima, F. (1989). Statistical method for testing the neutral mutation hypothesis by DNA polymorphism. Genetics, 123, 585–595.

Tian, T., Soong, J., Wisler, G. C., Duffus, J. E., & Falk, B. W. (1996). Generation and cloning of specific cDNAs corresponding to four whitefly-transmitted viruses using RT-PCR and degenerate oligonucleotide primers corresponding to the closterovirus gene encoding the heat shock protein 70 homolog. Phytopathology, 86, 1167–1173.

Tsai, W. S., Shih, S. L., Green, S. K., Hanson, P., & Liu, H. Y. (2004). First report of the occurrence of Tomato chlorosis virus and Tomato infectious chlorosis virus in Taiwan. Plant Disease, 88, 311.

Tzanetakis, I. E., Halgren, A. B., Keller, K. E., Hokanson, S. C., Maas, J. L., McCarthy, P. L., et al. (2004). Identification and detection of a virus associated with strawberry pallidosis disease. Plant Disease, 88, 383–390.

Wintermantel, W. M., & Hladky, L. L. (2010). Methods for detection and differentiation of existing and new crinivirus species through multiplex and degenerate primer RT-PCR. Journal of Virological Methods, 170, 106–114.

Wintermantel, W. M., & Wisler, G. C. (2006). Vector specificity, host range, and genetic diversity of Tomato chlorosis virus. Plant Disease, 90, 814–819.
Acknowledgments
This study was supported by the Ministry of Higher Education and Scientific Research of Tunisia and partially by a Franco-Tunisian Utique program (PHC-Utique 10G0905). We acknowledge the help of the Tunisian Ministry of Agriculture with surveys.
About this article
Cite this article
Gharsallah, C., Halima, A.B., Fakhfakh, H. et al. Insights into the genetic diversity and the phylogenetic analysis of Tunisian isolates of Tomato chlorosis virus . Phytoparasitica 43, 87–96 (2015). https://doi.org/10.1007/s12600-014-0423-4
Received:

Accepted:

Published:

Issue Date:

DOI: https://doi.org/10.1007/s12600-014-0423-4
Keywords