Abstract
In December 2009 and May 2010 an insect pest was observed on Jatropha curcas L. (Euphorbiaceae) saplings at the Biomass Farm Site, Banthara, of CSIR-National Botanical Research Institute, Lucknow, India. On the basis of morphology of the insect pest and symptoms caused on its host, it was identified as Maconellicoccus hirsutus (Green) (Homoptera: Coccoidae: Pseudococcidae) synonym Phenacoccus hirsutus Green. This is the first report of the occurrence of M. hirsutus infestation on J. curcas.
Access options
Buy single article
Instant access to the full article PDF.
US$ 39.95
Tax calculation will be finalised during checkout.
Subscribe to journal
Immediate online access to all issues from 2019. Subscription will auto renew annually.
US$ 79
Tax calculation will be finalised during checkout.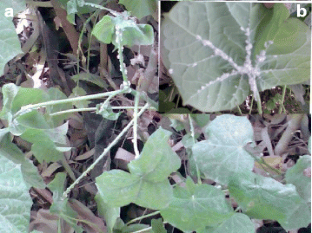 References
Achten, W. M. J., Verchot, L., Franken, Y. J., Mathijs, E., Singh, V. P., Aertsa, R., et al. (2008). Jatropha bio-diesel production and use. Biomass Bioenergy, 32, 1063–1084.

Ambika, S., Manoharan, T., Stanley, J., & Preetha, G. (2007). Scutellarid pests of Jatropha and their management. Annals of Plant Protection Sciences, 15, 370–375.

Anon. (1959). The wealth of India - Raw material. Vol. 4 (pp. 239–397). New Delhi, India: CSIR.

Anon. (2005). Data sheets on quarantine pests Maconellicoccus hirsutus. Bulletin OEPP/EPPO Bulletin, 35, 413–415. http://www.eppo.int/QUARANTINE/insects/Maconellicoccus_hirsutus/DS_Maconellicoccus_hirsutus.pdf

Azam, M. M., Waris, A., & Nahar, N. M. (2005). Prospects and potential of fatty acid methyl esters of some non-traditional seed oils for use as biodiesel in India. Biomass and Bioenergy, 29, 293–302.

Brittaine, R., & Lutaladio, N. B. (2010). Jatropha: A smallholder bioenergy crop. The potential for pro-poor development. Integrated Crop Management. Vol. 8. Rome, Italy: Food and Agriculture Organization of the United Nations.

Ezzat, Y. M. (1958). Maconellicoccus hirsutus (Green), a new genus, with re-description of the species [Homoptera: Pseudococcidae-Coccoidea]. Bulletin de la Société Entomologique d'Egypte, 42, 377–383.

Foidl, N., Foidl, G., Sanchez, M., Mittelbech, M., & Hackel, S. (1996). Jatropha curcas L. as a source for the production of biofuels in Nicaragua. Bioresource Technology, 58, 77–82.

Ghose, S. K. (1972). Biology of the mealybug, Maconellicoccus hirsutus (Green) (Pseudococcidae, Homoptera). Indian Agriculturist, 16, 323–332.

Green, E. E. (1908). Remarks on Indian scale insects (Coccidae), Part III. With a catalogue of all species hitherto recorded from the Indian continent. Memoirs of the Department of Agriculture in India Entomology Series, 2, 15–46.

Grimm, C. (1999). Evaluation of damage to physic nut (Jatropha curcas) by true bugs. Entomologia Experimentalis et Applicata, 92, 127–136.

Heller, J. (1996). Physic nut - Jatropha curcas L. promoting the conservation and use of underutilized and neglected crop. Ph D dissertation. Institute of plant genetic research, Gatersleben, germany; International Plant Genetic Resource, Institute, Rome, Italy.

Mani, M. (1989). A review of pink mealybug Maconellicoccus hirsutus (Green). Insect Science and its Application, 10, 157–167.

Mani, M., & Krishnamoorthy, A. (2001). Suppression of Maconellicoccus hirsutus on guava. Insect Environment, 6, 152.

Manjunath, T. M. (1985). India – Maconellicoccus hirsutus on grapevine. FAO Plant Protection Bulletin, 33, 74.

Miller, D. R. (1999). Identification of the pink hibiscus mealy bug, Maconellicoccus hirsutus (Green) (Hemiptera: Sternorrhyncha: Pseudococcidae). Insecta Mundi, 13, 189–203. http://digitalcommons.unl.edu/insectamundi/3cas39.

Openshaw, K. (2000). A review of Jatropha curcas: an oil plant of unfulfilled promise. Biomass Bioenergy, 19, 1–15.

Pandey, V. C., Singh, K., Singh, J. S., Kumar, A., Singh, B., & Singh, R. P. (2012). Jatropha curcas: A potential biofuel plant for sustainable environmental development. Rene Sustain Energy Reviews, 16, 2870–2883.

Patel, I. S., Dodia, D. A., & Patel, S. N. (1990). First record of Maconellicoccus hirsutus as a pest of pigeonpea (Cajanus cajan). Indian Journal of Agricultural Sciences, 60, 645.

Sahai, K., Srivastava, V., & Rawat, K. K. (2011). Impact assessment of fruit predation by Scutellera perplexa Westwood on the reproductive allocation of Jatropha. Biomass Bioenergy, 35, 4684–4689.

Sahito, H. A., Soomro, R. B., Talpur, M. A., Memon, S. A., & Dhiloo, K. H. (2012). Biology of mulberry mealybug, Maconellicoccus hirsutus (Green ) in laboratory conditions. Basic Research Journal of Agricultural Science Review, 1, 11–18.

Shankar, C., & Dhyani, S. K. (2006). Insect pests of Jatropha curcas L. and the potential for their management. Current Science, 91, 162–163.

Sop, T. K., Kagambega, F. W., Bellefontaine, R., Schmiedel, U., & Thiombiano, A. (2012). Effects of organic amendment on early growth performance of Jatropha curcas L. on a severely degraded site in the Sub-Sahel of Burkina Faso. Agroforest Systems, 86, 387–399. doi:10.1007/s10457-491 011-9421-4.

Williams, D. J. (1986). The identity and distribution of the genus Maconellicoccus Ezzat (Hemiptera: Pseudococcidae) in Africa. Bulletin of Entomological Research, 76, 351–357.
Acknowledgments
The authors are thankful to the Director CSIR - National Botanical Research Institute, Lucknow, India, for the facilities and for all logistic support and to Dr. K. Chandrshekhar, Entomologist, CSIR - National Botanical Research Institute, Lucknow, for his help in identification of Maconellicoccus hirsutus (Green). Financial help from the Department of Biotechnology, Government of India, is gratefully acknowledged. The authors are also thankful to the Editor and two anonymous reviewers for their feedback on a previous version of the manuscript.
About this article
Cite this article
Kumar, A., Singh, N. First report of Maconellicoccus hirsutus Green infestation on Jatropha curcas saplings. Phytoparasitica 42, 71–73 (2014). https://doi.org/10.1007/s12600-013-0339-4
Received:

Accepted:

Published:

Issue Date:
Keywords
Coccoidae

Euphorbiaceae

Homoptera

Phenacoccus hirsutus Green

Pseudococcidae