Abstract
The ambrosia beetle, Euwallacea fornicatus Eichhoff, was first recorded in Israel in 2009. The symbiotic fungus Fusarium sp., carried in mycacangia located in the anterior region of the female head, is responsible for the typical wilt symptoms inflicted on avocado (Persea americana Miller) trees. The beetle–fungus complex has become a serious threat to the future of the avocado industry in Israel.
This is a preview of subscription content, log in to check access.
Access options
Buy single article
Instant access to the full article PDF.
US$ 39.95
Price includes VAT for USA
Subscribe to journal
Immediate online access to all issues from 2019. Subscription will auto renew annually.
US$ 99
This is the net price. Taxes to be calculated in checkout.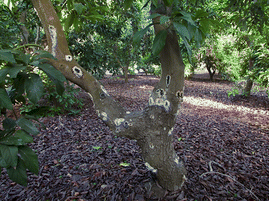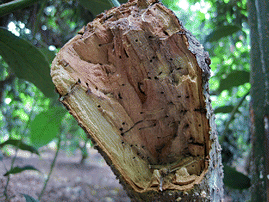 References
Browne, F. G. (1961). The biology of Malayan Scolytidae and Platypodidae. Malayan Forest Records No. 22, 1–255.

Danthanarayana, W. (1968). The distribution and host-range of the shot-hole borer (Xyleborus fornicatus Eichh.) of tea. Tea Quarterly, 39, 61–69.

Gadd, C. H., & Loos, C. A. (1947). The ambrosia fungus of Xyleborus fornicatus Eich. Transactions of the British Mycological Society, 31, 13–18.

Hulcr, J., Mogia, M., Isua, B., & Novotny, V. (2007). Host specificity of ambrosia and bark beetles (Col., Curculionidae: Scolytinae and Platypodinae) in a New Guinea rain forest. Ecological Entomology, 32, 762–772.

Liu, X., Sievert, J., Arpaia, M. J., & Madore, M. A. (2002). Postulated physiological roles of the seven-carbon sugars, mannoheptulose, and perseitol in avocado. Journal of the American Society for Horticultural Science, 127, 108--114.

O'Donnell, K., Sutton, D. A., Fothergill, A., McCarthy, D., Rinaldi, M. G., Brandt, M. E., et al. (2008). Molecular phylogenetic diversity, multilocus haplotype nomenclature, and in vitro antifungal resistance within the Fusarium solani species complex. Journal of Clinical Microbiology, 46, 2477–2490.

Rabaglia, R. J., Dole, S. A., & Cognato, A. I. (2006). Review of American Xyleborina (Coleoptera: Curculionidae: Scolytinae) occurring north of Mexico, with an illustrated key. Annals of the Entomological Society of America, 99, 1034–1055.

Swofford, D. L. (2002). PAUP*. Phylogenetic analysis using parsimony (and other methods). Version 4. Sunderland: Sinauer Associates.
Acknowledgments
The authors would like to thank Prof. Randy C. Ploetz and Prof. Jorge Peña from the Univ. of Florida, Homestead, Florida, USA, and Michael Noi, Ministry of Agriculture, Israel, for helpful discussions, and the Israeli avocado growers' organization for partial funding of this research. We also thank Stacy Sink for generating the DNA sequence data reported in this study and Nathane Orwig for running the DNA sequences in NCAUR's DNA core facility. The mention of firm names or trade products does not imply that they are endorsed or recommended by the U.S. Department of Agriculture over other firms or similar products not mentioned. The USDA is an equal opportunity provider and employer.
About this article
Cite this article
Mendel, Z., Protasov, A., Sharon, M. et al. An Asian ambrosia beetle Euwallacea fornicatus and its novel symbiotic fungus Fusarium sp. pose a serious threat to the Israeli avocado industry. Phytoparasitica 40, 235–238 (2012). https://doi.org/10.1007/s12600-012-0223-7
Received:

Accepted:

Published:

Issue Date:
Keywords
First report

Fusarium solani species complex
Persea americana