Abstract
Digital capabilities can improve organizations' performance by supporting complex decision-making processes. However, when market standards constrain their enactment, the potential benefits promised by digital capabilities do not realize. The paper explores this tension by means of the critical case of a European airline, which had difficulty to enact a novel pricing approach and finds that market standards are entrenched in the airline's pricing and distribution ecosystem. This causes the organization to focus on local improvements and IT-based workarounds instead of enacting a dramatically new and potentially improved digital pricing capability.
Access options
Buy single article
Instant access to the full article PDF.
US$ 39.95
Tax calculation will be finalised during checkout.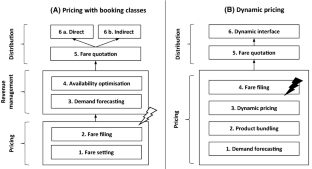 References
Bitran G, Caldentey R (2003) An overview of pricing models for revenue management. Manuf Serv Oper Manag 5(3):203–229

Burgelman RA (2002) Strategy as vector and the inertia of coevolutionary lock-in. Admin Serv Q 47(2):325–357

Burger M, Sydow J (2014) How interorganizational networks can become path-dependent: bargaining in the photonics industry. Schmalenbach Bus Rev 66(1):73–99

Cohen WM, Levinthal DA (1990) Absorptive capacity: a new perspective on learning and innovation. Admin Serv Q 35(1):128–152

Copeland DG, McKenney JL (1988) Airline reservations systems: lessons from history. MIS Q 12(3):353–370

David PA (1985) Clio and the economics of QWERTY. Am Econ Rev 75(2):332–337

Dutta S, Zbaracki MJ, Bergen M (2003) Pricing process as a capability: a resource-based perspective. Strateg Manag J 24(7):615–630

Eisenhardt KM, Martin JA (2000) Dynamic capabilities: What are they? Strateg Manag J 21(10–11):105–1121

Elmaghraby W, Keskinocak P (2003) Dynamic pricing in the presence of inventory considerations: research overview, current practices, and future directions. Manag Sci 49(10):1287–1309

Flyvbjerg B (2006) Five misunderstandings about case-study research. Qual Inq 12(2):219–245

Gerlach M, Cleophas C, Kliewer N (2013) Airline codeshare alliances. Bus Inf Syst Eng 5(3):153–163

Golden BR (1992) The past is the past—or is it? The use of retrospective accounts as indicators of past strategy. Acad Manag J 35(4):848–860

Hinterhuber A, Liozu S (2017) The micro-foundations of pricing. J Bus Res 76(7):159–162

Introna L, Kavanagh D, Kelly S et al (2016) Beyond interpretivism? New encounters with technology and organization. Springer, Berlin

Isler K, D'Souza E (2009) GDS capabilities, OD control and dynamic pricing. J Revenue Pricing Manag 8(2–3):255–266

Johns C (2017) Becoming a reflective practitioner, 5th edn. Wiley, Hoboken

Kantor J, Streitfeld D (2015) Inside Amazon: wrestling big ideas in a bruising workplace. In: New York Times. https://www.nytimes.com/2015/08/16/technology/inside-amazon-wrestling-big-ideas-in-a-bruising-workplace.html. Accessed 15 Jan 2019

Kirn W (2010) My cart, my self. In: New York Times. http://www.nytimes.com/2011/01/02/magazine/02fob-wwln-t.html. Accessed 15 Jan 2019

Langley A (1999) Strategies for theorizing from process data. Acad Manag Rev 24(4):691–710

Le Baron C, Jarzabkowski P, Pratt M, Fetzer G (2018) An introduction to video methods in organizational research. Organ Res Methods 21(2):239–260

Lehrer M (2000) The organizational choice between evolutionary and revolutionary capability regimes: theory and evidence from European air transport. Ind Corp Change 9(3):489–520

Leonardi PM, Barley SR (2008) Materiality and change: challenges to building better theory about technology and organizing. Inf Organ 18(3):159–176

Littlewood K (2005) Forecasting and control of passenger bookings. J Revenue Pricing Manag 4(2):111–123

McAfee RP, te Velde VL (2006) Dynamic pricing in the airline industry. In: Andrew B. Whinston (ed) Economics and Information Systems. Emerald, Bingley, pp 527–570

O'Neil-Dunne T (2014) NDC—capable of its lofty ambitions or dead in the water? In: TNOOZ. http://www.tnooz.com/article/IATA-ndc-airline-distribution/. Accessed 15 Jan 2019

Orlikowski WJ (2002) Knowing in practice: enacting a collective capability in distributed organizing. Organ Sci 13(3):249–273

Orlikowski WJ, Scott SV (2015) The algorithm and the crowd: considering the materiality of service innovation. MIS Q 39(1):201–216

Pölt S (2011) The rise and fall of RM. J Revenue Pricing Manag 10(1):23–25

Scheiber N (2017) How Uber uses psychological tricks to push its drivers' buttons. In: New York Times. https://www.nytimes.com/interactive/2017/04/02/technology/uber-drivers-psychological-tricks.html. Accessed 15 Jan 2019

Schön DA (1991) The reflective practitioner: how professionals think in action. Taylor & Francis, London

Schreyögg G, Kliesch-Eberl M (2007) How dynamic can organizational capabilities be? Towards a dual-process model of capability dynamization. Strateg Manag J 28(9):913–933

Schreyögg G, Sydow J (2011) Organizational path dependence: a process view. Organ Stud 32(3):321–335

Sydow J, Schreyögg G, Koch J (2009) Organizational path dependence: opening the black box. Acad Manag Rev 34(4):689–709

Westermann D (2013) Potential impact of IATA's NDC on revenue management and pricing. J Revenue Pricing Manag 12(6):565–568

Wheeler BC (2002) NEBIC: a dynamic capabilities theory for assessing net-enablement. Inf Syst Res 13(2):125–146

Yoo Y, Boland RJ, Lyytinen K, Majchrzak A (2012) Organizing for innovation in the digitized world. Organ Sci 23(5):1398–1408
Acknowledgements
This work was supported by funding from the Deutsche Forschungsgemeinschaft (DFG) Pfadkolleg Research Center at the School of Business and Economics, Freie Universität Berlin. For helpful comments, we thank Prof. Georg Schreyögg and Prof. Jörg Sydow.
Additional information
Accepted after three revisions by Oliver Hinz.
Electronic supplementary material
Below is the link to the electronic supplementary material.
About this article
Cite this article
Fürstenau, D., Cleophas, C. & Kliewer, N. How Do Market Standards Inhibit the Enactment of Digital Capabilities?. Bus Inf Syst Eng 62, 279–287 (2020). https://doi.org/10.1007/s12599-019-00588-1
Received:

Accepted:

Published:

Issue Date:
Keywords
Digital capabilities

Market standards

Path dependence

Pricing

Air transport