Access options
Buy single article
Instant access to the full article PDF.
USD 39.95
Price excludes VAT (USA)
Tax calculation will be finalised during checkout.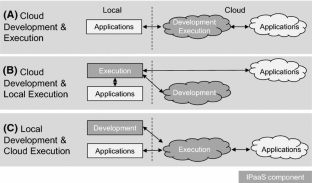 References
Boillat T, Legner C (2014) Why do companies migrate towards cloud enterprise systems? A post-implementation perspective. In: 2014 IEEE 16th conference on business informatics, 1:102–109. doi:10.1109/CBI.2014.46

Dell (2016) Boomi suggest and your privacy – Dell Boomi. https://www.boomi.com/privacy/suggest/. Accessed 30 Dec 2016

Ebert N, Weber K (2016) Sicherheit von Cloud-basierten Plattformen zur Anwendungsintegration: eine Bewertung aktueller Angebote. FHWS Sci J 3:10–22

Guttridge K, Pezzini M, Malinverno P, Iijima K, Thompson J, Thoo E, Golluscio E (2016) Magic quadrant for enterprise integration platform as a service, Worldwide. https://www.gartner.com/doc/3263719/magic-quadrant-enterprise-integration-platform. Accessed 6 Jan 2017

Janković S, Mladenović S, Radonjić V, Kostić-Ljubisavljević A, Uzelac A (2011) Integration platform-as-a-service in the traffic safety area. In: MIC-CNIT2011, Mosharaka international conference on communications, networking and information technology, Dubai, UAE, pp 70–75

Kleeberg M, Zirpins C, Kirchner H (2014) Information systems integration in the cloud: scenarios, challenges and technology trends. In: Brunetti G, Feld T, Heuser L, Schnitter J, Webel C (eds) Future business software. Springer, Heidelberg, pp 39–54

Linthicum DS (2000) Enterprise application integration. Addison-Wesley, Boston

Moreno-Vozmediano R, Montero RS, Llorente IM (2013) Key challenges in cloud computing: enabling the future internet of services. IEEE Int Comput 17:18–25. doi:10.1109/MIC.2012.69

Ng JW (2015) Task as a service: extending cloud from an application development platform to a tasking platform. In: Proceedings – 2015 IEEE world congress on services, SERVICES 2015, pp 294–301

Oneworld (2012) Oneworld IT hub in the clouds smooths airberlin's addition – Asset Publisher. https://www.oneworld.com/news-information/oneworldnews/-/asset_publisher/QtTQ7EuCzxhd/content/oneworld-it-hub-in-the-clouds-smooths-airberlin-s-addition/pop_up?_101_INSTANCE_QtTQ7EuCzxhd_viewMode=print. Accessed 6 Jan 2017

Ovum (2013) OvumCase study: adoption of Dell Boomi AtomSphere iPaaS by Novartis – Ovum. https://www.ovum.com/research/case-study-adoption-of-dell-boomi-atomsphere-ipaas-by-novartis/. Accessed 6 Jan 2017

Potočnik M, Juric MB (2012) Integration of SaaS using IPaaS. In: The 1st international conference on CLoud Assisted ServiceS, pp 35–51

Ring K (2000) EAI: making the right connections. Ovum Reports, Boston

Ruh WA, Maginnis FX, Brown WJ (2000) Enterprise application integration: a Wiley tech brief. Wiley, New York

Schulte S, Janiesch C, Venugopal S, Weber I, Hoenisch P (2015) Elastic business process management: state of the art and open challenges for BPM in the cloud. Fut Gen Comput Syst 46:36–50. doi:10.1016/j.future.2014.09.005

Serrano N, Hernantes J, Gallardo G (2014) Service-oriented architecture and legacy systems. IEEE Softw 31:15–19. doi:10.1109/MS.2014.125

Wortmann F, Flüchter K (2015) Internet of things: technology and value added. Bus Inf Syst Eng 57:221–224
Additional information
Accepted after one revision by Prof. Dr. Weinhardt.
About this article
Cite this article
Ebert, N., Weber, K. & Koruna, S. Integration Platform as a Service. Bus Inf Syst Eng 59, 375–379 (2017). https://doi.org/10.1007/s12599-017-0486-0
Received:

Accepted:

Published:

Issue Date:

DOI: https://doi.org/10.1007/s12599-017-0486-0
Keywords