Access options
Buy single article
Instant access to the full article PDF.
US$ 39.95
Tax calculation will be finalised during checkout.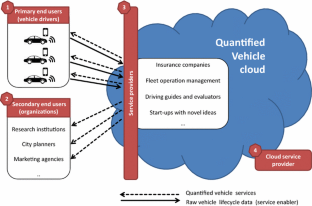 Notes
1.

AutoMat: Automotive Big Data Marketplace for Innovative Cross-sectorial Vehicle Data Services: http://www.automat-project.eu (Accessed 15 Nov 2016).

2.

The Controller Area Network (CAN) bus is an International Standardization Organization (ISO) defined serial communication protocol that supports distributed real-time control and multiplexing for use within road vehicles (ISO 11898-1:2003).

3.

4.
References
Briscoe G, Mulligan C (2014) Digital innovation: the hackathon phenomenon. Creativeworks, London, working paper No. 6

Choe EK, Lee NB, Lee B, Pratt W, Kientz JA (2014) Understanding quantified-selfer's practices in collecting and exploring personal data. One of a CHInd, Toronto

Cichy P, Salge TO, Kohli R (2014) Extending the privacy calculus: the role of psychological ownership. In: ICIS 2014, AIS, Auckland

Haeberle T, Charissis L, Fehling C, Nahm J, Leymann F (2015) The connected car in the cloud: a platform for prototyping telematics services. IEEE Softw 32(6):11–17

Porter M, Heppelmann JE (2014) How smart, connected products are transforming competition. Harvard Bus Rev, November

Porter M, Heppelmann JE (2015) How smart, connected products are transforming companies. Harvard Bus Rev, October

PWC (2016) The wearable life 2.0. Connected living in a wearable world. PWC Report

Schönberger VM, Cukier KC (2013) Big data. A revolution that will transform how we live, work, and think. Houghton Mifflin Harcourt, Boston. ISBN: 978-0-544-00269-2

Swan M (2009) Emerging patient-driven health care models: an examination of health social networks, consumer personalized medicine and quantified self-tracking. Int J Environ Res Public Health 6(2):492–525. doi:10.3390/ijerph6020492

Swan M (2015) Connected car: quantified self becomes quantified car. J Sens Actuator Netw 4(1):2–29. http://www.mdpi.com/2224-2708/4/1/2, Accessed 15 Nov 2016

Wilfinger D, Murer M, Baumgartner A, Döttlinger C, Meschtscherjakov A, Tscheligi M (2013) The car data toolkit: smartphone supported automotive HCI research. In: Proceedings of the 5th international conference on automotive user interfaces and interactive vehicular applications (AutomotiveUI), The Netherlands, October 28–30

Wolf G (2013) Tracking the quantified self. IEEE Spectr 50(8):24

Wortmann F, Flüchter K (2015) Internet of things: technology and value added. Bus Inf Syst Eng 57(3):221–224
Acknowledgements
This study has received funding from the European Union's Horizon 2020 research and innovation program under Grant Agreement No 732189. The document reflects only the authors' views and the Commission is not responsible for any use that may be made of information contained herein.
Additional information
Accepted after one revision by Prof. Dr. Sinz.
About this article
Cite this article
Stocker, A., Kaiser, C. & Fellmann, M. Quantified Vehicles. Bus Inf Syst Eng 59, 125–130 (2017). https://doi.org/10.1007/s12599-017-0465-5
Received:

Accepted:

Published:

Issue Date:
Keywords
Quantified Vehicles

Quantified-self

Services

Business models

Vehicle lifecycle data