Abstract
An explorative case study is used to investigate the formation of information pathologies on the societal level. The paper conceptualizes these particular information pathologies as 'interaction-related information pathologies' (Picot et al., Information, organization and management. Springer, Berlin, 2008) and proposes that the production of information by multiple stakeholders leads to 'distortions' (Cukier et al., Inf Syst J 19(2):175–196, 2009) on the societal level. This broad proposition is then explored by means of a qualitative case study of the media coverage surrounding the implementation of the 'Electronic Health Card' in Germany. Based on that study, the initial proposition is further specified by conceptualizing how a process of path constitution 'distorts' a debate from being about legitimacy of an ICT innovation to being about illegitimacy of stakeholders.
Access options
Buy single article
Instant access to the full article PDF.
US$ 39.95
Tax calculation will be finalised during checkout.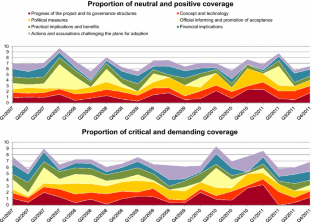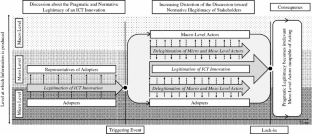 Notes
1.

This number was reported by the 'GKV-Spitzenverband' on June 1st 2016.

2.

A 'discursive approach' is a wider term than 'discourse analysis.' We opted for 'discursive approach' because it is not as strictly linked to certain theoretical traditions as 'discourse analysis' is (Talja and McKenzie 2007). Our intent is to use a 'discursive approach' as analytical tool and less as theoretical perspective in its own right. Yet, both are generally possible in the context of discursive studies (for overviews see, e.g., Phillips and Hardy 2002; Talja and McKenzie 2007).

3.

The 'e-prescription' was considered a core functionality of EHC. Initially, it was planned that doctors could issue a prescription by storing it on a server from where a pharmacists would be able to retrieve it. The 'e-prescription' was tested in EHC field tests in 2006/2007.

4.

Consistent with Constantinides and Barrett (2015, p. 4), we acknowledge that legitimacy is a key concept in institutional theory but we do not intend to deploy institutional theory in our own study. This is appropriate because legitimacy is also used in many other contexts (see, e.g, the review in Suchman 1995).
References
Barrett M, Heracleous L, Walsham G (2013) A rhetorical approach to it diffusion: reconceptualizing the ideology-framing relationship in computerization movements. MIS Q 37(1):201–220

Bawden D, Robinson L (2009) The dark side of information: overload, anxiety and other paradoxes and pathologies. J Inf Sci 35(2):180–191. doi:10.1177/0165551508095781

Bawden D, Robinson L (2013) No such thing as society? On the individuality of information behavior. J Am Soc Inf Sci Technol 64(12):2587–2590. doi:10.1002/asi.22971

Berger PL, Luckmann T (1967) The social construction of reality: a treatise in the sociology of knowledge. Anchor, New York

Berthod O (2013) Challenging the imperative to build: the case of a controversial bridge at a world heritage site. In: Henn R, Hoffman A (eds) Constructing green—the social structures of sustainability. MIT Press, Cambridge, pp 285–306

Berthod O, Sydow J (2013) Locked in the iron cage? When institutionalization is (not) a path-dependent process. In: Schreyögg G, Sydow J (eds) Self-reinforcing dynamics in and among organizations. Palgrave MacMillan, London, pp 204–229

Bronner R (2003) Pathologies of decision-making: causes, forms, and handling. Manag Int Rev 43(1):85–101

Browne GJ, Pitts MG (2004) Stopping rule use during information search in design problems. Organ Behav Hum Decis Processes 95(2):208–224. doi:10.1016/j.obhdp.2004.05.001

Browne GJ, Pitts MG, Wetherbe JC (2007) Cognitive stopping rules for terminating information search in online tasks. MIS Q 31(1):89–104

Buckland MK (1991) Information as thing. J Am Soc Inf Sci 42(5):351–360

Constantinides P, Barrett M (2015) Information infrastructure development and governance as collective action. Inf Syst Res 26(1):40–56. doi:10.1287/isre.2014.0542

Corbin J, Strauss A (2008) Basics of qualitative research: techniques and procedures for developing grounded theory. Sage, London

Cukier W, Ngwenyama O, Bauer R, Middleton C (2009) A critical analysis of media discourse on information technology: preliminary results of a proposed method for critical discourse analysis. Inf Syst J 19(2):175–196. doi:10.1111/j.1365-2575.2008.00296.x

Currie WL (2012) Institutional isomorphism and change: the national programme for it—10 years on. J Inf Technol 27(3):236–248

Currie WL, Guah MW (2007) Conflicting institutional logics: a national programme for it in the organisational field of healthcare. J Inf Technol 22:235–247

David PA (1985) Clio and the economics of qwerty. Am Econ Rev 75(2):332–337

Davidson EJ (2002) Technology frames and framing: a socio-cognitive investigation of requirements determination. MIS Q 26(4):329–358. doi:10.2307/4132312

Davidson EJ, Østerlund CS, Flaherty MG (2015) Drift and shift in the organizing vision career for personal health records: an investigation of innovation discourse dynamics. Inf Organ 25(4):191–221. doi:10.1016/j.infoandorg.2015.08.001

de Vaujany FX, Carton S, Dominguez-Pery C, Vaast E (2013) Moving closer to the fabric of organizing visions: the case of a trade show. J Strateg Inf Syst 22(1):1–25. doi:10.1016/j.jsis.2012.10.006

Dobusch L, Schuessler E (2013) Theorizing path dependence: a review of positive feedback mechanisms in technology markets, regional clusters, and organizations. Ind Corp Change 22(3):617–647. doi:10.1093/icc/dts029

Dou WY, Lim KH, Su CT, Zhou N, Cui N (2010) Brand positioning strategy using search engine marketing. MIS Q 34(2):261–279

Dünnebeil S, Sunyaev A, Leimeister J, Krcmar H (2013) Modular architecture of value-added applications for German healthcare telematics. Bus Inf Syst Eng 5(1):3–16

Edmondson AC, McManus SE (2007) Methodological fit in management field research. Acad Manag Rev 32(4):1155–1179

Eisenhardt KM (1989) Building theories from case study research. Acad Manag Rev 14(4):532–550

Emirbayer M, Mische A (1998) What is agency? Am J Sociol 103(4):962–1023

Fisher KE, Julien H (2009) Information behavior. Annu Rev Inf Sci Technol 43(1):1–73. doi:10.1002/aris.2009.1440430114

Fry J (2006) Scholarly research and information practices: a domain analytic approach. Inf Process Manag 42(1):299–316. doi:10.1016/j.ipm.2004.09.004

Fuerstenau D, Wessel L, Gersch M (2016) How organizational path constitution prepares digital infrastructure innovation: a case study of integrated care. In: Americas conference on information systems, San Diego

Garud R, Rappa MA (1994) A socio-cognitive model of technology evolution: the case of cochlear implants. Organ Sci 5(3):344–362

Garud R, Jain S, Kumaraswamy A (2002) Institutional entrepreneurship in the sponsorship of common technological standards: the case of sun microsystems and java. Acad Manag J 45(1):196–214

Giddens A (1984) The constitution of society, outline of the theory of structuration. Polity Press, Cambridge

Gioia DA, Corley KG, Hamilton AL (2013) Seeking qualitative rigor in inductive research: notes on the gioia methodology. Organ Res Methods 16(1):15–31. doi:10.1177/1094428112452151

Glaser BG, Strauss A (1967) The discovery of grounded theory: strategies for qualitative research. Aldine, Chicago

Hanseth O, Bygstad B (2015) Flexible generification: iCT standardization strategies and service innovation in health care. Europ J Inf Syst 24(6):645–663. doi:10.1057/ejis.2015.1

Hanseth O, Lyytinen K (2010) Design theory for dynamic complexity in information infrastructures: the case of building internet. J Inf Technol 25(1):1–19. doi:10.1057/jit.2009.19

Hedemark A, Hedman J, Sundin O (2005) Speaking of users: on user discourses in the field of public libraries. Inf Res 10(2)

Hemmer E, Heinzl A (2011) Where is the "I" in "IS research"? The quest for a coherent research stream in the context of human information behavior. In: Heinzl A, Buxmann P, Wendt O, Weitzel T (eds) Theory-guided modeling and empiricism in information systems research. Physica, Heidelberg, pp 223–246. doi:10.1007/978-3-7908-2781-1_12

Henfridsson O, Bygstad B (2013) The generative mechanisms of digital infrastructure evolution. MIS Q 37(3):907–931

Heracleous L, Barrett M (2001) Organizational change as discourse: communicative actions and deep structures in the context of information technology implementation. Acad Manag J 44(4):755–778. doi:10.2307/3069414

Hertzum M, Pejtersen AM (2000) The information-seeking practices of engineers: searching for documents as well as for people. Inf Process Manag 36(5):761

Johannisson J, Sundin O (2007) Putting discourse to work: information practices and the professional project of nurses. Libr Q 77(2):199–218. doi:10.1086/517843

Jonas E, Schulz-Hardt S, Frey D, Thelen N (2001) Confirmation bias in sequential information search after preliminary decisions: an expansion of dissonance theoretical research on selective exposure to information. J Person Social Psychol 80(4):557–571. doi:10.1037/0022-3514.80.4.557

Kettinger JW, Li Y (2010) The infological equation extended: towards conceptual clarity in the relationship between data, information and knowledge. Europ J Inf Syst 19(4):409–421. doi:10.1057/ejis.2010.25

Klöcker P, Bernnat R, Veit D (2014) Implementation through force or measure? How institutional pressures shape national ehealth implementation programs. In: European conference on information systems, Tel Aviv

Klöcker P, Bernnat R, Veit D (2015) Stakeholder behavior in national ehealth implementation programs. Health Policy Technol 4(2):113–120

Koltay T (2011) Information overload, information architecture and digital literacy. Bull Am Soc Inf Sci Technol 38(1):33–35. doi:10.1002/bult.2011.1720380111

Krcmar H, Klapdor S, Leimeister JM (2006) Die eGK und die Telematikinfrastruktur für das deutsche Gesundheitswesen Teil 1 und 2. Krankenhaus IT-J 1&2:32–34/48–49

Kunda Z (1990) The case for motivated reasoning. Psychol Bull 108(3):480–498. doi:10.1037//0033-2909.108.3.480

Langley A (1999) Strategies for theorizing from process data. Acad Manag Rev 24(4):691–710

Lapointe L, Rivard S (2005) A multilevel model of resistance to information technology implementation. MIS Q 29(3):461–491. doi:10.2307/25148692

Leonardi PM (2013) When does technology use enable network change in organizations? A comparative study of feature use and shared affordances. MIS Q 37(3):749–775

Libaque-Saenz CF, Chang Y, Kim J, Park M-C, Rho JJ (2016) The role of perceived information practices on consumers' intention to authorise secondary use of personal data. Behav Inf Technol 35(5):339–356. doi:10.1080/0144929X.2015.1128973

Lingel J (2015) Information practices of urban newcomers: an analysis of habits and wandering. J Assoc Inf Sci Technol 66(6):1239–1251. doi:10.1002/asi.23255

Lloyd A (2007) Learning to put out the red stuff: becoming information literate through discursive practice. Libr Q: Inf, Commun, Policy 77(2):181–198. doi:10.1086/517844

Locke K, Golden-Biddle K, Feldman MS (2008) Perspective—making doubt generative: rethinking the role of doubt in the research process. Organ Sci 19(6):907–918. doi:10.1287/orsc.1080.0398

Lohmeyer N (2017) Instrumentalisierte Verantwortung? Entstehung und Motive des» Business Case for CSR « im deutschen Diskurs unternehmerischer Verantwortung. Transcript, Bielefeld

McKinney EH, Yoos CJ II (2010) Information about information: a taxonomy of views. MIS Q 34(2):329–344

Mendelson H, Pillai RR (1998) Clockspeed and informational response: evidence from the information technology industry. Inf Syst Res 9(4):415–433. doi:10.1287/isre.9.4.415

Miles MB, Huberman AM (1994) Qualitative data analysis: an expanded sourcebook, 2nd edn. Sage, Thousand Oaks

Miranda SM, Saunders CS (2003) The social construction of meaning: an alternative perspective on information sharing. Inf Syst Res 14(1):87–106. doi:10.1287/isre.14.1.87.14765

Neben T (2015) A model of defensive information avoidance in information systems use. In: International conference on information systems, Forth Worth

Olsson M (2005) Making sense of sense making: information behaviour researchers construct an "author". Can J Inf Libr Sci 29(3):315–334

Olsson M (2016) Making sense of the past: the embodied information practices of field archaeologists. J Inf Sci 42(3):410–419. doi:10.1177/0165551515621839

Park J (2007) Interpersonal and affective communication in synchronous online discourse. Libr Q Inf Commun Policy 77(2):133–155. doi:10.1086/517841

Phillips N, Hardy C (2002) Discourse analysis: investigating processes of social construction. Qualitative research methods series, vol 50. Sage, Thousand Oaks

Picot A, Reichwald R, Wigand RT (2008) Information, organization and management. Springer, Berlin

Pitts MG, Browne GJ (2004) Stopping behavior of systems analysts during information requirements elicitation. J Manag Inf Syst 21(1):203–226

Savolainen R (2007) Information behavior and information practice: reviewing the "umbrella concepts" of information-seeking studies. Libr Q 77(2):109–132. doi:10.1086/517840

Scholl W (1992) Informationspathologien. In: Frese E (ed) Handwoerterbuch der Organisation, 3rd edn. Schaeffer-Poeschel, Stuttgart, pp 900–912

Schwarze JC, Tessmann S, Sassenberg C, Müller M, Prokosch H-U, Ückert F (2005) Eine modulare gesundheitsakte als antwort auf kommunikationsprobleme im gesundheitswesen. Wirtschaftsinf 47(3):187–195

Seidel S, Recker J, vom Brocke J (2013) Sensemaking and sustainable practicing: functional affordances of information systems in green transformations. MIS Q 37(4):1275–1299

Siggelkow N (2007) Persuasion with case studies. Acad Manag J 50(1):20–24

Singh R, Mathiassen L, Mishra A (2015) Organizational path constitution in technological innovation: evidence from rural telehealth. MIS Q 39(3):643–666

Suchman MC (1995) Managing legitimacy—strategic and institutional approaches. Acad Manag Rev 20(3):571–610. doi:10.2307/258788

Suddaby R (2006) From the editors: what grounded theory is not. Acad Manag J 49(4)633–642. doi:10.5465/AMJ.2006.22083020

Swanson BE, Ramiller N (1997) The organizing vision in information systems innovation. Organ Sci 8(5):458–474. doi:10.1287/orsc.8.5.458

Sydow J, Schreyoegg G, Koch J (2009) Organizational path dependence: opening the black box. Acad Manag Rev 34(4):689–709

Sydow J, Windeler A, Müller-Seitz G, Lange K (2012) Path constitution analysis: a methodology for understanding path dependence and path creation. BuR Business Res 5(2):155–176. doi:10.1007/BF03342736

Tabak E (2014) Jumping between context and users: a difficulty in tracing information practices. J Assoc Inf Sci Technol 65(11):2223–2232. doi:10.1002/asi.23116

Talja S, McKenzie P (2007) Editors introduction: special issue on discursive approaches to information seeking in context. Libr Q Inf Commun Policy 77(2):97–108. doi:10.1086/517839

Talja S, Tuominen K, Savolainen R (2005) "Isms" in information science: constructivism, collectivism and constructionism. J Document 61(1):79–101. doi:10.1108/00220410510578023

Vandenbosch B, Higgins C (1996) Information acquisition and mental models: an investigation into the relationship between behaviour and learning. Inf Syst Res 7(2):198–214. doi:10.1287/isre.7.2.198

Vandenbosch B, Huff SL (1997) Searching and scanning: how executives obtain information from executive information systems. MIS Q 21(1):81–107. doi:10.2307/249743

Veinot T (2007) The eyes of the power company: workplace information practices of a vault inspector. The Libr Q Inf Commun Policy 77(2):157–179. doi:10.1086/517842

Vergne JP, Durand R (2010) The missing link between the theory and empirics of path dependence: conceptual clarification, testability issue, and methodological implications. J Manag Stud 47(4):736–759. doi:10.1111/j.1467-6486.2009.00913.x

Wang P, Swanson EB (2007) Launching professional services automation: institutional entrepreneurship for information technology innovations. Inf Organ 17(2):59–88

Wessel, L, Harloff, E, Gersch, M (2016) Kann man digitale Innovationen zerreden? Eine Diskursanalyse zur elektronischen Gesundheitskarte in Deutschland. In: Nissen V, Stelzer D, Straßburger S, Fischer D (eds) Proceedings Multikonferenz Wirtschaftsinformatik (MKWI)

Yin RK (2013) Case study research. Design and methods. Applied social research methods series, vol 5, 5th edn. Sage, Los Angeles
Acknowledgements
We thank the special issue editors and two anonymous reviewers for their tremendous help during the review process. Leonhard Dobusch, Daniel Fuerstenau, Nora Lohmeyer, Hannes Rothe, Hannes Schlieter, Karl-Werner Ratschko and further colleagues provided thoughtful feedback on earlier drafts. Anna Hutfils and Mona Timmermann assisted in data collection. Funding for Lauri Wessel and his research group 'Health-IT and Business Model Innovation' is provided by the 'Excellence Initiative II' and supported by the Focus Area 'DynAge.'
Additional information
Accepted after three revisions by the editors of the special issue.
About this article
Cite this article
Wessel, L., Gersch, M. & Harloff, E. Talking Past Each Other. Bus Inf Syst Eng 59, 23–40 (2017). https://doi.org/10.1007/s12599-016-0462-0
Received:

Accepted:

Published:

Issue Date:
Keywords
Human information behavior

Information pathologies

Discourse

Legitimacy

Illegitimacy

Electronic Health Card