Abstract
Successful monitoring is essential for managing security-critical or business-critical processes. The paper seeks to understand and empirically evaluate benefits of the BPM use case "monitor" in the context of Operations Control Centers (OCCs). OCCs create visibility about critical events and statuses in very sensitive processes. In IT Service Management (ITSM) they support the event management process with real-time monitoring and event analysis of critical systems in complex system landscapes. This special focus of OCCs on visibility is a promising context to study fundamentals of process visibility. The paper develops a Process Monitoring Benefits Framework that draws on the Situation Awareness Theory and the Theory of Constraints. The authors conceptualize process visibility and suggest that it is positively related to process performance. A multiple case study in seven organizations is carried out to examine the framework and its propositions. The case study indicates that the impact of process visibility on process performance is mediated by the situation awareness of the process participants as well as the identification of bottlenecks in processes. Moreover, factors are identified that potentially influence process visibility outcome – namely continuous improvement culture, outsourcing quality, and maturity of the software tool used for monitoring.
Access options
Buy single article
Instant access to the full article PDF.
USD 39.95
Price excludes VAT (USA)
Tax calculation will be finalised during checkout.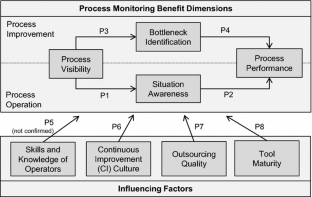 References
Barratt M, Oke A (2007) Antecedents of supply chain visibility in retail supply chains: a resource-based theory perspective. J Oper Manag 25(6):1217–1233

Berner M, Graupner E, Maedche A, Mueller B (2012) Process visibility – towards a conceptualization and research themes. In: Proceedings of the 13th International Conference on Information Systems (ICIS 2012), pp 1–13

Cater-Steel A, McBride N (2007) IT service management improvement – actor network perspective. In: ECIS 2007 Proceedings. In: Proceedings of the 15th European Conference on Information Systems (ECIS 2007), pp 1202–1213

Corbin J, Strauss A (2008) Basics of qualitative research: techniques and procedures for developing grounded theory. Sage, Thousand Oaks

Cotteleer MJ, Bendoly E (2006) Order lead-time improvement following enterprise information technology implementation: an empirical study. MIS Q 30(3):643–660

Davenport TH (1993) Process innovation: reengineering work through information technology. Havard Business School Press, Cambridge

de Morais RM, Kazan S, de Pádua SID, Costa AL (2014) An analysis of BPM lifecycles: from a literature review to a framework proposal. Bus Process Manag J 20(3):412–432

DeLone WH, McLean ER (2003) The DeLone and McLean model of information systems success: a ten-year update. J Manag Inf Syst 19(4):9–30

Dibbern J, Winkler J, Heinzl A (2008) Explaning variations in client extra costs between software projects offshored to India. MIS Q 32(2):333–366

Dubé L, Paré G (2003) Rigor in information systems positivist case research: current practices, trends, and recommendations. MIS Q 27(4):597–635

EMC (2012) EMC Ionix ControlCenter. http://www.emc.com/collateral/TechnicalDocument/docu7670.pdf. Accessed 20 Oct 2015

Endsley MR (1995) Toward a theory of situation awareness in dynamic systems. J Hum Factors 37(1):32–64

Galup SD, Dattero R (2010) A five-step method to tune your ITSM processes. Inf Syst Manag 27(2):156–167

Gartner (2012) Gartner says intelligent business operations is the next step for BPM programs. http://www.gartner.com/it/page.jsp?id=1943514. Accessed 20 Oct 2015

Goldratt E, Cox J (1992) The goal: a process of ongoing improvement, 2nd edn. North River, Great Barrington

Graupner E, Berner M, Maedche A, Jegadeesan H (2014) Assessing the need for visibility of business processes – a process visibility fit framework. In: Proceedings of Business Process Management Conference BPM 2014. Springer LNCS 8659, pp 384–392

Hogg DN, Folles K, Strand-Volden F, Torralba B (1995) Development of a situation awareness measure to evaluate advanced alarm systems in nuclear power plant control rooms. Ergonomics 38(11):2394–2413

Holsti OR (1969) Content analysis for the social sciences and humanities. Addison-Wesley, Boston

Iden J, Eikebrokk TR (2013) Implementing IT service management: a systematic literature review. Int J Inf Manag 33(3):512–523

Kassarjian HH (1977) Content analysis in consumer research. J Consum Res 4(1):8–18

Klotz L, Horman M, Bi HH, Bechtel J (2008) The impact of process mapping on transparency. Int J Product Perform Manag 57(8):623–636

Manyika J, Chui M, Brown B et al (2011) Big data: the next frontier for innovation, competition, and productivity. McKinsey Global Institute, San Francisco

Martinez H (2009) How much does downtime really cost? InfoManagement Direct, August 6, 2009. http://www.information-management.com/infodirect/2009_133/downtime_cost-10015855-1.html. Accessed 20 Oct 2015

McCombs BL, Marzano RJ (1990) Putting the self in self-regulated learning: the self as agent in integrating will and skill. Educ Psychol 25(1):51–69

Melville N, Kraemer K, Gurbaxani V (2004) Information technology and organizational performance: an integrative model of IT business value. MIS Q 28(2):283–322

Myers MD, Newman M (2007) The qualitative interview in IS research: examining the craft. Inf Organ 17(1):2–26

Nelson RR, Todd PA, Wixom BH (2005) Antecedents of information and system quality: an empirical examination within the context of data warehousing. J Manag Inf Syst 21(4):199–235

O'Brien KS, O'Harea D (2007) Situational awareness ability and cognitive skills training in a complex real-world task. Ergonomics 50(7):1064–1091

OGC (2007a) ITIL Service strategy, Version 3. Office of Government Commerce, London

OGC (2007b) Continual service improvement, Version 3. Office of Government Commerce, London

Pidun T, Buder J, Felden C (2011) Optimizing process performance visibility through additional descriptive features in performance measurement. In: 15th IEEE International Enterprise Distributed Object Computing Conference Workshops. IEEE Computer Society, pp 204–212

Ray G, Muhanna WA, Barney JB (2005) Information technology and the performance of the customer service process: a resource-based analysis. MIS Q 29(4):625–652

Russom P (2013) Operational intelligence: real-time business analytics from big data. TDWI Checkl Rep 1–8

SAP (2013) Operations control center. White Paper. https://documents.wdf.sap.corp/share/proxy/alfresco//api/node/content/workspace/SpacesStore/94863204-455e-41a1-865e-4924d4aafe8e/OCC%20White%20Paper%20v1.0.pdf?a=true. Accessed 20 Oct 2015

Schein EH (2004) Organizational culture and leadership. Jossey-Bass, San Francisco

Shingo S (1989) A study of the Toyota production system from an industrial engineering viewpoint. Productivity Press, New York

Swaminathan MJ, Tayur SR (2003) Models for supply chains in e-business. Manag Sci 49(10):1387–1406

Tetlay A, John P (2009) Determining the lines of system maturity, system readiness and capability readiness in the system development lifecycle. In: 7th Annual Conference on Systems Engineering Research (CSER 2009), pp 1–8

van der Aalst WMP (2013) Business process management: a comprehensive survey. ISRN Softw Eng 2013:1–37

Womack JP, Jones DT (2003) Lean thinking: banish waste and create wealth in your corporation. Free Press, New York

Xu J, Benbasat I, Cenfetelli RT (2013) Integrating service quality with system and information quality: an empirical test in the e-service context. MIS Q 37(3):777–794

Yin RK (2003) Case study research, 3rd edn. Sage, Thousand Oaks
Additional information
Accepted after two revisions by the editors of the special issue.
Electronic supplementary material
Below is the link to the electronic supplementary material.
About this article
Cite this article
Berner, M., Augustine, J. & Maedche, A. The Impact of Process Visibility on Process Performance. Bus Inf Syst Eng 58, 31–42 (2016). https://doi.org/10.1007/s12599-015-0414-0
Published:

Issue Date:

DOI: https://doi.org/10.1007/s12599-015-0414-0
Keywords
BPM use case monitor

Process visibility

Continuous improvement

Situation awareness

ITSM event management