Abstract
In digital freemium business models such as those of online games or social apps, a large share of overall revenue derives from a small portion of the user base. Companies operating in these and similar businesses are increasingly constructing forecasting models with which to identify potential heavy users as early as possible and create special retention measures to suit those users' needs. In our study, we observe three digital freemium companies that sell virtual credits and investigate to what extent initial purchase information can be used to determine a given customer's lifetime value. We find that customers represent higher future lifetime values if they (a) make a purchase early after registration, (b) spend a significant amount on their initial purchase, and (c) use credit cards to purchase credits. In addition, we see that users tend to spend increasing amounts on subsequent purchases.
Access options
Buy single article
Instant access to the full article PDF.
US$ 39.95
Tax calculation will be finalised during checkout.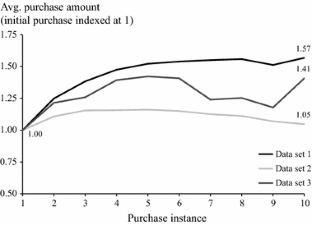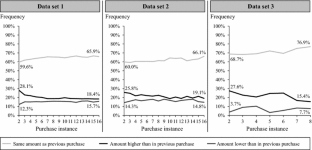 References
Aarts H, Verplanken B, Knippenberg A (1998) Predicting behavior from actions in the past: repeated decision making or a matter of habit? J Appl Soc Psychol 28(15):1355–1374

Alves J, Lange S, Riedmiller M (2014) Case study: behavioral prediction of future revenues in freemium games. In: NC2 Workshop, 36th Ger Conf Pattern Recognit (GCPR)

Amit R, Zott C (2001) Value creation in e-business. Strat Manag J 22(6–7):493–520

AppAnnie (2015) iOS top app charts, 4 January 2015. http://www.appannie.com/apps/ios/top/?device=iphone. Accessed 05 Jan 2015

Bapna R, Umyarov A (2012) Do your online friends make you pay? A randomized field experiment in an online music social network. http://www.heinz.cmu.edu/download.aspx?id=3660. Accessed 25 Mar 2015

Berger PD, Nasr NI (1998) Customer lifetime value: marketing models and applications. J Interact Mark 12(1):17–30

Blattberg RC, Malthouse EC, Neslin SA (2009) Customer lifetime value: empirical generalizations and some conceptual questions. J Interact Mark 23(2):157–168

Borle S, Singh SS, Jain DC (2008) Customer lifetime value measurement. Manag Sci 54(1):100–112

Bostan B (2009) Player motivations: a psychological perspective. CIE 7(2):1–26

Chan SL, Ip WH (2011) A dynamic decision support system to predict the value of customer for new product development. Decis Support Syst 52(1):178–188

Choi D, Kim J (2004) Why people continue to play online games: in search of critical design factors to increase customer loyalty to online contents. CyberPsychol Behav 7(1):11–24

Cleophas C, Ehmke JF (2014) When are deliveries profitable? Bus Inf Syst Eng 6(3):153–163

Dwyer RF (1997) Customer lifetime valuation to support marketing decision making. J Interact Mark 11(4):6–13

Fader PS, Hardie BG (2007) How to project customer retention. J Interact Mark 21(1):76–90

Fader PS, Hardie BG, Lee KL (2005) RFM and CLV: using iso-value curves for customer base analysis. J Market Res 42(4):415–430

Farrell J, Saloner G (1985) Standardization, compatibility, and innovation. RAND J Econ 16(1):70–83

Feinberg RA (1986) Credit cards as spending facilitating stimuli: a conditioning interpretation. J Consum Res 13(3):348–356

Fickel N (2001) Sequenzialregression: Eine neodeskriptive Lösung des Multikollinearitäts-problems mittels stufenweise bereinigter und synchronisierter Variablen. VWF, Berlin

Freedman DA (2009) Statistical models: theory and practice. Cambridge University Press, New York

Gerlach M, Cleophas C, Kliewer N (2013) Airline codeshare alliances. Bus Inf Syst Eng 5(3):153–163

Glady N, Baesens B, Croux C (2009) A modified Pareto/NBD approach for predicting customer lifetime value. Expert Syst Appl 36(2):2062–2071

Gneiser MS (2010) Value-based CRM – the interaction of the triad of marketing, financial management, and IT. Bus Inf Syst Eng 2(2):95–103

Goldsmith RE, Newell SJ (1997) Innovativeness and price sensitivity: managerial, theoretical and methodological issues. J Prod Brand Manag 6(3):163–174

Goldstein DG, Gigerenzer G (2009) Fast and frugal forecasting. Int J Forecast 25(4):760–772

Guo Y, Barnes S (2009) Virtual item purchase behavior in virtual worlds: an exploratory investigation. Electron Commer Res 9(1–2):77–96

Gupta S, Hanssens D, Hardie B, Kahn W, Kumar V, Lin N, Ravishanker N, Sriram S (2006) Modeling customer lifetime value. J Serv Res 9(2):139–155

Hinz O, Skiera B, Barrot C, Becker JU (2011) Seeding strategies for viral marketing: an empirical comparison. J Market 75(6):55–71

Hochman J (2015) The cost of pay-per-click (PPC) advertising – trends and analysis. https://www.hochmanconsultants.com/articles/je-hochman-benchmark.shtml. Accessed 25 Mar 2015

Huber PJ (1967) The behavior of maximum likelihood estimates under nonstandard conditions. In: 5th Berkeley Symposium Mathematical Statistics Probability, Berkeley, pp 221–233

Jain D, Singh SS (2002) Customer lifetime value research in marketing: a review and future directions. J Interact Mark 16(2):34–45

Kim N, Mahajan V, Srivastava RK (1995) Determining the going market value of a business in an emerging information technology industry: the case of the cellular communications industry. Technol Forecast Soc 49(3):257–279

Kim SY, Jung TS, Suh EH, Hwang HS (2006) Customer segmentation and strategy development based on customer lifetime value: a case study. Expert Syst Appl 31(1):101–107

Latham GP, Locke EA (1991) Self-regulation through goal setting. Organ Behav Hum 50(2):212–247

Lehdonvirta V (2009) Virtual item sales as a revenue model: identifying attributes that drive purchase decisions. Electron Commer Res 9(1–2):97–113

Lehmann S, Buxmann P (2009) Pricing strategies of software vendors. Bus Inf Syst Eng 1(6):452–462

Lessmann S, Voß S (2010) Customer-centric decision support. Bus Inf Syst Eng 2(2):79–93

Liu Y (2007) The long-term impact of loyalty programs on consumer purchase behavior and loyalty. J Mark 71(4):19–35

Malthouse EC, Blattberg RC (2005) Can we predict customer lifetime value? J Interact Mark 19(1):2–16

Najar V, Rajan MV (2005) Measuring customer relationships: the case of the retail banking industry. Manag Sci 51(6):904–919

Ngai EWT, Xiu L, Chau DCK (2009) Application of data mining techniques in customer relationship management: a literature review and classification. Expert Syst Appl 36(2):2592–2602

Prelec D, Simester D (2001) Always leave home without it: a further investigation of the credit-card effect on willingness to pay. Mark Lett 12(1):5–12

Pretorius K (2013) Google adwords CPC inflation. http://www.mediavisioninteracti-ve.com/blog/paid-search/google-adwords-cpc-inflation/. Accessed 25 Mar 2015

Reichheld FF (2001) The loyalty effect: the hidden force behind growth, profits, and lasting value. Harvard Business Press, Boston

Reinartz WJ, Kumar V (2000) On the profitability of long-life customers in a noncontractual setting: an empirical investigation and implications for marketing. J Mark 64(4):17–35

Reinartz WJ, Kumar V (2003) The impact of customer relationship characteristics on profitable lifetime duration. J Mark 67(1):77–99

Rosset S, Neumann E, Eick U, Vatnik N (2003) Customer lifetime models for decision support. Data Min Knowl Disc 7(3):321–339

Rust RT, Verhoef PC (2005) Optimizing the marketing interventions mix in intermediate-term CRM. Mark Sci 24(3):477–489

Rust RT, Moorman C, Bhalla G (2010) Rethinking marketing. Harv Bus Rev 88(1/2):94–101

Schmittlein DC, Peterson RA (1994) Customer base analysis: an industrial purchase process application. Mark Sci 13(1):41–67

Schmittlein DC, Morrison DG, Colombo R (1987) Counting your customers: who are they and what will they do next? Manag Sci 33(1):1–24

Shaw MJ, Subramaniam C, Tan GW, Welge ME (2001) Knowledge management and data mining for marketing. Decis Support Syst 31(1):131–141

Soman D (2001) Effects of payment mechanism on spending behavior: the role of rehearsal and immediacy of payments. J Consum Res 27(4):460–474

STATA (2015) Nbreg – negative binomial regression. www.stata.com/manuals13/rnb-reg.pdf. Accessed 25 Mar 2015

Takac C, Hinz O, Spann M (2011) The social embeddedness of decision making: opportunities and challenges. Elec Mark 21(3):185–195

Taylor JW (1977) A striking characteristic of innovators. J Mark Res 14(1):104–107

Teece DJ (2010) Business models, business strategy and innovation. Long Range Plan 43(2):172–194

UCLA (2015) Stata data analysis examples: negative binomial regression. http://www.ats.ucla.edu/stat/stata/dae/nbreg.htm. Accessed 25 Mar 2015

Veit DE, Clemons E, Benlian A, Buxmann P, Hess T, Spann M, Kundisch D, Leimeister JM, Loos P (2014) Business models – an information systems research agenda. Bus Inf Syst Eng 6(1):45–53

Venkatesan R, Kumar V (2004) A customer lifetime value framework for customer selection and resource allocation strategy. J Mark 68(4):106–125

Wagner TM, Benlian A, Hess T (2014) Converting freemium customers from free to premium – the role of the perceived premium fit in the case of music as a service. Elec Mark 24(4):259–268

White H (1980) A heteroskedasticity-consistent covariance matrix estimator and a direct test for heteroskedasticity. ECTA 48(4):817–838

Wübben M, von Wangenheim F (2008) Instant customer base analysis: managerial heuristics often "get it right". J Mark 72(3):82–93

Zhang JQ, Dixit A, Friedmann R (2010) Customer loyalty and lifetime value: an empirical investigation of consumer packaged goods. J Mark Theory Pract 18(2):127–140
Additional information
Accepted after two revisions by Prof. Dr. Bichler.
Electronic supplementary material
Below is the link to the electronic supplementary material.
About this article
Cite this article
Voigt, S., Hinz, O. Making Digital Freemium Business Models a Success: Predicting Customers' Lifetime Value via Initial Purchase Information. Bus Inf Syst Eng 58, 107–118 (2016). https://doi.org/10.1007/s12599-015-0395-z
Received:

Accepted:

Published:

Issue Date:
Keywords
Freemium

Digital business models

Customer lifetime value

Forecasting model