Abstract
Social media, such as social networking platforms, are increasingly gaining importance in enterprise contexts. Enterprise social networking (ESN) is often associated with improved communication, information-sharing and problem-solving. At the same time, ESN has been argued to diminish the role of formal influence in that users increasingly derive authority from their contributions to the network rather than from their position in the organizational hierarchy. Others argue that ESN will diminish influence considerably by producing more democratic and inclusive communication structures. Yet, these assertions have so far remained largely unexplored empirically. Against this background, we explore what influence both a user's position in the organization's hierarchy and a user's contributions on the network have on the the ability to elicit responses from other ESN users. We draw on a unique data set of more than 110,000 messages collected from the ESN platform used at Deloitte Australia. While we find evidence for both kinds of influence, our data also reveals that informal influence has a stronger effect and that, as the ESN community matures over time, communication structures become indeed more inclusive and balanced across hierarchical levels. We contribute a set of propositions that theorize the ways in which influence and communication pattern are shaped during the process of ESN emergence. Our results further underline the potentials of ESN to improve organic, user-driven communication and knowledge sharing within firms.
Access options
Buy single article
Instant access to the full article PDF.
US$ 39.95
Tax calculation will be finalised during checkout.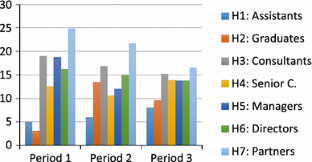 Notes
1.

Please note that in order to avoid any conflict of interest, the case company has asked not to name the particular ESN product that is employed within the company.

2.

The company shared with us a figure that showed a time sequence of events relevant to the adoption, diffusion and use of the ESN within Deloitte. However, we are not at liberty to share this figure.

3.

This is also evident in our data. In period 1, the top 10 users by message volume sent 16.4 % of all messages; in periods 2 and 3 this number falls to 10 %.
References
Aghion P, Tirole J (1997) Formal and real authority in organizations. J Polit Econ 105:1–27

Allen J, James AD, Gamlen P (2007) Formal versus informal knowledge networks in R&D: a case study using social network analysis. R D Manag 37:179–196

Aoun C, Vatanasakdakul S (2012) Social media in the workplace: key drivers for inclusive innovation. In: Proc Am conf inf syst, Seattle, paper 13

Aral S, Brynjolfsson E, van Alstyne M (2007) Productivity effects of information diffusion in e-mail networks. In: Proc 28th int conf inf syst, Montreal, paper 17

Bögel S, Stieglitz S, Meske C (2014) A role model-based approach for modelling collaborative processes. Bus Process Manag J 20(4):598–614

Boyd D, Ellison N (2007) Social network sites: definition, history and scholarship. J Comput Mediat Commun 13:210–230

Bughin J, Chui M (2013) Evolution of the networked enterprise. McKinsey Global Survey results, http://www.mckinsey.com/insights/business_technology/evolution_of_the_networked_enterprise_mckinsey_global_survey_results. Accessed 10 Nov 2013

Cleveland S (2012) Using microblogging for lessons learned in information systems projects. Int res workshop on IT proj manag 2012, paper 15

Cleveland S, Ellis T (2014) Causal model for predicting knowledge sharing via ICTs. 20th Am conf inf syst, Savannah

Cook N (2008) Enterprise 2.0: how social software will change the future work. Gower Publishing Limited, Hampshire, England

De Ridder J (2004) Organisational communication and supportive employees. Hum Resour Manag J 14:20–30

Diefenbach T, Sillince J (2011) Formal and informal hierarchy in different types of organization. Organ Stud 32:1515–1537

DiMicco, JM, Millen D, Geyer W, Dugan C, Brownholtz B, Muller M (2008) Motivations for social networking at work. In: Proc 11th conf comput support coop work. ACM Press, San Diego

Durst C, Viol J, Wickramasinghe N (2013) Online social networks, social capital and health-related behaviors: a state-of-the-art analysis. Commun Assoc Inf Syst 32, Article 5

Ekbia HR, Kling R (2005) Network organizations: symmetric cooperation or multivalent negotiation? Inf Soc 21:155–168

Faraj S, Johnson SL (2011) Network exchange patterns in online communities. Organ Sci 22:1464–1480

Fischbach K, Gloor PA, Schoder D (2004) Analysis of informal communication networks – a case study. Bus Inf Syst Eng 1:40–149

Friebel G, Raith M (2004) Abuse of authority and hierarchical communication. RAND J Econ 35:224–244

Fritz MB, Narasimhan S, Rhee H (1998) Communication and coordination in the virtual office. J Manag Inf Syst I 14:7–28

Gallivan MJ (2008) Striking a balance between trust and control in a virtual organization: a content analysis of open source software case studies. Inf Syst J 11(4):277–304

Gonzales E, Leidner D, Riemenschneider C, Koch H (2013) Internal social media's impact on socialization and commitment. In: Proc intern conf inf syst, Milan, paper 15

Gu B, Jarvenpaa S (2003) Online discussion boards for technical support: the effect of token recognition on customer contributions. In: Proc intern conf inf syst, Washington, paper 10

Guimerà R, Danon L, Díaz-Guilera A, Giral F, Arenas A (2006) The real communication network behind the formal chart: community structure in organizations. J Econ Behav Organ 61:653–667

Günther O, Krasnova H, Riehle D, Schoendienst V (2009) Modeling microblogging adoption in the enterprise. In: Proc Am conf inf syst, San Francisco, paper 544

Hirokawa RY, Johnston DD (1989) Towards a general theory of group decision making: development of an integrated model. Small Group Behav 20:500–523

Holtzblatt L, Damianos L, Weiss D (2010) Factors impeding wiki use in the enterprise: a case study. In: Proc 28th annu SIGCHI conf hum factors in comput syst, ACM Press, Atlanta

Honeycutt C, Herring SC (2009) Beyond microblogging: conversation and collaboration via twitter. In: Proceedings of the 42nd Hawaii International Conference on System Sciences

Huberman BA, Romero DM, Wu F (2009) Social networks that matter: Twitter under the microscope. First Monday 14

Ip KFR, Wagner C (2008) Weblogging: a study of social computing and its impact on organizations. Decis Support Syst 45:242–250

Ivaturi K, Chua C (2013) Framing group norms in virtual communities. In: Proc Am conf inf syst, Chicago, paper 19

Johnson JD, Donohue WA, Atkin CK, Johnson S (1994) Differences between formal and informal communication channels. J Bus Commun 31:111–122

Kane G, Ransbotham S, Boynton A (2012) Is high performance contagious among knowledge workers? In: Proc 33rd intern conf inf syst, Orlando

Kankanhalli A, Tan BCY, Wei KK (2005) Contributing knowledge to electronic knowledge repositories: an empirical investigation. MIS Q 29:113–143

Kirsch LJ, Ko DG, Haney MH (2010) Investigating the antecedents of team-based clan control: adding social capital as a predictor. Organ Sci 21(2):469–489

Kleinnijenhuis J, Van den Hooff B, Utz S, Vermeulen IE, Huysman M (2011) Social influence in networks of practice: an analysis of organizational communication content. Commun Res 38:587–612

Kügler M, Dittes S, Smolnik S, Richter A (2015) Connect Me! Antecedents and impact of social connectedness in enterprise social software. Bus Inf Syst Eng 57(3)

Laumann EO, Siegel PM, Hodge RW (1971) The logic of social hierarchies, 2nd edn. Markham Publishing, Chicago

Leonardi PM (2013) When flexible routines meet flexible technologies: affordance, constraint and the imbrication of human and material agencies. MIS Q 35:147–168

Meske C, Stieglitz S (2013) Adoption and use of social media in small and medium-sized enterprises. In: Harmsen F, Proper H (eds) Practice-driven research on enterprise transformation. Springer, Heidelberg, pp 61–75

Meyer P, Dibbern J (2010) An exploratory study about microblogging acceptance at work. In: Proc Am conf inf syst, Lima, paper 449

Musembwa S, Paul S (2012) Social networks: cultural diversity, trust, reciprocity and social capital. In: Proc Am conf inf syst, Seattle, paper 18

Nelson RE (2001) On the shape of verbal networks in organizations. Organ Stud 22:797–823

Oberg A, Walgenbach P (2008) Hierarchical structures of communication in a network organization. Scand J Manag 24:183–198

Ouchi WG (1980) Markets, bureaucracies, and clans. Adm Sci Q 25(1):129–141

Putzke J, Fischbach K, Schoder D (2010) Power structure and the evolution of social networks in massively multiplayer online games. In: Proc Eur conf inf syst, Pretoria, paper 159

Rank ON (2008) Formal structures and informal networks: structural analysis in organizations. Scand J Manag 24:145–161

Richter A, Riemer K (2013) The contextual nature of enterprise social networking: a multi case study comparison. In: Proc Eur conf inf syst, Utrecht, paper 94

Richter D, Riemer K, vom Brocke J (2011) Internet social networking: research state of the art and implications for enterprise 2.0. Bus Inf Syst Eng 3:89–101

Riemer K, Richter A (2010) Social software: agents for change or platforms for social reproduction? A case study on enterprise microblogging. In: 21st Australasian Conference on Information Systems ACIS 2010. Brisbane

Riemer K, Scifleet P (2012) Enterprise social networking in knowledge-intensive work practices: a case study in a professional service firm. In: Proc 23rd Australas conf inf syst, Geelong

Riemer K, Richter A, Boehringer M (2010) Enterprise microblogging. Bus Inf Syst Eng 2:391–394

Riemer K, Altenhofen A, Richter A (2011a) What are you doing? – enterprise microblogging as context building. In: Proc Eur conf inf syst, Berlin, paper 252

Riemer K, Diederich S, Richter A, Scifleet P (2011b) Short message discussions: on the conversational nature of microblogging in a large consultancy organisation. Proceedings of the 15th Pacific Asia Conference on Information Systems PACIS 2011. Brisbane

Riemer K, Overfeld P, Scifleet P, Richter A (2012) Eliciting the anatomy of technology appropriation processes: a case study in enterprise social media. In: Proc 20th Eur conf inf syst, Barcelona, paper 134

Rogers EM (2003) Diffusion of innovations. Free Press, New York

Schöndienst V, Krasnova H, Günther O, Riehle D (2011) Micro-blogging adoption in the enterprise: an empirical analysis. In: Proc 10th intern conf inf syst, Zurich

Schwarz GM (2006) Positioning hierarchy in enterprise system change. New Technol Work Employ 21:252–265

Scott JC (1990) Domination and the arts of resistance: hidden transcripts. New Haven, Yale University Press, New York

Shi Z, Rui H, Whinston A (2014) Content sharing in a social broadcasting environment: evidence from Twitter. MIS Q 38:123–142

Sidanius J, Pratto F, van Laar C, Levin S (2004) Social dominance theory: its agenda and method. Polit Psychol 25:845–880

Smith J, Pigni F (2014) Best practices in creating value with social media: Insights from four Fortune 500 companies. In: Proc 20th Am conf inf syst, Savannah

Stake RE (2003) Case studies. In: Denzin NK, Lincoln Y (eds) Strategies of qualitative inquiry, 2nd edn. Sage, London, pp 134–164

Steinfield C, DiMicco J, Ellison N, Lampe C (2009) Bowling online: social networking and social capital within the organization. In: Proc 4th int conf communities and technol, New York, pp 245–254

Stieglitz S, Dang-Xuan L (2013) Emotions and information diffusion in social media – sentiment of microblogs and sharing behavior. J Manag Inf Syst 29:217–248

Stieglitz S, Schallenmüller S, Meske C (2013) Adoption of social media for internal usage in a global enterprise. In Proceedings of the IEEE 27th International Conference on Advanced Information Networking and Applications (AINA). Barcelona, pp 1483–1488

Stieglitz S, Dang-Xuan L, Bruns A, Neuberger C (2014) Social media analytics: an interdisciplinary approach and its implications for information systems. Bus Inf Syst Eng 6:89–96

Stocker A, Richter A, Hoefler P, Tochtermann L (2012) Exploring appropriation of enterprise wikis: a multiple-case study. J Comput Support Coop Work 21:317–356

Tapscott D, Williams AD (2006) Wikinomics: how mass collaboration changes everything. Portfolio Trade, New York

Thompson M (2005) Structural and epistemic parameters in communities of practice. Organ Sci 16(2):151–164

Ugbah SD, Dewine S (1989) New communication technologies: the impact on intra-organizational dynamics. Inf Manag 17:181–186

Venkatesh V, Morris MG, Davis GB, Davis FD (2003) User acceptance of information technology: toward a unified view. MIS Q 27:425–478

Weber M (1921/1980) Wirtschaft und Gesellschaft, 5th edn. Mohr Siebeck, Tübingen

Wenger E, McDermott R, Snyder WM (2002) Cultivating communities of practice. Harvard Bus School Press, Boston

Wenger E, Trayner B, de Laat, M (2011) Promoting and assessing value creation in communities and network: a conceptual framework. Ruud de Moor Centrum. Retrieved from http://wenger-trayner.com/documents/Wenger_Trayner_DeLaat_Value_creation.pdf. Accessed 22 May 2014

Williams S, Schubert P (2011) An empirical study of enterprise 2.0 in context. In: Proc BLED eConference, Bled, paper 44

Wu Y, Chang W (2013) Network diversity and social cohesion in creative performance: a view of communication media mix. In: Proc 34th int conf inf syst, Milan, paper 14

Yin RK (2003) Case study research – design and methods, 3rd edn. Sage, London

Zhang J, Qu Y, Cody J, Wu Y (2010) A case study of micro-blogging in the enterprise: Use, value and related issues. In: Proc SIGCHI conf hum factors in comput syst, Atlanta, paper 1633, pp 123–132

Zhao D, Rosson MB (2009) How and why people twitter: The role that micro-blogging plays in informal communication at work. In: Proc ACM 2009 int conf support group work, Sanibel Island, pp 243–252
Additional information
Accepted after one revision by the editors of the special issue.
About this article
Cite this article
Riemer, K., Stieglitz, S. & Meske, C. From Top to Bottom. Bus Inf Syst Eng 57, 197–212 (2015). https://doi.org/10.1007/s12599-015-0375-3
Received:

Accepted:

Published:

Issue Date:
Keywords
Enterprise social networking

Microblogging

Community building

Communication analysis

Hierarchy

Response behavior

Influence