Abstract
This article reflects on existing and emerging future challenges arising in the area of "evolutionary business information systems", a class of systems that demand an evolutionary software development process and which support secondary design of various conceptual layers. We place both existing contributions and future research opportunities in context by referring to an idealized, preliminary system architecture. Finally, we emphasize our pluralistic perspective on the research object and the resulting need for methodological flexibility in the sense of interdisciplinary configurations of research methods.
Access options
Buy single article
Instant access to the full article PDF.
US$ 39.95
Tax calculation will be finalised during checkout.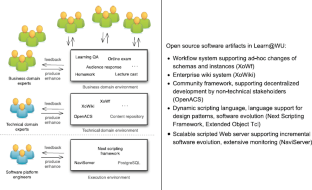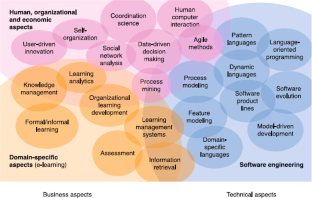 References
Abrahamsson P, Oza N, Siponen M (2010) Agile software development methods: a comparative review. In: Dingsøyr T, Dybå T, Moe NB (eds) Agile software development. Springer, Berlin, pp 31–59

Alberer G, Alberer P, Enzi T, Ernst G, Mayrhofer K, Neumann G, Rieder R, Simon B (2003) The Learn@WU learning environment. In: Proceedings Wirtschaftsinformatik 2003, Dresden

Apel S, Kästner C (2009) An overview of feature-oriented software development. Journal of Object Technology 8(5):49–84

Allen BR, Boynton AC (1991) Information architecture: in search of efficient flexibility. MIS Quarterly 15(4):435–445

Andergassen M, Guerra V, Ledermüller K, Neumann G (2012) Browser-based mobile clickers: implementation and challenges. In: Proceedings IADIS international conference – Mobile learning 2012, Berlin

Bjerknes G, Bratteteig T, Espeseth T (1991) Evolution of finished computer systems. Scandinavian Journal of Information Systems 3:25–45

Breu R, Agreiter B, Farwick M, Felderer M, Hafner M, Innerhofer-Oberperfler F (2011) Living models: ten principles for change-driven software engineering. International Journal of Software and Informatics 5(12):267–290

Brynjolfsson E, Hitt LM, Kim HH (2011) Strength in numbers: how does data-driven decision-making affect firm performance? SSRN working paper, Social Science Research Network (SSRN)

Callaù O, Robbes R, Tanter E, Röthlisberger D (2011) How (and why) developers use the dynamic features of programming languages: the case of Smalltalk. Empirical Software Engineering, pp 1–39

Clements P, Northrop L (2007) Software product lines: practices and patterns. Addison-Wesley, Reading

Fowler M (2010) Domain-specific languages. Pearson Education, Upper Saddle River

Frank U (2006) Towards a pluralistic conception of research methods in information systems research. ICB research reports 7, University Duisburg-Essen, Institute for Computer Science and Business Information Systems

Georgakopoulos D, Hornick M, Sheth A (1995) An overview of workflow management: from process modeling to workflow automation infrastructure. Distributed and Parallel Databases 3(2):119–153

Germonprez M, Hovorka D, Collopy F (2007) A theory of tailorable technology design. Journal of the Association for Information Systems 8(6):351–367

Germonprez M, Hovorka D, Gal U (2011) Secondary design: a case of behavioral design science research. Journal of the Association for Information Systems 12(10):662–683

Hansen HR, Neumann G (2009) Wirtschaftsinformatik 1: Grundlagen und Anwendungen, vol 1, 10th edn. Lucius & Lucius, Stuttgart

Hevner AR, March ST, Park J, Ram S (2004) Design science in information systems research. MIS Quarterly 28(1):75–105

Hoyer V, Gilles F, Janner T, Stanoevska-Slabeva K (2009) SAP research RoofTop marketplace: putting a face on service-oriented architectures. In: 2009 world conference on services – I, pp 107–114

Kieser A, Kubicek H (1992) Organisation, 3rd edn. de Gruyter, Berlin

Malone TW, Crowston K (1994) The interdisciplinary study of coordination. ACM Computing Surveys 26(1):87–119

Malone TW, Crowston K, Lee J, Pentland B, Dellarocas C, Wyner G, Quimby J, Osborn CS, Bernstein A, Herman G, Klein M, O'Donnell E (1999) Tools for inventing organizations: toward a handbook of organizational processes. Management Science 45(3):425–443

March ST, Smith GF (1995) Design and natural science research on information technology. Decision Support Systems 15(4):251–266

Mernik M, Heering J, Sloane AM (2005) When and how to develop domain-specific languages. ACM Computing Surveys 37(4):316–344

Mödritscher F, Andergassen M, Neumann G (2013) Dependencies between e-learning usage patterns and learning results. In: Proceedings of 13th international conference on knowledge management and knowledge technologies (i-KNOW 2013), Graz,

Muller MJ, Kuhn S (1993) Participatory design. Communications of the ACM 36(6):24–28

Neumann G, Erol S (2008) From a social wiki to a social workflow system. In: Ardegna D, Mecella M, Yang J (eds) Business process management workshops 2008, Milan, LNBIP, vol 17, pp 698–708

Orlikowski WJ, Iacono CS (2001) Research commentary: desperately seeking the "IT" in IT research: a call to theorizing the IT artifact. Information Systems Research 12(2):121–134

Österle H, Otto B (2010) Consortium research: a method for researcher-practitioner collaboration in design-oriented IS. Research Business & Information Systems Engineering 2(5):283–293

Ousterhout JK (1998) Scripting: higher level programming for the 21st century. IEEE Computer 31(3):23–30

Pahlke I, Beck R, Wolf M (2010) Enterprise mashup systems as platform for situational applications. Business & Information Systems Engineering 2(5):305–315

Peffers K, Tuunanen T, Rothenberger MA, Chatterjee S (2007) A design science research methodology for information systems research. Journal of Management Information Systems 24:45–77

Rank S (2002) A reflective architecture to support dynamic software evolution. PhD thesis, University of Durham, UK

Sein MK, Henfridsson O, Purao S, Rossi M, Lindgren R (2011) Action design research. MIS Quarterly 35(1):37–56

Siemens G, Long P (2011) Penetrating the fog: analytics in learning and education. EDUCAUSE Review 46(5):30–32

Stahl T, Voelter M, Czarnecki K (2006) Model-driven software development: technology, engineering, management. Wiley, New York

Strembeck M, Zdun U (2009) An approach for the systematic development of domain-specific languages. Software Practice & Experience 39(15):1253–1292

Vaishnavi VK, Kuechler W (2007) Design science research methods and patterns: innovating information and communication technology. Auerbach Publications, Boston

van der Aalst WMP (2011) Process mining: discovery, conformance and enhancement of business processes. Springer, Berlin

von Hippel E (2009) Democratizing innovation: the evolving phenomenon of user innovation. International Journal of Innovation Science 1(1):29–40

Wulf V (1999) Evolving cooperation when introducing groupware: a self-organization perspective. Cybernetics & Human Knowing 6(2):55–74

Wulf V, Rohde M (1995) Towards an integrated organization and technology development. In: Proceedings of the 1st conference on designing interactive systems: processes, practices, methods, and techniques. ACM, New York, pp 55–64
Additional information
Accepted after two revisions by the editors of the special focus.
This article is also available in German in print and via http://www.wirtschaftsinformatik.de: Neumann G, Sobernig S, Aram M (2014) Evolutionäre betriebliche Informationssysteme. Perspektiven und Herausforderungen einer neuen Generation von Informationssystemen. WIRTSCHAFTSINFORMATIK. doi: 10.1007/s11576-013-0397-8.
About this article
Cite this article
Neumann, G., Sobernig, S. & Aram, M. Evolutionary Business Information Systems. Bus Inf Syst Eng 6, 33–38 (2014). https://doi.org/10.1007/s12599-013-0305-1
Received:

Accepted:

Published:

Issue Date:
Keywords
Evolutionary business information systems

Secondary design

Pluralistic information systems research