Abstract
The paper juxtaposes the challenges that airline codeshare alliances create for analytical information systems on the one hand and their motivation from a marketing perspective on the other. The authors review the state-of-the-art literature on potential marketing benefits and analyze the impact on airline planning systems. In this regard, revenue management systems are of particular interest. Based on a simulation study, the authors infer a severe impact of decentralized codeshare controls as currently widely implemented in the industry on revenue management performance. In the scenarios examined, complementary codesharing reduces alliance-wide revenues by up to 1 %. Losses increase when a carrier experiences high local demand or a high degree of codeshare demand, and disseminate over the whole network. Virtual codeshares also cause losses of 0.3 % to 1.5 % depending on the discount level offered by the marketing carrier and on the demand structure. Finally, the authors formulate a set of managerial implications based on these findings.
Access options
Buy single article
Instant access to the full article PDF.
US$ 39.95
Tax calculation will be finalised during checkout.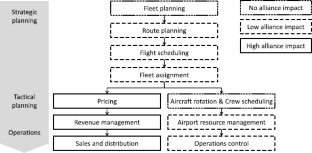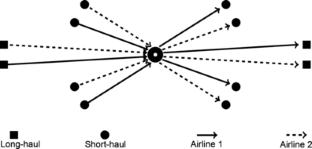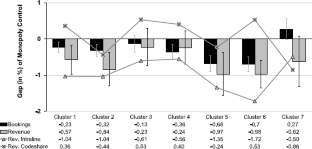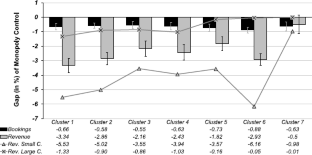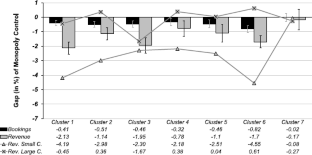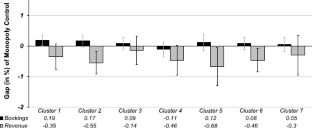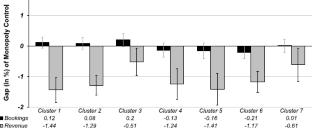 References
Abdelghany A, Sattayalekha W, Abdelghany K (2009) On airlines codeshare optimisation: a modelling framework and analysis. International Journal of Revenue Management 3(3):307–330

Adler N, Smilowitz K (2007) Hub-and-spoke network alliances and merges: price-location competition in the airline industry. Transportation Research Part B 41:394–409

Bamberger G, Carlton D, Neumann L (2004) An empirical investigation of the competitive effects of domestic airline alliances. Journal of Law and Economics 47:195–222

Belobaba P (2009) The global airline industry Wiley, New York, pp 153–181

Boyd A (1998) Airline alliances. OR/MS Today

Boyd A, Bilegan IC (2003) Revenue management and e-commerce. Management Science 49(10):1363–1386

Brueckner JK (2001) The economics of international codesharing: an analysis of airline alliances. International Journal of Industrial Organization 19:1475–1498

Brueckner JK, Whalen WT (2000) The price effects of international airline alliances. Journal of Law and Economics 43:503–545

Cleophas C (2012) Assessing multi-agent simulations – inspiration through application. In: Bajo Pérez J et al. (eds) Highlights on practical applications of agents and multi-agent systems. Springer, Heidelberg, pp 163–170

Darot JFJ (2001) Revenue management for airline alliances: passenger-origin-destination simulation analysis. Master's thesis, Massachusetts Institute of Technology, Cambridge

de la Torre PEF (1999) Airline alliances: the airline perspective. Master's thesis, Massachusetts Institute of Technology, Cambridge

Frank M, Friedemann M, Schroeder A (2008) Principles for simulations in revenue management. Journal of Revenue and Pricing Management 7(1):7–16

Gayle PG (2007) Is virtual codesharing a market segmenting mechanism employed by airlines? Economics Letters 95(1):17–24

Hu X, Caldentey R, Vulcano G (2013) Revenue sharing in airline alliances. Management Science. doi:10.1287/mnsc.1120.1591

Ireland RD, Hitt MA, Vaidyanath D (2002) Alliance management as a source of competitive advantage. Journal of Management 28(3):413–446

Ito H, Lee D (2007) Domestic codesharing, alliances and airfares in the US airline industry. The Journal of Law and Economics 50:355–380

Jain H (2011) Alliance revenue management in practice: techniques and simulation analysis. Master's thesis, Massachusetts Institute of Technology, Cambridge

Killing JP (1988) Understanding alliances: the role of task and organizational complexity, co-operative strategies and international business, pp 55–67. Lexington

Morrish S, Hamilton R (2002) Airline alliances – who benefits? Journal of Transport Management 8:401–407

Oum TH, Park JH, Zhang A (1996) The effects of airline codesharing agreements on firm conduct and international air fares. Journal of Transport Economics and Policy 30(2):187–202

Park JH (1997) The effects of airline alliances on markets and economic welfare. Transportation Research Part E 33(3):181–195

Post D, Spann M (2012) Improving airline revenues with variable opaque products: "Blind booking" at germanwings. Interfaces 42(4):329–338

Smith BC, Günther DP, Rao BV, Ratliff RM (2001) E-commerce and operations research in airline planning, marketing and distribution. Interfaces 31(2):37–55

Talluri KT, van Ryzin GJ (2004) The theory and practice of revenue management. Kluwer Academic, Norwell

Topaloglu H (2012) A duality based approach for network revenue management in airline alliances. Journal of Revenue and Pricing Management 11(5):500–517

Vinod B (2005) Alliance revenue management. Journal of Revenue and Pricing Management 4(1):66–82

Wright CP, Groenevelt H, Shumsky RA (2010) Dynamic revenue management in airline alliances. Transportation Science 44(1):15–37
Additional information
Accepted after two revisions by Prof. Dr. Spann.
This article is also available in German in print and via http://www.wirtschaftsinformatik.de: Gerlach M, Cleophas C, Kliewer N (2013) Codeshare-Allianzen bei Fluggesellschaften. Ein Segen für das Marketing und eine Herausforderung für Informationssysteme im Revenue-Management. WIRTSCHAFTSINFORMATIK. doi: 10.1007/s11576-013-0361-7.
About this article
Cite this article
Gerlach, M., Cleophas, C. & Kliewer, N. Airline Codeshare Alliances. Bus Inf Syst Eng 5, 153–163 (2013). https://doi.org/10.1007/s12599-013-0262-8
Received:

Accepted:

Published:

Issue Date:
Keywords
Revenue management

Information systems

Airline alliances

Codesharing

Simulation

Marketing