This is a preview of subscription content, log in to check access.
Access options
Buy single article
Instant access to the full article PDF.
US$ 39.95
Price includes VAT for USA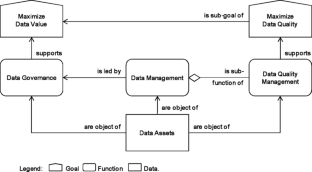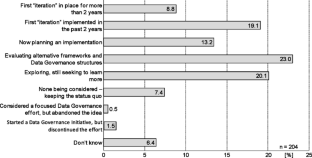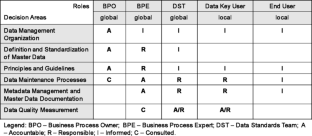 Notes
1.

RACI is an acronym made up of the four authority codes Responsible, Accountable, Consulted and Informed.

2.

A detailed description on this is given by Weber and Ofner (2008).
References
AFNOR (2009) General principles for an environmental communication on mass market products. BP X30-323, AFNOR Groupe

Atkinson K, McGaughey R (2006) Accounting for data: a shortcoming in accounting for intangible assets. Academy of Accounting and Financial Studies Journal 10(2):85–95

Bettschen P (2008) Master data challenges at Ciba. In: 8. CC CDQ workshop, Institute of Information Management, University of St. Gallen

DAMA (2009) The DAMA guide to the data management body of knowledge. Technics publications, Bradley Beach, NJ

Even A, Shankaranarayanan G (2007) Utility-driven assessment of data quality. ACM SIGMIS Database 38(2):75–93

Goodhue DL, Kirsch LJ, Quillard JA, Wybo MD (1992) Strategic data planning: lessons from the field. MIS Quarterly 16(1):267–274

Horne NW (1995) Information as an asset – the board agenda. In: Computer Audit Update 1995(9):5–11

IBM (2007) The IBM data governance council maturity model: building a roadmap for effective data governance. IBM Corporation

Initiate (2010) Data governance survey report http://www.initiate.com/Documents/Initiate-Data-Governance-Survey-Report.pdf. Accessed 2010-10-25

ISO/IEC (2008) ISO/IEC 38500: corporate governance of information technology. ISO (the International Organization for Standardization) and IEC (the International Electrotechnical Commission)

Khatri V, Brown CV (2010) Designing data governance. Communications of the ACM 53(1):148–152

Krüger W (1994) Organisation der Unternehmung. Kohlhammer, Stuttgart

Loshin D (2008) Master data management. Kaufmann, Burlington

Pierce E, Dismute WS, Yonke CL (2008) The state of information and data governance – understanding how organizations govern their information and data assets. IAIDQ and UALR-IQ

Schulte-Zurhausen M (2005) Organisation, 4th edn. Vahlen, München

Wang RY (1998) A product perspective on total data quality management. Communications of the ACM 41(2):58–65

Weber K, Ofner M (2008) Case study Ciba – organizing master data management. BE HSG/CC CDQ/11, Institute of Information Management, University of St. Gallen

Weber K, Otto B, Österle H (2009) One size does not fit all – a contingency approach to data governance. ACM Journal of Data and Information Quality 1:1
About this article
Cite this article
Otto, B. Data Governance. Bus Inf Syst Eng 3, 241–244 (2011). https://doi.org/10.1007/s12599-011-0162-8
Keywords
Carbon Footprint

Data Owner

Business Requirement

Master Data

Function Diagram