Abstract
The microstructural characteristics, elemental distribution law and microscopic formation mechanism of the burning products of TA15 titanium alloy were investigated by friction oxygen concentration method, associated with in situ observation, X-ray diffraction (XRD), scanning electron microscopy (SEM) and energy-dispersive spectroscopy (EDS) analyses, providing the thoughts to improve fireproof property. The results show that, when the friction contact pressure (p fric) is 0.20 MPa and oxygen concentration of premixed air flow (c 0) is 60 vol%, TA15 titanium alloy produces violent sparks and presents dazzling white light during combustion. The generated products after burning are mainly TiO2 and small amount of Al2O3 oxides. Four distinct zones form from the combustion surface to the alloy matrix, and they are in the sequence of combustion zone, fusion zone, heat-affected zone and transition zone. Further, combustion zone is composed of TiO2 and Al2O3 compounds, containing obvious cracks. In the fusion zone, discontinuous oxygen-rich Al-based solid solution forms, and the elemental distribution has strong volatility. In the heat-affected zone, there are abundant of Ti-based solid solution and small amount of Al- and Mo-based solid solution. Transition zone is made of lamellar structure. Two technical approaches are given to prevent oxygen diffusion inside the reaction zone and reaction-affected zone. On the one hand, the content of Al is designed as the upper limit of alloy composition; on the other hand, fireproof coatings are deposited on the surface of the alloy.
Access options
Buy single article
Instant access to the full article PDF.
US$ 39.95
Tax calculation will be finalised during checkout.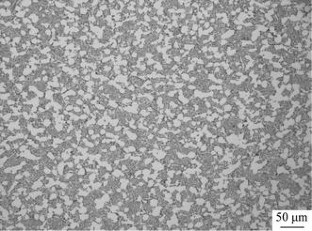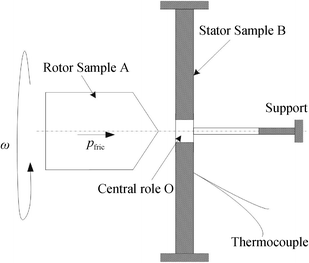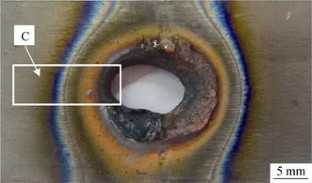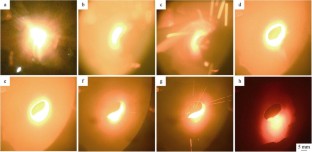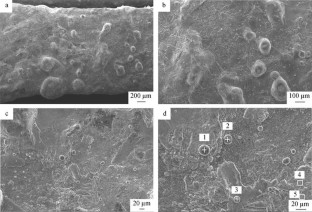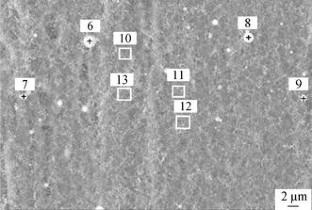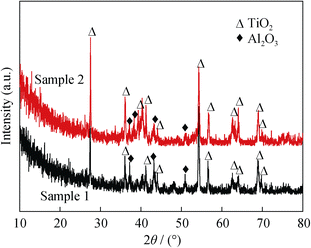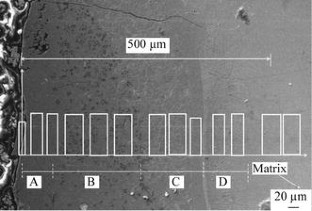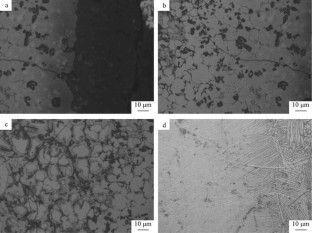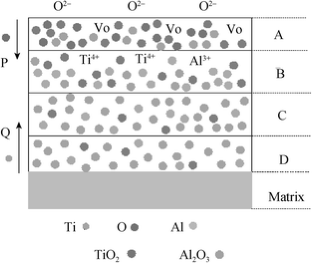 References
[1]

Chen G. Frequent Ti-alloy fired accidents. Int Act. 2009;3:45.

[2]

Borisova YA, Sklyarov NM. Burning and Fireproof Measures of Titanium Alloy. Moscow: VIAM; 2007. 8.

[3]

Lütjering G, Williams JC. Titanium. 2nd ed. New York: Springer; 2007. 51.

[4]

Lai YJ, Zhang PY, Xin SW, Ma FJ, Liu XH, Feng Y, Zeng WD, Li JS. Research progress on engineered technology of fireproof titanium alloy in China. Rare Met Mater Eng. 2015;44(8):2067.

[5]

Mi GB, Huang X, Cao JX, Cao CX. Experimental technique of titanium fire in aero-engine. J Aeronaut Mater. 2016;36(3):20.

[6]

Cai JM, Mi GB, Gao F, Huang H, Cao JX, Huang X, Cao CX. Research and development of some advanced high temperature titanium alloys for aero-engine. J Mater Eng. 2016;44(8):1.

[7]

Luo QS. Research on titanium fire resistance technologies of high-pressure compressor in aero-engine. Chengdu: University of Electronic Science and Technology of China; 2010. 5.

[8]

Huo WJ, Sun HG. Titanium-fire fault and prevention technologies in aero-engine. Aeronaut Sci Technol. 2002;14(4):32.

[9]

Ming JQ, Xie F. Research on titanium fire retardant coating of a new type turbofan. Aviat Maint Eng. 2015;24(2):65.

[10]

Wang WW, Chen YJ, Gao HH. Titanium fire protection technology and test validation method of aero-engine. Gas Turbine Exp Res. 2013;26(5):57.

[11]

Sun ZC, Yang H, Han GJ. A numerical model based on internal-state-variable method for the microstructure evolution during hot-working process of TA15 titanium alloy. Mater Sci Eng. 2010;527(15):3464.

[12]

Wang GC, Fu MN, Dong HB. Super plasticity deformation of Ti-6Al-2Zr-1Mo-1V induced by the cyclic change of strain-rate and maxim SPD. J Alloy Compd. 2010;491(1/2):213.

[13]

Sun ZC, Yang H. Microstructure and mechanical properties of TA15 titanium alloy under multi-step local forming. Mater Sci Eng. 2009;523(1/2):184.

[14]

Ouyang DL, Lu SQ, Huang X, Lei LM. Critical condition for dynamic recrystallization in beta region of TA15 titanium alloy. Trans Nonferrous Met Soc China. 2010;20(8):1540.

[15]

Zhu S, Yang H, Guo LG, Fan XG. Effect of cooling rate on microstructure evolution during α/β heat treatment of TA15 titanium alloy. Mater Charact. 2012;72(2):101.

[16]

Fan XG, Yang H, Gao PF, Yan SL. Morphology development of enlongated α phases in hot working of large-scale titanium alloy plate. Trans Nonferrous Met Soc China. 2013;23(6):3508.

[17]

Xue Q, Peng WW, Zeng WD. Effect of alpha phase morphology and content on properties of TA15 titanium alloy. Titan Ind Prog. 2015;32(2):13.

[18]

Lu J, Wang YH, Zhang WF. Effect of microstructure on tensile properties of near-alpha TA15 titanium alloy. Heat Treat Met. 2011;36(6):25.

[19]

He SL, Lei XJ, Wang XX, Ma YJ, Wang XJ, Wang DC. The relationship between microstructure and damage tolerance property of TA15 titanium alloy. Chinese Titan Ind. 2011;8(1):20.

[20]

Zhang QL, Li XW. Effect of structure on fatigue properties and fracture toughness for TA15 titanium alloy. Mater Eng. 2007;52(7):3.

[21]

Zhang JP, Min XH. Effects of elements N, O, Fe on microstructure and property of TA15 titanium alloy. Dev Appl Mater. 2013;28(2):83.

[22]

Liu X, Zhao XJ, Gong SL, Lei YP. Influence of hydrogen on microstructure of TA15 titanium alloy. Chinese J Nonferrous Met. 2010;20(1):178.

[23]

Mi GB, Huang X, Cao JX, Wang B. A test method characterizing the fireproof property of titanium alloys for aero-engine. China Patent; ZL201218003649.0. 2012.

[24]

Wang QM, Flores AR, Schroeter OR, Mykhaylonka RC, Leyens C, Garkas W, Baben M. Fabrication and oxidation behavior of Cr2AlC coating on Ti6242 alloy. Surf Coat Technol. 2004;204(15):2343.

[25]

Liu GL, Li Y. Study on the electron theory of high temperature oxidation mechanism of titanium aluminum alloy. Acta Physica Sinica. 2012;61(17):177101.

[26]

Mi GB, Huang XS, Li PJ, Cao JX, Huang X, Cao CX. Non-isothermal oxidation and ignition prediction of Ti-Cr alloys. Trans Nonferrous Met Soc China. 2012;22:2414.

[27]

Mi GB, Huang X, Cao JX, Cao CX. Ignition resistance performance and its theoretical analysis of Ti–V–Cr type fireproof titanium alloys. Acta Metallurgrica Sinica. 2014;50(5):584.

[28]

Peng LP, Xia ZC, Yin JW. First-principles calculation of rutile and anatase TiO2 intrinsic defect. Acta Physic Sinica. 2012;61(3):037103.

[29]

Hurlen T. On the defect structure of rutile. Acta Chem Scand. 1959;13(2):365.

[30]

Kofstad P, Hauffe K, Kjollesdal H. Investigation on the oxidation mechanism of titanium. Acta Chem Scand. 1958;12(2):239.

[31]

Tang ZL, Wang FH, Wu W. High temperature corrosion and protection of titanium alloys and TiAl intermetallics. Rare Metal. 1996;20(4):291.
Acknowledgements
This study was financially supported by the National Natural Science Foundation of China (No. 51471155) and the Aviation Science Foundation of China (No. 2014E62149R).
About this article
Cite this article
Sui, N., Mi, GB., Yan, MQ. et al. Burning products of TA15 titanium alloy by friction oxygen concentration method. Rare Met. 37, 952–960 (2018). https://doi.org/10.1007/s12598-017-0933-6
Received:

Revised:

Accepted:

Published:

Issue Date:
Keywords
Friction oxygen concentration method

TA15 titanium alloy

Burning products

Microstructure

Titanium fire