Abstract
This paper presents a simulation study on estimating the Geo-Location of a target based on multiple image of the target taken from a gimbaled camera mounted on a unmanned aerial vehicle (UAV), which orbits around the target with a radius such that the target is always in the field of camera vision. The Camera Vision Simulation of the UAV is implemented by using an ortho Geo-TIFF (Geo-Spatial Tagged Information File Format) as imagery reference, positional and attitude attributes of UAV, Gimbal and Camera and internal characteristic of the simulated Camera. Target is localized using the simulation images taken from multiple bearing waypoints by applying the Geo-Location algorithm using the simulation parameters as reference. For improving the accuracy of the estimation, error reduction techniques like true average, moving average and recursive least square are also suggested and implemented.
Access options
Buy single article
Instant access to the full article PDF.
US$ 39.95
Tax calculation will be finalised during checkout.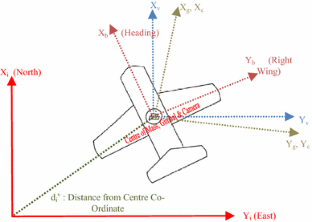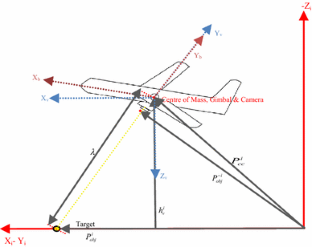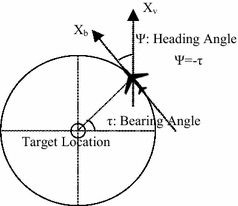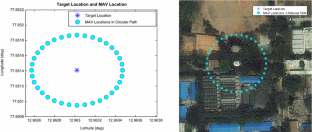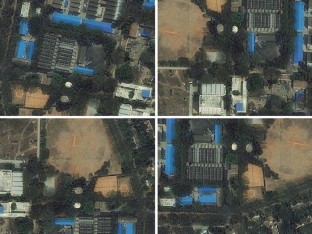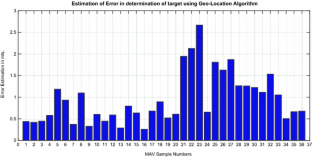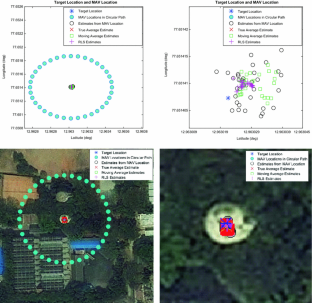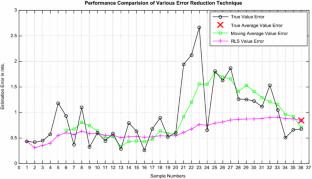 References
1.

BP. Tice, Unmanned aerial vehicles:the force of the multiplier of the 1990s, Airpower J. V (1), (1991) https://web.archive.org/web/20090724015052/,Accessed on 19 Febraury 2016

2.

PL Pratyusha, Estimation of ground Target Geo-Location using UAV onboard camera, M.Tech thesis, Department of Avionics, IST, JNTU, Kakinada, July 2015

3.

TH. Summers, MR Akella, MJ Mears, Coordinated standoff tracking of moving target: control law and information architectures, J. Guid. Control. Dyn 32(1), 56–69 (2009). http://arc.aiaa.org/doi/abs/10.2514/1.37212, Accessed on 18 February, 2016

4.

C. Veness, Calculate distance, bearing and more between Latitude/Longitude points, http://www.movable-type.co.uk/scripts/latlong.html, Accessed on 19 Febraury, 2016

5.

R.W. Beard, T.W. McLain, Coordinate frames, small unmanned aircraft theory and practice (Princeton University Press, New Jersey, 2012), pp. 8–18

6.

Y. Ma, S. Soatto, J. Kosecka, S.S. Sastry, An invitation to 3-D vision: from images to geometric models (Springer, Berlin, 2004)

7.

J.D. Redding, T.W. McLain, R.W. Beard, C.N. Taylor, Vision-based target localization from a fixed wing miniature air vehicle, in Proceedings of the 2006 American control conference, Minneapolis, 2006. p.2862–2867

8.

B. Barber, TW. McLain, B. Edwards, Vision-based landing of a fixed-wing miniature air vehicle, J. Aerosp. Comput. Inf. Commun. (2009), https://www.researchgate.net/publication/245439885, DOI: 10.2514/1.36201, Accessed on 19 February, 2016
About this article
Cite this article
Pai, P., Naidu, V.P.S. Target geo-localization based on camera vision simulation of UAV. J Opt 46, 425–435 (2017). https://doi.org/10.1007/s12596-017-0395-0
Received:

Accepted:

Published:

Issue Date:
Keywords
Target Geo-Location

Multiple bearing

Simulation

Geo-TIFF

Unmanned aerial vehicle (UAV)

Error reduction technique