Abstract
Since 2014 elasmobranch egg cases that are washed up on the Dutch North Sea beaches can be registered by beachcombers using the Great Eggcase Hunt database. For this study, individuals often registering multiple egg cases were asked to send these to the authors for a predation study. After disposing of heavily damaged (over 50% gone) egg cases, a total of 736 egg cases of six different elasmobranch species (Raja microocellata, Raja brachyura, Raja montagui, Raja undulata, Raja clavata, Scyliorhinus canicula) were examined. All egg cases were scored for number of predation marks, the condition of the egg case and status of the hatching slit. The shape of the predation marks was classified into five types: parabolic, circular, elongated, scratched and irregular shaped and it was noted whether or not the boreholes were complete. Predation rate across species was 14.4%. Results show no discernible difference in proportion of egg cases with any kind of predation mark between species, which is beneficial for future analysis and conservation strategies, as the same approach can be used for all species. The presence of multiple incomplete predation marks on 38% of predated egg cases shows evidence of site selection by the predator. This site selection, as well as borehole shape and diameter found points to gastropods and octopus as potential predators.
Access options
Buy single article
Instant access to the full article PDF.
USD 39.95
Price excludes VAT (USA)
Tax calculation will be finalised during checkout.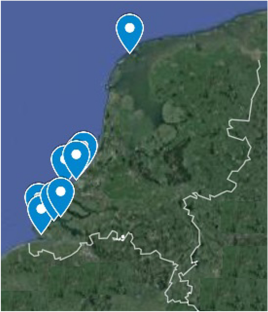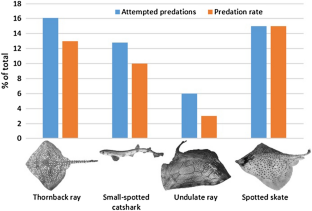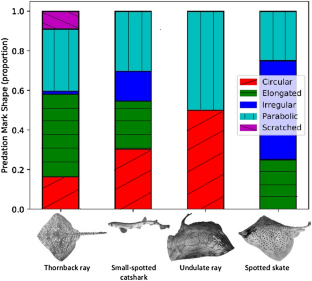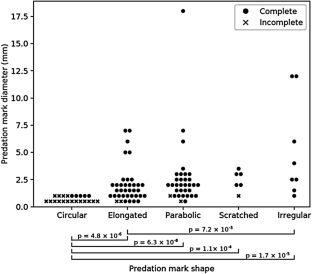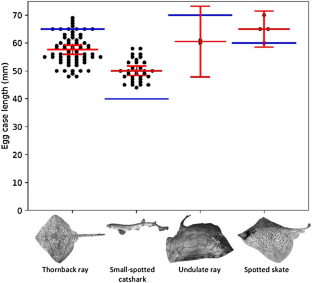 Data Availability
The datasets generated during and/or analysed during the current study are available from the corresponding author on reasonable request.
Code Availability
The coding generated during and/or used during the current study are available from the corresponding author on reasonable request.
References
Ambrose, R.F., B.J. Leighton, and E.B. Hartwick. 1988. Characterization of boreholes by Octopus dofleini in the bivalve Saxidomus giganteus. Journal of Zoology 214: 491–503.

Ansell, A.D. 1961. Egg Capsules of the Dogfish (Sgylliorhinus Canicula, Linn.) Bored by Natica. (Gastropoda, Prosobranchia). Proceedings of the Malacological Society 34: 248–249.

Ball, R.E., M.K. Oliver, and A.B. Gill. 2015. Early life sensory ability—Ventilatory responses of thornback ray embryos (Raja clavata) to predator-type electric fields. Developmental Neurobiology 76: 721–729. https://doi.org/10.1002/dneu.22355.

Berkhof, J., I. van Mechelen, and A. Gelman. 2003. A Bayesian approach to the selection and testing of mixture models. Statistica Sinica 13: 423–442.

Carriker, M.R. 1981. Shell penetration and feeding by Naticacean and Muricacean predatory gastropods: A synthesis. Malacologia 20: 403–422.

Cox, D.L., and T.J. Koob. 1993. Predation on elasmobranch eggs. Environmental Biology of Fishes 38: 117–125. https://doi.org/10.1007/978-94-017-3450-9.

Cox, D.L., P. Walker, and T.J. Koob. 1999. Predation on eggs of the thorny skate. Transactions of the American Fisheries Society 128: 380–384. https://doi.org/10.1577/1548-8659(1999)128%3c0380.

De, Sabata E., and S. Clò. 2013. Some breeding sites of the nursehound (Scyliorhinus stellaris) (Chondrichthyes, Scyliorhinidae) in Italian waters as reported by divers. Biologia Marina Mediterranea 20: 178–179.

Etnoyer, P., and J. Warrenchuk. 2007. A catshark nursery in a deep gorgonian field in the Mississippi Canyon, Gulf of Mexico. Bulletin of Marine Science 81: 553–559.

Frisk, M.G., T.J. Miller, and N.K. Dulvy. 2005. Life histories and vulnerability to exploitation of elasmobranchs: inferences life histories and vulnerability to exploitation of elasmobranchs: Inferences from elasticity, perturbation and phylogenetic analyses. Journal of Northwest Atlantic Fishery Science 35: 27–45. https://doi.org/10.2960/J.v35.m514.

Grover, C.A. 1972. Predation on egg-cases of the swell shark, Cephaloscyllium ventriosum. American Society of Ichthyologists and Herpetologists 1972: 871–872.

Hamlett, W.C., and T.J. Koob. 1999. Female reproductive system. In Sharks, skates and rays; the biology of elasmobranch fish, ed. W.C. Hamlett, 398–443. Baltimore: Johns Hopkins Univ. Press.

Hiemstra, A. 2016. Recognizing cephalopod boreholes in shells and the northward spread of Octopus vulgaris Cuvier, 1797. Vita Malacologica 13: 53–56.

Hitz, C.R. 1964. Observations on egg cases of the big skate (Raja binoculata Girard) found in Oregon coastal waters. Journal of the Fisheries Research Board of Canada 21: 851–855. https://doi.org/10.1139/f64-076.

Hoff, G.R. 2008. A nursery site of the Alaska skate (Bathyraja parmifera) in the eastern Bering Sea. Fishery Bulletin 106: 233–244.

Hoff, G.R. 2010. Identification of skate nursery habitat in the eastern Bering Sea. Marine Ecology Progress Series 403: 243–254. https://doi.org/10.3354/meps08424.

Kabat, A.R. 1990. Predatory ecology of naticid gastropods with a review of shell boring predation. Malacologia 32: 155–193.

Kass, R.E., and A.E. Raftery. 1995. Bayes factors. Journal of American Statistical Association 90: 773–795.

Love, M.S., D.M. Schroeder, L. Snook, et al. 2008. All their eggs in one basket: a rocky reef nursery for the longnose skate. Fishery Bulletin 106: 471–475.

Lucifora, L., and V. Garcia. 2004. Gastropod predation on egg cases of skates (Chondrichthyes, Rajidae) in the southwestern Atlantic: Quantification and life history implications. Marine Biology 145: 917–922. https://doi.org/10.1007/s00227-004-1377-8.

Musick, B.J.A., G. Burgess, G. Cailliet, et al. 2000. Management of sharks and their relatives (Elasmobranchii). Fisheries 25: 9–13. https://doi.org/10.1577/1548-8446(2000)025%3c0009.

Nasserinejad, K., J. van Rosmalen, W. de Kort, and E. Lesaffre. 2017. Comparison of criteria for choosing the number of classes in Bayesian finite mixture models. PLoS ONE 12: e0168838.

Oberski, D. 2016. Modern statistical methods for HCI. Springer.

Rousseau, J., and K. Mengersen. 2011. Asymptotic behaviour of the posterior distribution in overfitted mixture models. Journal of the Royal Statistical Society Series B (Statistical Methodology) 73: 689–710.

SharkTrust (2017) The Great Eggcase Hunt!

Sisneros, J.A., T.C. Tricas, and C.A. Luer. 1998. Response properties and biological function of the skate electrosensory system during ontogeny. Journal of Comparative Physiology B 183: 87–99. https://doi.org/10.1007/s003590050237.

Smith, C., and C. Griffiths. 1997. Shark and skate egg-cases cast up on two South African beaches and their rates of hatching success, or causes of death. South African Journal of Zoology 32: 112–117.

Treude, T., S. Kiel, P. Linke, et al. 2011. Elasmobranch egg capsules associated with modern and ancient cold seeps: A nursery for marine deep-water predators. Marine Ecology Progress Series 437: 175–181. https://doi.org/10.3354/meps09305.

Verhoog. P., & Wiersma, G. (2017). De Groene Zee.

Wodinsky, J. 1969. Penetration of the shell and feeding on gastropods by Octopus. Integrative and Comparative Biology 9: 997–1010. https://doi.org/10.1093/icb/9.3.997.

WoRMS. In: World Regist. Mar. Species. http://www.marinespecies.org/index.php. Accessed 23 Nov 2018.
Acknowledgements
The authors would like to thank WWF for funding the time and location at Blue Linked to carry out this research. We would also like to thank the Shark Trust for involving us in their project and creating the initial database. But most of all we would like to thank the many Dutch beachcombers that have sent us the egg cases they found while searching the beaches, making our data collection so much less time consuming.
Funding
This study was funded by the Dutch Shark Society and WWF Netherlands.
Ethics declarations
Conflict of interest
The authors declare that they have no conflict of interest.
Consent for Publication
To the best of your knowledge everybody who participated substantially in the study is not omitted from the article. To the best of your knowledge, all persons listed as authors qualify for authorship. All persons who have made substantial contributions to the work but do not meet the criteria for authorship are listed in Acknowledgments section. All persons named in the Acknowledgment section of the manuscript have given their permission to be named. Sampling and field studies: All necessary permits for sampling and observational field studies have been obtained by the authors from the competent authorities and are mentioned in the acknowledgements, if applicable. The study is compliant with CBD and Nagoya protocols.
Additional information
Publisher's Note
Springer Nature remains neutral with regard to jurisdictional claims in published maps and institutional affiliations.
About this article
Cite this article
Schröder, D., Schröder, G., Wiersma, G. et al. Elasmobranch Egg Case Predation in the Dutch North Sea. Proc Zool Soc 74, 211–218 (2021). https://doi.org/10.1007/s12595-021-00365-7
Received:

Revised:

Accepted:

Published:

Issue Date:

DOI: https://doi.org/10.1007/s12595-021-00365-7
Keywords