Abstract
Red giant gliding squirrel (Petaurista petaurista) is the most common species of gliding squirrel found in the Western Himalayan range. So far, no record of any other species exists from in and around Great Himalayan National Park, Himachal Pradesh. During the recent spotlight survey done in the month of October 2018 two individuals of Kashmir gliding squirrel (Eoglaucomys fimbriatus) and eleven individuals of Red giant gliding squirrels (P. petaurista) were observed in and around Great Himalayan National Park. The present study confirms the presence of Kashmir gliding squirrel (E. fimbriatus) in Great Himalayan National Park and its fringe areas.
Access options
Buy single article
Instant access to the full article PDF.
USD 39.95
Price excludes VAT (USA)
Tax calculation will be finalised during checkout.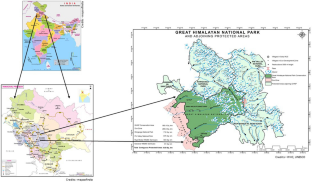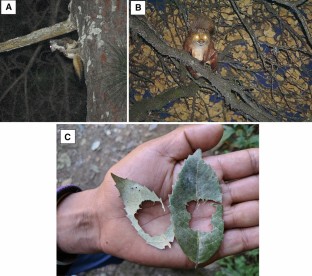 References
Corbet, G.B., and J.E. Hill. 1992. The mammals of the Indomalayan Region, 48p. Oxford: Oxford University Press.

Hoffmann, R.S. 1993. Family sciuridae. In Mammal species of the world: Taxonomic and geographic reference, 419–466.

Ito, M., N. Seto, B. Rico, M. Shigeta, N. Tamura, and F. Hayashi. 2016. Folivory with leaf folding by giant flying squirrels: Its patterns and possible function. Ecological Research 31: 617–626.

Koli, V.K. 2016. Biology and conservation status of flying squirrels (Pteromyini, Sciuridae, Rodentia) in India: An update and review. Proceedings of the Zoological Society 69: 9–21.

Koprowski, John L., and R. Nandini. 2008. Global hotspots and knowledge gaps for tree and gliding squirrels. Current Science 95: 851–856.

Krishna, M.C., A. Kumar, and J.L. Koprowski. 2016. Diversity, distribution and status of gliding squirrels in protected and non-protected areas of the Eastern Himalayas in India. Hystrix-Italian Journal of Mammalogy 27: 1–9.

Molur, S., C. Srinivasulu, B. Srinivasulu, S. Walker, P.O. Nameer, and L. Ravikumar. 2005. Status of south Asian non-volant small mammals: Conservation assessment and management plan (CAMP) workshop report, 618. Coimbatore: Zoo Outreach Organization/CBSG-South Asia.

Thorington Jr., R.W., A.L. Mus Ante, C.G. Anderson, and K. Darrow. 1996. Validity of three genera of flying squirrels: Eoglaucomys, glaucomys, and hylopetes. Journal of Mammalogy 77: 69–83.

Thorington, R.W. Jr., J.L. Koprowski, M.A. Steele, and J.F Whatton. 2012. Squirrels of the world. JHU Press, 90–91.
Acknowledgements
We would like to thank Honorable Vice Chancellor and Dean Academic, Amity University, Noida and Director, Amity Institute of Forestry and Wildlife, Amity Univeristy, Noida for providing the opportunity as well as partial funds for the study field tour. We also sincerely, thank the Forest Department of Great Himalaya National Park including the District Forest Officer and staff (Puvender Singh) for necessary permissions and assistance during the study period. We thank Dr. Puneet Pandey for his support during the field tour. At last, we would like to thank our fellow batch mates for the necessary support during the survey.
Additional information
Publisher's Note
Springer Nature remains neutral with regard to jurisdictional claims in published maps and institutional affiliations.
About this article
Cite this article
Chaudhary, S., Gogoi, A., Mathur, J. et al. Preliminary Observations of Gliding Squirrels in and Around Great Himalaya National Park, Kullu Forest Division, Western Himalayas, India. Proc Zool Soc 73, 451–454 (2020). https://doi.org/10.1007/s12595-020-00340-8
Received:

Revised:

Accepted:

Published:

Issue Date:

DOI: https://doi.org/10.1007/s12595-020-00340-8
Keywords
Kashmir gliding squirrel

Selective feeding

Red giant gliding squirrel

Western himalayas

Squirrel diversity