Abstract
Clarias batrachus (Linn.) in India is at a deteriorating state. The use of probiotic organism is one of the alternatives to promote fish nutrition in worldwide aquaculture. An extensive study was performed to isolate and identify probiotic bacteria from the gut of the C. batrachus. Quantitative and qualitative analysis of bacterial flora associated with the intestine of C. batrachus were carried out. Total viable bacterial count in the intestine of catfish was 1.61 × 1010cfu/g. Thirty-two different bacterial isolates were selected from the intestinal microflora of C. batrachus. Gram-positive rod-shaped bacteria dominated (81%) the populations in catfish. The five intestinal isolates (PKA1, PKA2, PKA17, PKA18 and PKA19) showed antagonistic properties against common fish pathogens - Vibrio harveyi, Vibrio vulnificus and Vibrio parahaemolyticus. The strain PKA17, PKA18 and PKA19 were identified as Lysinibacillus sphaericus, Bacillus cereus and Bacillus thuringiensis respectively by the 16S rDNA sequencing.
This is a preview of subscription content, log in to check access.
Access options
Buy single article
Instant access to the full article PDF.
US$ 39.95
Price includes VAT for USA
Subscribe to journal
Immediate online access to all issues from 2019. Subscription will auto renew annually.
US$ 99
This is the net price. Taxes to be calculated in checkout.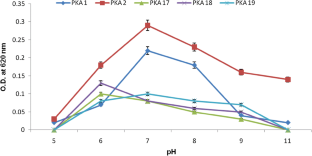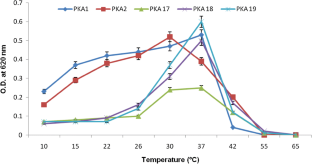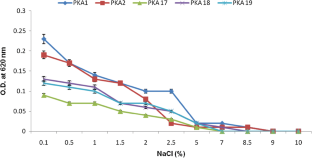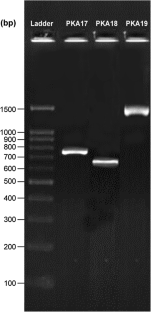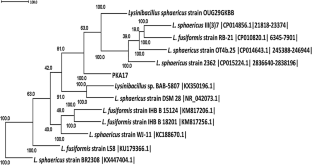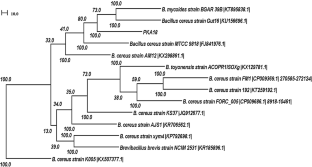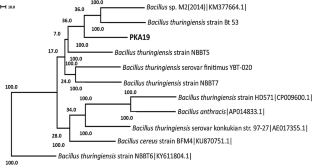 References
Aarestrup, F.M. 1999. Association between the consumption of antimicrobial agents in animal husbandry and the occurrence of resistant bacteria among food animals. International Journal of Antimicrobial Agents 12: 279–285.

Ahmed, R., R.B. Pandey, S.H. Arif, N. Nabi, M. Jabeen, and A. Hasnain. 2012. Polymorphic β and γ lens crystalline demonstrate latitudinal distribution of threatened walking catfish Clarias batrachus (Linn.) populations in north-western India. Journal of Biological Sciences 12: 98–104.

Al-Harbi, A.H., and M.N. Uddin. 2010. Bacterial populations of African Catfish, Clarias gariepinus (Burchell 1822) cultured in earthen ponds. Journal of Applied Aquaculture 22: 187–193. https://doi.org/10.1080/10454438.2010.497736.

Argungu, L.A., A. Christianus, S.M.N. Amin, S.K. Daud, S.S. Siraj, and M. Aminur Rahman. 2013. Asian catfish Clarias batrachus (Linnaeus, 1758) getting critically endangered. Asian Journal of Animal and Veterinary Advances 8: 168–176.

Ayoola, S.O., E.K. Ajani, and O.F. Fashae. 2013. Effect of probiotics (Lactobacillus and Bifidobacterium) on growth performance and hematological profile of Clarias gariepinus juveniles. World Journal of Fish and Marine Sciences 5: 01–08.

Azam, F., T. Fenchel, J.G. Field, J.S. Gray, L.A. Meyerr-Reil, and F. Thingstad. 1983. The ecological role of water column microbes in the sea. Marine Ecology Progress Series 10: 257–263.

Bandyopadhyay, P., and P.K. Das Mohapatra. 2009. Effect of probiotic bacterium Bacillus circulans PB7 in the formulated diets: on growth, nutritional quality and immunity of Catla catla (Ham.). Fish Physiology and Biochemistry 35: 467–478.

Barman, P., A. Banerjee, P. Bandyopadhyay, K.C. Mondal, and P.K. Das Mohapatra. 2011. Isolation, identification and molecular characterization of potential probiotic bacterium, Bacillus subtilis PPP 13 from Penaeus monodon. Biotechnology, Bioinformatics and Bioengineering 1(4): 473–482.

Chythanya, R., I. Karunasagar, and I. Karunasagar. 2002. Inhibition of shrimp pathogenic Vibrios by a marine Pseudomonas I-2 strain. Aquaculture 208: 1–10.

Dahiya, T., S.K. Gahlawat, and R.C. Sihag. 2012. Elimination of pathogenic bacterium (Micrococcus sp.) by the use of probiotics. Turkish Journal of Fisheries and Aquatic Sciences 12: 185–187.

Ganguly, A., A. Mandal, M.A. Khan, T.K. Dutta, S. Raha, and P.K. Das Mohapatra. 2017. Study of physico-chemical parameters, planktonic diversity and bacterial load of Clarias batrachus cultivation pond at Bankura, WB, India. International Research Journal of Biological Sciences 6(12): 23–34.

Gatesoupe, F.J. 1999. The use of probiotics in aquaculture. Aquaculture 180: 147–165.

Ghosh, S., A. Sinha, and C. Sahu. 2007. Isolation of putative probionts from the intestines of Indian major carps. The Israeli Journal of Aquaculture Bamidgeh 59: 127–132.

Gram, L., J. Melchiorsen, B. Spanggaard, I. Huber, and T. Nielsen. 2004. Inhibition of Vibrio anguillarum by Pseudomonas fluorescens AH2, a possible probiotic treatment of fish. Applied and Environmental Microbiology 65: 969–973.

Hai, N.V., R. Fotedar, and N. Buller. 2007. Selection of probiotics by various inhibition test methods for use in the culture of western king prawns, Penaeus latisulcatus (Kishinouye). Aquaculture 272: 231–239.

Hamid, T.H.T.A., A.J. Khan, M.F. Jalil, and N.S. Azhar. 2012. Isolation and screening of lactic acid bacteria, Lactococcus lactis from Clarias gariepinus (African catfish) with potential use as probiotic in aquaculture. African Journal of Biotechnology 11: 7494–7499.

Huson, D.H., D.C. Richter, C. Rausch, T. Dezulian, M. Franz, and R. Rupp. 2007. Dendroscope: An interactive viewer for large phylogenetic trees. BMC Bioinformatics 8: 460–464.

Irianto, A., and B. Austin. 2002. Use of probiotics to control furunculosis in rainbow trout, Oncorhynchus mykiss (Walbaum). Journal of Fish Diseases 25: 333–342.

Krasowska, A., and K. Sigler. 2014. How microorganisms use hydrophobicity and what does this mean for human needs? Frontiers in Cellular and Infection Microbiology 4: 1–7.

Kumar, Y., B. Chisti, A.K. Singh, H. Masih, and S.K. Mishra. 2013. Isolation and characterization of Lactobacillus species from fish intestine for probiotic properties. International Journal of Pharma and Bio Sciences 4: 11–21.

Larkin, M.A., G. Blackshields, N.P. Brown, R. Chenna, P.A. McGettigan, H.M. William, F. Valentin, I.M. Wallace, A. Wilm, R. Lopez, J.D. Thompson, T.J. Gibson, and D.G. Higgins. 2007. Clustal wand clustal X version 2.0. Bioinformatics 23: 2947–2948.

Mehmet, T., G. Göksen, B.E. Simel, A.I. Nurdan, Ö. Filiz. 2015. In Vitro properties of potential probiotic indigenous lactic acid bacteria originating from traditional pickles. BioMed Research International 1–8. https://doi.org/10.1155/2015/315819.

Muylaert, K., K. Van der Gucht, and N. Vloemans. 2002. Relationship between bacterial community composition and bottom-up versus top-down variables in four eutrophic shallow lakes. Applied and Environmental Microbiology 68: 4740–4750.

Nayak, S.K., and S.C. Mukherjee. 2011. Screening of gastrointestinal bacteria of Indian major carps for a candidate probiotic species for aquaculture practices. Aquaculture Research 42: 1034–1041.

O'hara, C.M., F.W. Brenner, and J.M. Miller. 2000. Classification, identification, and clinical significance of Proteus, Providencia, and Morganella. Clinical Microbiology Reviews 13(4): 534–546.

Ouwehand, A.C., P.V. Kirjavainen, M.M. Grönlund, E. Isolauri, and S.J. Salminen. 1999. Adhesion of probiotic micro-organisms to intestinal mucus. International Dairy Journal 9: 623–630.

Savage, D.C. 1992. Growth phase cellular hydrophobicity and adhesion in vitro of Lactobacilli colonizing the keratinizing gastric epithelium in the mouse. Applied and Environmental Microbiology 58(6): 1992–1995.

Sissons, J.W. 1989. Potential of probiotic organisms to prevent diarrhoea and promote digestion in farm animals–a review. Journal of the Science of Food and Agriculture 49: 1–13.

Talwar, P.K., and A.G. Jhingran. 1991. Inland fishes of India and adjacent countries, vol. 1, 541. New Delhi: Oxford and IBH Publishing Co. Pvt. Ltd.

Tuimala, J. 1989. A primer to phylogenetic analysis using PHYLIP package. Cladistics 5: 164–166.

Uddin, N., and A.H. Al-Harbi. 2012. Bacterial flora of polycultured common carp (Cyprinus carpio) and African catfish (Clarias gariepinus). International Aquatic Research 4: 10.

Verschuere, L., G. Rombaut, P. Sorgeloos, and W. Verstraete. 2000. Probiotic bacteria as biological control agents in aquaculture. Microbiology and Molecular Biology Reviews 64: 655–671.

Vignolo, G.M., F. Suriani, A.P.R. Holdago, and G. Oliver. 1993. Antibacterial activity of Lactobacillus strains isolated from dry fermented sausages. Journal of Applied Microbiology 75: 344–349.
About this article
Cite this article
Ganguly, A., Banerjee, A., Mandal, A. et al. Isolation and Characterization of Bacteria from the Intestine of Clarias batrachus for Probiotic Organism. Proc Zool Soc 72, 411–419 (2019). https://doi.org/10.1007/s12595-018-0283-x
Received:

Revised:

Accepted:

Published:

Issue Date:
Keywords
Aquaculture

Clarias batrachus

Probiotic

Antagonistic effect