Abstract
Despite increasing evidence pointing to the involvement of transforming growth factor-β superfamily in the regulation of reproduction, a definitive role of TGF-β2 and its receptor type II in the uterus is currently unclear. In this study, using semi-quantitative reverse transcriptase PCR (RT-PCR) and real-time PCR techniques (qPCR), TGF-β2 and its receptor type II (TGF-βRII) mRNA levels were examined in mouse endometrium during estrous cycle and in response to an acute exposure of 17β-estradiol (E2) and progesterone (P4). We found that TGF-βRII mRNA was expressed at a very low level during diestrus, and remained comparatively higher at proestrus, estrus and metestrus stages with no significant differences between them. On the contrary, the average TGF-β2 mRNA levels abruptly increased from estrus to diestrus stages and then briskly decreased at proestrus, the proliferative stage of the cycle. These results suggest that both TGF-β2 and its receptor type II are functional during proliferation as well as apoptosis of mice endometrial epithelial and stromal cells. A single injection of E2 or P4 at diestrus stage mice caused significant attenuation of the expression of TGF-β2 mRNA after 8 h of treatment compared to sesame oil control. Inhibition induced by P4 was comparatively stronger than that induced by E2 and results further showed that combined injection of E2 and P4 had similar inhibitory effects as that of P4 alone on TGF-β2 expression. In contrast, expression of TGF-βRII mRNA was not significantly altered by ovarian steroids administered either alone or in combination. Results further demonstrated that in short-term endometrial tissue incubation, p38 MAPK pathway was involved in the steroid-mediated inhibition of TGF-β2 mRNA with no effect on TGF-βRII mRNA. This result suggests that p38 MAPK pathway may be an important regulator of TGF-β2 and TGF-βRII mRNA expression in vitro in diestrus endometrium, in cooperation with ovarian steroids.
This is a preview of subscription content, log in to check access.
Access options
Buy single article
Instant access to the full article PDF.
US$ 39.95
Price includes VAT for USA
Subscribe to journal
Immediate online access to all issues from 2019. Subscription will auto renew annually.
US$ 99
This is the net price. Taxes to be calculated in checkout.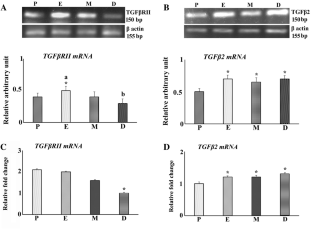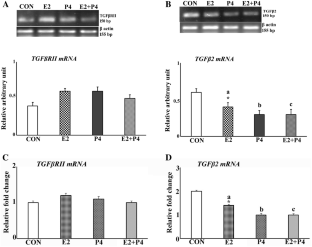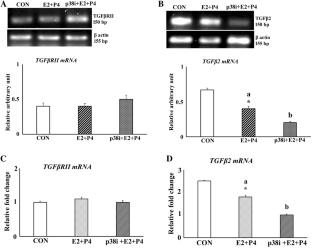 References
Akhurst, R.J., and A. Hata. 2012. Targeting the TGFβ signalling pathway in disease. Nature Reviews Drug Discovery 11: 790–811.

Ando, N., F. Hirahara, J. Fukushima, S. Kawamoto, K. Okuda, T. Funabashi, I. Gorai, and H. Minaguchi. 1998. Differential gene expression of the TGF-beta isoforms and TGF-beta receptors during the the first trimester of pregnancy at the human maternal-fetal interface. American Journal of Reproductive Immunology 40: 48–56.

Ballare, C., G. Vallejo, G.P. Vicent, P. Saragueta, and M. Beato. 2006. Progesterone signaling in breast and endometrium. The Journal of Steroid Biochemistry and Molecular Biology 102: 2–10.

Barnard, J.A., R.M. Lyons, and H.L. Moses. 1990. The cell biology of transforming growth factor beta. Biochimica et Biophysica Acta 1032: 79–87.

Bustin, S.A., V. Benes, J.A. Garson, J. Hellemans, J. Huggett, M. Kubista, R. Mueller, T. Nolan, M.W. Pfaffl, G.L. Shipley, and J. Vandesompele. 2009. The MIQE guidelines: minimum information for publication of quantitative real-time PCR experiments. Clinical Chemistry 55: 611–622.

Caron, P.L., G. Frechette-Frigon, C. Shooner, V. Leblanc, and E. Asselin. 2009. Transforming growth factor beta isoforms regulation of Akt activity and XIAP levels in rat endometrium during estrous cycle, in a model of pseudopregnancy and in cultured decidual cells. Reproductive Biology and Endocrinology 7: 80–93.

Casslen, B., T. Sandberg, B. Gustavsson, R. Willen, and M. Nilbert. 1998. Transforming growth factor β1 in the human endometrium. Cyclic variation, increased expression by estradiol and progesterone, and regulation of plasminogen activators and plasminogen activator inhibitor-1. Biology of Reproduction 58: 1343–1350.

Chegini, N.A.S.S.E.R., Y.O.N.G. Zhao, R.S. Williams, and K.C. Flanders. 1994. Human uterine tissue throughout the menstrual cycle expresses transforming growth factor-beta 1 (TGF beta 1), TGF beta 2, TGF beta 3, and TGF beta type II receptor messenger ribonucleic acid and protein and contains [125I] TGF beta 1-binding sites. Endocrinology 135: 439–449.

Chen, H.L., K.K. Yelavarthi, and J.S. Hunt. 1993. Identification of transforming growth factor-β1 mRNA in virgin and pregnant rat uterus by in situ hybridization. Journal of Reproductive Immunology 25: 221–233.

Chomczynski, P., and N. Sacchi. 1987. Single-step method of RNA isolation by acid guanidinium thiocyanate-phenol-chloroform extraction. Analytical Biochemistry 162: 156–159.

Das, S.K., K.C. Flanders, G.K. Andrews, and S.K. Dey. 1992. Expression of transforming growth factor-β isoforms (β2 and β3) in the mouse uterus: analysis of the peri-implantation period and effects of ovarian steroids. Endocrinology 130: 3459–3466.

Dharma, S.J., S.D. Kholkute, and T.D. Nandedkar. 2001. Apoptosis in endometrium of mouse during estrous cycle. Indian Journal of Experimental Biology 39: 218–222.

Derynck, R., J.A. Jarrett, E.Y. Chen, D.H. Eaton, J.R. Bell, R.K. Assoian, A.B. Roberts, M.B. Sporn, and D.V. Goeddel. 1985. Human transforming growth factor-β complementary DNA sequence and expression in normal and transformed cells. Nature 316: 701–705.

Gaide Chevronnay, H.P., P.B. Cornet, D. Delvaux, P. Lemoine, P.J. Courtoy, P. Henriet, and E. Marbaix. 2007. Opposite regulation of transforming growth factors-β2 and-β3 expression in the human endometrium. Endocrinology 149: 1015–1025.

Godkin, J.D., and J.J. Dore. 1998. Transforming growth factor beta and the endometrium. Reviews of Reproduction 3: 1–6.

Gold, L.I., B. Saxena, K.R. Mittal, M. Marmor, S. Goswami, L. Nactigal, M. Korc, and R.I. Demopoulos. 1994. Increased expression of transforming growth factor β isoforms and basic fibroblast growth factor in complex hyperplasia and adenocarcinoma of the endometrium: evidence for paracrine and autocrine action. Cancer Research 54: 2347–2358.

Govinden, R., and K.D. Bhoola. 2003. Genealogy, expression, and cellular function of transforming growth factor-beta. Pharmacology & Therapeutics 98: 257–265.

Gupta, A., C.M. Dekaney, F.W. Bazer, M.M. Madrigal, and L.A. Jaeger. 1998. Beta transforming growth factors (TGFβ) at the porcine conceptus–maternal interface. Part II: uterine TGFβ bioactivity and expression of immunoreactive TGFβs (TGFβ1, TGFβ2, and TGFβ3) and their receptors (type I and type II). Biology of Reproduction 59: 911–917.

Gupta, S., S.R. Moulik, P. Pal, S. Majumder, S. Das, P. Guha, S.K. Juin, A.K. Panigrahi, and D. Mukherjee. 2017. Estrogen-regulated expression of cyp19a1a and cyp19a1b genes in swim-up fry of Labeo rohita. General and Comparative Endocrinology 251: 85–93.

Hata, A., Y. Shi, and J. Massague. 1998. TGF-beta signaling and cancer: structural and functional consequences of mutations in Smads. Molecular Medicine Today 4: 257–262.

Herpin, A., C. Lelong, and P. Favrel. 2004. Transforming growth factor-β-related proteins: an ancestral and widespread superfamily of cytokines in metazoans. Developmental and Comparative Immunology 28: 461–485.

Ignotz, R.A., J. Heino, and J. Massague. 1989. Regulation of cell adhesion receptors by transforming growth factor-beta. Regulation of vitronectin receptor and LFA-1. Journal of Biological Chemistry 264: 389–392.

Jones, R.L., C. Stoikos, J.K. Findlay, and L.A. Salamonsen. 2006. TGF-β superfamily expression and actions in the endometrium and placenta. Reproduction 132: 217–232.

Jovanovic, A., and B. Kramer. 2010. The effect of hyperstimulation on transforming growth factor β1 and β2 in the rat uterus: possible consequences for embryo implantation. Fertility and Sterility 93: 1509–1517.

Kauma, S., D. Matt, S. Strom, D. Eierman, and T. Turner. 1990. Interleukin-1β, human leukocyte antigen HLA-DRα, and transforming growth factor-β expression in endometrium, placenta, and placental membranes. American Journal of Obstetrics and Gynaecology 163: 1430–1437.

Kundu, S., K. Pramanick, S. Paul, A. Bandyopadhyay, and D. Mukherjee. 2012. Expression of LH receptor in non-pregnant mouse endometrium: LH induction of 3β-HSD and synthesis of progesterone. Journal of Endocrinology 215: 151–165.

Lea, R.G., K.C. Flanders, C.B. Harley, J. Manuel, D. Banwatt, and D.A. Clark. 1992. Release of a tranforming growth factor (TGF)-β2-related suppressor factor from postimplantation murine decidual tissue can be correlated with the detection of a subpopulation of cells containing RNA for TGF-β2. Journal of Immunology 148: 778–787.

Li, Q., J.M. Graff, A.E. O'Connor, K.L. Loveland, and M.M. Matzuk. 2007. SMAD3 regulates gonadal tumorigenesis. Molecular Endocrinology 21: 2472–2486.

Lin, H.Y., D. Qian, X. Zhang, G.Y. Liu, H.M. Wang, and C. Zhu. 2006. Gene expression of transforming growth factor-β receptors types I and II in rat endometrium during the estrous cycle and early pregnancy. Life Sciences 78: 2669–2675.

Liu, G., W. Ding, J. Neiman, and K.M. Mulder. 2006. Requirement of Smad3 and CREB-1 in mediating transforming growth factor-β (TGFβ) induction of TGF β3 secretion. The Journal of Biological Chemistry 281: 29479–29490.

Lutz, M., and P. Knaus. 2002. Integration of the TGF-β pathway into the cellular signalling network. Cellular Signalling 14: 977–988.

Marshburn, P.B., A.M. Arici, and M.L. Casey. 1994. Expression of transforming growth factor-β1 messenger ribonucleic acid and the modulation of deoxyribonucleic acid synthesis by transforming growth factor-β1 in human endometrial cells. American Journal of Obstetrics and Gynecology 170: 1152–1158.

Massague, J. 1990. The transforming growth factor-beta family. Annual Review of Cell Biology 6: 597–641.

Massague, J. 1998. TGF-β signal transduction. Annual Review of Biochemistry 67: 753–791.

Massague, J., and Y.G. Chen. 2000. Controlling TGF-β signaling. Genes & Development 14: 627–644.

Massague, J. 2012. TGFβ signalling in context. Nature Reviews Molecular Cell Biology 13: 616–630.

Moulton, B.C. 1994. Transforming growth factor-beta stimulates endometrial stromal apoptosis in vitro. Endocrinology 134: 1055–1060.

Otsuka, M., Y. Negishi, and Y. Aramaki. 2007. Involvement of phosphatidylinositol-3-kinase and ERK pathways in the production of TGF-β1 by macrophages treated with liposomes composed of phosphatidylserine. FEBS Letters 581: 325–330.

Paul, S., K. Pramanick, S. Kundu, D. Kumar, and D. Mukherjee. 2010. Regulation of ovarian steroidogenesis in vitro by IGF-I and insulin in common carp, Cyprinus carpio: stimulation of aromatase activity and P450arom gene expression. Molecular and Cellular Endocrinology 315: 95–103.

Piek, E., C.H. Heldin, and P. Ten Dijke. 1999. Specificity, diversity, and regulation in TGF-β superfamily signaling. FASEB Journal 13: 2105–2124.

Rao, X., X. Huang, Z. Zhou, and X. Lin. 2013. An improvement of the 2ˆ (-delta delta CT) method for quantitative real-time polymerase chain reaction data analysis. Biostatistics, Bioinformatics and Biomathematics 3: 71–85.

Reis, F.M., M.F. Ribeiro, A.L. Maia, and P.M. Spritzer. 2002. Regulation of human endometrial transforming growth factor β1 and β3 isoforms through menstrual cycle and medroxyprogesterone acetate treatment. Histology and Histopathology 17: 739–745.

Sachdeva, G., V. Patil, R.R. Katkam, D.D. Manjramkar, S.D. Kholkute, and C.P. Puri. 2001. Expression profiles of endometrial leukemia inhibitory factor, transforming growth factor β2 (TGFβ2), and TGFβ2 receptor in infertile bonnet monkeys. Biology of Reproduction 65: 1–8.

Sato, T., Y. Fukazawa, H. Kojima, M. Enari, T. Iguchi, and Y. Ohta. 1997. Apoptotic cell death during the estrous cycle in the rat uterus and vagina. The Anatomical Record 248: 76–83.

Schmittgen, T.D., and K.J. Livak. 2008. Analyzing real-time PCR data by the comparative C T method. Nature Protocols 3: 1101–1108.

Sellheyer, K., J.R. Bickenbazh, J.A. Rothnagel, D. Bundman, M.A. Longley, T. Krieg, N.S. Roche, A.B. Roberts, and D.R. Roop. 1993. Inhibition of skin development by overexpression of transforming growth factor βl in epidermis of transgenic mice. Proceedings of National Academy of Sciences, USA 90: 5237–5241.

Seval, Y., H. Cakmak, U.A. Kayisli, and A. Arici. 2006. Estrogen-mediated regulation of p38 mitogen-activated protein kinase in human endometrium. The Journal of Clinical Endocrinology and Metabolism 91: 2349–2357.

Shooner, C., P.L. Caron, G. Frechette-Frigo, V. Leblanc, M.C. Déry, and E. Asselin. 2005. TGF-beta expression during rat pregnancy and activity on decidual cell survival. Reproductive Biology and Endocrinology 3: 20–38.

Shull, M.M., I. Ormsby, A.B. Kier, S. Pawlowski, R.J. Diebold, M. Yin, R. Allen, C. Sidman, G. Proetzel, D. Calvin, N. Annunziata, and T. Doetschman. 1992. Targeted disruption of the mouse transforming growth factor-βl gene results in multifocal inflammatory disease. Nature 359: 693–699.

Sporn, M.B., and A.B. Roberts. 1990. TGF-beta: problems and prospects. Cell Regulation 1: 875–882.

Tamada, H., M.T. McMaster, K.C. Flanders, G.K. Andrews, and S.K. Dey. 1990. Cell type-specific expression of transforming growth factor-β1 in the mouse uterus during the periimplantation period. Molecular Endocrinology 4: 965–972.

Ten Dijke, P., P. Hansen, K.K. Iwata, C. Pieler, and J.G. Foulkes. 1988. Identification of another member of the transforming growth factor type beta gene family. Proceedings of National Academy of Sciences, USA 85: 4715–4719.

von Wolff, M., C.J. Thaler, T. Strowitzki, J. Broome, W. Stolz, and S. Tabibzadeh. 2000. Regulated expression of cytokines in human endometrium throughout the menstrual cycle: dysregulation in habitual abortion. Molecular Human Reproduction 6: 627–634.

Wada, K., S. Nomura, E. Morii, Y. Kitamura, Y. Nishizawa, A. Miyake, and N. Terada. 1996. Changes in levels of mRNAs of transforming growth factor (TGF)-β1,-β2,-β3, TGF-β type II receptor and sulfated glycoprotein-2 during apoptosis of mouse uterine epithelium. The Journal of Steroid Biochemistry and Molecular Biology 59: 367–375.

Xia, W., M.T. Longaker, and G.P. Yang. 2006. P38 MAP kinase mediates transforming growth factor-β2 transcription in human keloid fibroblasts. American Journal of Physiology: Regulatory, Integrative and Comparative Physiology 290: 501–508.

Zenclussen, M.L., N. Linzke, A. Schumacher, S. Fest, N. Meyer, P.A. Casalis, and A.C. Zenclussen. 2015. Heme oxygenase-1 is critically involved in placentation, spiral artery remodeling, and blood pressure regulation during murine pregnancy. Frontiers in Pharmacology 5: 291.
Acknowledgements
This work is supported by grant-in-aid given to the first author Payel Guha as DST-INSPIRE Fellowship (Reg. No. IF- 131055) and by Department of Science and Technology (DST), Government of India (Ref. No. SR/SO/BB-0116/2012) and partially by UGC SAP to Department of Zoology, Kalyani University. We would like to thank Department of Microbiology, Department of Molecular Biology and Biotechnology, University of Kalyani for various infrastructural supports.
Ethics declarations
Conflict of interest
The authors declare that there is no conflict of interest that could be perceived as prejudicing the impartiality of the research reported.
About this article
Cite this article
Guha, P., Gupta, S., Majumder, S. et al. Transforming Growth Factor-β2 and Its Receptor Type II Messenger RNA Levels in Mice Endometrium and Their Regulation by Sex Steroids During Estrous Cycle. Proc Zool Soc 72, 401–410 (2019). https://doi.org/10.1007/s12595-018-0281-z
Received:

Revised:

Accepted:

Published:

Issue Date:
Keywords
TGF-β2

TGF-βRII

Estrogen

Progesterone

Estrous cycle

Mouse uterus