Abstract
We studied the seasonal diversity and relative abundance of waterbirds within an anthropogenic zone along the Mahanadi River in eastern India in the period August 2016 to July 2017. Fixed radius point count method was used to monitor the birds and estimating their population. A total of 58 species of waterbirds including 23 winter migrants in 15 families and five orders were identified. The species richness was observed highest (57 species) during February and March and lowest (28 species) during September. The species richness and their relative abundance varied significantly between different months (χ2 = 39.45, df = 11, P < 0.01), but not between seasons (F = 1.73, df = 2, 152, P > 0.05). Breeding activities of five globally threatened species: Endangered Black-bellied Tern, Vulnerable Indian Skimmer and Near Threatened River Tern, River Lapwing and Great Thick-knee were recorded from the study site. Therefore, protection and conservation of the site deserves priority during breeding season. It can be achieved through regular community awareness to the locals. Our study findings also create opportunities to reassess the breeding ecology of the globally threatened waterbirds.
This is a preview of subscription content, log in to check access.
Access options
Buy single article
Instant access to the full article PDF.
US$ 39.95
Price includes VAT for USA
Subscribe to journal
Immediate online access to all issues from 2019. Subscription will auto renew annually.
US$ 99
This is the net price. Taxes to be calculated in checkout.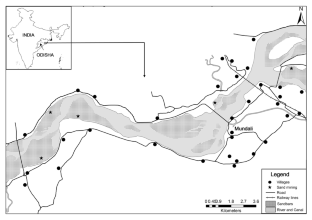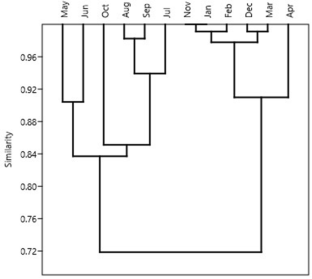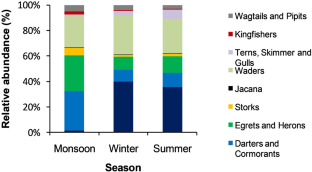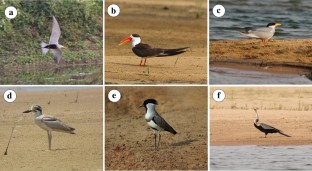 References
Ackerman, J.T., M.P. Herzog, and C.A. Hartman. 2014. Effects of human disturbance on waterbird nesting and reproductive success at restoration pond SF2, south San Francisco Bay, California. United States: U.S. Geological Survey.

Balachandran, S., P. Sathiyaselvam, and S. Panda. 2009. Bird atlas of Chilika. Mumbai: Bombay Natural History Society.

Bhat, I.P., S.S. Cristopher, and B.B. Hosetti. 2009. Avifaunal diversity of Anekere wetland, Karkala Udupi District, Karnataka, India. Journal of Environmental Biology 30: 1059–1062.

Bibby, C.J., N.D. Burgess, D.A. Hill, and S. Mustoe. 2000. Bird census techniques. California: Academic Press.

BirdLife International. 2001. Threatened birds of Asia: The BirdLife international red data book. UK: BirdLife International.

Crosby, M.J., and S. Chan. 2006. Threatened waterbird species in eastern and southern Asia and actions needed for their conservation. In Waterbirds around the world, ed. G.C. Boere, C.A. Galbraith, and D.A. Stroud, 332–338. UK: The Stationery Office.

Debata, S., T. Kar, K.K. Swain, and H.S. Palei. 2017. The vulnerable Indian Skimmer Rynchops albicollis Swainson, 1838 (Aves: Charadriiformes: Laridae) breeding in Odisha, eastern India. Journal of Threatened Taxa 9: 10961–10963. https://doi.org/10.11609/jott.3445.9.11.

Fraser, L.H., and P.A. Keddy. 2005. The world's largest wetlands: Ecology and conservation. Cambridge and New York: Cambridge University Press.

Gill, F. and D. Donsker. 2017. IOC World Bird List (v 7.3). https://doi.org/10.14344/ioc.ml.7.3.

Green, A.J. 1996. Analyses of globally threatened Anatidae in relation to threats, distribution, migration patterns and habitat use. Conservation Biology 10: 1435–1445. https://doi.org/10.1046/j.1523-1739.1996.10051435.x.

Green, A.J., and J. Elmberg. 2014. Ecosystem services provided by waterbirds. Biological Review 89: 105–122. https://doi.org/10.1111/brv.12045.

Grimmet, R., C. Inskipp, and T. Inskipp. 2011. Birds of the Indian subcontinent. India: Oxford University Press.

Hammer, Ø., D.A.T. Harper, and P.D. Ryan. 2001. PAST: Paleontological statistics software package for education and data analysis. Palaeontologica Electronica 4: 1–9.

Kelly, J.P., and J.G. Evens. 2013. Boating disturbance to waterbirds in california estuaries, ACR Technical Report. Marshall: Cypress Grove Research Center.

Khan, T.N. 2010. Temporal changes to the abundance and community structure of migratory waterbirds in Santragachhi Lake, West Bengal, and their relationship with water hyacinth cover. Current Science 99: 1570–1577.

Kumar, A., J.P. Sat, P.C. Tak, and J.R.B. Alfred. 2005. Handbook on Indian wetland birds and their conservation. Kolkata: Zoological Survey of India.

Kumar, J.I.N., H. Soni, and R.N. Kumar. 2007. Patterns of seasonal abundance and diversity in the waterbird community of Nal Lake Bird Sanctuary, Gujarat, India. Bird Populations 8: 1–20.

Kumar, P., and S.K. Gupta. 2013. Status of wetland birds of Chhilchhila Wildlife Sanctuary, Haryana, India. Journal of Threatened Taxa 5: 3969–3976. https://doi.org/10.11609/JoTT.o3158.3969-76.

Kumar, P., D. Rai, and S.K. Gupta. 2016. Wetland bird assemblage in rural ponds of Kurukshetra, India. Waterbirds 39: 86–98. https://doi.org/10.1675/063.039.0111.

Kumar, P. and A. Sharma. 2018. Wetland birds assemblages in man-made sacred ponds of Kurukshetra, India. In Proceedings of the Zoological Society. https://doi.org/10.1007/s12595-018-0259-x.

Lee, D.C., and S.J. Marsden. 2008. Adjusting count period strategies to improve the accuracy of forest bird abundance estimates from point transect distance sampling surveys. Ibis 150: 315–325. https://doi.org/10.1111/j.1474-919X.2007.00790.x.

Mazumdar, S. 2017. Composition of avian communities in a human-provided wetland Okhla bird sanctuary: With notes on conservation initiatives. Proceedings of the Zoological Society. https://doi.org/10.1007/s12595-017-0239-6.

Malik, D.S., and N. Joshi. 2013. Habitat selection pattern of migratory avifauna in relation to nutrients in Asan wetland at Doon Valley (Garhwal Himalaya), India. International Journal of Recent Scientific Research 4: 1470–1475.

Morrison, M.L. 1986. Bird populations as indicators of environmental changes. In Current ornithology, vol. 3, ed. R.F. Johnston, 429–451. Boston: Springer. https://doi.org/10.1007/978-1-4615-6784-4_10.

Mukhopadhyay, S., and S. Mazumdar. 2017. Composition, diversity and foraging guilds of avifauna in a suburban area of southern West Bengal, India. The Ring 39: 103–120.

Nair, M.V., S. Panda, and A.K. Pradhan. 2014. Hirakud wetlands, Odisha: A little known refuge and potential IBA for wintering waterfowl. In Waterbirds of India, ed. G.V. Gopi and S.A. Hussain, 186–201. Dehradun: Wildlife Institute of India.

O'Connel, M. 2000. Threats to waterbirds and wetlands: Implications for conservation, inventory and research. Wildfowl 51: 1–15.

Pradhan, S., L. Patnaik, D. Raut, and S. Swain. 2014. Assessment of plankton diversity of Mahanadi River at Jobra and Sikharpur, Cuttack. International Journal of Scientific & Engineering Research 5: 1061–1066. https://doi.org/10.14299/ijser.2014.0.

Prasad, S.N., T.V. Ramachandra, N. Ahalya, T. Sengupta, A. Kumar, A.K. Tiwari, V.S. Vijayan, and L. Vijayan. 2002. Conservaton of wetlands of India: A review. Tropical Ecology 43: 173–186.

Praveen, J., R. Jayapal, and A. Pittie. 2016. A checklist of the birds of India. Indian BIRDS 11: 113–172.

Rahmani, A.R. 2012. Threatened birds of India: Their conservation requirements. India: Oxford University Press.

Rahmani, A.R., and M.V. Nair. 2012. Threatened birds of Odisha. India: Oxford University Press.

Rajashekara, S., and M.G. Venkatesha. 2010. The diversity and abundance of waterbirds in lakes of Bangalore city, Karnataka, India. Biosystematica 4: 63–73.

Rajashekara, S., and M.G. Venkatesha. 2011. Community composition of aquatic birds in lakes of Bangalore. India. Journal of Environmental Biology 32 (1): 77–83.

Rajashekara, S., and M.G. Venkatesha. 2014. Eco-spatial and temporal variation in waterbirds composition and their relationship with habitat characteristics of urban lakes of Bengaluru city. India. International Journal of Advanced Research 2 (7): 60–80.

Rajashekara, S. and M.G. Venkatesha. 2017. Impact of urban threats and disturbance on the survival of waterbird communities in wetlands of Bengaluru City, India. In Proceedings of the Zoological Society https://doi.org/10.1007/s12595-017-0217-z.

Saygili, F., N. Yigit, and S. Bulut. 2011. The spatial and temporal distributions of waterbirds in Lakes Aksehir Eber and Lake Koyceigz in western Anatolia, Turkey—A comparative analysis. Turkish Journal of Zoology 35: 467–480. https://doi.org/10.3906/zoo-0911-99.

Singh, T.K. 2014. Fish diversity in selected stretch of the River Mahanadi in Odisha and the livelihood of inhabiting fisher community. International Research Journal of Biological Science 3: 98–104.

Swain, K.K., T. Kar, S. Debata, and H.S. Palei. 2017. A preliminary study on habitat characteristic and population status of vulnerable Indian Skimmer (Rynchops albicollis) along the Mahanadi river bed in Chandaka Wildlife Division, Odisha. Bhubaneswar: Chandaka Wildlife Division and Aranya Foundation.

Urfi, A.J., M. Sen, A. Kalam, and J. Megnathan. 2005. Counting birds in India: Methodologies and trends. Current Science 89: 1997–2003.

Zakaria, M., M.N. Rajpar, and S.A. Sajap. 2009. Species diversity and feeding guilds of birds in Paya Indah Wetland Reserve, Peninsular Malaysia. International Journal of Zoological Research 5: 86–100. https://doi.org/10.3923/ijzr.2009.86.100.
Acknowledgements
The study was carried out with the financial support from the State Forest Department, Odisha allotted to Chandaka Wildlife Division. We are thankful to the Divisional Forest Officer, Chandaka Wildlife Division for providing logistic support during the study. Special thanks to the local people of the study area for their help and support during the study.
About this article
Cite this article
Kar, T., Debata, S. Assemblage of Waterbird Species in an Anthropogenic Zone Along the Mahanadi River of Odisha, Eastern India: Implications for Management. Proc Zool Soc 72, 355–363 (2019). https://doi.org/10.1007/s12595-018-0276-9
Received:

Revised:

Accepted:

Published:

Issue Date:
Keywords
Conservation

Mahanadi River

Odisha

Threatened birds

Waterbirds