Abstract
Background
Structural remodeling in chronic systolic heart failure (HF) is associated with neurohormonal and hemodynamic perturbations among HF patients presenting with cardiogenic shock (CS) and HF. Our objective was to test the hypothesis was that atrial remodeling marked by an increased right atrial volume index (RAVI) to left atrial volume index (LAVI) ratio is associated with adverse clinical outcomes in CS.
Methods
Patients in this cohort were admitted to the intensive care unit with evidence of congestion (pulmonary capillary wedge pressure > 15) and cardiogenic shock (cardiac index < 2.2, systolic blood pressure < 90 mmHg, and clinical evidence supporting CS) and had an echocardiogram at the time of admission. RAVI was measured using Simpson's method in the apical four-chamber view, while LAVI was measured using the biplane disc summation method in the four and two-chamber views by two independent observers. Cox proportional hazards regression analysis was used to assess the association of RAVI-LAVI with the combined outcome of death or left ventricular assist device (LVAD).
Results
Among 113 patients (mean age 59 ± 14.9 years, 29.2% female), median RAVI/LAVI was 0.84. During a median follow-up of 12 months, 43 patients died, and 65 patients had the combined outcomes of death or LVAD. Patients with RAVI/LAVI ratio above the median had a greater incidence of death or LVAD (Log-rank p ≤ 0.001), and increasing RAVI/LAVI was significantly associated with the outcomes of death or LVAD (HR 1.71 95% CI 1.11–2.64, chi square 5.91, p = 0.010) even after adjustment for patient characteristics, echocardiographic and hemodynamic variables.
Conclusion
RAVI/LAVI is an easily assessed novel echocardiographic parameter strongly associated with the survival and or the need for mechanical circulatory support in patients with CS.
Access options
Buy single article
Instant access to the full article PDF.
USD 39.95
Price includes VAT (USA)
Tax calculation will be finalised during checkout.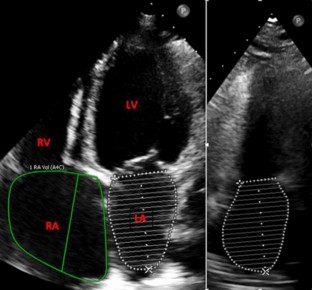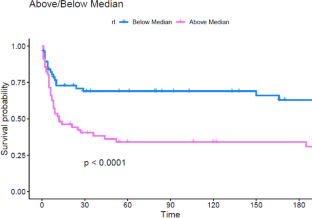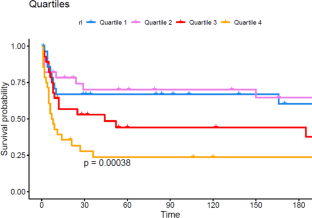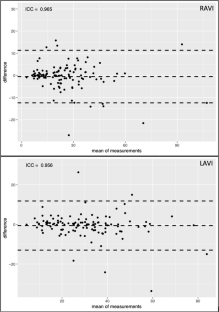 References
1.

Reynolds HR, Hochman JS. Cardiogenic shock. Circulation. 2008;117:686–97.

2.

Hartupee J, Mann D. Neurohormonal activation in heart failure with reduced ejection fraction. Nat Rev Cardiol. 2017;14:30–8.

3.

Carluccio E, Biagioli P, Alumni G, et al. Prognostic value of right ventricular dysfunction in heart failure with reduced ejection fraction. Circ Cardiovasc Imaging. 2018;11:e006894.

4.

Sallach JA, Tang WH, Borowski AG, et al. Right atrial volume index in chronic systolic heart failure and prognosis. J Am Coll Cardiol. 2009;2:527–34.

5.

Darahim K. Usefulness of right atrial volume index in predicting outcome in chronic systolic heart failure. J Saudi Heart Assoc. 2014;26(2):73–9.

6.

Mysore MM, Bilchick KC, Ababio P, et al. Right atrial to left atrial volume index ratio is associated with increased mortality in patients with pulmonary hypertension. Echocardiography. 2018;35:1729–35.

7.

Lang RM, Badano LP, Mor-Avi V, et al. Recommendation for cardiac chamber quantification by echocardiography in adults: an update from the American Society of Echocardiography and the European Association of Cardiovascular Imaging. J Am Soc Echocardiogr. 2015;28(1):1–39.

8.

Deano RC, Glassner-Kolmin C, Rubenfire M, et al. Referral of patients with pulmonary hypertension diagnoses to tertiary pulmonary hypertension centers: the Multicenter rePHerral Study. JAMA Intern Med. 2013;173(10):887–93.

9.

Rudiger A, Harjola VP, Muller A, et al. Acute heart failure: clinical presentation, one-year mortality and prognostic factors. Eur J Heart Failure. 2005;7:662–70.

10.

Mosterd A, Hoes AW. Clinical epidemiology of heart failure. Heart. 2007;93:1137–46.

11.

Jones TL, Nakamura K, McCabe JM. Cardiogenic shock: evolving definitions and future directions in management. Open Heart. 2019;6:e000960.

12.

Ghio S, Guazzi M, Scardovi AB, et al. Different correlates but similar prognostic implications for right ventricular dysfunction in heart failure patients with reduced or preserved ejection fraction. Eur J Heart Fail. 2017;19:873–9.

13.

Mohammed SF, Hussain I, AbouEzzeddine O, et al. Right ventricular function in heart failure with preserved ejection fraction: a community-based study. Circulation. 2014;130:2310–20.

14.

Iglesias-Garriz I, Olalla-Gómez C, Garrote C, et al. Contribution of right ventricular dysfunction to heart failure mortality: a meta-analysis. Rev Cardiovasc Med. 2012;13:62.

15.

Frea S, Pidello S, Bovolo V, et al. Prognostic incremental role of right ventricular function in acute decompensation of advanced chronic heart failure. Eur J Heart Fail. 2016;18:564–72.

16.

Polak JF, Holman BL, Wynne J, et al. Right ventricular ejection fraction: an indicator of increased mortality in patients with congestive heart failure associated with coronary artery disease. J Am Coll Cardiol. 1983;2:217–24.

17.

Fares G, Wassim H, Bellumkonda L, et al. Right atrial pressure/pulmonary artery wedge pressure ratio: a more specific predictor of survival in pulmonary arterial hypertension. J Heart Lung Transplant. 2016;35(6):760–7.

18.

Cioffi G, de Simone G, Mureddu G, et al. Right atrial size and function in patients with pulmonary hypertension associated with disorders of respiratory system or hypoxemia. Eur J Echocardiography. 2007;8:322–31.

19.

Lewis JF, Webber JD, Sutton LL, et al. Discordance in degree of right and left ventricular dilation in patients with dilated cardiomyopathy: recognition and clinical implications. J Am Coll Cardiol. 1993;21:649–54.

20.

Wharton G, Steeds R, Allen J, et al. A minimum dataset for a standard adult transthoracic echocardiogram: a guideline protocol from the British Society of Echocardiography. Echo Research and Practice. 2015;2(1):G9–24.

21.

Marsan NA, Tops LF, Holman ER, et al. Comparison of left atrial volumes and function by real-time three-dimensional echocardiography in patients having cathete ablation for atrial fibrillation with persistence of sinus rhythm versus recurrent atrial fibrillation three months later. Am J Cardiol. 2008;102:847–53.

22.

Lang RM, Badano LP, Tsang W, et al. EAE/ASE recommendations for image acquisition and display using three-dimensional echocardiography. Eur Heart J Cardiovasc Imaging. 2012;13(1):1–46.
Funding
Dr. Breathett has research funding from National Heart, Lung, and Blood Institute (NHLBI) K01HL142848, R25HL126146 subaward 11692sc, and L30HL148881; University of Arizona Health Sciences, Strategic Priorities Faculty Initiative Grant; and University of Arizona, Sarver Heart Center, Novel Research Project Award in the Area of Cardiovascular Disease and Medicine, Anthony and Mary Zoia Research Award. Dr. Bilchick's work on this project was supported by grants R56 HL135556 and R21HL140445 from the NHLBI. He also has research support from Medtronic and Siemens Healthineers. Nishaki Mehta has received a speaker honorarium from Abbot/Medtronic.
Ethics declarations
Conflict of interest
Paras Patel, Patrick L. Stafford, McCall R. Walker, Sami Ibrahim, David Martin, Yaqub Betz, Toral Patel, Younghoon Kwon, Nishtha Sodhi, Hunter Mwansa, Khadijah Breathett, and Sula Mazimba declare that they have no conflict of interest.
Human rights statements
All procedures followed were in accordance with the ethical standards of the responsible committee on human experimentation (institutional and national) and with the Helsinki Declaration of 1964 and later versions.
Informed consent
Informed consent was obtained from all patients for being included in the study.
Additional information
Publisher's Note
Springer Nature remains neutral with regard to jurisdictional claims in published maps and institutional affiliations.
About this article
Cite this article
Patel, P.R., Stafford, P.L., Bilchick, K.C. et al. Right atrial volume index to left atrial volume index ratio is associated with adverse clinical outcomes in cardiogenic shock. J Echocardiogr (2021). https://doi.org/10.1007/s12574-021-00552-7
Received:

Revised:

Accepted:

Published:
Keywords
Cardiogenic shock

Chronic systolic heart failure

Right atrial volume index

Outcomes