Abstract
In this paper we investigate the parameter estimation of the fiber lay-down process in the production of nonwovens. The parameter estimation is based on the mass per unit area data, which is available at least on an industrial scale. We introduce a stochastic model to represent the fiber lay-down and through the model's parameters we characterize this fiber lay-down. Based on the occupation time, which is the equivalent quantity for the mass per unit area in the context of stochastic dynamical systems, an optimization procedure is formulated that estimates the parameters of the model. The optimization procedure is tested using occupation time data given by Monte–Carlo simulations. The feasibility of the optimization procedure on an industrial level is tested using the fiber paths simulated by the industrial software FYDIST.
This is a preview of subscription content, log in to check access.
Access options
Buy single article
Instant access to the full article PDF.
US$ 39.95
Price includes VAT for USA
Subscribe to journal
Immediate online access to all issues from 2019. Subscription will auto renew annually.
US$ 99
This is the net price. Taxes to be calculated in checkout.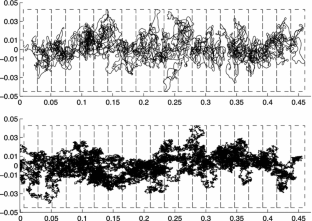 References
1.

Bock, W., Götz, T., Grothaus, M., Liyanage. U.: Parameter estimation from occupation times (2011). arXiv:1105.5552v1 [math.NA]

2.

Bonilla, L., Götz, T., Klar, A., Marheineke, N., Wegener, R.: Hydrodynamic limit of a Fokker–Planck equation describing fiber lay-down processes. SIAM J. Appl. Math. 68(3), 648–665 (2008)

3.

Götz, T., Klar, A., Marheineke, N., Wegener, R.: A stochastic model for the fiber lay-down process in the nonwoven production. SIAM J. Appl. Math. 67(6), 1704–1717 (2007)

4.

Kloeden, P., Platen, E.: Numerical Solution of Stochastic Differential Equations. Springer, Berlin (1992)

5.

MathWorks. MATLAB 7 Function Reference, (2007)

6.

Müller-Gronbach, T., Ritter, K.: Variable subspace sampling and multi-level algorithms. In: L'Ecuyer, P., Owen, A. (eds.) Monte Carlo and Quasi-Monte Carlo Methods 2008, pp. 131–156. Springer, Berlin (2009)
About this article
Cite this article
Bock, W., Götz, T. & Liyanage, U.P. Parameter estimation of fiber lay-down in nonwoven production: an occupation time approach. Int J Adv Eng Sci Appl Math 10, 2–8 (2018). https://doi.org/10.1007/s12572-018-0203-3
Keywords
Parameter estimation

Fiber-Lay down

Ornstein–Uhlenbeck