Abstract
Nutrition-sensitive agriculture programs hold substantial promise for improving access to nutritious food in contexts like rural Nepal. Yet, implementing such programs in geographically and culturally diverse settings can be challenging. To better understand the contextual factors that influence the ability of program participants to benefit from agriculture-nutrition interventions, we qualitatively examined the implementation of Helen Keller International's Homestead Food Production program (HFP) in far-western Nepal. Data collection consisted of shadowing program staff for three months, interviewing program participants (n = 31) and staff (n = 10), and conducting three focus-group discussions with female community health volunteers (n = 28). An integrated food and nutrition system framework guided thematic analysis. Participants demonstrated high levels of knowledge about the program's nutrition messages and expressed interest in and motivation to engage in the HFP program. However, access to water, land, and time determined the extent to which their full participation in the program was feasible. Factors within the biophysical and sociocultural environments interacted to influence access to these crucial resources. Some program participants and staff provided examples of ways in which they overcame these contextual constraints. These included investing in micro-irrigation equipment, arranging land-sharing agreements, and demonstrating more equitable gender norms. Successfully implementing nutrition-sensitive agriculture requires addressing context-specific structural barriers, particularly when aiming to benefit the most vulnerable. Long-term solutions to the barriers faced by the most marginalized households will require broad structural changes. However, problem-solving strategies used by program participants and staff also point towards immediate actions that programs can take to expand the potential for marginalized households to fully participate.
Access options
Buy single article
Instant access to the full article PDF.
USD 39.95
Price excludes VAT (USA)
Tax calculation will be finalised during checkout.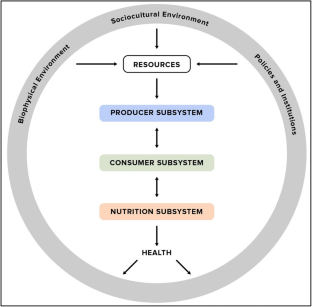 References
Adhikari, J. (2008). Food crisis in Karnali. Kathmandu: Martin Chautari Press.

Adhikari, J. (2011). Contentions and prospects of land reform in Nepal: a historical review. New Angle: Nepal Journal of Social Science and Public Policy, 1, 17–31.

Arimond, M., Hawkes, C., Ruel, M., Sifri, Z., Berti, P., Leroy, J., et al. (2011). Agricultural interventions and nutrition: Lessons from the past and new evidence. In B. Thompson & L. Amoroso (Eds.), Combating micronutrient deficiencies: Food-based approaches (pp. 41–75). Oxfordshire: CABI.

Berti, P. R., Krasevec, J., & FitzGerald, S. (2004). A review of the effectiveness of agriculture interventions in improving nutrition outcomes. Public Health Nutrition, 7(5), 599–609.

Bhandari, S., & Banjara, M. R. (2015). Micronutrients deficiency, a hidden hunger in Nepal: prevalence, causes, consequences, and solutions. International Scholarly Research Notices, Article ID 276469, 1–9.

Bird, F. A., Pradhan, A., Bhavani, R., & Dangour, A. D. (2019). Interventions in agriculture for nutrition outcomes: a systematic review focused on South Asia. Food Policy, 82, 39–49.

Bourdieu, P. (1990). The logic of practice. Palo Alto: Stanford University Press.

Broaddus-Shea, E. T., Thorne-Lyman, A. L., Manohar, S., Nonyane, B. A., Winch, P. J., & West Jr., K. P. (2018). Seasonality of consumption of nonstaple nutritious foods among young children from Nepal's 3 agroecological zones. Current Developments in Nutrition, 2(9), nzy058.

Burchi, F., Fanzo, J., & Frison, E. (2011). The role of food and nutrition system approaches in tackling hidden hunger. International Journal of Environmental Research and Public Health, 8(2), 358–373.

Choufani, J., Kennedy, A., Pandey, P., & Cunningham, K. (2017). A program impact pathways mediation analysis of a multi-sectoral nutrition program in Nepal. The FASEB Journal, 31 Supplement 786.34.

Cole, S. M., Kantor, P., Sarapura, S., & Rajaratnam, S. (2014). CGIAR research program on aquatic agricultural systems. Working paper: AAS-2014-42. Penang, Malaysia.

Cunningham, K., Ploubidis, G. B., Menon, P., Ruel, M., Kadiyala, S., Uauy, R., & Ferguson, E. (2015). Women's empowerment in agriculture and child nutritional status in rural Nepal. Public Health Nutrition, 18(17), 3134–3145.

Cunningham, K., Singh, A., Menon, P., Avula, R., Rana, P. P., Oyloe, P., et al. (2016). Improving Nepal's female community health volunteers'(FCHV) infant and young child feeding (IYCF) exposure and knowledge: results from implementation research on the Suaahara program. The FASEB Journal, 30 Supplement 669.13.

Cunningham, K., Singh, A., Pandey Rana, P., Brye, L., Alayon, S., Lapping, K., et al. (2017). Suaahara in Nepal: an at-scale, multi-sectoral nutrition program influences knowledge and practices while enhancing equity. Maternal and Child Nutrition, 13(4), e12415.

Cunningham, K., Suresh, S., Kjeldsberg, C., Sapkota, F., Shakya, N., & Manandhar, S. (2019). From didactic to personalized health and nutrition counselling: a mixed-methods review of the GALIDRAA approach in Nepal. Maternal and Child Nutrition, 15(2), e12681.

Dulal, B., Mundy, G., Sawal, R., Rana, P. P., & Cunningham, K. (2017). Homestead food production and maternal and child dietary diversity in Nepal: variations in association by season and agroecological zone. Food and Nutrition Bulletin, 38(3), 338–353.

Dury, S., & Bichard, A. (2015). The negative side of the agricultural–nutrition impact pathways: a literature review. World Food Policy, 2(1), 78–100.

Fan, S., Yosef, S., & Pandya-Lorch, R. (2019). Seizing the momentum to reshape agriculture for nutrition. In S. Fan, S. Yosef, & R. Pandya-Lorch (Eds.), Agriculture for improved nutrition: Seizing the momentum (pp. 1–15). UK: CABI.

Fiorella, K. J., Chen, R. L., Milner, E. M., & Fernald, L. C. (2016). Agricultural interventions for improved nutrition: a review of livelihood and environmental dimensions. Global Food Security, 8, 39–47.

Giddens, A. (1984). The constitution of society: Outline of the theory of structuration. Berkeley: University of California Press.

Gillespie, S., Poole, N., van den Bold, M., Bhavani, R., Dangour, A. D., & Shetty, P. (2019). Leveraging agriculture for nutrition in South Asia: what do we know, and what have we learned? Food Policy, 82, 3–12.

Girard, A. W., Self, J. L., McAuliffe, C., & Olude, O. (2012). The effects of household food production strategies on the health and nutrition outcomes of women and young children: a systematic review. Paediatric and Perinatal Epidemiology, 26(s1), 205–222.

Government of Nepal Central Bureau of Statistics. (2011). 2011 Nepal census. Kathmandu: Central Bureau of Statistics.

Herforth, A., Lidder, P., & Gill, M. (2015). Strengthening the links between nutrition and health outcomes and agricultural research. Food Security, 7(3), 457–461.

Johnston, D., Stevano, S., Malapit, H. J. L., Hull, E., & Kadiyala, S. (2015). Agriculture, gendered time use, and nutritional outcomes: A systematic review. IFPRI Discussion Paper 01456: IFPRI and CGIAR.

Kantor, P., Morgan, M., & Choudhury, A. (2015). Amplifying outcomes by addressing inequality: the role of gender-transformative approaches in agricultural research for development. Gender, Technology and Development, 19(3), 292–319.

Leroy, J. L., & Frongillo, E. A. (2007). Can interventions to promote animal production ameliorate undernutrition? The Journal of Nutrition, 137(10), 2311–2316.

Lundgren, R., Gibbs, S., & Kerner, B. (2018). Does it take a village? Fostering gender equity among early adolescents in Nepal. International Journal of Adolescent Medicine and Health, (published online ahead of print), 20170164.

Malla, G. (2009). Climate change and its impact on Nepalese agriculture. Journal of Agriculture and Environment, 9, 62–71.

Masset, E., Haddad, L., Cornelius, A., & Isaza-Castro, J. (2012). Effectiveness of agricultural interventions that aim to improve nutritional status of children: systematic review. British Medical Journal (Clinical Research Ed.), 344, d8222.

McDermott, J., Johnson, N., Kadiyala, S., Kennedy, G., & Wyatt, A. J. (2015). Agricultural research for nutrition outcomes–rethinking the agenda. Food Security, 7(3), 593–607.

Menon, P., Covic, N. M., Harrigan, P. B., Horton, S. E., Kazi, N. M., Lamstein, S., Neufeld, L., Oakley, E., & Pelletier, D. (2014). Strengthening implementation and utilization of nutrition interventions through research: a framework and research agenda. Annals of the New York Academy of Sciences, 1332(1), 39–59.

Ministry of Health (MOH) Nepal, New ERA/Nepal, and ICF. (2016). Nepal demographic and health survey. Kathmandu: MOH/Nepal, New ERA/Nepal, and ICF.

Nandargi, S., & Dhar, O. (2015). Hydrometeorological study of the Himalayan region. Austin Journal of Earth Science, 2(1), 1010.

Nepal Department of Health Services. (2011). Annual Report. Kathmandu: Ministry of Health and Population Government of Nepal.

Nepal, K. (2004). We came, we saw, and we fled. Nepali Times. http://archive.nepalitimes.com/news.php?id=2027#.Xn5mwepKjX4. Accessed 6 Aug 2019.

Neupane, B. (2015). Integrating nutrition in local governance structures: An example from Suaahara Program Nepal. The FASEB Journal, 29(1_supplement), 741–743.

Pain, A., Ojha, H., & Adhikari, J. (2014). Social inequality and food insecurity in Nepal: Risks and responses. In I. Christoplos & A. Pain (Eds.), New challenges to food security: From climate change to fragile states (pp. 221–241). Oxfordshire: Taylor and Francis.

Paudel, D. B., & Saito, K. (2015). Impact of implementation of current land reform policy in Nepal. The Japanese Journal of Rural Economics, 17, 35–39.

Postel, S., Polak, P., Gonzales, F., & Keller, J. (2001). Drip irrigation for small farmers: A new initiative to alleviate hunger and poverty. Water International, 26(1), 3–13.

Regmi, M. C. (1976). Landownership in Nepal. University of California Press.

Ruel, M. T. (2019). New evidence on nutrition-sensitive agricultural programs. In S. Fan, S. Yosef, & R. Pandya-Lorch (Eds.), Agriculture for improved nutrition: Seizing the momentum (pp. 93–103). Oxfordshire: CABI.

Ruel, M. T., Alderman, H., & Maternal, & Group, C. N. S. (2013a). Nutrition-sensitive interventions and programmes: how can they help to accelerate progress in improving maternal and child nutrition? The Lancet, 382(9891), 536–551.

Ruel, M. T., Harris, J., & Cunningham, K. (2013b). Diet quality in developing countries. In Diet quality (pp. 239–261). New York: Humana Press.

Ruel, M. T., Quisumbing, A. R., & Balagamwala, M. (2018). Nutrition-sensitive agriculture: what have we learned so far? Global Food Security, 17, 128–153.

Schreinemachers, P., Simmons, E. B., & Wopereis, M. C. (2018). Tapping the economic and nutritional power of vegetables. Global Food Security, 16, 36–45.

Schulze, K. J., Christian, P., Wu, L. S.-F., Arguello, M., Cui, H., Nanayakkara-Bind, A., Stewart, C. P., Khatry, S. K., LeClerq, S., & West Jr., K. P. (2014). Micronutrient deficiencies are common in 6-to 8-year-old children of rural Nepal, with prevalence estimates modestly affected by inflammation. The Journal of Nutrition, 144(6), 979–987.

Scientific Software Development. (2014). Atlas.ti (7.0 ed.). Berlin: Germany.

Shah, T., & Keller, J. (2002). Micro-irrigation and the poor: A marketing challenge in smallholder irrigation development. In Private irrigation in sub-Saharan Africa: Regional seminar on private sector participation and irrigation expansion in sub-Saharan Africa, 22–26 October 2001, Accra, Ghana, 2002 (pp. 165–184): International Water Management Institute, Food and Agriculture Organization of the United Nations, and ACP-EU Technical Centre for Agricultural and Rural Cooperation Colombo, Sri Lanka.

Shetty, P. (2018). Nutrition sensitive agriculture to achieve better nutritional outcomes. European Journal of Clinical Nutrition, 72(9), 1296–1299.

Sobal, J., Khan, L. K., & Bisogni, C. (1998). A conceptual model of the food and nutrition system. Social Science and Medicine, 47(7), 853–863.

Suresh, S., Paxton, A., Pun, B. K., Gyawali, M. R., Kshetri, I. D., Rana, P. P., & Cunningham, K. (2019). Degree of exposure to interventions influences maternal and child dietary practices: evidence from a large-scale multisectoral nutrition program. PLoS One, 14(8).

Thorne-Lyman, A. L., Shrestha, M., Fawzi, W. W., Pasqualino, M., Strand, T. A., Kvestad, I., et al. (2019). Dietary diversity and child development in the far West of Nepal: a cohort study. Nutrients, 11(8), 1799.

UNDP, & Government of Nepal National Planning Commission. (2014). Nepal human Development report. Kathmandu: Government of Nepal.

United Nations Field Coordination Office (2013). District profile of Bajura. Far Western Region, Dadeldhura, Nepal: United Nations Field Coordination Office.

Upadhyay, B. (2004). Gender aspects of smallholder irrigation technology: insights from Nepal. Journal of Applied Irrigation Science, 39(2), 315–327.

Verbowski, V., Talukder, Z., Hou, K., Sok Hoing, L., Michaux, K., Anderson, V., et al. (2018). Effect of enhanced homestead food production and aquaculture on dietary intakes of women and children in rural Cambodia: a cluster randomized controlled trial. Maternal and Child Nutrition, 14(3), e12581.

von Grebmer, K., Bernstein, J., Hossain, N., Brown, T., Prasai, N., Yohannes, Y., et al. (2017). 2017 global hunger index: The inequalities of hunger. Washington, D.C.; Bonn; and Dublin: International Food Policy Research Institute, Welthungerhilfe, and Concern Worldwide.

Weber, M. (2009). From max Weber: Essays in sociology. London: Routledge.
Acknowledgments
Funding for this research was provided by a Student Research Grant from the Fulbright Program and the first author also was supported through a Center for a Livable Future—Lerner Fellowship during data analysis and manuscript preparation. We would like to acknowledge the many staff members of Suaahara and Helen Keller International who provided extensive logistical support and guidance on this research (Dale Davis, Peter Oyloe, Nirmala Pandey, Madhukar Shrestha, Bishow Neupane, Badri Paudel, Rajeev Bandera, Gagan Thagunna, Lokendra Thapa, Purna Humal, Satya Joshi, Amrit Pandey, Chitra Subedi, Krishna Chapagai), as well as the members and staff of Women's Development Forum Bajura, particularly Meena Shahi and all the Bajura field supervisors. The first author would also like to acknowledge Geeta Manandhar for providing excellent Nepali language training and Laurie Vasily for her advice and encouragement. Finally, we greatly appreciate the many program participants and female community health volunteers (FCHVs) who participated in this research.
Ethics declarations
Conflict of interest
The authors declare that they have no conflict of interest.
Statements of human rights and informed consent
These statements are included in the Methods section of the paper.
About this article
Cite this article
Broaddus-Shea, E.T., Shrestha, B.T., Rana, P.P. et al. Navigating structural barriers to the implementation of agriculture-nutrition programs in Nepal. Food Sec. 12, 679–690 (2020). https://doi.org/10.1007/s12571-020-01031-0
Received:

Accepted:

Published:

Issue Date:

DOI: https://doi.org/10.1007/s12571-020-01031-0
Keywords