Abstract
Despite the recognition that farmers are an important source of agricultural innovations, farmer-generated innovations have received little attention from researchers. This paper presents the experiences and outcomes of applying contests to elicit farmer-generated innovations and to reward outstanding farmer innovators in selected districts in Ethiopia, Kenya, Malawi and Zambia. The contests attracted 349 eligible entries, most of which were submitted by male innovators. The identified innovations were mainly technically-oriented practices, and only very few institutional innovations were recognized. The most common domains of innovations were related to livestock, crop management, and soil and water management. In particular, many of the innovators were using local resources to develop plant-based biopesticides and ethnoveterinary medicines in order to reduce production costs and improve food production. The findings of this study suggest that farmers are active experimenters who continuously generate remarkable and locally adapted innovations, which can indirectly contribute to efforts to achieve sustainable agricultural intensification or to make agriculture climate smart. The study concludes that farmers possess valuable ethnobotanical knowledge and innovation-generating potential that need to be harnessed and supported; and contest is an effective means to scout and acknowledge farmer innovators while simultaneously raising awareness of the farmer innovation approach among relevant stakeholders.
This is a preview of subscription content, log in to check access.
Access options
Buy single article
Instant access to the full article PDF.
US$ 39.95
Price includes VAT for USA
Subscribe to journal
Immediate online access to all issues from 2019. Subscription will auto renew annually.
US$ 99
This is the net price. Taxes to be calculated in checkout.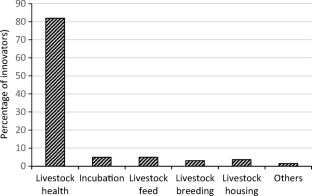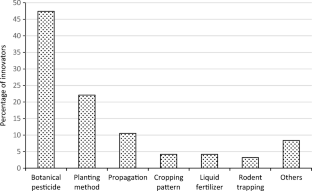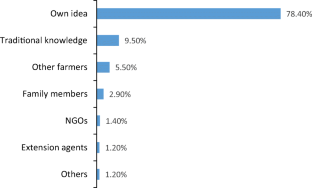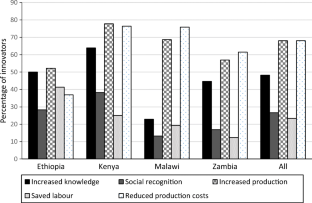 Notes
1.

The radio stations include Zodiak and MBC 1 in Malawi; West FM and Mayienga FM in Kenya; EBC radio in Ethiopia; and Byta FM, Radio Maria and Sky FM in Zambia. The radio jingles were produced in the following languages: Oromiffa and Amharic in Ethiopia; Kiswahili, Luhya and Luo in Kenya; Chichewa and Tumbuka in Malawi; and English, Tonga and Nyanja/Chichewa in Zambia.
References
Adamczyk, S., Bullinger, A. C., & Möslein, K. M. (2012). Innovation contests: a review, classification and outlook. Creativity and Innovation Management, 21(4), 335–360.

Bentley, J. W. (2006). Folk experiments. Agriculture and Human Values, 23(4), 451–462.

Biggs, S. D. (1990). A multiple source of innovation model of agricultural research and technology promotion. World Development, 18(11), 1481–1499.

Bragdon, S. H., & Smith, C. (2015). Small-scale farmer innovation. Geneva: Quaker United Nations Office.

Brunt, L., Lerner, J., & Nicholas, T. (2012). Inducement prizes and innovation. The Journal of Industrial Economics, 60(4), 657–696.

Chambers, R., Pacey, A., & Thrupp, L. A. (1989). Farmers first: Farmer innovation and agricultural research. London: Intermediate Technical Publications.

Clancy, M. S., & Moschini, G. (2013). Incentives for innovation: patents, prizes, and research contracts. Applied Economic Perspectives and Policy, 35(2), 206–241.

Critchley, W. R. S. (2000). Inquiry, initiative and inventiveness: farmer innovators in East Africa. Physics and Chemistry of the Earth, Part B: Hydrology, Oceans and Atmosphere, 25(3), 285–288.

Critchley, W. R. S., & Mutunga, K. (2003). Local innovation in a global context: documenting farmer initiatives in land husbandry through WOCAT. Land Degradation & Development, 14(1), 143–162.

Davis, L., & Davis, J. (2004). How effective are prizes as incentives to innovation? Evidence from three 20th century contests. Elsinore: DRUID summer conference.

Find Your Feet. (2012). Recognising the unrecognised: Farmer innovation in northern Malawi. London: Find Your Feet.

Gupta, A. K. (2016). Grassroots innovation. India: Penguin Books.

Kalil, T. (2006). Prizes for technological innovation. Discussion paper 2006–08. Washington, DC: The Hamilton Project, Brookings Institution.

Leitgeb, F., Kummer, S., Funes-Monzote, F. R., & Vogl, C. R. (2014). Farmers' experiments in Cuba. Renewable Agriculture and Food Systems, 29(1), 48–64.

Letty, B., Noordin, Q., Magagi, M., & Waters-Bayer, A. (2011). Farmers take the lead in research and development. In The Worldwatch Institute (2011). State of the world: Innovations that nourish the planet. Washington, DC: The Worldwatch Institute.

Masters, W. A., & Delbecq, B. (2008). Accelerating innovation with prize rewards: History and typology of technology prizes and a new contest design for innovation in African agriculture. IFPRI Discussion Paper 00835, Washington, DC.

Moser, P., & Nicholas, T. (2013). Prizes, publicity and patents: non-monetary awards as a mechanism to encourage innovation. The Journal of Industrial Economics, 61(3), 763–788.

Murray, F., Stern, S., Campbell, G., & MacCormack, A. (2012). Grand innovation prizes: a theoretical, normative, and empirical evaluation. Research Policy, 41(10), 1779–1792.

Penin, J. (2005). Patents versus ex post rewards: a new look. Research Policy, 34(5), 641–656.

Reij, C., & Waters-Bayer, A. (Eds.). (2001). Farmer innovation in Africa: A source of inspiration for agricultural development. London: Earthscan.

Reij, C., Tappan, G., & Smale, M. (2009). Re-greening the Sahel: Farmer-led innovation in Burkina Faso and Niger. In D. J. Spielman & R. Pandya-Lorch (Eds.), Millions fed: Proven successes in agricultural development (pp. 53–58). Washington, DC: International Food Policy Research Institute.

Scotchmer, S. (2004). Innovation and incentives. Cambridge: MIT Press.

Shavell, S., & Van Ypersele, T. (2001). Rewards versus intellectual property rights. Journal of Law and Economics, 44(2), 525–547.

Sumberg, J., & Okali, C. (1997). Farmers' experiments: Creating local knowledge. London: Lynne Rienner Publishers Inc..

Tambo, J. A., & Wünscher, T. (2015). Identification and prioritization of farmers' innovations in northern Ghana. Renewable Agriculture and Food Systems, 30(6), 537–549.

Tambo, J. A., & Wünscher, T. (2017a). Farmer-led innovations and rural household welfare: evidence from Ghana. Journal of Rural Studies, 55, 263–274.

Tambo, J. A., & Wünscher, T. (2017b). Enhancing resilience to climate shocks through farmer innovation: evidence from northern Ghana. Regional Environmental Change, 17(5), 1505–1514.

Van Huis, A., & Meerman, F. (1997). Can we make IPM work for resource-poor farmers in sub-Saharan Africa? International Journal of Pest Management, 43(4), 313–320.

Waters-Bayer, A., van Veldhuizen, L., Wongtschowski, M., & Wettasinha, C. (2009a). Recognizing and enhancing processes of local innovation. In Sanginga et al. (Eds.), Innovation Africa: Enriching farmers; livelihoods (pp. 239–254). London: Earthscan.

Waters-Bayer, A., Wettasinha, C., & van Veldhuizen, L. (2009b). Building partnerships to promote local innovation processes. In I. Scoones & J. Thompson (Eds.), Farmer first revisited. Innovation for agricultural research and development. Warwickshire: Practical Action Publishing.

Wettasinha, C., & Waters-Bayer, A. (Eds.), (2010). Farmer-led joint research: Experiences of PROLINNOVA partners. Silang, Cavite, Philippines: IIRR/Leusden: PROLINNOVA International Secretariat, ETC EcoCulture.

Wettasinha, C., Wongtschowski, M., & Waters-Bayer, A. (Eds.), (2008). Recognising local innovation: Experience of PROLINNOVA partners. Silang, Cavite, the Philippines: International Institute of Rural Reconstruction/Leusden: PROLINNOVA International Secretariat, ETC EcoCulture.

Wright, B. D. (1983). The economics of invention incentives: patents, prizes, and research contracts. The American Economic Review, 73(4), 691–707.

Wünscher, T., & Tambo, J. A. (2016). Identification and acceleration of farmer innovativeness in upper East Ghana. In J. von Braun & F. Gatzweiler (Eds.), Technological and institutional innovations for marginalized smallholders in agricultural development (pp. 163–180). Cham, Heidelberg, New York, Dordrecht, London: Springer.
Acknowledgments
This research was financially supported by the German Federal Ministry for Economic Cooperation and Development (BMZ) through the research project "Program of Accompanying Research for Agricultural Innovation (PARI). The author gratefully acknowledges project partners from EDRI, KALRO, DARS, ZARI, the Forum for Agricultural Research in Africa (FARA), and stakeholders who supported the implementation of the contests in the four study countries. The author also thanks the PARI project team members at ZEF for the helpful discussions, and Evelyn Baraké and Sougrynoma Zainatou Sore for their excellent research assistance, as well as the four anonymous reviewers for their valuable comments.
Ethics declarations
Conflict of interest
The author declares no conflict of interest.
About this article
Cite this article
Tambo, J.A. Recognizing farmer-generated innovations through contests: insights from four African countries. Food Sec. 10, 1237–1250 (2018). https://doi.org/10.1007/s12571-018-0835-y
Received:

Accepted:

Published:

Issue Date:
Keywords
Contest

Prize rewards

Farmer-generated innovations

Sustainable intensification

Africa