Abstract
The present work, focusing on the theme of food production and consumption in urban areas, analyses the relationships among three factors: city, human well-being and ecosystems. A case study was carried out addressing the quantification of the potential of rooftop vegetable production in the city of Bologna (Italy) as related to its citizens' needs. Besides the contribution to food security of the city, the potential benefits to urban biodiversity and ecosystem service provision were estimated. The methodology consisted of: 1) experimental trials of potential productivity of simplified soilless systems in rooftop gardens (RTGs); 2) detection of all flat roofs and roof-terraces and quantification of the potential surfaces that could be converted into RTGs; 3) identification of the city's vegetable requirements, based on population and diet data; 4) calculation of the proportion of vegetable requirement that could be satisfied by local RTG production; 5) identification of other benefits (improvement of urban biodiversity through the creation of green corridors and estimation of carbon sequestration) associated with the increased area of urban green infrastructure (GI). According to the present study, RTGs could provide more than 12,000 t year−1 vegetables to Bologna, satisfying 77 % of the inhabitants' requirements. The study also advances hypotheses for the implementation of biodiversity roofs enabling the connection of biodiversity rich areas across and close to the city: these would form a network of green corridors of over 94 km length with a density of about 0.67 km km−2.
Access options
Buy single article
Instant access to the full article PDF.
US$ 39.95
Tax calculation will be finalised during checkout.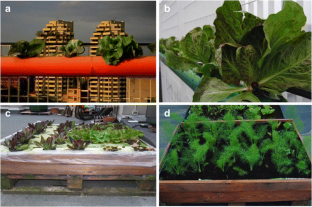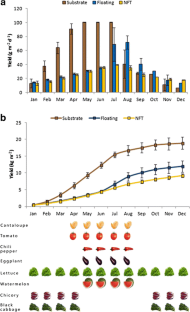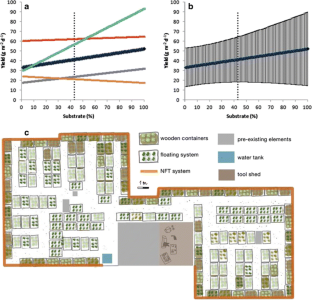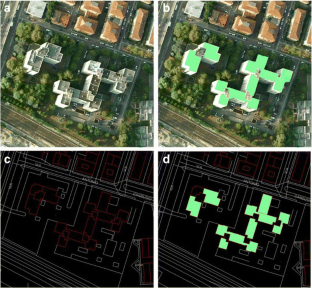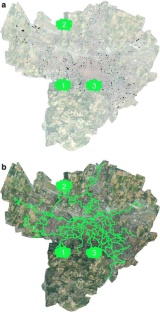 References
Altieri, M. A., Compagnoni, N., Cañizares, K., Murphy, C., Rosset, P., Bourque, M., & Nicholls, C. I. (1999). The greening of the "barrios": Urban agriculture for food security in Cuba. Agriculture and Human Values, 16, 131–140.

Antón, A. (2004). The use of life cycle assessment methodology to environmentally assess Mediterranean crops in greenhouses. PhD dissertation, Universitat Politecnica de Catalunya, Barcelona.

Bennett, A. F. (2003). Linkages in the landscape: The role of corridors and connectivity in wildlife conservation. Gland: International Union for Conservation of Nature and Natural Resources.

Bolund, P., & Hunhammar, S. (1999). Ecosystem services in urban areas. Ecological Economics, 29, 293–301.

Braat, L. C., & De Groot, R. (2012). The ecosystem services agenda: Bridging the worlds of natural science and economics, conservation and development, and public and private policy. Ecosystem Services, 1, 4–15.

Brown, K. H., & Jameton, A. L. (2000). Public health implications of urban agriculture. Journal of Public Health Policy, 21, 20–39.

Buczacki, S., & Harris, K. (2005). Pests, diseases & disorders of garden plants. New York: HarperCollins.

Burgio, G., Ferrari, R., Pozzati, M., & Boriani, L. (2004). The role of ecological compensation areas on predator populations: An analysis on biodiversity and phenology of Coccinellidae (Coleoptera) on non-crop plants within hedgerows in Northern Italy. Bulletin of Insectology, 57, 1–10.

Davies, Z. G., Edmondson, J. L., Heinemeyer, A., Leake, J. R., & Gaston, K. J. (2011). Mapping an urban ecosystem service: Quantifying above‐ground carbon storage at a city‐wide scale. Journal of Applied Ecology, 48, 1125–1134.

Davis, S. (1998). Development of the profession of horticultural therapy. In S. P. Simson & M. C. Straus (Eds.), Horticulture as therapy: Principles and practice (pp. 3–18). New York: The Haworth Press.

De Luca, A., & Dever, J. (2011). Italy tomatoes and products report 2011. Rome: USDA.

DESA-UN (2012). World Urbanization Prospect. http://esa.un.org/unup/CD-ROM/Urban–rural-Population.htm. Accessed 9 April 2013.

Comune di Bologna (2014). Iperbole. Bologna Welcome. Sito turistico Ufficiale. http://www.bolognawelcome.com/guida-turistica/indice-completo/params/Ambiente_2/Famiglia_2.01/ref/Localit%C3%A0. Accessed 4 March 2014.

Drescher, A. W. (2004). Food for the cities: Urban agriculture in developing countries. Acta Horticulturae, 643, 227–231.

EU-Environment. (2014). Communication from the commission to the European parliament, the council, the european economic and social committee and the committee of the regions Green Infrastructure (GI) — Enhancing Europe's Natural Capital COM/2013/0249 final. Bruxelles: European Commission.

Fraser, E. G. G., & Kenney, W. A. (2000). Cultural background and landscape history as factors affecting perceptions of the urban forest. Journal of Arboriculture, 26, 106–113.

Gathmann, A., & Tscharntke, T. (2002). Foraging ranges of solitary bees. Journal of Animal Ecology, 71, 757–764.

Girardet, H. (1999). Toward urban sustainability. In United Nations Environment Programme's Cultural and spiritual values of biodiversity (pp. 255–258). Nairobi: Intermediate Technology Publications.

Global footprint network (2005). http://www.ecofoot.net. Accessed 4 March 2014.

Glover, T. D. (2003). The story of the Queen Anne memorial garden: Resisting a dominant cultural narrative. Journal of Leisure Research, 35, 190–212.

Grewal, S. S., & Grewal, P. S. (2012). Can cities become self-reliant in food? Cities, 29, 1–11.

Gurr, G. M., Wratten, S. D., Snyder, W. E., & Read, D. M. Y. (2012). Biodiversity and insect pests: Key issues for sustainable management. Chichester: Wiley.

Jim, C. Y. (2004). Green-space preservation and allocation for sustainable greening of compact cities. Cities, 21, 311–320.

Kaethler, T. M. (2006). Growing space: the potential for urban agriculture in the city of Vancouver. School of community and regional planning. University of British Columbia. bitsandbytes.ca/sites/default/files/Growing_Space_Rpt.pdf. Accessed 4 March 2014.

Khandaker, M. S. I. (2004). Rooftop gardening as a strategy of urban agriculture for food security: The case of Dhaka City, Bangladesh. Acta Horticulturae, 643, 241–247.

Kingsley, J., Townsend, M., & Henderson-Wilson, C. (2009). Cultivating health and well-being: Members' perceptions of the health benefits of a Port Melbourne community garden. Leisure Studies, 28, 207–219.

Kuo, F. E., & Sullivan, W. C. (2001). Environment and crime in the inner city: Does vegetation reduce crime? Environment and Behavior, 33, 343–367.

La Greca, P., La Rosa, D., Martinico, F., & Privitera, R. (2011). Agricultural and green infrastructures: The role of non-urbanised areas for eco-sustainable planning in a metropolitan region. Environmental Pollution, 159, 2193–2202.

Leclercq, C., Arcella, D., Piccinelli, R., Sette, S., Le Donne, C., & Turrini, A. (2009). The Italian national food consumption survey INRAN-SCAI 2005–2006: Main results in terms of food consumption. Public Health Nutrition, 12, 2504–2532.

Lundgren, J. G. (2009). Nutritional aspects of non-prey foods in the life histories of predaceous Coccinellidae. Biological Control, 51, 294–305.

Maas, J., Verheij, R. A., Groenewegen, P. P., De Vries, S., & Spreeuwenberg, P. (2006). Green space, urbanity, and health: How strong is the relation? Journal of Epidemiol Community Health, 60, 587–592.

Mahmoud, N., & Mohammed, G. (2012). Green infrastructure connectivity within social sustainability: Case studies around the world. Canadian Journal on Computing in Mathematics, Natural Sciences, Engineering and Medicine, 3, 225–232.

Malcevschi, S., Bisogni, L., & Gariboldi, A. (1996). Reti ecologiche ed interventi di miglioramento ambientale. Milano: Il Verde Editoriale.

Matsuo, E. (1995). Horticulture helps us to live as human beings: Providing balance and harmony in our behavior and thought and life worth living. Acta Horticulturae, 391, 19–30.

McClintock, N. (2010). Why farm the city? Theorizing urban agriculture through a lens of metabolic rift. Cambridge Journal of Regions, Economy and Society, 3, 191–207.

Milà i Canal, L. L., Muñoz, I., Hospido, A., Plassmann, K., & McLaren, S. (2008). Life cycle assessment (LCA) of domestic vs. imported vegetables. Case studies on Broccoli, salad crops and green beans. Surrey. UK: University of Surrey, CES.

Miller, J. R. (2005). Biodiversity conservation and the extinction of experience. Trends in Ecology and Evolution, 20, 430–434.

Noss, R. F. (1987). From plant communities to landscapes in conservation inventories: A look at The Nature Conservancy (USA). Biological Conservation, 41, 11–37.

Okvat, H. A., & Zautra, A. J. (2011). Community gardening: A parsimonious path to individual, community, and environmental resilience. American Journal of Community Psychology, 47, 374–387.

Orsini, F., Kahane, R., Nono-Womdim, R., & Gianquinto, G. (2013). Urban agriculture in the developing world. A review. Agronomy for Sustainable Development, 33, 695–720.

Osborne, J. L., Martin, A. P., Carreck, N. L., Swain, J. L., Knight, M. E., Goulson, D., Hale, R. J., & Sanderson, R. A. (2008). Bumblebee flight distances in relation to the forage landscape. Journal of Animal Ecology, 77, 406–415.

Peck, S. (2003). Towards an integrated green roof infrastructure evaluation for Toronto. The Green Roof Infrastructure Monitor, 5, 4–7.

Peck, S., Callaghan, C., Kuhn, M. E., & Bass, B. (1999). Greenbacks from green roofs: Forging a new industry in Canada. Ottawa: Canadian Mortgage and Housing Corporation.

Perito, M. A. (2006). La distribuzione moderna e il global sourcing: l'acquisto di prodotti orto-frutticoli dai Paesi Terzi del Mediterraneo. Economia Agroalimentare, 3, 1–9.

Ratta, A., & Nasr, J. (1996). Urban agriculture and the African urban food supply system. New York: TUAN.

Roy, P., Nei, D., Okadome, H., Nakamura, N., Orikasa, T., & Shiina, T. (2008). Life cycle inventory analysis of fresh tomato distribution systems in Japan considering the quality aspect. Journal of Food Engineering, 86, 225–233.

Saldivar-Tanaka, L., & Krasny, M. E. (2004). Culturing community development, neighborhood open space, and civil agricultural: The case of Latino community gardens in New York City. Agriculture and Human Values, 21, 399–412.

Sanyé-Mengual, E., Cerón-Palma, I., Oliver-Solà, J., Montero, J. I., & Rieradevall, J. (2013). Environmental analysis of the logistics of agricultural products from roof top greenhouses in Mediterranean urban areas. Journal of Science Food and Agriculture, 93, 100–109.

Saunders, C., Barber, A., & Taylor, G. (2006). Food miles - comparative energy/emissions performance of New Zealand's agriculture industry, research report no. 285. Città: Lincoln University.

Savvas, D., Gianquinto, G., Tüzel, Y., & Gruda, N. (2013). Chapter 19. Soilless culture. In M. Quaryoti, W. Baudoin, R. Nono Womdin, C. Leonardi, A. Hanafi, & S. De Pascale (Eds.), Good agricultural practices for greenhouse vegetable crops. Principles for Mediterranean climate areas (AGP series, Vol. 217). Rome: FAO-UN.

Seyfang, G. (2006). Ecological citizenship and sustainable consumption: Examining local organic food networks. Journal of Rural Studies, 22, 383–395.

Shin, D. H., & Lee, K. S. (2005). Use of remote sensing and geographical information system to estimate green space temperature change as a result of urban expansion. Landscape and Ecological Engineering, 1, 169–176.

Shrewsbury, P. M., & Leather, S. R. (2012). Using biodiversity for pest suppression in urban landscapes. In G. M. Gurr, S. D. Wratten, W. E. Snyder, & D. M. Y. Read (Eds.), Biodiversity and insect pests: Key issues for sustainable management. Chichester: Wiley. doi:10.1002/9781118231838.ch18.

Simons, L. A., Simons, J., McCallum, J., & Friedlander, Y. (2006). Lifestyle factors and risk of dementia: Dubbo study of the elderly. The Medical Journal of Australia, 184, 68–70.

Tei, F., Benincasa, P., Farneselli, M., & Caprai, M. (2010). Allotment gardens for senior citizens in Italy: Current status and technical proposals. Acta Horticulturae (ISHS), 639, 51–55.

Tidball, K. G., & Krasy, M. E. (2007). From risk to resilience: What role for community greening and civic ecology in cities? In A. E. J. Wals (Ed.), Social learning towards a sustainable world: Principles, perspectives and praxis (pp. 149–164). Wageningen: Wageningen Academic Publishers.

Tixier, P., & de Bon, H. (2006). Urban horticulture. In R. van Veenhuizen (Ed.), Cities farming for the future – Urban Agriculture for green and productive cities (pp. 316–347). Leusden: RUAF Foundation, IDRC and IIRR.

Uslu, A., & Shakouri, N. (2013). Chapter 17: Urban landscape design and biodiversity environmental sciences. In M. Özyavuz (Ed.), Advances in Landscape Architecture. Winchester: InTech Open. doi:10.5772/55761. ISBN 978-953-51-1167-2.

USP-BO. (2013). Popolazione residente al 31/12/2012 nei comuni della provincia di Bologna per sesso ed età. Ufficio di statistica della Provincia di Bologna su dati delle Anagrafi comunali. Bologna: Comune di Bologna.

Vergnes, A., Le Viol, I., & Clergeau, P. (2012). Green corridors in urban landscapes affect the arthropod communities of domestic gardens. Biological Conservation, 145, 171–178. doi:10.1016/j.biocon.2011.11.002.

Wackernagel, M., & Rees, W. (1996). Our ecological footprint: Reducing human impact on the Earth. Philadelphia: New society publisher.

Wakefield, S., Yeudall, F., Taron, C., Reynolds, J., & Skinner, A. (2007). Growing urban health: Community gardening in South- East Toronto. Health Promotion International, 22, 92–101.

Wichrowski, M., Whiteson, J., Haas, F., Mola, A., & Rey, M. J. (2005). Effects of horticultural therapy on mood and heart rate in patients participating in an inpatient cardiopulmonary rehabilitation program. Journal of Cardiopulmonary Rehabilitation, 25, 270–274.

Wilby, R. L. (2003). Past and projected trends in London's urban heat island. Weather, 58, 251–260.

Yi-Zhang, C., & Zhangen, Z. (2000). Shanghai: Trends towards specialised and capital intensive urban agriculture. In N. Bakker, M. Dubbeling, S. Guendel, U. Sabel Koschella, & H. de Zeeuw (Eds.), Growing cities, growing food, urban agriculture on the policy agenda (pp. 467–475). Feldafing: DSE.

Zhang, L., & Wang, H. (2006). Planning an ecological network of Xiamen Island (China) using landscape metrics and network analysis. Landscape and Urban Planning, 78, 449–456.

Zhao, T., Brown, D. G., & Bergen, K. M. (2007). Increasing gross primary production (GPP) in the urbanizing landscapes of southeastern Michigan. Photogrammetric Engineering and Remote Sensing, 73, 1159–1168.

Zurbuchen, A., Landert, L., Klaiber, J., Müller, A., Hein, S., & Dorn, S. (2010). Maximum foraging ranges in solitary bees: Only few individuals have the capability to cover long foraging distances. Biological Conservation, 143, 669–676.
Acknowledgments
The present research was partially funded with the support of EU projects HORTIS (Horticulture in Towns for Inclusion and Socialisation) and HYBRID PARKS and with the support of Bologna City Council and the Emilia Romagna Region. This publication reflects solely the views of the authors, who are not responsible for any use to which the information contained therein is put.
About this article
Cite this article
Orsini, F., Gasperi, D., Marchetti, L. et al. Exploring the production capacity of rooftop gardens (RTGs) in urban agriculture: the potential impact on food and nutrition security, biodiversity and other ecosystem services in the city of Bologna. Food Sec. 6, 781–792 (2014). https://doi.org/10.1007/s12571-014-0389-6
Received:

Accepted:

Published:

Issue Date:
Keywords
Rooftop gardens

Urban food security

Green corridors

Urban biodiversity

Urban agriculture