Abstract
Rural households in semi-arid areas of southern Africa are confronted with numerous hazards that threaten the household food base. The new wildlife policy of establishing transfrontier conservation areas aims to increase conservation of wildlife resources while improving local livelihoods. This policy can be better appreciated by local people if it embraces knowledge of the adaptive strategies they employ to close the food gap. We assessed how different households responded to the major hazard, drought, in order to gain insight into how these households addressed critical questions of food availability. Informal interviews, key informant interviews and focus group discussions were conducted to determine how households can be disaggregated according to their livelihood patterns and a questionnaire was applied to learn how each group responded to drought. Data were analysed within the three livelihood types that were identified and described at local level as cattle-based, crop-based and non-farm based. We found that factors that aggravated the effects of drought are specific to the different household types and their responses were also specific to that particular household type. Disaggregation of the livelihood types revealed within and between type relations and interactions that are important to people in order to cope. For example, even though cropping is an important activity across the three livelihood types, specifically in cattle and crop-based types, the non-farm type becomes important in restocking inputs after a serious drought through cross-border trading. Livestock and cross-border trading are important coping strategies for all three livelihood types, with the cattle-based trading cattle, the crop-based trading goats and poultry and the non-farm based linking with markets for trading livestock, drugs and restocked inputs for the cattle-based and crop-based groups. These linkages among livelihood types are important factors in reducing vulnerability to change that only become visible as a result of this disaggregation. We conclude that additional policies of enhancing the resilience of local food systems by stimulating across-border livestock trading and formal market set-up and enhancing systems of adaptation that are already in existence (e.g., crop production in the Banyeni) can add value to the success of transfrontier conservation areas in southern Africa.
Access options
Buy single article
Instant access to the full article PDF.
USD 39.95
Price includes VAT (USA)
Tax calculation will be finalised during checkout.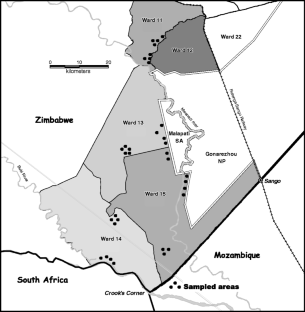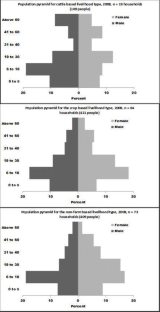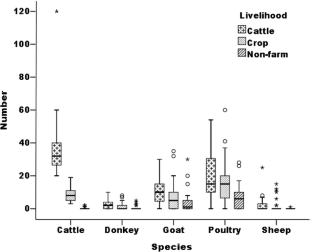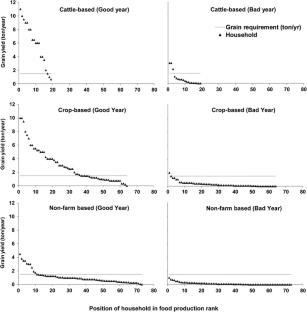 References
Adger, W. N. (2003). Social capital, collective action, and adaptation to climate change. Economic Geography, 79, 387–404.

Adger, N. W., Brooks, N., Bentham, G., Agnew, M., & Eriksen, S. (2004a). New indicators of vulnerability and adaptive capacity. Norwich: Tyndall Centre for Climate Change Research.

Adger, W.N., Brooks, N., Bentham, G., Agnew, M., & Eriksen, S. (2004b). New indicators of vulnerability and adaptive capacity. TyndalloCentre for Climate Change Research.

Andersson, J. A., Garine-Wichatitsky, M. D., Cumming, D. H. M., Dzingirai, V., & Giller, K. E. (Eds.). (2013). Transfrontier conservation areas: people living on the edge (pp. 1–216). London: Routledge Taylor & Francis Group.

Anteneh, T. N., Mekala, G. D., Mnisi, E. P., Mukisira, C., Muthui, M., Murungweni, C., & Sebitloane, O. (2004). Goat production and livelihood systems in Sekhukhune district of the Limpopo Province, South Africa. South Africa: ARC-LNR, LDA and ICRA.

Brooks, N., & Adger, W. N. (2005). Assessing and enhancing adaptive capacity. In B. Lim & E. Spanger-Siegfried (Eds.), Adaptation policy frameworks for climate change: developing strategies, policies and measures. Cambridge: UNDP-GEF, Cambridge University Press.

CESVI. (2005). Sustainable development and natural resources management in southern Zimbabwe. In: Compilation study of tourism and regional development initiatives in the Great Limpopo Transfrontier Conservation Area in Zimbabwe. Cooperrazione Italiana, Zimbabwe.

Chambers, R., & Conway, G. (1992). Sustainable rural livelihoods: practical concepts for the 21st Century. Rep. No. IDS discussion paper No. 296. Development Studies, Brighton.

Coles, A. R., & Scott, C. A. (2009). Vulnerability and adaptation to climate change and variability in semi-arid rural southeastern Arizona, USA. Natural Resources Forum, 33, 297–309.

Cumming, D. H. M. (2005). Wildlife, livestock and food security in the South East Lowveld of Zimbabwe. In S. A. Osofsky, S. Cleaveland, W. B. Karesh, M. D. Kock, P. J. Nyhus, & A. Yang (Eds.), Conservation and development interventions at the wildlife/livestock interface: implications for wildlife, livestock and human health (pp. 41–46). Gland: IUCN.

Demeke, A. B., Keil, A., & Zeller, M. (2011). Using panel data to estimate the effect of rainfall shocks on smallholders food security and vulnerability in rural Ethiopia. Climatic Change, 108, 185–206.

Devereux, S. (2009). Why does famine persist in Africa? Food Security, 1, 25–35.

Dyson, T. (1999). World food trends and prospects to 2025. Proceedings of the National Academy of Sciences of the United States of America, 96, 5929–5936.

Dzingirai, V. (2003). The new scramble for the African countryside. Development and Change, 34(2), 243–264.

Easdale, M. H., & Rosso, H. (2010). Dealing with drought: social implications of different smallholder survival strategies in semi-arid rangelands of Northern Patagonia, Argentina. Rangeland Journal, 32, 247–255.

Eldridge, C. (2002). Why was there no famine following the 1992 Southern African drought? IDS Bulletin, 33, 79–87.

FAO. (2012). Wildlife in a changing climate. Rome: Food and Agriculture Organisation of the United Nations.

Folke, C., Carpenter, S., Elmqvist, T., Gunderson, L., Holling, C. S., & Walker, B. (2002). Resilience and sustainable development: building adaptive capacity in a world of transformations. Ambio, 31, 437–440.

Gallopín, G. C. (2006). Linkages between vulnerability, resilience, and adaptive capacity. Global Environmental Change, 16, 293–303.

Giller, K. E., Tittonell, P., Rufino, M. C., van Wijk, M. T., Zingore, S., Mapfumo, P., Adjei-Nsiah, S., Herrero, M., Chikowo, R., & Corbeels, M. (2011). Communicating complexity: integrated assessment of trade-offs concerning soil fertility management within African farming systems to support innovation and development. Agricultural Systems, 104.

Giller, K. E., Baudron, F., Matema, S., Milgroom, J., Murungweni, C., & Twine, W. (2013). Population and livelihoods on the edge. In J. A. Andersson, M. de Garine-Wichatitsky, D. H. M. Cumming, V. Dzingirai, & K. E. Giller (Eds.), Transfrontier conservation areas, people living on the edge (pp. 62–88). London: Routledge.

IPCC. (2007). Impacts, adaptation and vulnerability. Contribution of Working Group II to the Fourth Assessment Report of the Intergovernmental Panel on Climate Change (IPCC), Cambidge, UK.

Keil, A., Zeller, M., Wida, A., Sanim, B., & Birner, R. (2008). What determines farmers' resilience towards ENSOrelated drought? An empirical assessment in Central Sulawesi, Indonesia. Climate Change, 86, 291–307.

Kelly, P. M., & Adger, W. N. (2000). Theory and practice in assessing vulnerability to climate change and facilitating adaptation. Climatic Change, 47, 325–352.

Kinsey, B., Burger, K., & Gunning, J. W. (1998). Coping with drought in Zimbabwe: survey evidence on responses of rural households to risk. World Development, 26, 89–110.

Lee, J., Kouakou, B., & Kannan, G. (2008). Chemical composition and quality characteristics of chevon from goats fed three different post-weaning diets. Small Ruminant Research, 75, 177–184.

Mavedzenge, B. Z., Mahenehene, J., Murimbarimba, F., Scoones, I., & Wolmer, W. (2008). The dynamics of real markets: cattle in Southern Zimbabwe following land reform. Development and Change, 39, 613–639.

Mendelsohn, R., & Dinar, A. (1999). Climate change, agriculture, and developing countries: does adaptation matter? The World Bank Research Observer, 14, 277–293.

Milgroom, J., & Giller, K. E. (2013). Courting the rain: rethinking seasonality and adaptation to recurrent drought in semi-arid southern Africa. Agricultural Systems, 118, 91–104.

Moeletsi, M. E., & Walker, S. (2012). Assessment of agricultural drought using a simple water balance model in the Free State Province of South Africa. Theoretical and Applied Climatology, 108, 425–450.

Mombeshora, S., & Le Bel, S. (2009). Parks-people conflicts: the case of Gonarezhou National Park and the Chitsa community in south-east Zimbabwe. Biodiversity and Conservation, 18, 2601–2623.

Murendo, C., Keil, A., & Zeller, M. (2011). Drought Impacts and related risk management by smallholder farmers in developing countries: evidence from Awash River Basin, Ethiopia. Risk Management, 13, 247–263.

Murungweni, C., van Wijk, M. T., Andersson, J., Smaling, E., & Giller, K. E. (2011). Application of fuzzy cognitive mapping in livelihood vulnerability analysis. Ecology and Society, 16, 8.

Ortmann, G. F., & King, R. P. (2007). Agricultural cooperatives II: can they facilitate access of small-scale farmers in South Africa to input and product markets? Agrekon, 46, 219–244.

Osbahr, H., Twyman, C., Adger, W. N., & Thomas, D. S. G. (2010). Evaluating successful livelihood adaptation to climate variability and change in Southern Africa. Ecology and Society, 15.

Quiring, S. M., & Papakryiakou, T. N. (2003). An evaluation of agricultural drought indices for the Canadian prairies. Agricultural and Forest Meteorology, 118, 49–62.

Reidsma, P., & Ewert, F. (2008). Regional farm diversity can reduce vulnerability of food production to climate change. Ecology and Society, 13.

Rockstrom, J. (2003). Resilience building and water demand management for drought mitigation. Physics and Chemistry of the Earth, 28, 869–877.

Roets, M., & Kirsten, J. F. (2005). Commercialisation of goat production in South Africa. Small Ruminant Research, 60, 187–196.

SAS. (2008). SAS/STAT® 9.2 user's guide. Cary: SAS Institute Inc.

Simelton, E., Fraser, E. D. G., Termansen, M., Forster, P. M., & Dougill, A. J. (2009). Typologies of crop-drought vulnerability: an empirical analysis of the socio-economic factors that influence the sensitivity and resilience to drought of three major food crops in China (1961–2001). Environmental Science & Policy, 12, 438–452.
About this article
Cite this article
Murungweni, C., van Wijk, M.T., Giller, K.E. et al. Adaptive livelihood strategies employed by farmers to close the food gap in semi-arid south eastern Zimbabwe. Food Sec. 6, 313–326 (2014). https://doi.org/10.1007/s12571-014-0348-2
Received:

Accepted:

Published:

Issue Date:
Keywords
Semi-arid

Transfrontier conservation areas

Vulnerability

Climate change

Adaptation