Abstract
Urban and peri-urban agriculture make up a significant proportion of the food supply of many cities and its importance is increasing. Today, around 15 % of the world's food is grown in urban areas. City and suburban agriculture take many forms (backyard, roof-top, balcony, community gardening in vacant lots and parks, urban fringe agriculture and livestock grazing in open spaces). Food and nutrition security, both of which are necessary for a healthy and balanced diet, require focus on the urban production of food. Such food should include micro nutrients and complement lacking or difficult to obtain foodstuffs. Due consideration should also be given to quality aspects in production and marketing. Only in a few places is the role and importance of urban production, specifically for the poorer parts of urban society, is recognized and acted upon through sound policies, planning procedures and programs. This paper presents the arguments for urban agriculture—in the North as well as in the South—and shows that it has the potential to contribute to diversified diets of urban citizens. More attention should be given to linking it better to the local food system. Recommendations for the support of nutrition sensitive urban agriculture relate to sensitizing and training of all actors, particularly urban planners, in identifying and addressing the specific challenges and potentials as well as giving institutional support to groups working in the area. New, adapted technologies and production systems that fit better into the local food system should be enhanced with due consideration being given to the prevailing legal, social and economic conditions.
Access options
Buy single article
Instant access to the full article PDF.
US$ 39.95
Tax calculation will be finalised during checkout.
Subscribe to journal
Immediate online access to all issues from 2019. Subscription will auto renew annually.
US$ 79
Tax calculation will be finalised during checkout.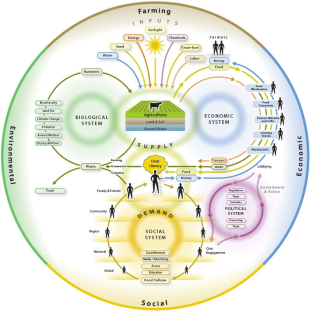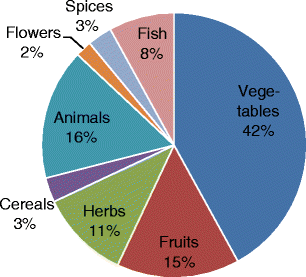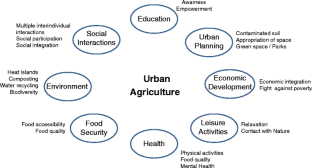 Notes
1.

See Cofie et al. (2010) Recycling of Urban Organic Waste for Urban Agriculture
References
Agrawal, M., Singh, B., Rajput, M., Marshall, F., & Bell, J. N. B. (2003). Effect of air pollution on peri-urban agriculture: a case study. Environmental Pollution, 126(3), 323–329.

Ahmed, A. U., Vargas, H. R., Smith, L. C., Wiesmann, D. M., & Frankenberger, T. (2007). The world's most deprived. characteristics and causes of extreme poverty and hunger. Washington: IFPRI.

Battersby, J. (2011): The state of urban food insecurity in Cape Town. Urban Food Security Series 11. AFSUN. http://queensu.ca/samp/afsun/files/AFSUN_11.pdf, accessed 7 July 2013.

Beaulac, J., Kristjansson, E., & Cummins, S. (2009). A systematic review of food deserts, 1966–2007. Preventing Chronic Disease, 6(3), A105.

Bellows, A., Brown, K,. & Smit, J. (2004). Health Benefits of Urban Agriculture. http://www.community-wealth.org/sites/clone.community-wealth.org/files/downloads/paper-bellows-brown-smit.pdf, accessed 2 February 2013.

Bradley, P., & Marulanda, C. (2001). Simplified hydroponics to reduce global hunger. Acta Horticulturae, 554, 289–295.

Bretzel, F., & Calderisi, M. (2006). Metal contamination in urban soils of coastal Tuscany (Italy). Environmental Monitoring and Assessment., 118(1–3), 319–335.

CFS (Committee on world food security) (2012) Coming to Terms with Terminology. FAO. http://www.fao.org/fsnforum/sites/default/files/file/Terminology/MD776%28CFS___Coming_to_terms_with_Terminology%29.pdf, accessed 6 February 2013.

Cofie O., van Veenhuizen R., de Vreede V., & Maessen S. (2010) Waste Management for Nutrient Recovery: Options and challenges for urban agriculture. Urban Agriculture Magazine, No. 23, 1–5.

Cohen, M. J. & Garrett J. L. (2009). The food price crisis and urban food (in)security. Human Settlements Working Paper Series. Urbanization and emerging population issues 2. IIED London.

Crozet, N., Berdouz, S. M., Gerster-Bentaya, M., et al. (2013). Agriculture. In Gieseke (Ed.), Urban agriculture for growing city centers. Integrated concepts for rural–urban linkages for the emerging megacity Casablanca. London: Roudledge.

de Zeeuw, H., & Dubbeling M. (2009). Cities, food and agriculture. Challenges and the Way Forward. RUAF Working Paper 3. Leusden.

Dev, S. M. (2012). Agriculture-nutrition linkages and policies in India. Indira Gandhi Institute of Development Research, Mumbai. http://www.igidr.ac.in/pdf/publication/WP-2012-006.pdf, accessed 26 July 2013.

Dubbeling, M. & de Zeeuw, H. (2011). Urban Agriculture and climate change adaptation: ensuring food security through adaptation. In: Otto-Zimmermann, K. (Ed.): Resilient Cities. Proceedings of the Global Forum 2010. Series: Local Sustainability, Springer, Vol. 1, 2011, 441–449.

Duchemin, E., Wegmuller, F., & Legault, A.-M. (2008). Urban agriculture: multi-dimensional tools for social development in poor neighbourhoods. Field Actions Science Reports, 1, 43–52. http://factsreports.revues.org/113 accessed 2 February 2013.

Egwu, G. N., & Agbenin, J. O. (2013). Field assessment of cadmium, lead and zinc contamination of soils and leaf vegetables under urban and peri-urban agriculture in northern Nigeria. Archives of Agronomy and Soil Science., 59(6), 875–887.

EPA (United States Environmental Protection Agency) (2011). Brownfields and Urban Agriculture: Interim Guidelines for Safe Gardening Practices. Chicago. http://www.epa.gov/brownfields/urbanag/pdf/bf_urban_ag.pdf, accessed 25 July 2013.

FAO (2010). Fighting Poverty and Hunger. What Role for Urban Agriculture? Policy Brief 10. Economic and Social Perspectives. Rome.

FAO (2011a). Food, Agriculture and Cities. Challenges of food and nutrition security, agriculture and ecosystem management in an urbanizing world. FAO Food for the Cities multi-disciplinary initiative position paper. Rome.

FAO (2011b). The Place of Urban and Peri-Urban Agriculture (UPA) In National Food Security Programmes. Rome.

FAO (2012). Growing Greener Cities in Africa. http://www.fao.org/ag/agp/greenercities/en/SOUPHA/index.html, accessed 3 March 2013.

FAO nJ.: Land tenure and food production. http://www.fao.org/fcit/policy-planning-institutions/land-tenure/en/, accessed 3 March 2013.

Gerster-Bentaya, M. (2012). Pilot projects as initiators of processes. Action Brief. http://future-megacities.org/fileadmin/documents/forschungsergebnisse/aktuell/CAS-AB1.pdf, accessed 25 July 2013.

Gerster-Bentaya, M., Giseke, U., & Amraoui F. (2013). Testing synergies and stimulating action: the four Pilot Projects. In Giseke (Ed.), Urban agriculture for growing city centers. Integrated concepts for rural–urban linkages for the emerging megacity Casablanca. London: Roudledge.

Ghosh, B. K. (2010). Rural–urban consumption patterns in Bangladesh. International Review of Business Research Papers, 6(4), 30–47.

Gieseke, U. & Adidi, A. (2011). When the Old Becomes the New: Agriculture as a Multifunctional Urban Landscape in Tomorrow's Megacities. In: Gieseke (ed.) Urban Agriculture Casablanca. Design as an integrative factor of research. Topos—The International Review of Landscape Architecture and Urban Design, Issue 74. Munich, 8–10.

Gordon, C., Purciel-Hill, M., Ghai, N. P., Kaufman, L., Graham, R., & Van Wyea, G. (2011). Measuring food deserts in New York City's low-income neighbourhoods. Health and Place, 17, 696–700.

Hargesheimer K. (1998). Youth and Urban Agriculture. http://www.cityfarmer.org/youthUA.html. accessed 2 March 2013.

Hartline-Grafton H. (2011). Food Insecurity and Obesity: Understanding the Connections. FRAC brief. http://frac.org/pdf/frac_brief_understanding_the_connections.pdf, accessed 27 July 2013.

Heinegg, A., Maragos, P., Mason, E., Rabinowicz, J., Straccini, G., & Walsh, H. (2002). Brownfield remediation: solutions for urban agriculture. Montreal: McGill School of Environment, McGill University.

HKI (Hellen Keller International) (2013). Homestead food production. http://www.hki.org/reducing-malnutrition/homestead-food-production/ accessed 3 March 2013.

Khatri-Chhetri, A. (2006). Food insecurity and coping strategies in rural areas of Nepal. A case study of dailekh district in Mid western development region. Journal of International Development and Cooperation, 12(2), 25–45.

IFAD (International Fund for Agricultural Development) (2011). Price Volatility in Food and Agricultural Markets: Policy Responses. Policy Report including contributions by FAO, IFAD, IMF,OECD, UNCTAD, WFP, the World Bank, the WTO, IFPRI and the UN HLTF. Washington.

Larson, N. I., Story, M. T., & Nelson, M. C. (2009). Neighborhood environments: disparities in access to healthy foods in the U.S. American Journal of Preventive Medicine, 36(1), 74-81.

Lock, K., & de Zeeuw H. (2001). Health risks associated with Urban Agriculture. ETC.-RUAF, published in the Annotated Bibliography. http://www.ruaf.org/sites/default/files/Health_risks_ua.pdf, accessed 3 February 2013.

Lyson, T. A. (2004). Civic agriculture: reconnecting farm, food, and community. Tufts: University Press.

Mogk, J., Kwiatkowsk, S., & Weindorf, M. (2012). Promoting urban agriculture as an alternative land use for vacant properties in the city of Detroit: Benefits, problems and proposals for a regulatory framework for successful land use integration. The Wayne Law Review., 56(4).

Moomaw, W., Griffin T., Kurczak K. & Lomax J. (2012). The Critical Role of Global Food Consumption Patterns in Achieving Sustainable Food Systems and Food for All, A UNEP Discussion Paper", United Nations Environment Programme, Division of Technology, Industry and Economics, Paris, France.

Mougeot, L. J. A. (2000). Urban agriculture: definition, presence, potential and risks. In Bakker (Ed.), Growing cities, growing food: urban agriculture on the policy agenda. A reader on urban agriculture (pp. 1–42). Feldafing: German Foundation for International Development. (DSE).

Newton, P. (Ed.). (2011). Urban consumption. Melbourne: CSIRO PUBLISHING.

Okai, D., Boateng, M. & Opoku-Agyemang, H. (2011). The incidence of plastics in the rumen of cattle, sheep and goats. Proceddings of the 15th GSAP Conference, Department of Animal Science, KNUST, Kumasi, 121–123.

Orsini F., Kahane R., Nono-Womdim R. & Gianquinto G. (2013): Urban agriculture in the developing world: a review. Agron. Sustain. Dev. doi: 10.007/s3593-013-0143-z.

Pescod, M. B. (1992). Wastewater treatment and use in agriculture—FAO irrigation and drainage paper 47. Rome: FAO.

Pinstrup-Andersen, P., & Watson, D. (2011). Food policy in developing countries: the role of government in global, national, and local food systems. Ithaca: Cornell University Press.

Regassa, N. (2011). Small holder farmers coping strategies to household food insecurity and hunger in Southern ethiopia. Ethiopian Journal of Environmental Studies and Management, 4(1), 39–48. doi:10.4314/ejesm.v4i1.5.

Regmi A. (ed.) (2001). Changing Structure of Global food Consumption and Trade. Market and Trade Economics Division. Economic Reserach Services. US Department of Agriculture. Washington D.C.

Säumel, I., Kotsyuk, I., Hölscher, M., Lenkereit, C., Weber, F., & Kowarik, I. (2012). How healthy is urban horticulture in high traffic areas? Trace metal concentrations in vegetable crops from plantings within inner city neighbourhoods in Berlin, Germany. Environmental Pollution, 165, 124–132.

Scherer, et al. (2013). Urban agriculture's contribution to climate-optimized urban development. In Giseke (Ed.), Urban agriculture for growing city regions. Integrated concepts for rural–urban linkages for the emerging megacity Casablanca. London: Roudledge.

Shayler H., McBride M., Harrison E. (2009). Sources and Impacts of Contaminants in Soils. Cornell Waste Management Institute. http://cwmi.css.cornell.edu/sourcesandimpacts.pdf accessed 26/2013, accessed 26 July 2013

Sheweka, S., & Magdi, A. N. (2011). The living walls as an approach for a healthy urban environment. Energy Procedia, 6, 592–599.

Smit J., Nasr J. & Ratta, A. (2001). Benefits of Urban Agriculture. In: Urban Agriculture. Food, Jobs and Sustainable Cities. (www.jacsmit.com/book/Chap07.pdf), accessed 2 February 2013.

Tawk, S. T. (2013). Urban Agriculture: A Sustainable Solution to Alleviating Urban Poverty, Addressing the Food Crisis, and Adapting to Climate Change. Presentation for the International Colloquium on the Contributions of Urban Agriculture to Future Megacities. February 27 – March 2, 2013, Casablanca.

Thompson, B. & Amoroso, L. (2011). FAO's Approach to Nutrition-Sensitive Agricultural Development. http://www.fao.org/fileadmin/user_upload/agn/pdf/FAO_Approach_to_Nutrition_sensitive_agricultural_development.pdf, accessed 25 July 2013.

Tiruneh, R., & Yesuwork, H. (2010). Occurrence of rumen foreign bodies in sheep and goats slaughtered at the Addis Ababa Municipality Abattoir. Ethiopian Veterinarian Journal, 14(1), 91–100.

Trench, P. C., Narrod, C., Roy, D., & Tiongco, M. (2013). Responding to health risks along the value chain. In S. Fan & R. Pandya-Lorch (Eds.), Reshaping agriculture for nutrition and health (pp. 93–102). Washington: IFPRI.

Turner, A. H. (2009). Urban Agriculture and Soil Contamination: An Introduction to Urban Gardening. Practice Guide #25, Environmental Finance Center EPA Region 4, University of Louisville. http://louisville.edu/cepm/publications/practice-guides-1/PG25%20-%20Urban%20Agriculture%20-%20Soil%20Contamination.pdf/at_download/file, accessed 26 July 2013.

van Veenhuizen (ed.) (2006). Cities Farming for the Future. Urban Agriculture for Green and Productive Cities, ETC. Leusden.

van Veenhuizen R. (2012). Urban and peri-urban agriculture and forestry (UPAF): An important strategy to building resilient cities? The Role of Urban Agriculture in building resilient cities. Webinar ICLEI, 18 October 2012. http://resilient-cities.iclei.org/fileadmin/sites/resilient-cities/files/Resilient_Cities_2012/Digital_Congress_Proceedings/RUAF_RvV_ICLEI_181012.pdf, accessed 27 January 2013.

Vegetables, G. (2011). Urban agriculture: small spaces, big returns. Appropriate Technology, 38(4), 60–61.

Whittinghill, L. J., & Rowe, B. D. (2011). The role of green roof technology in urban agriculture. Renewable Agriculture and Food Systems:, 27(4), 314–322.

Wiggerthale, M. (2007). Supermärkte auf dem Vormarsch im Süden—Bedrohung für Kleinbauern? Knotenpunkt: DED.

WorldLink (2012): Nourish Food System Map, http://www.nourishlife.org/teach/food-system-tools/, accessed 4 June 2013

Zezza, A., & Tasciotti, Z. (2010). Urban agriculture, poverty, and food security: empirical evidence from a sample of developing countries. Food Policy, 35, 265–273.
About this article
Cite this article
Gerster-Bentaya, M. Nutrition-sensitive urban agriculture. Food Sec. 5, 723–737 (2013). https://doi.org/10.1007/s12571-013-0295-3
Received:

Accepted:

Published:

Issue Date:
Keywords
Food and nutrition security

Food safety

Urban agriculture

Nutrition sensitive

Poverty reduction

Health