Abstract
Plant breeding for nutrition-sensitive agriculture (NSA) has to address the various aspects of food and nutrition security by taking on an integrated approach. In our article, we summarize past and current developments in plant breeding that are relevant to nutrition in this broader context. We outline how plant breeding can contribute to availability of, access to and utilization of food, and give examples of how the concept of NSA is differently addressed in selected plant breeding projects. Effective targeting towards the needs of vulnerable groups seems to be a key success factor. Differences exist with regard to the underlying concept of technology diffusion, the importance given to agrobiodiversity for improving food and nutrition security, and the degree and quality of participation of target groups. We conclude that the potentials of crop and variety improvement for NSA are far from being tapped. Plant breeding for NSA requires that the inherent focus of most breeding programs on crops and varieties be broadened towards people and their needs. It is thus required to integrate complementary expertise into breeding programs, and to overcome the divide between technology-oriented and system or actor-oriented approaches. Furthermore, it should be acknowledged that commercial breeding needs to be complemented by other initiatives and institutions that focus particularly on food and nutrition security of vulnerable groups. Any efforts to further harmonize agricultural, nutrition, health, environmental, and educational policies, also with international policy frameworks and obligations, could help to create an enabling policy environment for NSA.
Access options
Buy single article
Instant access to the full article PDF.
US$ 39.95
Tax calculation will be finalised during checkout.
Subscribe to journal
Immediate online access to all issues from 2019. Subscription will auto renew annually.
US$ 79
Tax calculation will be finalised during checkout.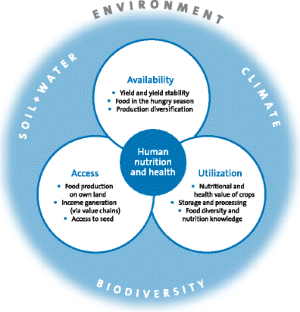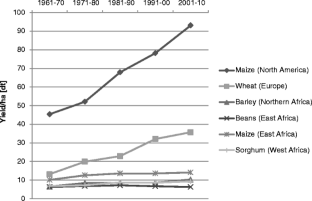 Notes
1.

2.

This yield increase is only partly due to breeding progress.

3.

The period before harvesting the staple crops, when the previous year's stock is depleted.

4.

CBD= Convention on Biological Diversity

5.

ITPGRFA=International Treaty on Plant Genetic Resources for Food and Agriculture

6.

7.

8.

9.

10.

11.

South- East Asia Regional Initiatives for Community Empowerment, www.searice.org (accessed December 9, 2012)

12.

13.

14.
References
Abay, F., & Bjørnstad, A. (2009). Specific adaptation of barley varieties in different locations in Ethiopia. Euphytica, 167(2), 181–195.

Almekinders, C., & Hardon, J. (2006). Bringing farmers back into breeding. Experiences with participatory plant breeding and challenges for institutionalization. Agromisa Special No. 5. Wageningen: Agromisa Foundation.

Annicchiarico, P., Royo, C., Bellah, F., & Moragues, M. (2009). Relationships among adaptation patterns, morphophysiological traits and molecular markers in durum wheat. Plant Breeding, 128, 164–171.

Bachmann, L., Cruzada, E., & Wright, S. (2009). Food security and farmer empowerment. A study of the impacts of farmer-led sustainable agriculture in the Philippines. Los Baños: MASIPAG.

Badstue, L. B., Hellin, J., & Berthaud, J. (2012). Re-orienting participatory plant breeding for wider impact. African Journal of Agricultural Research, 7(4), 523–533.

Beuchelt, T., & Badstue, L. (2013). Gender, nutrition- and climate-smart food production: opportunities and trade-offs. doi: 10.1007/s12571-013-0290-8.

CBDC. (2006). Pathways to participatory farmer plant breeding: Stories and reflections of the community biodiversity development and conservation programme. Manila: SEARICE.

Ceccarelli, S., Grando, S., Tutwiler, J., Baha, J., Martini, A. M., Salahieh, H., et al. (2000). A methodological study on participatory breeding. 1. Selectionphase. Euphytica, 111, 91–104.

CFS (2012). Coming to Terms with Terminology. Food Security, Nutrition Security, Food Security and Nutrition, Food and Nutrition Security. Revised draft, July 25, 2012. Rome: Committee on World Food Security (FAO).

Chaudhary, P., & Sthapit, B. (2013). Agricultural biodiversity conservation and food security for small-scale farmers. In A. Christinck & M. Padmanabhan (Eds.), Cultivating Diversity. A handbook on transdisciplinary approaches to agrobiodiversity research. Weikersheim: Margraf Publishers.

Christinck, A., vom Brocke, K., & Weltzien, E. (2000). What is a variety? Investigating farmers'concepts as a base for participatory plant breeding in Rajasthan, India. In: International Agricultural Research: A contribution to crisis prevention. Proceedings of Deutscher Tropentag, 11–12 October 2000, University of Hohenheim, Stuttgart.

Classen, L., Humphries, S., Fitzsimons, J., Kaaria, S., Jímenez, J., Siera, F., et al. (2008). Opening participatory spaces for the most marginal: learning from collective action in the Honduran Hillsides. World Development, 36(11), 2402–2420.

Conroy, C., Witcombe, J. R., Virk, D. S., Basu, M., Buchy, M., & Dey, A. (2009). New upland rice varieties for India. Rainfed Agriculture Impact Study No. 1. London: DFID.

Davis, D. R. (2009). Declining fruit and vegetable nutrient composition: what is the evidence? HortScience, 44(1), 15–19.

Dawson, J. C., Murphy, K. M., & Jones, S. S. (2008). Decentralized selection and participatory approaches in plant breeding for low-input systems. Euphytica, 160, 143–154.

Development Fund. (2012). Community-based biodiversity management – South Asia Programme (CBM-SA). Evaluation report. Oslo: The Development Fund.

Gari, J. A. (2004). Plant diversity, sustainable rural livelihoods and the HIV/Aids crisis. Rome: FAO, & Bangkok: UNDP.

Gilding, E. K., Frere, C. H., Cruikshank, A., Rada, A. K., Prentis, P. J., Mudge, A. M., et al. (2013). Alleleic variation at a single gene increases food value in a drought-tolerant staple cereal. Nature Communications, 4, 1483. doi:10.1038/ncomms2450.

Grüneberg, W. J., Mwanga, R., Andrade, M., & Espinoza, J. (2009). Breeding clonally propagated crops. In S. Ceccarelli et al. (Eds.), Plant breeding and farmer participation (pp. 275–322). Rome: FAO.

GTZ. (2006). Agrobiodiversity: The key to food security. GTZ Issue Paper series People, Food and Biodiversity. Eschborn: GTZ.

Hama, F., Icard-Verniere, C., Guyot, J. P., Picq, C., Diawara, B., & Mouquet-Rivier, C. (2011). Changes in micro- and macronutrient composition of pearl millet and white sorghum during field versus laboratory decortication. Journal of Cereal Science, 54, 425–433.

Hammond, R. A., & Dubé, L. (2012). A systems science perspective and transdisciplinary models for food and nutrition security. Proceedings of the National Academy of Science of the United States of America, 109(31), 12356–12363.

HarvestPlus. (2011). From research to delivery. Washington DC: HarvestPlus.

HarvestPlus. (2012). Disseminating orange-fleshed sweet potato: findings from a HarvestPlus project in Mozambique and Uganda. Washington DC: HarvestPlus.

Haussmann, B. I. G., Rattunde, H. F., Weltzien-Rattunde, E., Traoré, P. S. C., vom Brocke, K., & Parzies, H. (2012). Breeding strategies for adaptation of pearl millet and sorghum to climate variability and change in West Africa. Journal of Agronomy and Crop Science, 198(5), 327–339.

Hawkes, C., Turner, R., & Waage, J. (2012). Current and planned research on agriculture for improved nutrition: A mapping and gap analysis. Report for DFID, 21st August 2012. London: DFID.

Hotz, C., Loechl, C., Lubowa, A., Tumwine, J.K., Ndeezi, G., Masawi, A.N. et al. (2012). Introduction of β-Carotene-Rich Orange Sweet Potato in Rural Uganda Results in Increased Vitamin A Intakes among Children and Women and Improved Vitamin A Status among Children. The Journal of Nutrition: 111.151829.

ICRISAT. (2012). Research Highlights ICRISAT West and Central Africa: Biofortification of staple crops. Increased nutrients from women's farms for improved child nutrition. Bamako: ICRISAT.

Jaenicke, H., & Virchow, D. (2013). Entry points into a nutrition-sensitive agriculture. doi: 10.1007/s12571-013-0293-5.

Kriesemer, S. (2013). Nutrition-sensitive agriculture: the conceptual framework underlying a new approach. In: D. Virchow, (Ed.) Nutrition-sensitive agriculture: a pillar of improved nutrition and better health. Food Security Center, Stuttgart, Germany.

Leena Kumary, S. (2007). Conservation to commercialization: Sustaining Kerala's rural livelihoods through utilization of the medicinal rice diversity. In V. Arunachalam (Ed.), Participatory plant breeding and knowledge management for strengthening rural livelihoods (pp. 48–55). Chennai: MSSRF.

Long, N. (2001). Development sociology: Actor perspectives. London: Routledge.

Meenakshi, J. V., Johnson, N., Manyong, V. M., De Groote, H., Javelosa, J., Yanggen, D., et al. (2007). How cost-effective is biofortification in combating micronutrient malnutrition? An ex-ante assessment. HarvestPlus Working Paper No. 2. Washington DC: IFPRI.

MSSRF. (2005). UN millenium development goals – five years later. Agricultural biodiversity and the elimination of hunger and poverty. The Chennai platform for action. Chennai: MSSRF.

Murphy, K., Reeves, P. R., & Jones, S. S. (2008). Relationship between yield and mineral nutrient concentration in historical and modern spring wheat cultivars. Euphytica, 163, 381–390.

Mwanga, R.O.M., Niringiye, C., Alajo, A., Mpembe, I., Kigozi, B., Kapinga, R. et al. (2009). Participatory Breeding Experience and Implications for Sweetpotato Breeding in Uganda. In: Proceedings of the 15th ISTRC Symposium, November 2–6, 2009 in Lima, Peru (pp. 29–34). Lima: CIP.

Omujal, F., Nnambwayo, J., Agwaya, M. S., Tumusiime, R. H., Engeu, P. O., Katuura, E., et al. (2010). Bioactive non-nutrient components in indigenous African vegetables. In B. Burlingame & S. Dernini (Eds.), Sustainable diets and biodiversity. Directions and solutions for policy, research and action (pp. 206–213). Rome: FAO.

Pusztai, A. & Bardocz, S. (2009). Sicherheitsrisiko Gentechnik. Stuttgart: Gentechnikfreies Europa e.V.

Rohrbach, D. & Kiala, D. (2007). Development options for local seed systems in Mozambique. SAT e-Journal 3(1), ICRISAT. http://ejournal.icrisat.org/mpii/v3i1/impi2.pdf. Accessed 7 June, 2013.

Siart, S. (2008). Strengthening local seed systems: Options for enhancing diffusion of varietal diversity of sorghum in Southern Mali. Kommunikation und Beratung Series (85). Weikersheim: Margraf Publishers.

Sogoba, B., Lugutuah, V., Coulibali, P., Seydou Kone, F., Diarra, H., Tangara, A., et al. (2012). Evaluation and planning report for the project: "Intensification durable de l'agriculture pour l'amélioration de la sécurité alimentaire et nutritionnelle dans le cercle Koutiala, Mali". Ibadan: IITA.

Sperling, L., & Christinck, A. (2005). Developing strategies for seed production and distribution. In A. Christinck et al. (Eds.), Setting breeding objectives and developing seed systems with farmers (pp. 153–176). Weikersheim: Margraf Publishers and Wageningen: CTA.

Sperling, L. & Cooper, D. (2003). Understanding seed systems and strengthening seed security: a background paper. In: Effective and Sustainable Seed Relief: A Stakeholder Workshop, 26–28 May 2003. Rome: FAO. http://www.fao.org/docrep/007/y5703e/y5703e06.htm#bm06.1. Accessed 7 June 2013.

Sperling, L., Loevinsohn, M., & Ntavombura, B. (1993). Rethinking the farmers' role in plant breeding: local bean experts and on-station selection in Rwanda. Experimental Agriculture, 29, 509–519.

Tumwegamire, S. (2011). Genetic variation, diversity and genotype by environment interactions of nutritional quality traits in East African sweetpotato. Thesis. Department of Agricultural Production. Kampala: Makerere University. http://sweetpotatoknowledge.org/germplasm/breeding/Genetic%20varition%20and%20diversity%20-%20Thesis.PDF . Accessed 7 June 2013.

UNO. (2009). Seed policies and the right to food: Enhancing agrobiodiversity and encouraging innovation. Report of the Special Rapporteur on the Right to Food to the General Assembly of the United Nations, July 23, 2009. New York: UNO.

Van Oosterom, E. J., Bidinger, F. R., & Weltzien, E. R. (2003). A yield architecture framework to explain adaptation of pearl millet to environmental stress. Field Crops Research, 80, 33–56.

vom Brocke, K., Christinck, A., Weltzien, R. E., Presterl, T., & Geiger, H. H. (2003). Effects of farmers'seed management on performance and adaptation of pearl millet in Rajasthan, India. Euphytica, 130, 267–280.

Welch, R. M. (2002). The impact of mineral nutrients in food crops on global human health. Plant and Soil, 247, 83–90.

Welch, R. M., & Graham, R. D. (2002). Breeding crops for enhanced micronutrient content. Plant and Soil, 245, 205–214.

Weltzien, E., & Christinck, A. (2005). Identifying farmers'preferences and needs for varieties and specific traits. In A. Christinck et al. (Eds.), Setting breeding objectives and developing seed systems with farmers (pp. 83–104). Weikersheim: Margraf Publishers and Wageningen: CTA.

Will, M. (2008). Promoting value chains of neglected and underutilized species for pro-poor growth and biodiversity conservation. Guidelines and good practices. Rome: GFU.

Witcombe, J. R., Joshi, K. D., Virk, D. S., & Sthapit, B. R. (2011). Impact of introduction of modern varieties on crop diversity. In J. M. Lenné & D. Wood (Eds.), Agrobiodiversity management for food security (pp. 87–98). Wallingford: CAB International.

Yadav, O. P., & Weltzien, E. R. (2000). Differential response of landrace-based populations and high-yielding varieties of pearl millet in contrasting environments. Annals of Arid Zone, 39, 19–45.
Acknowledgments
Funding provided by Deutsche Gesellschaft für Internationale Zusammenarbeit (GIZ) GmbH, Eschborn, for a comprehensive study on NSA, coordinated by the Food Security Center, University of Hohenheim, is gratefully acknowledged. We further thank for funding received for previous work on plant breeding and food security from the fiat panis Foundation, Ulm/Germany, and the EU Food Facility for WCA coordinated by IFAD, via the PROMISO 2 project, and the INSTAPA project via the EU 7th Framework program, the AnbeJigi project funded by the McKnight Foundation, and the HOPE project funded by the Bill and Melinda Gates Foundation.
Conflict of interest
The authors declare that they have no conflict of interest.
About this article
Cite this article
Christinck, A., Weltzien, E. Plant breeding for nutrition-sensitive agriculture: an appraisal of developments in plant breeding. Food Sec. 5, 693–707 (2013). https://doi.org/10.1007/s12571-013-0288-2
Received:

Accepted:

Published:

Issue Date:
Keywords
Plant breeding

Nutrition

Food security

Agrobiodiversity

Adaptation

Impact