Abstract
Chemophobia is the exaggerated fear of anything 'chemical' which is found quite widespread both in the Western world and in Asia. That food incontrovertibly is chemistry seems to require regulation of all sorts. As we will see below, that would truly necessitate gargantuan determination exceeding every regulatory effort to date. Worse, it will be futile. Our food is peppered with natural compounds such as organohalogens, dioxins, aflatoxins, and many others. These we will briefly discuss, including their natural whereabouts. Overall, the aim of this paper is to show that food is chemistry beyond our immediate control, including those synthetic chemicals that are deemed to be artificial and should not be found in 'safe' food. The latter is an overestimation of regulatory competence and an underestimation of nature to produce most unlikely chemicals in unlikely places, including our food.
This is a preview of subscription content,
to check access.
Access this article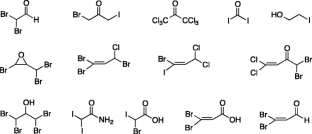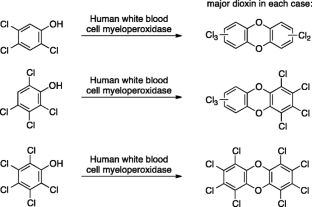 References
Ames, B. N. (1991). Natural carcinogens and dioxin. Science of the Total Environment, 104, 159–166.

Ames, B. N., & Gold, L. S. (1989). Pesticides, risk, and applesauce. Science, 244, 755–757.

Ames, B. N., Profet, M., & Gold, L. S. (1990). Dietary pesticides (99.99 % all natural). Proceedings of the National Academy of Sciences USA, 87, 7777–7781.

Andersen, B., & Frisvad, J. C. (2004). Natural occurrence of fungi and fungal metabolites in moldy tomatoes. Journal of Agriculture and Food Chemistry, 52, 7507–7513.

Arlt, V. M., Stilborova, M., & Schmeiser, H. H. (2002). Aristolochic acid as a probable human cancer hazard in herbal remedies: a review. Mutagenesis, 17(4), 265–277.

Arlt, V. M., Alunni-Perret, V., Quatrehomme, G., Ohayon, P., Albano, L., Gaïd, H., et al. (2004). Aristolochic acid (AA)-DNA adduct as marker of AA exposure and risk factor for AA nephropathy-associated cancer. International Journal of Cancer, 111, 977–980.

Baccarelli, A., Pesatori, A. C., Consonni, D., Mocarelli, P., Patterson, D. G., Jr., Caporaso, N. E., et al. (2005). Health status and plasma dioxin levels in chloracne cases 20 years after the Seveso, Italy accident. British Journal of Dermatology, 152, 459–465.

Benavente-García, O., & Castillo, J. (2008). Update on uses and properties of citrus flavonoids: new findings in anticancer, cardiovascular, and anti-inflammatory activity. Journal of Agriculture and Food Chemistry, 56, 6185–6205.

Bezuidenhout, S. C., Gelderblom, W. C. A., Gorst-Allman, C. P., Horak, R. M., Marasas, W. F. O., Spiteller, G., & Vleggaar, R. (1988). Structure elucidation of the fumonisins, mycotoxins from Fusarium moniliforme. Journal of the Chemical Society, Chemical Communications, 743–745.

Billington, S., Smith, R. B., Karousos, N. G., Cowham, E., & Davis, J. (2008). Covert approaches to countering adult chemophobia. Journal of Chemical Education, 85(3), 379–380.

Carson, R. (1962). Silent spring. Greenwich: Fawcett.

Chen, C.-Y. O., & Blumberg, J. B. (2008). In vitro activity of almond skin polyphenols for scavenging free radicals and inducing quinone reductase. Journal of Agriculture and Food Chemistry, 56, 4427–4434.

Coburn, T., Dumanoski, D., & Myers, J. P. (1996). Our stolen future. New York: Dutton.

Cosyns, J.-P. (2003). Aristolochic acid and 'Chinese herbs nephropathy', a review of the evidence to date. Drug Safety, 26(1), 33–48.

Crummett, W. B. (2002). Decades of dioxin. Bloomington: Xlibris.

Dimaio, V. J. M., & Garriott, J. C. (1974). Lethal caffeine poisoning in a child. Forensic Science, 3, 275–278.

Donaldson, W. T. (1977). Trace organics inn water. Environmental Science and Technology, 11(4), 348–351.

Eckerman, I. (2005). The Bhopal saga — causes and consequences of the world's largest industrial disaster. India: Universities Press.

Frank, P., & Ottoboni, M. A. (2011). The dose makes the poison (3rd ed.). Hoboken: John Wiley.

Fuller, J. G. (1979). Poison that fell from the sky. New York: Berkeley Books.

Gan, J., Yates, S. R., Ohr, H. D., & Sims, J. J. (1998). Production of methyl bromide by terrestrial higher plants. Geophysical Research Letters, 25, 3595–3598.

Gautam, P., & Dill-Macky, R. (2011). Type I host resistance and trichothecene accumulation in Fusarium-infected wheat heads. American Journal of Agriculture and Animal Science, 6(2), 231–241.

Goldblatt, L. A. (1969). Aflatoxin: Scientific background, control, and implications. New York: Academic.

Gough, M. (1986). Dioxin, agent orange: the facts. New York: Plenum.

Greensfelder, L. (2000). Herbal product linked to cancer. Science, 288, 1946.

Gribble, G. W. (1974). TCDD — a deadly molecule. Chemistry, 47, 15–18.

Gribble, G. (1991). The chemophobia conundrum. Chemistry & Industry, 591.

Hagen, E. W., & Worman, J. J. (1995). An endless series of hobgoblins. Kearney: Morris.

Horii, Y., van Bavel, B., Kannan, K., Petrick, G., Nachtigall, K., & Yamashita, N. (2008). Novel evidence for natural formation of dioxins in ball clay. Chemosphere, 70, 1280–1289.

Hounsome, N., Hounsome, B., Tomos, D., & Edwards-Jones, G. (2008). Plant metabolites and nutritional quality of vegetables. Journal of Food Science, 73, R48–R65.

Huang, M.-T., Wood, A. W., Newmark, H. L., Sayer, J. M., Yagi, H., Jerina, D. M., et al. (1983). Inhibition of the mutagenicity of bay-region diol-epoxides of polycyclic aromatic hydrocarbons by phenolic plant flavonoids. Carcinogenesis, 4, 1631–1637.

Josephson, J. (2001). Mold in maize. Environmental Health Perspectives, 109, A132–A133.

Kauffman, G. B. (1991). Chemophobia. Chemistry in Britain, June, 512–516.

Keay, B. A., Hopkins, J. M., & Dibble, P. W. (2008). Five-membered rings with one heteroatom together with their benzo and other carbocyclic-fused derivatives. In A. R. Katritzky, C. A. Ramsden, E. F. V. Scriven, & R. J. K. Taylor (Eds.), 3.08 — Furans and their benzo derivatives: applications, comprehensive heterocyclic chemistry III (Vol. 3) (pp. 571–623). Amsterdam: Elsevier.

Klich, M. A. (2007). Aspergillus flavus: the major producer of aflatoxin. Molecular Plant Pathology, 8(6), 713–722.

Kreiss, K., Gomaa, A., Kullman, G., Fedan, K., Simoes, E. J., & Enright, P. L. (2002). Clinical bronchiolitis obliterans in workers at a microwave-popcorn plant. The New England Journal of Medicine, 347(5), 330–338.

Krieger, N., Wolff, M. S., Hiatt, R. A., Rivera, M., Vogelman, J., & Orentreich, N. (1994). Breast cancer and serum organochlorines: a prospective study among white, black, and Asian women. Journal of the National Cancer Institute, 86, 589–599.

Lieberman, A. J., & Kwon, S. C. (2004). Facts versus fears: a review of the greatest unfounded health scares of recent times. New York: American Council on Science and Health.

Marasas, W. F. O., Riley, R. T., Hendricks, K. A., Stevens, V. L., Sadler, T. W., Gelineau-van Waes, J., et al. (2004). Fumonisins disrupt sphingolipid metabolism, folate transport, and neural tube development in embryo culture and in vivo: a potential risk factor for human neural tube defects among populations consuming fumonisin-contaminated maize. Journal of Nutrition, 134, 711–716.

Matsuura, M., Saikawa, Y., Inui, K., Nakae, K., Igarashi, M., Hashimoto, K., et al. (2009). Identification of the toxic trigger in mushroom poisoning. Nature Chemical Biology, 5, 465–467.

Mazur, A. (1998). A hazardous inquiry: the Rashomon effect at Love Canal. Cambridge: Harvard University Press.

McLachlan, J. A. (1997). Synergistic effect of environmental estrogens: report withdrawn. Science, 277, 462–463.

Mencken, H. L. (1949). A Mencken chrestomathy. New York: Knopf.

Mensinga, T. T., Sips, A. J. A. M., Rompelberg, C. J. M., van Twillert, K., Meulenbelt, J., van den Top, H. J., et al. (2005). Potato glycoalkaloids and adverse effects in humans: an ascending dose study. Regulatory Toxicology and Pharmacology, 41, 66–72.

Monde, K., Satoh, H., Nakamura, M., Tamura, M., & Takasugi, M. (1988). Organochlorine compounds from a terrestrial higher plant: structures and origin of chlorinated orcinol derivatives from diseased bulbs of Lilium maximowiczii. Journal of Natural Products, 61, 913–921.

Moore, R. E. (1977). Volatile compounds from marine algae. Accounts of Chemical Research, 10, 40–47.

Nortier, J. L., Martinez, M.-C. M., Schmeiser, H. H., Arlt, V. M., Bieler, C. A., Petein, M., et al. (2000). Urothelial carcinoma associated with the use of a Chinese herb (Aristolochia fangchi). The New England Journal of Medicine, 342, 1686–1692.

Parkin, D. M., Whelan, S. L., Ferlay, J., et al. (1997). Cancer incidence in five continents vol VII. IARC Sci Pub No 143, Lyon: IARC, 322–5.

Pitt, J. I. (2000). Toxigenic fungi: which are important? Medical Mycology, 38, 17–22.

Pool, R. (1992). Wresting anticancer secrets from garlic and soy sauce. Science, 257, 1349.

Ray, D. L. (1993). Environmental overkill: whatever happened to common sense? (p. 171). Washington: Regnery Gateway.

Sawada, T., Aono, M., Asakawa, S., Ito, A., & Awano, K. (2000). Structure determination and total synthesis of a novel antibacterial substance, AB0022A, produced by a cellular slime mold. Journal of Antibiotics, 53, 959–966.

Silk, P. J., Lonergan, G. C., Arsenault, T. L., & Boyle, C. D. (1997). Evidence of natural organochlorine formation in peat bogs. Chemosphere, 35, 2865–2880.

Stiborová, M., Frie, E., Sopko, B., Wiessler, M., & Schmeiser, H. H. (2002). Carcinogenic aristolochic acids upon activation by DT-diaphorase form adducts found in DNA of patients with Chinese herbs nephropathy. Carcinogenesis, 23, 617–625.

Stockmann-Juvalla, H., & Savolainen, K. (2008). A review of the toxic effects and mechanisms of action of fumonisin B1. Human & Experimental Toxicology, 27, 799–809.

Sullivan, J. L. (1977). Caffeine poisoning in an infant. Journal of Pediatrics, 90, 1022–1023.

Takenaka, Y., Hamada, N., & Tanahashi, T. (2005). Monomeric and dimeric dibenzofurans from cultured mycobionts of Lecanora iseana. Phytochemistry, 66, 665–668.

Tanahashi, T., Takenaka, Y., Nagakura, N., & Hamada, N. (2001). Dibenzofurans from the cultured lichen mycobionts of Lecanora cinereocarnea. Phytochemistry, 58, 85–1134.

Taubes, G. (2008). The bacteria fight back. Science, 321, 356–361.

Utkina, N. K., Denisenko, V. A., Scholokova, O. V., Virovaya, M. V., Gerasimenko, A. V., Popov, D. Y., et al. (2001). Spongiadioxins A and B, two new polybrominated dibenzo-p-dioxins from an Australian marine sponge Dysidea dendyi. Journal of Natural Products, 64, 151–153.

Utkina, N. K., Denisenko, V. A., Virovaya, M. V., Scholokova, O. V., & Prokof'eva, N. G. (2002). Two new minor polybrominated dibenzo-p-dioxins from the marine sponge Dysidea dendyi. Journal of Natural Products, 65, 1213–1215.

van der Merwe, K. J., Steyn, P. S., Fourie, L., Scott, D. B., & Theron, J. J. (1965a). Ochratoxin A, a toxic metabolite produced by Aspergillus ochraceus Wilh. Nature, 205, 1112–1113.

van der Merwe, K. J., Steyn, P. S., & Fourie, L. (1965b). Mycotoxins. Part II. The constitution of ochratoxins A, B, and C, metabolites of Aspergillus ochraceus Wilh. Journal of the Chemical Society, 7083–7088.

Vinson, J. A., Proch, J., Bose, P., Muchler, S., Taffera, P., Shuta, D., et al. (2006). Chocolate is a powerful ex vivo and in vivo antioxidant, an antiatherosclerotic agent in an animal model, and a significant contributor to antioxidants in the European and American diets. Journal of Agriculture and Food Chemistry, 54, 8071–8076.

Watson, P. (1993). Earthforce! An Earth warrior's guide to strategy. La Canada: Chaco Press.

Wild, C. P., & Gong, Y. Y. (2010). Mycotoxins and human disease: a largely ignored global health issue. Carcinogeneis, 31, 71–82.

Winter, C. K. & Katz, J. M. (2011), Dietary exposure to pesticide residues from commodities alleged to contain the highest contamination levels. Journal of Toxicology, Article ID 589674, 7 pages. doi:10.1155/2011/589674

Winterton, N. (1996). A role for methyl chlorine in evolution? Mutation Research, 372, 147–148.

Winterton, N. (2000). Chlorine: the only green element — towards a wider acceptance of its role in natural cycles. Green Chemistry, 2, 173–225.

Wittsiepe, J., Kullmann, Y., Schrey, P., Selenka, F., & Wilhelm, M. (1999). Peroxidase-catalyzed in vitro formation of polychlorinated dibenzo-p-dioxins and dibenzofurans from chlorophenols. Toxicology Letters, 106, 191–200.

Wittsiepe, J., Kullmann, Y., Schrey, P., Selenka, F., & Wilhelm, M. (2000). Myeloperoxidase-catalyzed formation of PCDD/F from chlorophenols. Chemosphere, 40, 963–968.

Worman, J. J., & Gribble, G. W. (1992). Herbicides and chemophobia. Journal of Arboriculture, 18, 10–14.
About this article
Cite this article
Gribble, G.W. Food chemistry and chemophobia. Food Sec. 5, 177–187 (2013). https://doi.org/10.1007/s12571-013-0251-2
Received:

Accepted:

Published:

Issue Date:

DOI: https://doi.org/10.1007/s12571-013-0251-2
Keywords