Abstract
Smallholder farmers need information on plant diseases. Ten plant health clinics (Postas para Plantas) evolved in Bolivia after 2000 and are still operating due to the efforts of three local institutions. The plant clinics receive any problem, on any crop, and give written and verbal recommendations, immediately if possible. Many clinics are held at weekly farm fairs, where villagers from many surrounding communities can seek help. The clinic staff write fact sheets for farmers on common problems. From 2000 to early 2009 the clinics received more than 9000 queries on over 100 crops with potato comprising two thirds of the queries, followed by peach, tomato and broad bean. Potato tuber moth and potato weevil were by far the most dominant plant health problems in the high Andes, but not in lowland areas. The diversity of crops and problems are a big challenge to the clinic staff. With basic training and practical experience they learn to diagnose most problems. However, they need access to expert support to solve some of the more difficult problems and improve the quality of advice. Preliminary results show cases of poverty alleviation, reduction in pesticide abuse, increased harvests and other benefits. The plant health clinics in Bolivia enabled extension and research to reach more farmers with a timely low-cost service.
This is a preview of subscription content, log in to check access.
Access options
Buy single article
Instant access to the full article PDF.
US$ 39.95
Price includes VAT for USA
Subscribe to journal
Immediate online access to all issues from 2019. Subscription will auto renew annually.
US$ 99
This is the net price. Taxes to be calculated in checkout.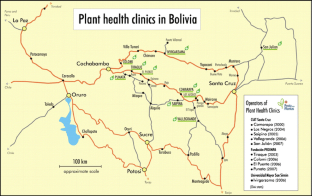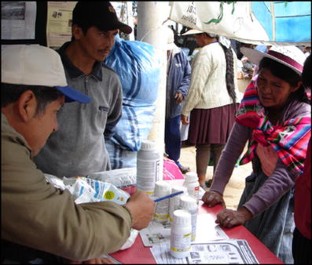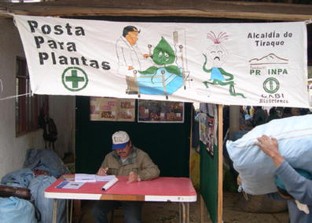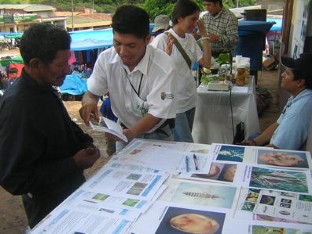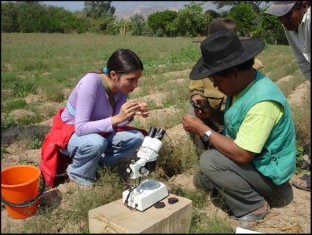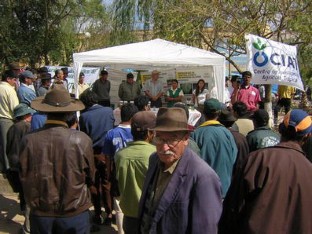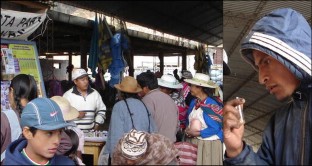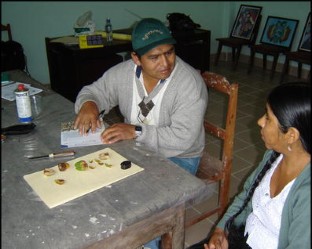 References
Anderson JR, Feder G, Ganguly S (2006) The rise and fall of training and visit extension: an Asian mini-drama with an African epilogue. In: Van den Ban AW, Samanta RK (eds) Changing roles of agricultural extension in Asian Nations. B.R. Publishing, New Delhi

Anderson PK, Cunningham AA, Patel NG, Morales FJ, Epstein PR, Daszak P (2004) Emerging infectious diseases of plants: pathogen pollution, climate change and agrotechnology drivers. Trends in Ecology and Evolution 19:535–544

Arocha Y, Antezana O, Montellano E, Franco P, Plata G, Jones P (2007) 'Candidatus Phytoplasma lycopersici', a phytoplasma associated with 'hoja de perejil' disease in Bolivia. Int J Syst Evol Microbiol 57:1704–1710

Ashby J, Braun AR, García T, Guerrero MP, Hernández LA, Quirós CA, Roa JI (2000) Investing in farmers as researchers: experience with local agricultural committees in Latin America. CIAT, Cali. pp 199

Bentley JW (2009) Impact of IPM extension for smallholder farmers in the tropics. In: Peshin R, Dhawan AK (eds) Integrated pest management: dissemination and impact. Springer, New York, pp 333–346

Bentley JW, Rodríguez G (2001) Honduran folk entomology. Curr Anthropol 42:285–301

Bentley JW, Boa E, Van Mele P, Almanza J, Vasquez D, Eguino S (2003) Going Public: a new extension method. International Journal of Agricultural Sustainability 1(2):108–123

Bentley JW, Webb M, Nina S, Pérez S (2005) Even useful weeds are pests: ethnobotany in the Bolivian Andes. Int J Pest Manag 51(3):189–207

Bentley JW, Velasco C, Rodríguez F, Oros R, Botello R, Webb M, Devaux A, Thiele G (2007) Unspoken demands for farm technology. International Journal of Agricultural Sustainability 5(1):70–84

Bentley JW, Boa ER, Kelly P, Harun-Ar-Rashid M, Rahman AKM, Kabeere F, Herbas J (2009) Ethnopathology: local knowledge of plant health problems in Bangladesh, Uganda and Bolivia. Plant Pathol 58:773–781

Boa E (2009) How the global plant clinic began. Outlooks on Pest Management 20:112–116

Campbell CL, Peterson PD, Griffith CS (1999) The formative years of plant pathology in the United States. The American Phytopathological Society, St. Paul, Minnesota

Carter MR (1984) Identification of the inverse relationship between farm size and productivity: an empirical analysis of peasant agricultural production. Oxf Econ Pap 36:131–145

Chipeta S (2007) Demand driven agricultural advisory services. Accessed online at www.neuchatelinitiative.net on 24 June 2009

Danielsen S, Fernández M (eds) (2008) Public plant health services for all. Red de Diagnóstico y Manejo Fitosanitario, Managua. Accessed online at www.research4development.info on 8 August 2009

Danielsen S, Kelly P (2008) Monitoring progress and quality of plant clinics—Vietnam. Global Plant Clinic, CABI, p 22

Davidson AP, Ahmad M, Ali T (2001) Dilemmas of agricultural extension in Pakistan; food for thought. AgREN Network Paper No. 116

Denevan WM (2001) Cultivated landscapes of Native Amazonia and the Andes. Oxford University Press, Oxford

Geertz C (1963) Agricultural involution: the process of ecological change in Indonesia. University of California Press, Berkeley

González-García A, Gómez-Sal A (2008) Private urban greenspaces or 'patios' as a key element in the urban ecology of tropical Central America. Hum Ecol 36(2):291–300

Griffin M, Sobal J, Lyson TA (2009) An analysis of a community food waste stream. Agric Hum Values 26(1–2):67–81

Jones GE, Garforth C (1997) The history, development and future of agricultural extension. In: Improving agricultural extension: a reference manual. FAO, Rome. pp 3–12

Jones P, Arocha Y, Antezana O, Montellano E, Franco P (2005a) 'Brotes grandes' (big bud) of potato: a new disease associated with a 16SrI-B subgroup phytoplasma in Bolivia. Plant Pathol 54(2):234. Available online at www.bspp.org.uk/ndr

Jones P, Arocha Y, Antezana O, Montellano E, Franco P (2005b) 'Hoja de perejil' (parsley leaf) of tomato and morrenia little leaf, two new diseases associated with a phytoplasma in Bolivia. Plant Pathol 54(2):235. Available online at www.bspp.org.uk/ndr

Jones P, Arocha Y, Antezana O, Montellano E, Franco P (2005c) First report of an isolate of 'Candidatus Phytoplasma australiense' associated with a yellow leaf roll disease of peach (Prunus persicae) in Bolivia. Plant Pathol 54(4):558. Available online at www.bspp.org.uk/ndr

Jones P, Arocha Y, Plata G (2005d) First report of a 'Candidatus Phytoplasma asteris' isolate associated with a witches' broom disease of alfalfa in Bolivia. Plant Pathol 54(4):559. Available online at www.bspp.org.uk/ndr

Large EC (1940) The advance of the fungi. Jonathan Cape, London

Levine R, the What Works Working Group, Kinder M (2004) Millions saved: proven successes in global health. Center for Global Development, Washington DC

Miller SA, Beed FD, Harmon CL (2009) Plant disease diagnostic capabilities and networks. Annu Rev Phytopathol 47:15–38

Netting RMcC (1993) Smallholders, householders: farm families and the ecology of intensive, sustainable agriculture. Stanford University Press, Palo Alto

Ortiz O (2006) Evolution of agricultural extension and information dissemination in Peru: an historical perspective focusing on potato-related pest control. Agric Hum Values 23:477–489

Pinstrup-Andersen P (2000) The future world food situation and the role of plant disease. Can J Plant Pathol 22:321–331

Smith JJ, Waage J, Woodhall JW, Bishop SJ, Spence NJ (2008) The challenge of providing plant pest diagnostic services for Africa. Eur J Plant Pathol 121:365–375

Strange RN, Scott PR (2005) Plant disease: a threat to global food security. Annu Rev Phytopathol 43:83–116

Van Mele P, Hai TV, Thas O, van Huis A (2002) Influence of pesticide information sources on citrus farmers' knowledge, perception and practices in pest management, Mekong Delta, Vietnam. Int J Pest Manag 48:169–177

Williamson S (2003) Pesticide provision in liberalised Africa: out of control? AgREN Network Paper No. 126

World Bank (2008) World development report 2008: agriculture for development. World Bank, Washington DC
Acknowledgements
The plant health clinics in Bolivia receive advice and some funding from the GPC, which is managed by CABI in alliance with Rothamsted Research and the Food and Environment Research Agency (previously CSL), and supported by the UK Department for International Development. This support is gratefully acknowledged, although the usual disclaimers apply. The plant health clinics are operated by PROINPA, CIAT and UMSS and we thank Ernesto Montellano, Andrea Porco, Carlos Osinaga, Sandra Muñoz, Dionisio Sosa, Alberto Gutiérrez, Gladys Main for their contributions. Phil Jones, Yaima Arocha, Rob Reeder, Paula Kelly, Yaima Arocha, Jim Waller, Julian Smith, John Bridge and Nigel Harrison are thanked for training and technical support. Two anonymous reviewers for Food Security made helpful comments on a previous version.
Conflict of interest
Eric Boa is head of the Global Plant Clinic and is employed at CABI. Jeff Bentley and Solveig Danielsen are CABI associates, and work on a part-time consulting basis for the GPC.
Pablo Franco, Olivia Antezana, Henry Rodríguez and Bertho Villarroel are employed at CIAT and are actively engaged in managing plant clinics there. Jhon Ferrufino now works for the prefecture of Santa Cruz and operates the plant clinic in Los Negros.
Javier Franco, René Pereira, Jaime Herbas and Oscar Díaz are employed at PROINPA and are actively engaged in managing plant clinics there.
Vladimir Lino is employed at PROINPA and has supported the plant clinics at CIAT.
Juan Villarroel is dean of the Agricultural College (Facultad de Agronomía) at UMSS, and oversees the UMSS plant clinic. Fredy Almendras and Saúl Colque manage the UMSS plant clinic.
About this article
Cite this article
Bentley, J.W., Boa, E., Danielsen, S. et al. Plant health clinics in Bolivia 2000—2009: operations and preliminary results. Food Sec. 1, 371–386 (2009). https://doi.org/10.1007/s12571-009-0033-z
Received:

Accepted:

Published:

Issue Date:
Keywords
Plant health clinics

Bolivia

National plant healthcare systems

Research/extension links

Global plant clinic