Abstract
The challenges of desertification and food insecurity share considerable common ground, not only in terms of their myriad biophysical, political and socioeconomic drivers and links to the productivity of the land and soil, but also in the discourses and approaches that have informed their management. This paper reviews the elements common to both challenges and argues that due to their cross-cutting nature and the parallel pathways along which each issue has evolved, there is a strong case to be made for taking a synergistic approach towards the development of future solutions. In particular, it is argued that livelihoods and vulnerability approaches could be used as a common platform to inform more integrated interventions. This could enable multiple benefits to be harnessed for both challenges.
Access options
Buy single article
Instant access to the full article PDF.
USD 39.95
Price includes VAT (USA)
Tax calculation will be finalised during checkout.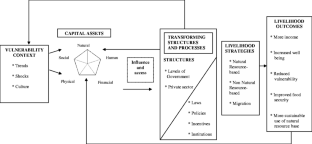 Notes
1.

Drylands are often divided into sub-categories according to the extent of the aridity they experience. Aridity is commonly assessed using the ratio of mean annual precipitation to the mean annual evaporative demand, expressed as potential evapotranspiration. The mean of this ratio over the long term is known as the aridity index (AI; MA 2005). The sub-categories and their aridity indices are:

(1) hyper-arid areas (AI < 0.05), (2) arid areas (0.05 < AI < 0.20), (3) semi-arid areas (0.20 < AI < 0.50), and (4) dry sub-humid areas (0.50 < AI < 0.65; Middleton and Thomas 1997).

2.

Desertification in its simplest form can be defined as 'land degradation in drylands'. A more comprehensive discussion of the debates surrounding this definition as well as the challenges in measuring desertification is provided later in the paper.

3.

Until recently, research on desertification has also been viewed separately from advances made in understanding climate change and biodiversity loss, despite the obvious inter-linkages through efforts to enhance sustainable land management (Thomas 2008).

4.

This may appear surprising as animals are dependent on plants for food. However, researchers such as Behnke and Scoones (1993) and Ellis and Swift (1988) have demonstrated that plant production in drylands is fundamentally determined by rainfall and is less affected by animal population densities, because in extended drought periods animals die off due to a lack of water, keeping the population below the level at which they cause irreversible damage (Illius and O'Connor 1999).

5.

This is particularly important for desertification, which has been largely overshadowed by international investments in efforts to address climate change (Ortiz and Tang 2005).
References
Adams WM (2002) Green development: environment and sustainability, 2nd edn. Routledge, London

Adger WN (2006) Vulnerability. Glob Environ Change 16(3):268–281

Adger WN, Benjaminsen TA, Brown K, Svarstad H (2001) Advancing a political ecology of global environmental discourses. Dev Change 32:681–715

Adger WN, Arnell NW, Tompkins EL (2005) Successful adaptation to climate change across scales. Glob Environ Change 15:77–86

Agoramoorthy G (2008) Can India meet the increasing food demand by 2020? Futures 40:503–506

Arnalds O, Gisladottir FO, Sigurjonsson H (2001) Sandy deserts of Iceland: an overview. J Arid Environ 47:359–371

Aubréville A (1949) Climats, Forêts et Désertification de l'Afrique Tropicale. Société d'Edition de Géographie Maritime et Coloniale, Paris, France

Bai ZG, Dent DL, Olsson L, Schaepman ME (2008) Proxy global assessment of land degradation. Soil Use Manage 24:223–234

Barbier E (1997) The economic determinants of land degradation in developing countries. Philos Trans R Soc Lond, B 352:891–899

Baro M, Deubel TF (2006) Persistent hunger: perspectives on vulnerability, famine, and food security in sub-Saharan Africa. Annu Rev Anthropol 35:37–57

Barrett CB, Reardon T, Webb P (2001) Nonfarm income diversification and household livelihood strategies in rural Africa: concepts, dynamics and policy implications. Food Policy 26:315–331

Batterbury SPJ, Warren A (2001) Desertification. In: Smelser N, Baltes P (eds) International encyclopædia of the social and behavioral sciences. Elsevier, Amsterdam, pp 3526–3529

Batterbury SPJ, Behnke RH, Doll PM, Ellis JE, Harou PA, Lynam TJP, Mtimet A, Nicholson SE, Obando JA, Thornes JB (2002) Responding to desertification at the national scale. In: Reynolds JF, Stafford-Smith DM (eds) Global desertification: do humans cause deserts? Dahlem University Press, Berlin

Behnke RH, Scoones I (1993) Rethinking range ecology: implications for range management in Africa. In: Behnke RH, Scoones I, Kerven C (eds) Range ecology at disequilibrium: new models of natural variability and pastoral adaptation in African savannas. Overseas Development Institute, London

Blaikie P (1989) Explanation and policy in land degradation and rehabilitation for developing countries. Land Degrad Rehabil 1:23–37

Blaikie P, Brookfield H (1987) Land degradation and society. Methuen, London

Boland A (2000) Feeding fears: competing discourses of interdependency, sovereignty, and China's food security. Polit Geogr 19:55–76

Boserup E (1965) The conditions of agricultural growth: the economics of agrarian change under population pressure. Aldine, Chicago

Bossio D, Geheb K (2008) Conserving land, protecting water. International Water Management Institute, Challenge Program on Water and Food. CABI, p 230

Broad R (1994) The poor and the environment: friends or foes? World Dev 22:811–822

Brown L (1994) Who will feed China? Worldwatch 7(5):10–19

Brown LR (2005) Outgrowing the earth: the food security challenge in an age of falling water tables and rising temperatures. Norton, New York, pp 86–87

Bryceson DF (2002) The scramble in Africa: reorienting rural livelihoods. World Dev 30(5):725–39

Byerlee D, Heisey P, Pingali P (2000) Realizing yield gains for food staples in developing countries in the early twenty-first century: prospects and challenges. In: Food needs of the developing world in the early twenty-first century. Pontificiae Academiae Scientiarum Scripta Varia 97, Proceedings of the Study—Week of the Pontifical Academy of Sciences, January 27–30, 1999

Clay E (2008) The UN and global food security. Dev Policy Rev 26(2):245–248

Corell E (1999) The negotiable desert: expert knowledge in the negotiations of the CCD. Linkoping Studies in Arts and Science no. 191, Sweden

Dasgupta S, Deichmann U, Meisner C, Wheeler D (2005) Where is the poverty–environment nexus? Evidence from Cambodia, Lao PDR and Vietnam. World Dev 33(4):617–638

De Waal A (1990) A reassessment of entitlement theory in the light of the recent famines in Africa. Dev Change 21:469–490

DeFries RS, Foley JA, Asner GP (2004) Land-use choices: balancing human needs and ecosystem function. Front Ecol Environ 2:249–257

Devereux S (2001) Sen's entitlement approach: critiques and counter-critiques. Oxf Dev Stud 29(3):245–263

Devereux S, Maxwell S (2001) Food security in sub-Saharan Africa. ITDG, London

DfID (1999) Sustainable livelihoods guidance sheets. Department for International Development, London

Dilley M, Boudreau TE (2001) Coming to terms with vulnerability: a critique of the food security definition. Food Policy 26:229–247

Dobie P (2003) A future for the drylands? RECEIL 12:140–148

Doran JW, Safley M (1997) Defining and assessing soil health and sustainable productivity. In: Pankhurst CE, Doube BM, Gupta VVSR (eds) Biological indicators of soil health. CAB International, Wallingford, pp 1–28

Dougill AJ, Thomas DSG, Heathwaite AL (1999) Environmental change in the Kalahari: integrated land degradation studies for non-equilibrium dryland environments. Ann Assoc Am Geogr 59:420–442

Dregne HE, Chou NT (1992) Global desertification dimensions and costs. In: Degradation and restoration of arid lands. Texas Tech. University, Lubbock

Eakin H, Webhe M, Ávila C, Sánchez Torres G, Bojórquez-Tapia LA (2007) Social vulnerability of farmers in Mexico and Argentina. In: Leary N, Conde C, Kulkarni J, Nyong A, Pulnin J (eds) Climate change and vulnerability. Earthscan, London, UK, pp 257–278

Edkins J (2001) Whose hunger? Concepts of famine, practices of aid. University of Minnesota Press, Minneapolis

Ellis J, Swift D (1988) Stability of African pastoral ecosystems: alternative paradigms and implications for development. J Range Manag 41:450–459

Ericksen PJ (2008a) Conceptualizing food systems for global environmental change research. Glob Environ Change 18(1):234–245

Ericksen PJ (2008b) What is the vulnerability of a food system to global environmental change? Ecol Soc 13(2):14. http://www.ecologyandsociety.org/vol13/iss2/art14/

FAO (1983) World food security: a reappraisal of the concepts and approaches. Director General's Report. Rome

FAO (1996) Rome declaration on world food security and World Food Summit Plan of Action. World Food Summit, 13–17 November 1996. Food and Agriculture Organization, Rome, Italy

FAO (1997) Strategic grain reserves—guidelines for their establishment, management and operation. FAO Agricultural Services Bulletin—126. Available online from http://www.fao.org/docrep/w4979e/w4979e00.HTM

FAO (2002) The state of food insecurity in the world 2001. Rome

FAO (2003) The state of food insecurity in the world 2003: monitoring progress towards the World Food Summit and Millennium Development Goals. FAO, Rome

FAO (2006) The state of food and agriculture. FAO, New York

FAO (2008) Hunger on the rise. Briefing paper available online from http://www.fao.org/newsroom/common/ecg/1000923/en/hungerfigs.pdf. Accessed 12 February 2009

Few R (2003) Flooding, vulnerability and coping mechanisms: local responses to a global threat. Progress in Development Studies 3(1):43–58

Forsyth T (2003) Critical political ecology. Routledge, London

Fraser EDG (2006) Food system vulnerability: using past famines to help understand how food systems may adapt to climate change. Ecol Complex 3(4):328–335

Fraser EDG, Stringer LC (2009) Explaining agricultural collapse: macro-forces, micro-crises and the emergence of land use vulnerability in southern Romania. Glob Environ Change 19(1):45–53

Gisladottir G, Stocking M (2005) Land degradation control and its global environmental benefits. Land Degrad Dev 16(2):99–112

Glantz MH, Orlovsky NS (1983) Desertification: a review of the concept. Desertif Control Bulletin 9:15–22

GLASOD (1990) World map of the status of human-induced soil degradation. UNEP, Nairobi

Grainger A (1998) Modelling tropical land use change and deforestation. In: Goldsmith B (ed) Tropical rain forests: a wider perspective. Chapman and Hall, London, pp 302–344

Gray LC, Moseley WG (2005) A geographical perspective on poverty–environment interactions. Geogr J 171(1):9–23

Haddad L, Kennedy E, Sullivan J (1994) Choices of indicators for food security and nutrition monitoring. Food Policy 19(3):329–343

Huss-Ashmore R (1989) Perspectives on the African food crisis. In: Huss-Ashmore R, Katz SH (eds) African food systems in crisis: part 1: microperspectives. Gordon and Breach, London, pp 3–44

Illius AW, O'Connor TG (1999) On the relevance of non-equilibrium concepts to arid and semiarid grazing systems. Ecol Appl 9:798–813

IPCC (2007) Climate change 2007—impacts, adaptation and vulnerability. Contribution of Working Group II to the Fourth Assessment Report of the IPCC. Cambridge University Press

Kasperson J, Kasperson R, Turner B (1995) Regions at risk. United Nations University Press. Available online at: http://www.unu.edu/unupress/unupbooks/uu14re/uu14re00.htm. Accessed 29/12/04

Kremen C (2005) Managing ecosystem services: what do we need to know about ecology? Ecol Lett 8:468–479

Lal R (2006) Managing soils for feeding a global population of 10 billion. J Sci Food Agric 86:2273–2284

Lambin EF (1997) Modelling and monitoring land-cover change processes in tropical regions. Prog Phys Geogr 21(3):375–393

Leach M, Mearns R (1996) Lie of the land. Challenging received wisdom on the African environment. James Currey, Oxford, UK

Lehmann J, Gaunt J, Rondon M (2006) Bio-char sequestration in terrestrial ecosystems—a review. Mitig Adapt Strategies Glob Chang 11:403–427

Leichenko R, O'Brien K (2002) The dynamics of rural vulnerability to global change. Mitig Adapt Strategies Glob Chang 7.1:1–18

Lykke AM (2000) Refining the ecological aspects of disequilibrium theories for Africa's pastoral drylands. Desertif Control Bulletin 36:23–33

MA (Millennium Ecosystem Assessment) (2005) Ecosystems and human well-being: desertification synthesis. World Resources Institute, Washington, DC

Maxwell S (1996) Food security: a post-modern perspective. Food Policy. 21(2):155–170

Maxwell S, Smith M (1992) Household food security; a conceptual review. In: Maxwell S, Frankenberger TR (eds) Household food security: concepts, indicators, measurements: a technical review. UNICEF, New York

Maxwell S, Slater R (2003) Food policy old and new. Dev Policy Rev 21(5–6):531–553

McCarthy JJ, Canziani OF, Leary NA, Dokken DJ, White KS (eds.) (2001) Climate change 2001: impacts, adaptation and vulnerability. Contribution of Working Group II to the Third Assessment Report of the Intergovernmental Panel on Climate Change. Cambridge University Press, Cambridge, UK. Available online at http://www.ipcc.ch/ipccreports/tar/wg2/index.htm

Middleton N, Thomas DSG (1997) UNEP world atlas of desertification. Edward Arnold, London

Moore DS (1996) Marxism, culture, and political ecology: environmental struggles in Zimbabwe's eastern highlands. In: Peet R, Watts M (eds) Liberation ecologies. Routledge, London

Mortimore M (1998) Roots in the African dust: sustaining the sub-Saharan drylands. Cambridge University Press, Cambridge, p 219

Moseley WG (2001) African evidence on the relation of poverty, time preference and the environment. Ecol Econ 38:317–326

Nelson R (1990) Dryland management—the 'desertification' problem. World Bank Technical Paper No. 116, Washington, USA

O'Brien K, Leichenko R, Kelkar U, Venema H, Aandahl G, Tompkins H, Javed A, Bhadwal S, Barg S, Nygaard L, West J (2004) Mapping vulnerability to multiple stressors: climate change and globalization in India. Glob Environ Change 14:303–313

Oldeman LR, Hakkeling RTA, Sombroek WG (1990) World map of the status of human-induced soil degradation: explanatory note. (The) Global Assessment of Soil Degradation, ISRIC and UNEP, October

Olsson L (1993) On the causes of famine—drought, desertification and market failure in the Sudan. Ambio 22:395–404

Ortiz EF, Tang G (2005) Review of the management, administration and activities of the Secretariat of the United Nations Convention to Combat Desertification (UNCCD). United Nations Joint Inspection Unit, Geneva

Perkins J, Thomas DSG (1993) Spreading deserts or spatially confined environmental impacts? Land degradation and cattle ranching in the Kalahari Desert of Botswana. Land Degrad Rehabil 4:179–194

PRB (2008) 2008 world population data sheet. Population Reference Bureau, Washington, DC, p 16

Qui J (2008) Is China ready for GM rice? Nature 455:850–852

Raleigh C, Urdal H (2008) Climate change, environmental degradation and armed conflict. Polit Geogr 26:674–694

Reardon T (1997) Using evidence of household income diversification to inform study of the rural nonfarm labor market in Africa. World Dev 25(5):735–748

Reardon T, Vosti SA (1995) Links between rural poverty and the environment in developing countries: asset categories and investment poverty. World Dev 23:1496–1506

Reij C, Tappan G, Belemvire A (2005) Changing land management practices and vegetation on the Central Plateau of Burkina Faso (1968–2002). J Arid Environ 63:642–659

Rietkerk M, Ketner P, Burger J, Hoorens B, Olff H (2000) Multiscale soil and vegetation patchiness along a gradient of herbivore impact in a semi-arid grazing system in West Africa. Plant Ecol 148:207–224

Robbins P (2004) Political ecology. Blackwell, Oxford, UK

Roques KG, O'Connor TG, Watkinson AR (2001) Dynamics of shrub encroachment in an African savanna: relative influences of fire, herbivory, rainfall and density dependence. J Appl Ecol 38:268–280

Ross S (2007) The World Food Programme: a case of benign US policy? Aust J Int Aff 61(2):267–281

Salehyan I (2008) From climate change to conflict? No consensus yet. J Peace Res 45(3):315–326

Schaeffer WM (1985) Order and chaos in ecological systems. Ecology 66:93–106

Scherr SJ (2000) A downward spiral? Research evidence on the relationship between poverty and natural resource degradation. Food Policy 25:479–498

Schipper ELF (2007) Climate change, adaptation and development: exploring the linkages. Tyndall Working Paper 107

Scoones I (1998) Sustainable rural livelihoods: a framework for analysis. IDS Working Paper No. 72. Institute of Development Studies, Sussex

Scoones I (1999) New ecology and the social sciences: what prospects for a fruitful engagement? Annu Rev Anthropol 28:479–507

Sen A (1981) Poverty and famines: an essay on entitlement and deprivation. Clarendon, Oxford

Simelton ES, Fraser EDG, Termansen M, Forster PM, Dougill AJ (2009) Typologies of crop-drought vulnerability: an empirical analysis of the socio-economic factors that influence the sensitivity and resilience to drought of three major food crops in China (1961–2001). Environ Sci Policy. doi:10.1016/j.envsci.2008.11.005

Solesbury W (2003) Sustainable livelihoods: a case study of the evolution of DfID policy. London: Overseas Development Institute, Working paper 217

Sonneveld BGJ, Dent DL (2009) How good is GLASOD? J Environ Manag 90(1):274–283

Spooner B (1989) Desertification: the historical significance. In: Huss-Ashmore R, Katz SO (eds) African foods systems in crisis. Part 1: microperspectives. Gordon and Breach, New York, pp 111–162

Sporton D, Stringer LC (2007) Defining the UNCCD's comparative advantage in current international architecture (1)—international perspective. Report prepared to provide input to the deliberations of the UNCCD's Intersessional Intergovernmental Working Group

Stebbing EP (1935) The encroaching Sahara: the threat to the West African colonies. The Geogr J 85:506–524

Stocking MA (2003) Tropical soils and food security: the next 50 years. Science 302:1356–1359

Stringer LC (2009) Land degradation policy in Swaziland: testing the orthodoxies. Land Use Policy 26(2):157–168

Sullivan S (1996) Towards a non-equilibrium ecology: perspectives from an arid land. J Biogeogr 23:1–5

Swift J (1996) Desertification narratives, winners and losers. In: Mearns RE, Leach M (eds) The lie of the land. The International African Institute in association with James Currey

Thomas R (2008) Addressing land degradation and climate change in dryland agroecosystems through sustainable land management. J Environ Monit 10:595–603

Thomas DSG, Middleton NJ (1994) Desertification: exploding the myth. Wiley, Chichester

Tiffen M, Mortimore M, Gichuki F (1994) More people, less erosion? Environmental recovery in Kenya. Wiley, Chichester

Turner BL II (2002) Toward integrated land-change science: advances in 1.5 decades of sustained international research on land-use and land-cover change. In: Steffen W, Jager J, Carson D, Bradshaw C (eds) Challenges of a changing earth. Proceedings of the Global Change Open Science Conference, Amsterdam, The Netherlands, 10–13 July 2000. Springer, Heidelberg, Germany

UNCCD (1994) United Nations Convention to Combat Desertification in those Countries Experiencing Serious Drought and/or Desertification Particularly in Africa: Text with Annexes UNEP, Nairobi

UNCCD (2008) Use of biochar (charcoal) to replenish soil carbon pools, restore soil fertility and sequester CO2. Submission to the 4th Session of the Ad Hoc Working Group on Long-term Cooperative Action under the Convention (AWG-LCA 4), Poznan, 1–10 December 2008, pp 1–7

UNDP (1994) Human development report 1994. Oxford University Press, Oxford

UNEP (2002) Success stories in the struggle against desertification: a holistic and integrated approach to environmental conservation and sustainable livelihoods. UNEP, Nairobi, p 176

UNEP (2006) Don't desert drylands! Facts about deserts and desertification. www.unep.org

United Nations (1975) Report of the World Food Conference, Rome 5–16 November 1974. New York

Van Lynden GWJ, Kuhlmann T (2002) LADA, review of degradation assessment methods. FAO/ISRIC, Rome

Vogel CH, Smith J (2002) Building social resilience in arid ecosystems. In: Reynolds JF, Stafford-Smith DM (eds) Global desertification: do humans cause deserts? Dahlem University Press, Berlin

Watts MJ, Bohle H (1993) Hunger, famine and the space of vulnerability. GeoJournal 30(2):117–125

Wiebe K (2003) Linking land quality, agricultural productivity, and food security. Resource Economics Division, Economic Research Service, US Department of Agriculture. Agricultural Economic Report No. 823

Wood D, Lenne JM (2005) Received wisdom in agricultural land use policy: 10 years on from Rio. Land Use Policy 22(2):75–93

World Bank (1986) Poverty and hunger: issues and options for food security in developing countries. Washington, DC

Worster D (1979) Dust bowl: the southern plains in the 1930s. Oxford University Press, New York

Zander P, Kachele H (1999) Modelling multiple objectives of land use for sustainable development. Agric Syst 59:311–325
Acknowledgements
I would like to say thank you to Evan Fraser (University of Leeds), who provided some very helpful comments on an earlier draft of this paper; as did the two anonymous reviewers and editor-in-chief who I would also like to thank for their thoughts and suggestions.
About this article
Cite this article
Stringer, L.C. Reviewing the links between desertification and food insecurity: from parallel challenges to synergistic solutions. Food Sec. 1, 113–126 (2009). https://doi.org/10.1007/s12571-009-0016-0
Received:

Accepted:

Published:

Issue Date:
Keywords
Food security

Desertification

Poverty

Malthusian discourse

Livelihoods

Vulnerability