Abstract
Soil degradation affects human nutrition and health through its adverse impacts on quantity and quality of food production. Decline in crops' yields and agronomic production exacerbate food-insecurity that currently affects 854 million people globally, and low concentration of protein and micronutrients (e.g., Zn, Fe, Se, B, I) aggravate malnutrition and hidden hunger that affects 3.7 billion people, especially children. Soil degradation reduces crop yields by increasing susceptibility to drought stress and elemental imbalance. Strategies include: improving water productivity, enhancing soil fertility and micronutrient availability, adopting no-till farming and conservation agriculture and adapting to climate change. There are also new innovations such as using remote sensing of plant nutritional stresses for targeted interventions, applying zeolites and nanoenhanced fertilizers and delivery systems, improving biological nitrogen fixation and mycorrhizal inoculation, conserving and recycling (e.g., waste water) water using drip/sub-drip irrigation etc. Judiciously managed and properly restored, world soils have the capacity to grow adequate and nutritious food for present and future populations.
This is a preview of subscription content, log in to check access.
Access options
Buy single article
Instant access to the full article PDF.
US$ 39.95
Price includes VAT for USA
Subscribe to journal
Immediate online access to all issues from 2019. Subscription will auto renew annually.
US$ 99
This is the net price. Taxes to be calculated in checkout.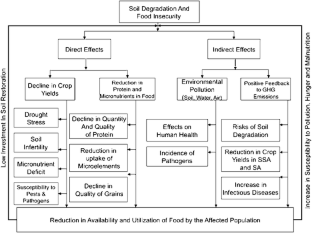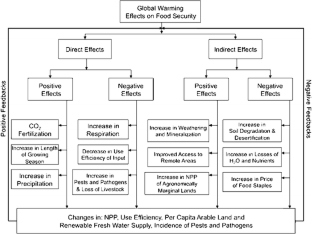 References
Anonymous (2006) African soil exhaustion. Science 312:31

Anonymous (2008) Deserting the hungry? Nature 451:223–224

Aujla MS, Thind NS, Buttar GS (2005) Cotton yield and water use efficiency at various levels of water and N though drip irrigation under two methods of planting. Agric Water Manag 7:167–179

Bandaru V, Stewart BA, Baumhardt RL, Ambati S, Robinson CA, Schlegel A (2006) Growing dryland grain sorghum in clumps to reduce vegetation growth and increase yield. Agron J 98:1109–1120

Barnett TP, Adam JC, Lettermaier DP (2005) Potential impacts of a warming climate on water availability in snow-dominated regions. Nature 438:303–309

Barron J, Rockström J, Gichucki F, Hatibu N (2003) Dry spell analysis and maize yields for two semi-arid locations in East Africa. Agric For Meteorol 117:23–37

Beukert A, Bationo A, Dossa K (2000) Mechanisms of mulch-induced cereal growth increases in West Africa. Soil Sci Soc Am J 64:346–358

Black R (2003) Micronutrient deficiency—an underlying cause of morbidity and mortality. Bulletin World Health Organization 81(2):79

Borlaug NE (2007) Feeding a hungry world. Science 318:359

Borlaug NE, Dowswell CR (1994) Feeding a human population that increasingly crowds a fragile planet. 15th World Congress on Soil Science, 10–16 July 1994, Acapulco, Mexico

Brklacich M, Bryant CR, Smit B (1991) Review and appraisal of concepts of sustainable food production systems. Environ Manage 15:1–14

Brown ME, Funk CC (2008) Food security under climate change. Science 319:580–581

Bruinsma J (ed) (2003a) World agriculture: towards 2015/2030. An FAO Study, Earthscan, London

Bruinsma J (2003b) World agriculture: towards 2015/2030, An FAO Perspective. Earthscan, London

Bugri JT (2008) The dynamics of tenure security, agricultural production and environmental degradation in Africa: evidence from stakeholders in northeast Ghana. Land Use Policy 25:271–285

Burkart MR (2007) Diffuse pollution from intensive agriculture: sustainability, challenges and opportunities. Water Sci Technol 55:17–23

Cakmak I (2002) Plant nutrition research: priorities to meet human needs for food in sustainable ways. Plant and Soil 247:3–24

Cerri CE, Sparovek G, Bernoux M, Easterling WE, Melillo JM, Cerri CC (2007) Tropical agriculture and global warming. Sci Agric 64:83–99

Chalwe A, Chiona M, Simwambana MSC (2002) Improving household food security by using planted fallows in Zambia. Discov Innov 14:76–81

Chen J (2007) Rapid urbanization in China: a real challenge to soil protection and food security. Catena 69:1–5

Condon AG, Richards RA, Rebetzke GJ, Farquhar GD (2002) Improving intrinsic water-use efficiency and crop yields. Crop Sci 43:122–131

Daubert S, Mercier-Bonin M, Maranges, Goma G, Fonade C, Lafforgue C (2003) Why and how membrane reactions with unsteady filtration conditions can improve the efficiency of biological processes. Ann NY Acad Sci 984:420–435

Deckelbaum RJ, Pam C, Mutuo P, DeClerck F (2006) Econutrition: Implementation models from the Millennium Villages Project in Africa. Food Nutr Bull 27(4):335–342

Dejoux C (2001) The Earth System in Danger. Resource Document. Centre National D'Etudes Spatiales (CNES) Magazine #19. http://www.cnes.fr/web/CNES-en/print-1698-the-earth-system-in-danger.php. Accessed 01 August 2008

Derpsch R (2007) No-tillage and conservation agriculture: a progress report. In: Goddard T, Zoebisch M, Gan Y, Ellis W, Watson A, Sombatpanit S (eds) No-Till farming systems. WASWC Spec. Publ. #3, Bancock, Thailand, pp. 7–41

Douville H, Chauvin F, Broqua H (2001) Influence of soils moisture on the Asian and African monsoons. Part 1. Mean monsoon and daily precipitation. J Climate 14:2381–2402

Dracup JA, Lee KS, Paulson EG (1980) On the definition of droughts. Water Resour Res 16:297–302

Drechsel P, Gyiele D, Kunze D, Cofie O (2001a) Population density, soil nutrient depletion, and economic growth in sub-Saharan Africa. Ecol Econ 38:251–258

Drechsel P, Kunze D, Penning de Vries F (2001b) Soil nutrient depletion and population growth in sub-Saharan Africa: a Malthusian nexus? Popul Environ 22:411–423

Dyson T (1999) World food trends and prospects in 2025. Proc Natl Acad Sci U S A 96:5929–5936

Eickhout B, Bouwman AF, Van Zeits H (2006) The role of nitrogen in world food production and environmental sustainability. Agric Ecosyst Environ 116:4–14

Erkossa T, Itanna F, Stahr K (2007) Indexing soil quality: a new paradigm in soil science research. Aust J Soil Res 45(2):129–137

Evans LT (2005) The changing context of agricultural science. J Agric Sci 143:7–10

Evenson RE (1999) Global and local implications of biotechnology and climate change for future food supplies. Proc Natl Acad Sci USA 96:5921–5928

Evenson RE, Gollin D (2003) Assessing the impact of the Green Revolution, 1960–2000. Science 300:758–762

Ewert F, Rounsevelle MDA, Reginster I, Metzger MG, Leemans R (2005) Future scenarios of agricultural land use. I. Estimating changes in crop productivity. Agric Ecosyst Environ 107:101–116

Exlundh L, Olsson L (2003) Vegetation index trends for the African Sahel 1982–1999. Geophysics Research Letters 30. doi:10.1029/2002GLO16772

Ezzati M, Lopez AD, Rodgers A, Vanderhoorn S, Hurray CL (2002) Comparative risk assessment collaborating group. Selected major risk factors and global regional burden of disease. Lancet 360:1347–1360

Falcon WP, Naylor RL (2005) Rethinking food security for the 21st century. Am J Agric Econ 87:1113–1127

Falkenmark M, Rockström J (2004) Balancing water for humans and nature. The new approach in echohyrology. Earthscan, London, p 247

FAO (1996) Declaration on world food security. World food summit. FAO, Rome

FAO (2004) The state of food and agriculture 2003-04. FAO, Rome, p 209

FAO (2005) The state of food insecurity in the world: key to achieving the Millennium Development Goals. FAO, Rome, p 35

FAO (2007) Climate change and food security: a framework document. FAO, Rome, p 13

Fischer G, Shah M, Tubiello FN, Van Velhuizer H (2005) Socio-economic and climate change impacts on agriculture: an integrated assessment, 1990–2080. Philos Trans R Soc (B) 360:2067–2083

Giloli G, Baumgärtner J (2007) Adaptive ecosystem sustainability enhancement in Sub-Saharan Africa. EcoHealth 4:428–444

Graham RD, Welch RM, Bouis HE (2001) Addressing micronutrient malnutrition through enhancing the nutritional quality of staple foods: principles, perspectives and knowledge gaps. Adv Agron 70:77–142

Gowing JW, Palmer M (2008) Sustainable agricultural development in Sub-Saharan Africa: the case for a paradigm shift in land husbandry. Soil Use Manage 24:92–99

Gruhn P, Goletti F, Yudelman M (2000) Integrated nutrient management, soil fertility, and sustainable agriculture: current issues and future challenges. IFPRI, Food Policy and the Environment Discussion Paper #32, Washington, DC, 29 pp

Harmaoui B, Abadi JM, Burdman S, Rashid A, Sarig S, Oken Y (2001) Effects of inoculation with Azospirillum brasulense on chick peas (Cicer ariatinum) and faba beans (Vicia Faba) under different growth conditions. Agron J 21:553–560

Henao J, Baanante C (2006) Agricultural production and soil nutrient mixing in Africa, (pp. 13). International Fertilizer Development Center, Muscle shoals, AL

Hightower M, Pierce SA (2008) The energy challenge. Nature 452:285–286

Hirsch RE, Sussman MR (1999) Improving nutrient capture from soil by the genetic manipulation of crop plants. Trends Biotech 17:356–361

Horrigan L, Lawrence RS, Walker P (2002) How sustainable agriculture can address the environment and human health harms of industrial agriculture. Environ Health Perspect 110:445–456

Hossain M, Singh VP (2000) Fertilizer use in Asian agriculture implications for sustaining food security and the environment. Nutr Cycl Agroecosyst 57:155–169

Humphrey JH, West KP, Sommer A (1992) Vitamin A deficiency and attributable mortality among under-5 years-olds. Bull W H O 70:225–232

Ingram JSI, Gregory PJ, Izac AM (2008) The role of agronomic research in climate change and food security policy. Agric Ecosyst Environ 126:4–12

Jackobsen I, Leggett ME, Richardson AE (2005) Rhizosphere microorganisms and plant phosphorus uptake. In: Sims JT, Sharplet AN (eds) Phosphorus, agriculture and the environment. Agronomy Monograph 46, Madison, pp 437–492

Jardine A, Speldewinde P, Carver S, Weinstein P (2007) Dryland salinity ecosystem distress syndrome: human health implications. EcoHealth 4(1):10–17

Jones PG, Thornton PK (2003) The potential impact of climate change on maize production in Africa and Latin America in 2055. Glob Environ Change 13:51–59

Kaiser J (2004) Wounding Earth's fragile skin. Science 304:1616–1618

Kapkiyai JJ, Karanja NK, Qureshi JN, Smithson PC, Woomer PL (1999) Soil organic matter and nutrient dynamics in Kenyan Nitisol under long-term fertilizer and organic input management. Soil Biol Biochem 31:1773–1782

Kijne JW (2001) Preserving the water harvest: effective water use in agriculture. Water Sci Technol 43:133–139

Kijne JW (2004) Abiotic stress and water scarcity: identifying and resolving conflicts from plant level to global level. Field Crops Res 97:3–18

Koning MBJ, Van Ittersum MK, Becx GA, Van Boelkel MAJS, Brandenburg WA, Van den Broek JA, Gourdiaan J, Van Hofwegen G, Jongeneel RA, Schiere JB, Smies M (2008) Long-term global availability of food: continued abundance or new security. Netherlands Journal of Agriculture Science/Wageningen Journal of Life Science 55:229–292

Lal R (1974) Soil temperatures, soil moisture and maize yields from mulched and unmulched tropical soils. Plant Soil 40:129–143

Lal R (1975) Role of mulching techniques in soil and water management in the tropics. IITA Tech. Bull 1, Ibadan, Nigeria, 38 pp

Lal R (1976) Soil Erosion Problems in Alfisols In Western Nigeria and Their Control. IITA Monograph 1, Ibadan, Nigeria, 206 pp

Lal R (1989) Conservation tillage from sustainable agriculture. Adv Agron 42:85–197

Lal R (1993) Tillage effects on soil degradation, soil resilience, soil quality and sustainability. Soil Tillage Res 27:1–7

Lal R (1995) Erosion–crop productivity relationships for soils of Africa. Soil Sci Soc Am J 59:661–667

Lal R (1997) Degradation and resilience of soils. Philos Trans R Soc Lond (B) 352:997–1010

Lal R (2005) World crop residue production and implications of its use as a biofuel. Environ Int 31:575–584

Lal R (2006) Managing soils for feeding a global population of 10 billion. J Sci Food Agric 86:2273–2284

Lal R (2006a) Enhancing crop yield in developing countries through restoration of soil organic carbon pool in agricultural lands. Land Degrad Dev 17:197–209

Lal R (2006b) Managing soils for feeding global population of 10 billion. J Sci Food Agric 86:2273–2284

Lal R (2007a) Constraints to adopting no-till farming in developing countries. Soil Tillage Res 94:1–3

Lal R (2007b) Technology without wisdom. Crop, Soils and Agronomy News 52:12–13

Lal R (2008a) Food insecurity's dirty secret. Science 322:673–674

Lal R (2008b) Laws of sustainable soil management. Agronomy for Sustainable Development 29:7–9

Lal R (2009) Ten tenets of sustainable soil management. J Soil Water Conserv 64(1):20A–21A

Lal R, De Vleeschauwer D, Malafa Nganje R (1980) Changes in properties of a newly cleared Alfisol as affected by mulching. Soil Sci Soc Am J 44:827–833

Lenton TM, Held H, Kriegler E, Hall JW, Lucht W, Rahmstorg S (2008) Tipping element in earth's climate system. Proc Natl Acad Sci U S A 105:1786–1793

Lilley B, Lammie P, Dickerson J, Eberhard M (1997) An increase in hookworm infection temporarily associated with ecological change. Emerg Infect Dis 3:391–393

Lobell DB, Burke MB, Tebaldi C, Mastandrea MD, Falcon WP, Naylor RL (2008) Prioritizing climate change adaptation needs for food security in 2030. Science 319:607–610

Lodewykx C, Vangronsveld J, Porteous F, Moore ERB, Taghavi S, Meggeau M, Van der Lelie D (2002) Endophytic bacteria and their potential applications. Crit Rev Plant Sci 21:583–606

Loneragan JF (1997) Plant nutrition in the 20th and perspectives for the 21st century. Plant Soil 196:163–174

Lotsch A, Friedl MA, Anderson BT (2003) Coupled vegetation–precipitation variability of observed from satellite and climate records. Geophysics Resource Letter 30. doi:10.1029/2003GL017506.

Macilwain C (2004) Organic: is it the future of farming? Nature 428:792–793

Magdoff F (2004) A precarious existence: the fate of billions. Mon Rev 55(9):1–14

Marulanda A, Porcal R, Barea JM, Azcón R (2007) Drought tolerance and antioxidant activities in lavender plants colonized by native drought-tolerant or drought sensitive Glomus species. Microb Ecol 54:543–552

Maybank J, Bonsal B, Jones K, Lawford R, O'Brien EG, Ripley EA, Wheaton E (1995) Drought as a natural disaster. Atmos-Ocean 33:195–222

McMichael AJ, Powles JW, Butler CD, Uauy R (2007) Food, livestock production, energy, climate change and health. Resource document. (http://www.lexisnexis.com/us/Inacademic/delivery/Print). Accessed 01 August 2008

Melnick DJ, Navarro YK, McNeely J, Schmidt-Trabu G, Sears RR (2005) the millennium project: the positive health implications of improved environmental sustainability. Lancet 365(9460):723–725

Moyo D (2007) The future of food: elements of integrated food security strategy for South Africa and food security status in Africa. American Society of International Law 103–112

Mutiro J, Makurira H, Senzanjie A, Mul ML (2006) Water productivity analysis of smallholder rainfed systems: a case study of Makanya catchment, Tanzania. Phys Chem Earth 3:901–909

Naylor R, Steinfeld H, Falcon W, Galloway J, Smil V, Bradford E, Alder J, Mooney H (2005) Losing the link between livestock and land. Science 310:1621–1622

NRC (2008) Emerging technologies to benefit farmers in Sub-Saharan Africa and South Asia. National Academy Press, Washington, p 238

Oldeman LR (1994) The global extent of soil degradation. In: Greenland DJ, Szaboles I (eds) Soil resilience and sustainable land use. CAB International Wallingford, UK, pp 99–118

Oren AH, Kaya A (2006) Factors affecting absorption characteristics of Zn+2 on two natural zeolites. J Hazard Mater 131:59–65

Paeth H (2004) Key factors on African climate change evaluated by a regional climate model. Erdkunde 58:290–315

Paeth H, Stuck J (2004) The West African dipole in rainfall and its forcing mechanism in global and regional climate models. Mausam 55:561–582

Paeth H, Thamm HP (2007) Regional modeling of future African climate north of 15° S including greenhouse warming and land degradation. Clim Change 83:401–427

Parry ML, Rosenzweig C, Iglesias A, Livermore M, Fischer G (2004) Effects of climate change on global food production under SRES emissions and socioeconomic scenario. Glob Environ Change 14:53–67

Pimentel D, Cooperstein S, Randell H, Filiberto D, Sorrentino S, Kaye B, Nicklin C, Yagi J, Brian J, O'Hern J, Habas A, Weinstein C (2007) Ecology of increasing diseases; population growth and environmental degradation. Hum Ecol 35:653–668

Postel S (1999) Pillar of sand: can the irrigation miracle last? Norton, New York, p 313

Qi J, Yang L, Wang W (2007) Environmental degradation and health risks in Beijing, China. Archives of Environment and Occupational Health 62:33–37

Ramanathan V, Crutzen PJ, Kiehl JT, Rosenfeld D (2001) Aerosols, climate, and the hydrological cycle. Science 294:2119–2123

Raun WR, Solie JB, Johnson GV, Stone ML, Lukina EV, Thompson WE, Schepers JS (2001) In season predictions of potential grain yield in winter wheat using canopy reflectance. Agron J 93:131–138

Reich P, Eswaran H (2004) Soil and trouble. Science 304:1614–1615

Reynolds MP, Borlaug NE (2006) Applying innovations and new technologies for international collaborative wheat improvement. J Agric Sci 144:95–110

Rockström J (2003) Water for food and nature in drought-prone tropics: vapour shift in rainfed agriculture. Philos Trans R Soc Lond (B) 358:1997–2009

Rockström J, Falkenmark M (2000) Semiarid crop production from a hydrological perspective: Gap between potential and actual yields. Crit Rev Plant Sci 19:319–346

Rockström J, Hatibu N, Oweis TY, Wani S, Barron J, Bruggeman A, Farahani J, Karlberg L, Qiang Z (2007) Managing water in rainfed agriculture. In: CAWMA (2007) Water For Food, Water for Life: a comprehensive assessment of water management in agriculture (Chapter 8). Earthscan, London.

Rosegrant MW (1997) Water resources in the 21st century: Challenges and implications for action. Food, Agriculture and the Environment Discussion Paper #20, International Food policy Research Institute, Washington, D.C.

Rosegrant MW, Cline SA (2003) Global food security: challenges and policies. Science 302:1917–1919

Rosegrant MW, Paisner M, Meijer S, Witcover J (2000) Global food production to 2020: emerging trends alternative futures. IFPRI, Washington

Rosenwzeig C, Parry ML (1994) Potential impact of climate change on world food supply. Nature 367:133–138

Roy A (2003) Fertilizer needs to enhance production: challenges facing India. In: Lal R, Hansen DO, Uphoff N, Slack S, (eds) Food security and environment quality in developing world. Lewis, Boca Raton, pp 53–68

Sanchez PA (2000) Linking climate change research with food security and poverty reduction in the tropics. Agric Ecosyst Environ 82:371–383

Sanchez PA (2002) Soil fertility and hunger in Africa. Science 295:2019–2020

Sanchez PA, Swaminathan MS (2005) Hunger in Africa: the link between unhealthy people and unhealthy soils. Lancet 365:442–444

Sarig S, Okon Y, Blum A (1990) Promotion of leaf area development and yield in Sorghum bicolor inoculated with Azospirillium brasilense. Symbiosis 9:235–245

Sazawal S, Black RE, Menom VP, Dhingra P, Caulfield LE, Dhingra U (2001) Zinc supplementation in infants born small for gestational age reduces mortality: a prospective randomized controlled trial. Pediatrics 108:1280–1286

Schmidhuber J, Tubiello FN (2007) Global food security under climate change. Proc Natl Acad Sci U S A 104:19703–19708

Shiva V (1991) The violence of the green revolution: third world agriculture, ecology and the politics. Zed Books, London

Sing DB, Sing CF (2008) Soil and human health. In: Lal R (ed) Encyclopedia of soil science. Taylor and Fromes, New York

Singh RB (2000) Environmental consequences of agricultural development: a case study from Green Revolution state of Haryana, India. Agriculture, Ecosystems and Environment 82:97–103

Singh Y, Singh B, Timsina J (2005) Crop residue management for nutrient cycling and improving soil productivity in rice-based cropping systems in the tropics. Adv Agron 85:269–407

Slegers MFW, Stroosnijder L (2008) Beyond the desertification narrative: a framework for agricultural drought in semi-arid east Africa. Ambio 37:372–380

Soliman MF, Kostandi SF, Vanbeusichem ML (1992) Influence of sulfur and nitrogen-fertilizer on the uptake of iron, manganese, and zinc by corn plants grown in calcareous soil. Commun Soil Sci Plant Anal 23:1289–1300

Stocking MA (2003) Tropical soils and food security: The next 50 years. Science 302:1356–1359

Street RB, Findlay BF (1981) An objective climatological study of prolonged dry spells (meterological drought) in the Canadian Prairies (pp. 29). Report # 81–10, Canadian Climate Center, AES, Downsview, ON, Canada

Thajun T, Van Ranst E (2005) Is highly intensive agriculture environmentally sustainable? A case study from Fugou County, China. J Sustain Agric 25:91–102

Tilman D (1999) Global environmental impacts of agricultural expansion: the need for sustainable and efficient practices. Proc Natl Acad Sci U S A 96:5995–6000

Tilman D, Fargione J, Wolff B, D'Antonio C, Dobson A, Howarth R, Schindler D, Schlesinger WH, Simberloff D, Swackhamer D (2001) Forecasting agriculturally driven global environmental change. Science 292:281–284

Timsina J, Conner DJ (2001) Productivity and management of rice–wheat cropping systems: issues and challenges. Field Crops Res 69:93–132

Twomlow S, Shiferaw B, Cooper P, Keatinge JDH (2008) Integrating genetics and natural resources management for technology targeting and greater impact of agricultural research in the semi-arid tropics. Exp Agric 44:235–256

Uppugunduri AM (2006) An integrated strategy for food security in developing countries. Earth Obs Syst 87:307–308

Van den Hurk BJJM, Viterbo P, Los SO (2003) Impact of leaf areas index seasonality on the annual lean surface evaporation in a global circulation model. Journal of Geophysics Resources 108. doi:10.1029/2002JD.0.2846.

Venkataraman C, Habib G, Eiguren-Fernandez A, Miguel AH, Friedlander SK (2005) Residential biofuels in South Asia: carbonaceous aerosol emissions and climate impacts. Science 307:1454–1456

Vishwanathan GB, Ramachandrappa BK, Nanjappa VH (2002) Soil–plant water status and yield of sweet corn (Zea mays L.) as influenced by drip irrigation and planting methods. Agric Water Manag 55:85–91

Vlek PJ, Kühne RF, Denich M (1997) Nutrient resources for crop production in the tropics. Philos Trans R Soc Lond (B), 352:975–985

Wallace JS (2000) Increasing agricultural water use efficiency to meet future food production. Agric Ecosyst Environ 82:105–119

Wani SP, Pathok P, Jangawed LS, Eswaran H, Singh P (2003) Improved management of Vertisols in the semi-arid tropics for increased productivity and soil carbon sequestration. Soil Use Manage 19:217–222

Warman PR, Harvard KA (1998) Yield, vitamin and mineral contents of organically and conventionally grown potatoes and sweet corn. Agric Ecosyst Environ 68(3):207–216

Welch RM, Graham RD (2004) Breeding for micronutrients in staple food crops from a human nutrition perspective. J Exp Bot 55(369):353–364

Welch RM, Graham R (2005) Agriculture: the real nexus for enhancing bioavailable micronutrients in food crops. J Trace Elem Med Biol 18(4):299–307

White JG, Zasoski RJ (1999) Mapping soil micronutrients. Field Crops Resources 60(1–2):11–26

Wijesundara C, Reed ST, McKenna JR, Martens DC, Donohue SJ (1991) Response of corn to long-term copper and zinc application on diverse soils. J Fertil Issues 8:63–68

Yang XE, Chen WR, Feng Y (2007) Improving human micronutrient nutrition through biofortification in the soil–plant system: China as a case study. Environment Geochemistry and Health 29:413–428
About this article
Cite this article
Lal, R. Soil degradation as a reason for inadequate human nutrition. Food Sec. 1, 45–57 (2009). https://doi.org/10.1007/s12571-009-0009-z
Received:

Accepted:

Published:

Issue Date:
Keywords
Food security

Hidden hunger

Desertification

Soil quality

Sustainable agriculture