Abstract
Introduction
This modified reduction technique reduces trauma and morbidity for anterior and inferior dislocations, is easy to perform, and is reliable.
Method
The procedure uses a "three directional pull" as follows: (1) Linear traction of the affected arm as it lies in the "position on arrival" in the Emergency Room. (2) Counter traction in the opposite direction. (3) The "third force" (a modification) is a sustained, increasing traction with a 2–3 in. broad sling placed around the neck of the humerus, pulling in the direction of 2 o'clock (left shoulder)/10 o'clock (right shoulder) in line with the lateral border of the scapula [runs parallel to the face of the glenoid]. Reduction is generally done under sedation, but general anesthesia used on the elderly and osteoporotics makes the procedure easier, safer, and quicker. Immobilization is in "internal rotation" for 3 weeks.
Result
Reduction is either "spontaneous" or achieved in a maximum of three precisely graded attempts undertaken in quick succession in full "three directional traction mode," using a much reduced range of abduction and external rotation than that used in Kocher's technique.
Conclusion
The "third force" is the crucial GUIDING force which helps to unbutton the head of the humerus from the rent in the capsule and/or "glide" the head effectively on to the glenoid. It will counteract or minimize muscle spasm. There was 100 % success in the 30 cases reduced by this technique over a period of 2.5 years.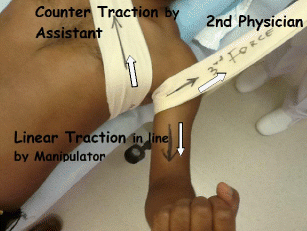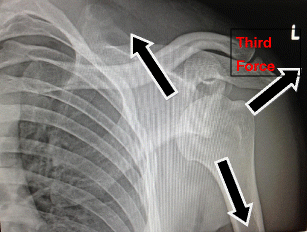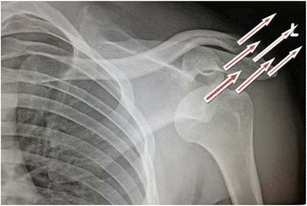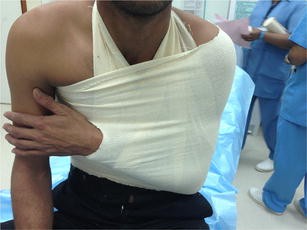 Bibliography
1.

Canale ST, Beaty JF (eds) (2008) Campbell's operative orthopaedics. 11th edn. Mosby, Elsevier, Philadelphia. ISBN 978-0-8089-2361-9 International Edition

2.

Adams JC, Hamblem DL (2005). Outline of Orthopaedics. 13th edn. Elsevier, ISE ISBN 0 443 07025 3

3.

Solomon L, Warwick D, Nayagam S (2010) Apley's System of Orthopaedics and Fractures 9th Edition, ISBN 0 0340 76373 6

4.

David L. Hamblem, A. Hamish R.W Simpson (2008). Adams outline of fractures including joint injuries. 12th edn.Elsevier, ISBN 9780443102981

5.

Kisner C, Colby LA (2007). Therapeutic Exercise—foundations and techniques, 5th edn ISBN −13: 978-0-8036-1584-7
Acknowledgments
I would like to thank Queenie Bakshi and Praveen Bakshi for their support and valuable contribution in refining the Syntax of the article, Sushma Bakshi for technical support, Yugal Behl for his advice on the physical dynamics of 'three dimensional pull' and the nursing staff for their assistance.
Electronic supplementary material
Below is the link to the electronic supplementary material.
Shoulder reduction video clip. (MOV 918 KB)
Shoulder reduction video clip with audio (MOV 32 MB)
About this article
Cite this article
Bakshi, K. Shoulder dislocation—a modified reduction technique for anterior and inferior dislocations. Eur Orthop Traumatol 5, 145–147 (2014). https://doi.org/10.1007/s12570-013-0215-1
Received:

Accepted:

Published:

Issue Date:
Keywords
Kocher's method

Glenohumeral

Rent

Button‐hole

Muscle spasm