Abstract
Purpose
There have been some reports of incomplete seating of the ceramic liner in the Stryker Trident acetabular system. We sought to prevent incomplete seating through the use of intraoperative radiography.
Method
We retrospectively reviewed 21 hips in 18 patients who had undergone total hip arthroplasty using a posterolateral approach with a Stryker Trident ceramic liner. All procedures included an intraoperative anteroposterior view radiograph to evaluate liner seating. If incomplete seating was recognized we reinserted the liner. We investigated whether this technique made it possible to detect and correct incomplete seating.
Results
Six of the 21 hips evidenced incomplete seating. In four of these hips, the incomplete seating was revealed on the intraoperative radiograph: two were reinserted properly, one was replaced with a polyethylene liner, and in the last one the incomplete seating was missed despite the radiographical evidence. The location of the gap between the socket and liner caused by the incomplete seating was inferior in all these cases. Intraoperative radiography did not indicate incomplete seating in two hips in which the location of the gap was anterior; the problem was revealed by postoperative lateral view radiography.
Conclusion
With a posterolateral approach in a lateral decubitus position, the use of intraoperative radiography was effective when the gaps were superior or inferior. However, this approach made it easy to miss anterior gaps and intraoperative radiography did not reveal them.
This is a preview of subscription content, log in to check access.
Access options
Buy single article
Instant access to the full article PDF.
US$ 39.95
Price includes VAT for USA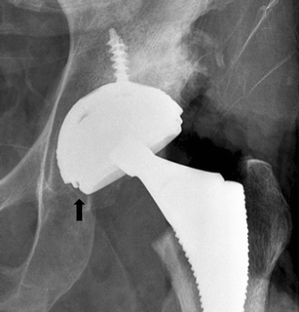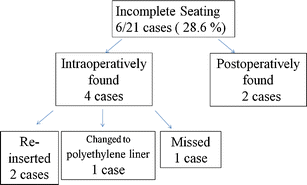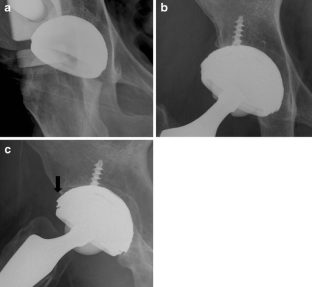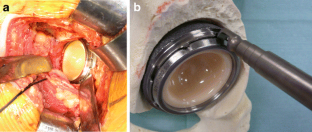 References
1.

Clarke IC, Good V, Williams P, Schroeder D, Anissian L, Stark A, Oonishi H, Schuldies J, Gustafson G (2000) Ultra-low wear rates for rigid-on-rigid bearings in total hip replacements. Proc Inst Mech Eng (H) 214:331–347

2.

Boutin P, Christel P, Dorlot JM, Meunier A, de Roquancourt A, Blanquaert D, Herman S, Sedel L, Witvoet J (1988) The use of dense alumina–alumina ceramic combination in total hip replacement. J Biomed Mater Res 22:1203–1232

3.

Nizard RS, Sedel L, Christel P, Meunier A, Soudry M, Witvoet J (1992) Ten-year survivorship of cemented ceramic–ceramic total hip prosthesis. Clin Orthop Relat Res 282:53–63

4.

Hamadouche M, Boutin P, Daussange J, Bolander ME, Sedel L (2002) Alumina-on-alumina total hip arthroplasty: a minimum 18.5-year follow-up study. J Bone Joint Surg Am 84:69–77

5.

Mahoney OM, Dimon JH 3rd (1990) Unsatisfactory results with a ceramic total hip prosthesis. J Bone Joint Surg Am 72:663–671

6.

Sedel L (2000) Evolution of alumina-on-alumina implants; a review. Clin Orthop Relat Res 379:48–54

7.

Langdown AJ, Pickard RJ, Hobbs CM, Clarke HJ, Dalton DJ, Grover ML (2007) Incomplete seating of the liner with the Trident acetabular system: a cause for concern? J Bone Joint Surg Br 89:291–295

8.

Miller AN, Su EP, Bostrom MP, Nestor BJ, Padgett DE (2009) Incidence of ceramic liner malseating in Trident acetabular shell. Clin Orthop Relat Res 467:1552–1556

9.

Howcroft DW, Qureshi A, Graham NM (2009) Seating of ceramic liners in the uncemented trident acetabular shell: is there really a problem? Clin Orthop Relat Res 467:2651–2655

10.

Schroder D, Bornstein L, Bostrom MPG, Nestor BJ, Padgett DE, Westrich GH (2011) Ceramic-on-ceramic total hip arthroplasty: incidence of instability and noise. Clin Orthop Relat Res 469:437–442

11.

Ha YC, Kim SY, Kim HJ, Yoo JJ, Koo KH (2007) Ceramic liner fracture after cementless alumina-on-alumina total hip arthroplasty. Clin Orthop Relat Res 458:106–110

12.

D'Antonio JA, Capello WN, Manley MT, Naughton M, Sutton K (2005) A titanium-encased alumina ceramic bearing for total hip arthroplasty: 3- to 5-year results. Clin Orthop Relat Res 441:151–158

13.

Carvajal Alba JA, Schiffman ED, Scully SP, Parvataneni HK (2010) Incomplete seating of a metal-backed alumina liner in ceramic-on-ceramic total hip arthroplasty. Orthopedics 33:15

14.

Squire M, Griffin WL, Mason JB, Peindl RD, Odum S (2006) Acetabular component deformation with press-fit fixation. J Arthroplasty 21(Suppl 2):72–77

15.

Markel D, Day J, Siskey R, Liepins I, Kurtz S, Ong K (2011) Deformation of metal-backed acetabular components and the impact of liner thickness in a cadaveric model. Int Orthop 35:1131–1137
Conflicts of interest
The authors declare that they have no conflict of interest.
About this article
Cite this article
Iwai, S., Kabata, T., Maeda, T. et al. Using intraoperative radiography to detect incomplete seating of Trident acetabular system ceramic liners. Eur Orthop Traumatol 4, 21–25 (2013). https://doi.org/10.1007/s12570-012-0150-6
Received:

Accepted:

Published:

Issue Date:
Keywords
Incomplete seating

Ceramic liner

Trident

Intraoperative radiography