Abstract
Cartilage lesions, focal or degenerative, are frequent and represent a major health problem. Surgery is the only treatment aiming at healing the defect instead of the symptoms and is provided in order to stimulate a tissue response able to regenerate hyaline cartilage; however, only the latest technical and biological discoveries, and the derived surgery, are appearing capable of doing so. Matrix-induced autologous chondrocyte implantation is the most effective technique, giving several advantages to both the surgeon and the patient, but requires particular attention while managing the scaffold and during its fixation. The purpose of this technical note is to introduce a new procedure to fix the scaffold with pins. This technical note ensures maximal gentleness during arthroscopic fixation of the matrix, giving also an increased stability, less harm on the tissues without using any cannula, reducing the risk of a material damage by eliminating the drilling through the chondrocyte membrane and is dotated of a very high reproducibility.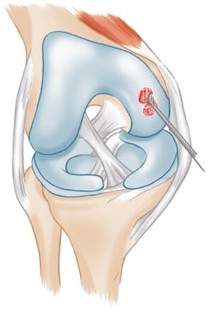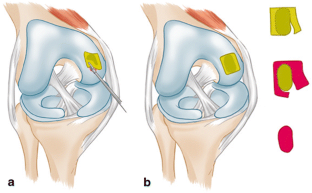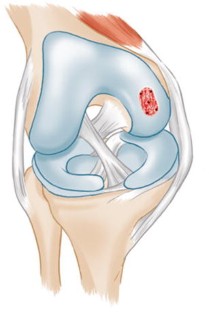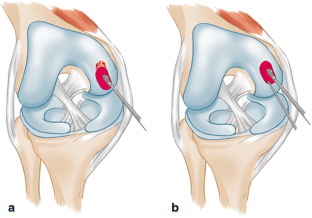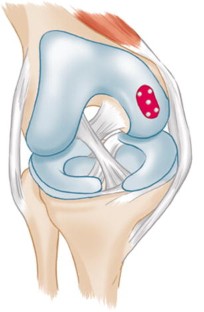 References
1.

Kreuz PC, Müller S, Ossendorf C, Kaps C, Erggelet C (2009) Treatment of focal degenerative cartilage defects with polymer based autologous chondrocyte grafts: four-year clinical result. Arthritis Res Ther 11(2):R33

2.

Craig W, David JW, Ming HZ (2003) A current review on the biology treatment of the articular cartilage defects (part I & part II). J Muschuloskeletal Res 7(3 & 4):157–181

3.

Outerbridge RE (1961) The etiology of chondromalacia patellae. J Bone Joint Surg 43-B:752–757

4.

Browne JE, Branch TP (2000) Surgical alternatives for treatment of articular cartilage lesions. J Am Acad Orthop Surg 8(3):180–189

5.

Odenbring S, Egund N, Lindstrand A, Lohmander LS, Willen H (1992) Cartilage regeneration after proximal tibial osteotomy for medial gonarthrosis: an arthroscopic, roentgenographic and histologic study. Clin Orthop 277:210–216

6.

Zelle S, Zantop T, Schanz S, Petersen W (2007) Arthroscopic techniques for the fixation of a three-dimensional scaffold for autologous chondrocyte transplantation: structural properties in an in vitro model. Arthroscopy 23(10):1073–1078

7.

Petersen W, Zelle S, Zantop T (2008) Arthroscopic implantation of a three dimensional scaffold for autologous chondrocyte transplantation. Arch Orthop Trauma Surg 128:505–508

8.

Falah M, Nierenberg G, Soudry M, Hayden M, Volpin G (2010) Treatment of articular cartilage lesion of the knee. Int Orthop (SICOT) 34:621–630
Acknowledgments
The authors wish to thank Mrs Elena Casagrande for her technical assistance (drawings).
Disclosure
All authors declare that there were no any forms of conflict of interests during this research.
About this article
Cite this article
Chillemi, C., Dei Giudici, L. & El Boustany, S. Arthroscopic three-dimensional chondrocyte graft transplantation: technical note. Eur Orthop Traumatol 4, 225–228 (2013). https://doi.org/10.1007/s12570-012-0145-3
Received:

Accepted:

Published:

Issue Date:
Keywords
MACI fixation

Cartilage treatment

Knee surgery

Arthroscopy